Art on Ice 2014
May 19, 2014
By Anna Bertoloni
Photos © Anna Bertoloni
Special thanks to Ia Remmel and Reut Golinsky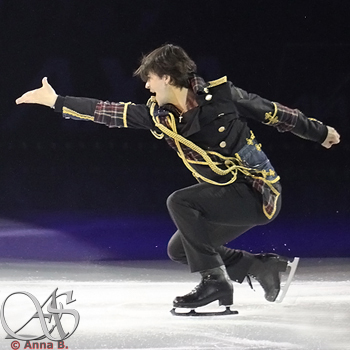 " Hi all.
We're ready for the first show tonight in Zürich. We are more than 300 people from miles around working on this production: Hurts, Loreen, Khatia Buniatishvili, Mummenschanz, Olympic gold medalists, fantastic dressmakers, World champions, drivers, European champions, Canadians, violinists, cooks, physical therapists, engineers, choreographers, Stéphane Lambiel, dancers, construction workers, drummers, CEO's, operators, Mirjam, Birgit, musical directors...
Means: Our team is made up of stars!
See you, and have fun... "
With these words on the official Facebook page, the "Art on Ice" producers invited the audience to the 19th edition of the tour.
Six sold-out shows in Zürich were attended by 60,000 people - then Lausanne, Davos, Helsinki and Stockholm: a total of 13 shows with almost 100,000 live spectators.
"I have to say that this year it was a very special show, because Oliver [Höner] and Reto [Caviezel] really tried to put many new aspects: new choreographers, new dancers on stage, a great cast as usual, and great effects with the lights. And we had some nice balloons during the show in Switzerland!" Stéphane Lambiel told us during the press conference. "It was really a three-dimensional experience, not only on the ice but in the whole venue. And after all those shows we became a family of good friends, a big family with a lot of experience. The show became more and more refined."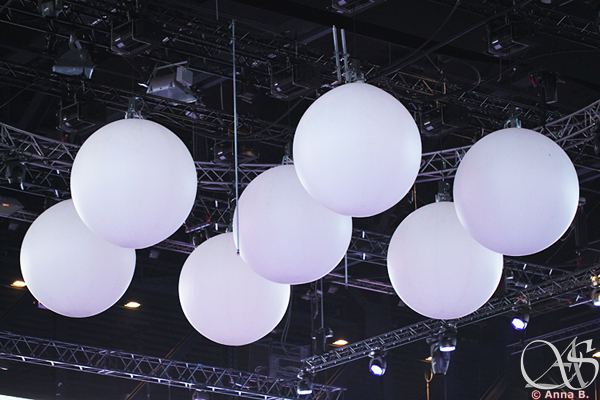 "Art on Ice": more than a figure skating gala, more than a concert.
The guest stars of the 19th edition were the Swedish pop singer and music producer Loreen, winner of the 2012 Eurovision Song Contest, the English Synthie-Pop duo Hurts and the Georgian virtuoso pianist Khatia Buniatishvili - performing together with the Art on Ice Band and the Youth Classics Orchestra.
Loreen, whose real name is Lorine Zineb Noka Talhaoui, was born in Stockholm and grew up in the Swedish countryside. So full of energy on the stage, she says that she tends to be shy in private. "I enjoy being alone to meditate. Since I adore nature, I love to go for walks."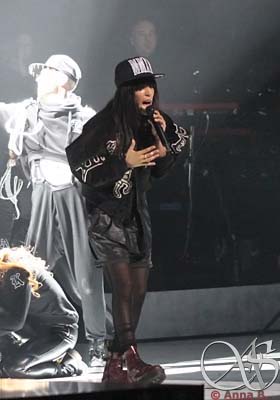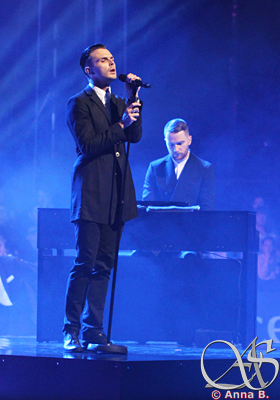 Despite their severe look, with black dresses and songs full of drama, Hurts (Theo Hutchcraft and Adam Anderson) totally made the audience go crazy about them.
Khatia Buniatishvili made her solo debut with an orchestra at the tender age of six, and she is now one of the most sought after pianists on the classical music scene. "When she plays, time seems to stand still. Khatia plays with her whole body, heart and soul," the "Art on Ice" booklet said - and it was perfectly true.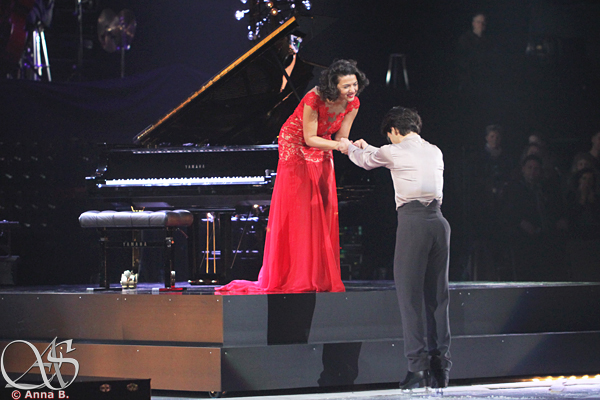 Figure skating at its best: Olympic, European and World champions.
Two-time European champions Nathalie Péchalat and Fabian Bourzat opened the first act with their short dance, Roxy. Their second exhibition to G.F.Händel's Minuet in G minor created a moment of pure poetry: "It was supposed to be night, one of the balloons transformed to the moon. And then to this beautiful, melancholic music Nathalie and Fabian danced, wearing masks, like ghosts from the old times, like characters from Verlaine's poems or Racine's tragedies." was one of the enthusiastic comments from a fan.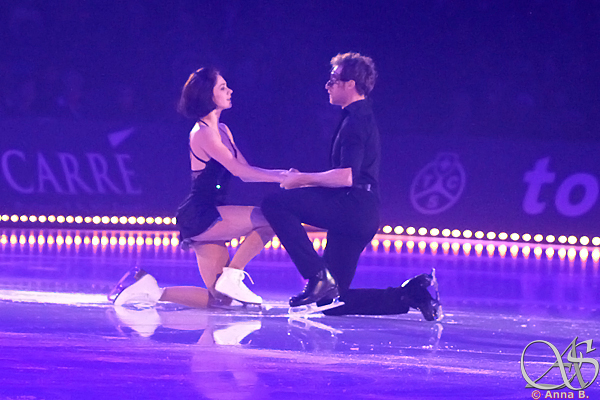 2010 Olympic bronze medalist Joannie Rochette skated beautifully to Caro Emerald's That Man and offered an intense, dramatic interpretation of Hurts' Evelyn.
2011 European champion Florent Amodio thrilled the crowd with his energy, performing on his free skating (to Under the Moon, Happy, La Vie en Rose and Quand Je Vois Tes Yeux) and Wonderful Life by Hurts.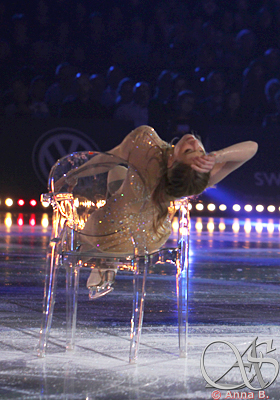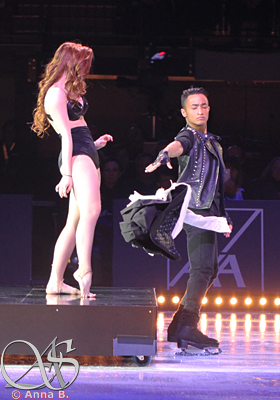 Sarah Meier was part of the cast for the 14th time in a row. "I'm doing one piece to Loreen's My Heart is Refusing Me and I really like it. It's very emotional and kind of slow, and then in the end the rhythm becomes fast, it's like disco music. So it's everything combined, and I like that I can show different sides in my skating." the 2011 European champion told us. "And then in the second part I skate [to Silver Lining] - well, it's just one and a half minute with Hurts. It's also great to skate to them, while they're also on the ice. I always feel great, their music is really amazing, they sound perfect every show."
The freshly crowned Olympic champion Adelina Sotnikova captivated the audience with her joyful, lovely interpretation of Cher's Welcome to Burlesque.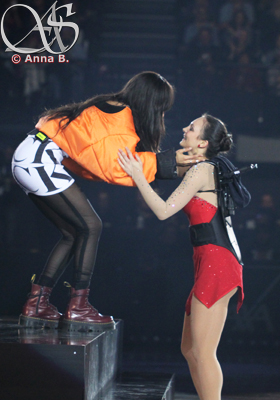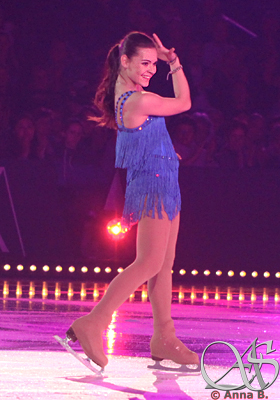 Time seemed to stop during the magical, perfect performance of Aliona Savchenko and Robin Szolkowy's long program The Nutcracker. The five time World champions and Olympic bronze medalists ended the second part of the show with the passionate Stay by Hurts.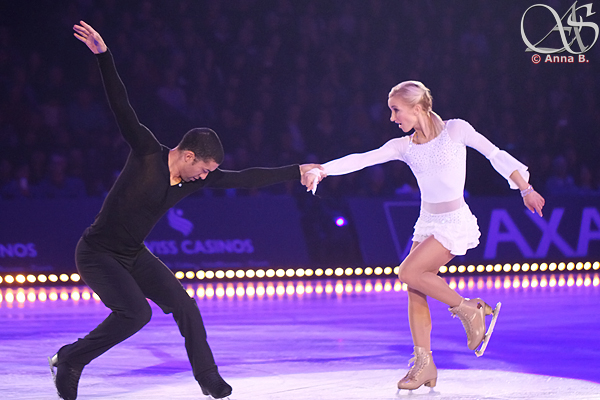 Four time World champion Kurt Browning enchanted the public with Tea Time with the King and his legendary masterpiece Singing in the Rain, including a real rainfall on the scene.
Olympic and World champions Tatiana Volosozhar and Maxim Trankov performed two impressive programs on S.Rachmaninov's Piano Concerto and Hurts' Somebody to Die For. "I feel that we have more freedom to create beautiful programs for the shows, because we don't need to think about the levels and specific movements and positions in elements which bring them. For example, our lifts for exhibition programs look nicer because of that." Maxim told us. "And with all these lights, the special effects, the live music - for sure it's completely different; we really enjoy skating in these shows."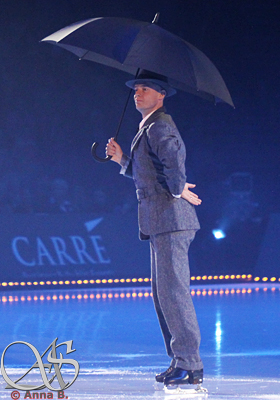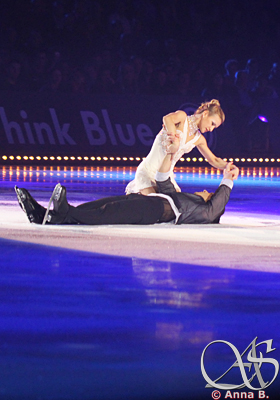 Stéphane Lambiel left the audience breathless skating to E.Grieg's Piano Concerto in A minor.
"It's one of my favorite piano concertos, I really love Grieg's music," he revealed. "When I'm skating I feel as if I'm meditating in the forest. The music is so subtle, it changes its intensity so frequently, I can really express what Khatia plays; we have a great connection. This feeling of meditation starts even earlier when she plays Rachmaninov's concerto for Tatiana and Maxim who skate just before me; I really like it.
In my second program, to The Water by Hurts, the spirit is completely different. I was already a huge fan of this band before 'Art on Ice'. They have great music, with the electro sound which is very contemporary, but also has something very nostalgic in it. And their lyrics are powerful. In this song they are talking about their fear of water. Although we usually see water as something very comfortable, they find there is something wrong about it. It's that feeling when you really, really like something but you can not completely love it. Salomé [Brunner] and I tried to express this in the choreography, with movements which are beautiful but always strained to the limit. The juxtaposition of 'Oh my God, what a great edge' and 'Oh, I'm gonna fall!', the feeling that in one second something can happen and everything will just disappear."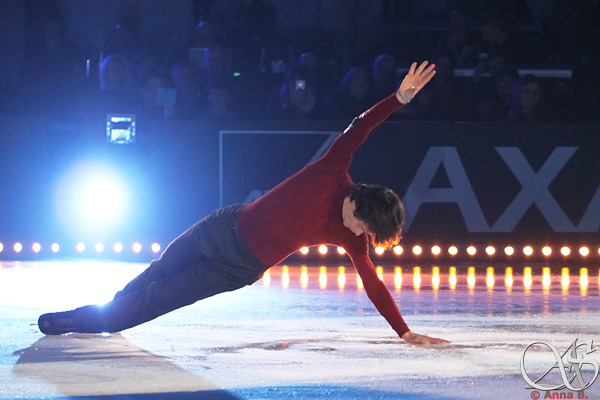 The outstanding cast also included the contemporary mime-masque theater troupe Mummenschanz, hip hop and break dancer Gev Manoukian, acrobats Remi Martin and Duo Terra Incognito (Yevgeniya Obolonina and Igor Drogaytsev), the fire artists Spark Fire Dance (Dan Miethke and Stephanie Hoeggerl), Art on Ice Dancers (Rachel Bailey, Anna Sophia Bernauer, Melanie Bernhard, Jacqueline Haller, Robert Dierking, Sebastien Geerens, Bebe Zabato) and Art on Ice Stage Dancers.
From Zürich to Stockholm - "Art on Ice" is used to traveling thousands of kilometers.
This year, the organizers had one more thing to worry about: Russian Olympic champions Adelina Sotnikova, Tatiana Volosozhar and Maxim Trankov had to attend to a special ceremony in Moscow on the day of the "Art on Ice" premiere. Their flight from Moscow to Zürich arrived in time for only the second half of the show.
"We had to skate to a new program for the first time at this show without a practice," Maxim said. "We just rehearsed it at the airport, with our music in our headphones, while waiting for our luggage. But we thought: 'We are a team, we can do it!' For sure, it's not easy but we did it last year in Finland, we could do it again."
Indeed this was not the first time the production had to deal with a travel problem: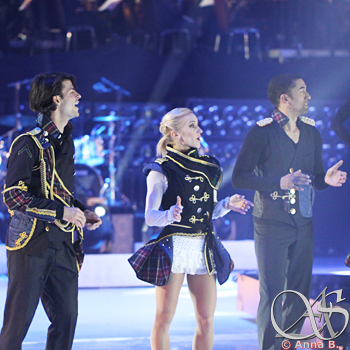 during last year's tour, the whole cast got stuck at the Zürich airport waiting for the flight to Helsinki.
"As for last year's experience in Helsinki, it was one of those moments I will keep in my mind for the rest of my life; all the cast will," Stéphane Lambiel recalled. "I was admiring the production, because everyone stayed very calm. We had to make rational decisions about how we would proceed when we'd get to the rink: we didn't have so much time, so we had to be efficient. I was very impressed with Oliver [Höner]. I already knew that he was very talented as an organizer, and I could see that then. Even though he was probably very worried, and his challenge was to make the show happen, he didn't show any panic, any crisis, and he gave us confidence. We knew we couldn't warm up as usual, and we had a long day waiting at the airport and not knowing what was going to happen, but we got to the rink and we did our job. It was very magical, and the show was just beautiful, even though the situation was completely dramatic.
I think we are used to this adrenaline rush; it's actually a very positive thing for us. When we have this adrenaline we can give even more."
"... but I hope it won't happen too often!" a laughing Maxim added.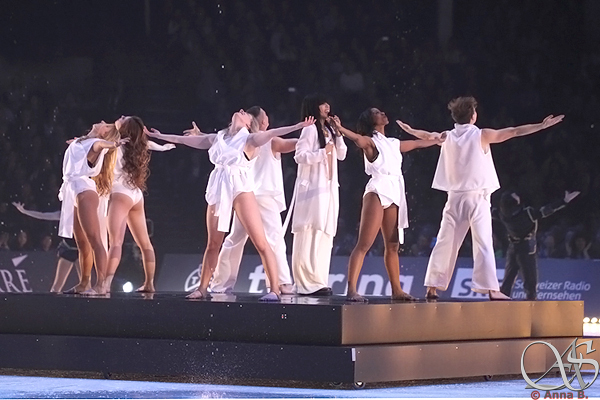 Working on a new adventure...
The "Art on Ice" organizers are already at work, preparing for the 2015 edition.
"I think it will be cool, because next year it will be a celebration, 'Art on Ice' gets 20 years old," Maxim Trankov told the press. "Each skater should sing!" Stéphane joked. "Yeah, maybe we could all be singers for one song!" Maxim laughed. Probably, this will not happen - but it will definitely be another fantastic show.
Tickets are already on sale; check out the official site for more information.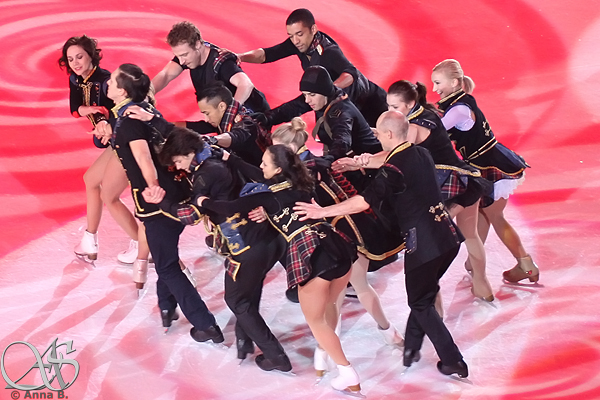 P.S. Don't miss our galleries from Zürich, Helsinki and Stockholm!