A new beginning for Carolina Kostner
July 19 , 2014
By Magdalena Osborne
Photos © Eva Maria Jangbro (EMJO), Joluskating, Joy, MG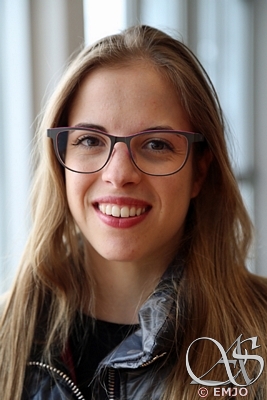 Think grace, elegance and beautiful extensions. Think dedication, success, podium and medals. Think Carolina Kostner.
The 27-year old Italian has participated in 12 Europeans and won 6 Worlds medals. She has traveled around the world for competitions and shows and is in every way on top of her game. But for a long time she kept the skating world in suspense; would she or would she not compete next season? There was no sense in speculating since when asked, she just replied she hadn't decided yet.
In June she made the announcement that she would not compete during the 2014/2015 season. Her fans need not worry however; she will keep doing shows and surely keep her involvement in charities, appearances on TV-shows and in magazines, and possibly add some new twists. Her skating career is certainly not over; she's just choosing a different direction.
A creative future
"What I have learned to love the most about my sport is that you have an opportunity to be creative. The reason I quit competing is not that I don't like competing at a high level, I do, but it's very stressful trying to adapt to the changing rules, technically and artistically. I'm looking forward to finding out how I can perform when I don't have any rules to follow."
What she's referring to are the ever changing rules of the ISU, the details determining the contents of a competitive program, and the point value system sending all skaters out on a point chasing frenzy.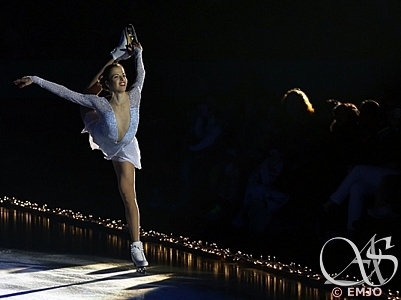 "When you're competing there isn't a lot of time to prepare for shows, because you spend all your time working on your competitive programs, worrying about points. Show programs are made up in much less time and with less creativity to have ready when you need them."
And yet it's those show programs that are often performed in galas. Although Carolina's gala performances never disappoint the audience, she's looking forward to applying her skills and artistry because she wants to, not because she has to, when putting future show programs together.
"I'm curious what I can do if I invest all that time (earlier spent worrying about rules) being creative, creating something enjoyable for the audience, something that really fits the music."
Which music styles that will involve will surely vary, but Carolina has a favorite, as is evident when looking back on her previous programs. True, there's also tango, flamenco, some musical scores from movies… but one category sticks out: classical music. Early in her career she learned to enjoy classical music and through the years she has been skating to Prokofiev, Mozart, Vivaldi, Debussy, Tchaikovsky, Bach, Dvorak and others. Some of the pieces she has in common with other lady skaters which made it important to stick out. The combination music/costume was one way to make a statement.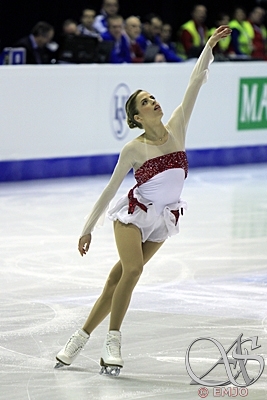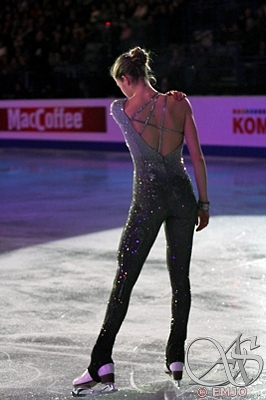 "I was the girl wearing pants when the others had dresses. And I wanted to go for elegance, because I think our sport is elegant and should stay that way, and I'm not just talking about sparkles or no sparkles; I can do both. But maybe because I'm Italian and in Italy fashion is in the everyday discussion, I want things to be simple yet elegant. It should be high quality."
Fashion is an interest and every now and then she has a shot at modelling, but admits she'd rather skate. Designing, however, is not totally ruled out.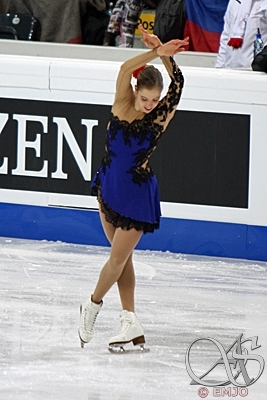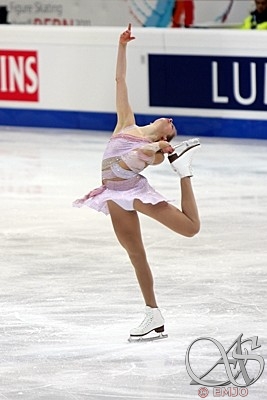 "For the past four years, since the Olympics in Vancouver, I have designed my own costumes. I also have a line of t-shirts for kids, with a print of the designs of my costumes. (she wears one in the right photo- ed) It's a very exciting project."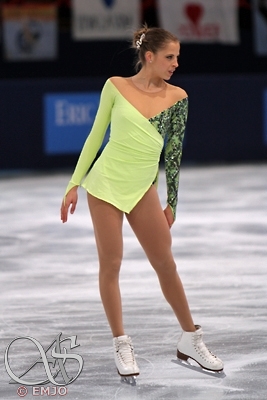 How she finds the time is a mystery. Even with the gained time she used to spend competing, her plate is pretty full. But in spite of all she has accomplished: the success, the fame - she is very down to earth and humble, and she doesn't seek the lime light.
"I want to work creatively, but I don't want to be the person on the front page. I want to create in the background and work with children. There are many projects I'd like to get involved with!"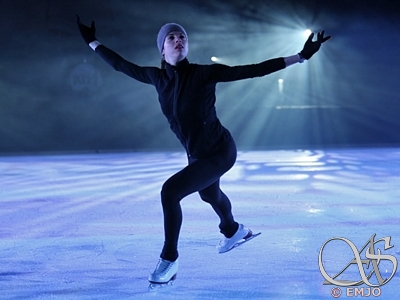 Choreographing could be one, although she has some reservations about her ability.
"Well, that's a thing that needs to develop and it could be of interest. My dad is a hockey coach and he's so great at motivating the kids, getting them to listen. It's a skill you need to have; it's not enough to be good at your sport. You have to be able to pass it on, to teach and explain and motivate."
No shortcuts
Her competitive days may be on hold, but she still loves the sport. After all, she invested over 20 years of her life in it. She has experienced the good and the bad, but never worried that she made the wrong choice.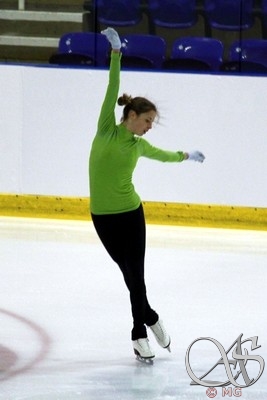 "Absolutely not. There were of course days when I asked myself: 'why am I doing this?' but that's part of the package. And I have been rewarded far more than I ever expected."
The rewards have been rich, but she wants to point out that elite sport is a sacrifice and a big one, and there are no shortcuts. What the audience sees at competitions is only the icing on the cake: the pretty hair, the makeup, the glamorous costumes, the skaters showing off their strengths while hiding their weaknesses… But on a normal training day it's all about hard work and long hours.
"It's especially hard during the teenage years. Maybe you'd prefer to go dancing with your friends, hang out in the cafeteria after school, or go to the movies, or watch the boys' soccer practice, but you can't because you have to skate. It's very hard to keep kids motivated. It's hard work to get through the day and follow your dreams since they won't just fall in your lap for you to pick up. It may look easy at competitions, but only hard, hard work will get you there."
Mozart and Bolero
Carolina has competed for many years and has quite a collection of programs. Ave Maria has been an audience hit, whether performed as a short program or as a gala number. But Carolina has her own favorite.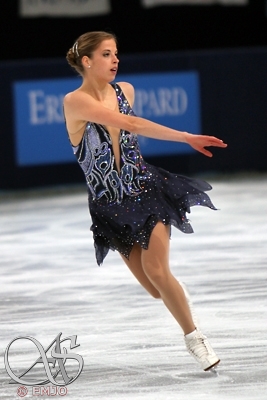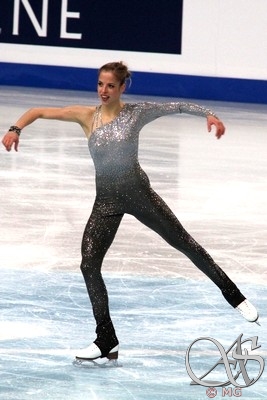 "Mozart's 23rd piano concerto (free program 2011/2012) was very special to me; it was exactly showing my personality. It's incredible how music that old can feel so current. It's modern and versatile and impressed me so much; Mozart must have been the Lady Gaga of his time! But each of my programs has its own little story. Working with Lori Nichol has been a privilege. She is so professional and knowledgeable about rhythm, music, movements, ballet, skating skills, components, the current judging system… She's had so many successes and to take part of her experience is just amazing."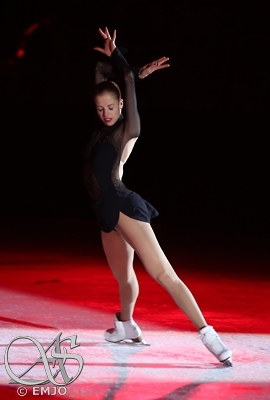 Carolina's other favorite is Bolero, but for a different reason.
"It was the best move for my career, it brought out the woman in me. I used it for two seasons but there wasn't a day when I hated the music. It's also an honor to skate to it since it has such skating history."
So it does. British ice dancers Jayne Torvill and Christopher Dean won their gold at the 1984 Sarajevo Olympics after a fabulous performance to Bolero. Michelle Kwan's Bolero (a program choreographed by Christopher Dean) won her several competitions in the 2004/2005 season. Evgeny Plushenko used the music as a short program during the 2000/2001 season and won just about everything and Carolina herself has added to the Bolero greatness by winning her Olympic bronze and several European and World Championship medals to it.
The Olympic moment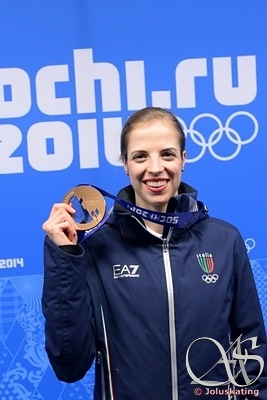 At the Sochi Games this past winter Carolina finally got the Olympic medal that had been part of her dreams for so long. "This medal is worth gold to me!", she wrote on her official website.
"That night at the medal ceremony was very emotional; it was a moment when the circle closed for me and my career. I felt I missed nothing in my competitive career anymore. Standing there watching the audience and my mom in the front row and my coach – it was such a big award. An award not just for me, but for all the people who had the patience to stand by me all those years. They lived the highs and lows with me, watched me laugh and cry and struggle. That moment was really special to me. Even going into that competition, it felt like it was my time to get awarded for my passion for the sport. It was satisfaction after all the time and energy I put into it."
Third time's the charm, and many fans through "finally!" Carolina's first Olympics were in Torino, Italy in 2006. She had already medaled at Worlds and the pressure was too much to bear.
"Thinking back, if I had medaled in Torino, which the whole Italian nation hoped for and me too, I don't think I would have realized the full value of being an Olympic medalist."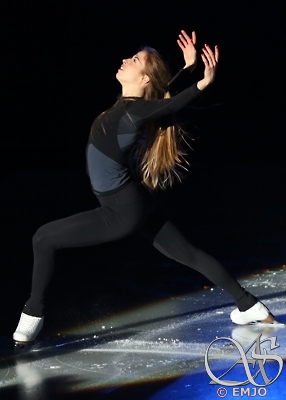 Her second Olympic Games were in Vancouver, Canada in 2010. Hopes were high again, but she finished far from the podium. It was bad at the time, but looking back maybe all wasn't bad. What if she had medaled in Torino, would she even have stayed in the sport?
"That's a hard question. Back then I was still in school until 2 pm and then I skated. But I think I can answer 'yes' because I've always had the right people around me. I wouldn't be where I am today if I didn't have my Olympic experience."
Over the years Carolina has collected an impressive amount of medals, trophies and other prizes. The person taking care of it all is mom.
"She is very good at that, she also keeps all the posters and photographs. Sometimes the family makes fun of her and she'll say 'no, I won't do this anymore', but she still does. And if I ever have kids sometime in the future, we can look at all those things and I'll say: 'this is what I did in life. I did it with all my heart and I got awarded.'"