Denis Ten and Friends 2014
August 20, 2014
By Reut Golinsky
Photo © Reut Golinsky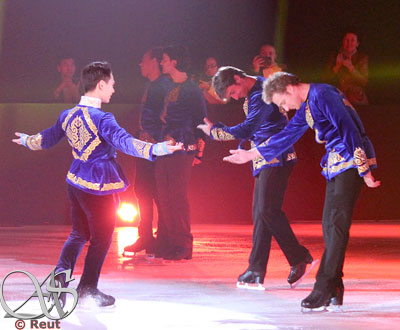 "If you will it, it is no fairy tale" is a saying of Theodor Herzl that is very well-known in Israel. It means that if you want something hard enough it will eventually happen. Denis Ten's wish was definitely strong because the show he succeeded in producing in his home country can be rightly called a fairy tale come true.
What else but an impossible dream would you call the idea of creating a show in a country with almost no figure skating traditions, inviting the best of the best of the skating world, and selling out performances in two different cities, even when two out of three shows are on weekdays? And when I say "best of the best" I don't exaggerate. "Usually the skating shows invite two-three main stars, in our show everyone is a headliner," Denis said. Ari Zakarian called this year's cast "the most 'star-packed' among all the shows that took place this or last season, with perhaps the exception of the Olympic gala". Indeed, the cast, which included 12 Olympic medalists, shared between them 43 World medals and almost 150 European, Four Continents and Grand Prix Final medals! Coming from the four corners of the earth - Japan, North America, Europe, Russia - Denis Ten's friends joined him in Kazakhstan to support his project and to get acquainted with his wonderful, hospitable country.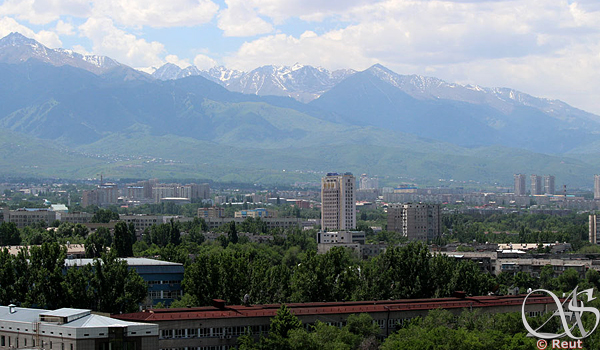 "When we were doing 'Stars on Ice' in Japan with Denis earlier this year, he was talking about the show," Joannie Rochette recalled. "I asked a lot of questions about Kazakhstan because it's not a country where we compete, it's not a country where as figure skaters we would have been to, so I enjoyed learning more about it. And so he invited me to come. I'm really happy to be here, it's a huge honour, a great show. I didn't really know what to expect before coming here, but so far I'm greatly impressed. It's really nice, from the hotel (in Almaty) we can see the snow-capped mountains, the weather has been so great. I'm really excited to have some time and sightsee. And on Monday Denis organizes the tour for the skaters to go and visit the city of Astana. That will be very cool!"
"I didn't know much about Kazakhstan before coming here, and I feel that I got to learn so much about their culture," Mirai Nagasu said. Mirai chose Kazakhstani cuisine as her most memorable experience: "I think one of the most important things about any country is the food!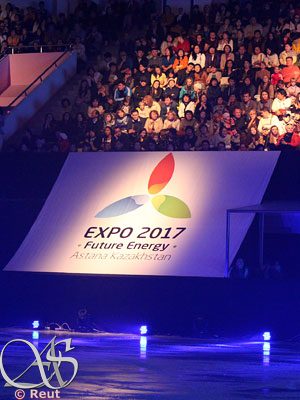 Denis has been making sure we were taken care of, we've been having great entertainment and great dinners - he really is putting in the maximum effort to show us the beauty of his country."
Olympic Energy
"The initial idea was to dedicate the show to the recent Olympic experience from Sochi. But then the EXPO-2017 team joined us and we decided to combine these two ideas in one: the energy of the future and the Games, the Olympic success." Denis explained the show's title, "Olympic Energy", when he spoke to the media.
The title also refers to the fact that Almaty, where the first two shows were held, is one of three candidate cities for the Olympic Winter Games 2022. The commercial capital of Kazakhstan hosted the 2011 Asian Winter Games and is considered by many to be the frontrunner among the candidates (the selection will be announced in Kuala Lumpur, Malaysia, on July 31, 2015). Almaty's long-term goal is to develop the conditions and infrastructure that would enable the city to become a sports, tourism and convention hub in Central Asia. This corresponds well with how Denis, who is also an ambassador for the bid committee, envisions the future of his home city.
With the number of Olympic medalists in the cast, you can also say that the Olympic energy was just carried in their veins. For the young athletes to be a part of this experience was no doubt inspiring. "This cast is really strong, it's been really exciting to get to know people I looked up to when I was younger," Mirai Nagasu said. "All these Olympic champions who are here... To be able to skate amongst them is a great honour! I aspire to be just like them. It's every skater's dream to get to the Olympic stage. I'm still continuing to skate and, I guess, for some years you just need to stick with stick with it and then you'll be rewarded hopefully. So I hope the best of my career is yet to come."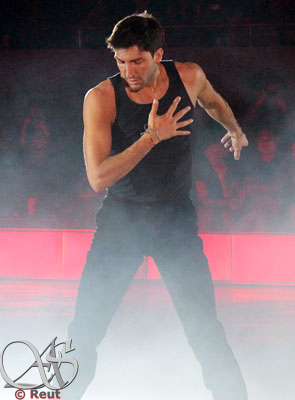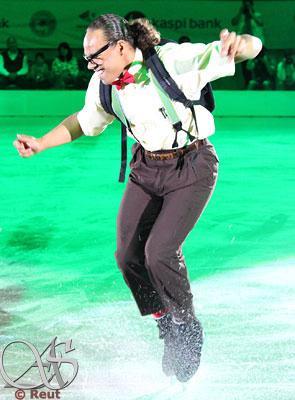 To symbolize the theme of Olympic energy, the show opened with a spectacular group number set to dynamic music composed by Renat Gaissin for the show. The cast, wearing black costumes with florescent green lightning bolts on them, performed various group formations, circles and lines while building tension towards the entrance of the show's headliner, Denis Ten. Denis skated to "Money on My Mind" by Sam Smith, and from there the first act continued with modern tunes and vibrant programs. These included Brian Joubert's crowd-pleasing "I Gotta Feeling", an upbeat "Dirty Dancing" mix from Nathalie Péchalat and Fabian Bourzat, a hilarious "NERD hip hop" from Elladj Baldé, an electrifying "Tango de Roxanne" from Evan Lysacek, a charming "Smile" from Mao Asada, and a sensual "Skyfall" from Tatiana Volosozhar and Maxim Trankov. The highlight of the first half of the show was, no doubt, the fierce "battle" between "two DTs"© - Denis Ten and Daisuke Takahashi (read more about it in our interview with Ari Zakarian), which also featured percussionists Marat Akhmejanov and Alexandr (Alex) Kuznetsov. I had an opportunity to speak with them during the rehearsal.
An outside opinion: Marat and Alex talk figure skating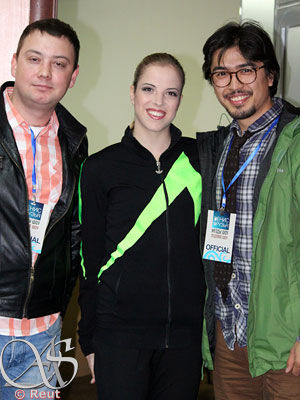 How did you end up doing this show?
Marat: We were invited by Renat Gaissin, the musical producer. I performed in last year's show too, I was playing on special shamanic drums for Denis' program. And this year Alexandr and I took part in "the battle".
Alex: Marat asked if I'd like to join him. I thought: why not? It's a new experience for me to play for figure skaters. I think the end result came out really interesting.
Tell me more about this "battle".
Alex: We compiled this program right here on the ice of Almaty, during our first rehearsal and with slight changes later. In general, the idea is really cool!
Marat: Yes, it's interesting, this combination of the "battle" between Denis and Daisuke and between us. As if Denis and I are one team and Alexandr and Daisuke are the other team.
Did you have a chance to see some other performances from the show?
Alex: Yes, we saw almost everything. I really liked Elladj, especially his back flip was superb. And Carolina [Kostner]. In general I liked everyone in this show, it was my first time to see figure skating live.
Marat: They all are impressive and very professional in what they are doing, but most of all I loved Mao Asada. The way she moves, her technique, I felt some special connection and sympathy.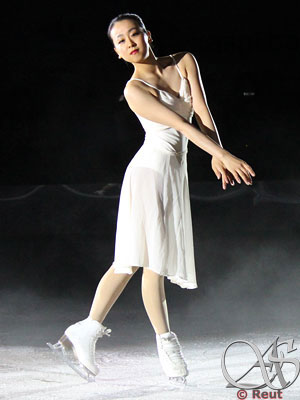 When was the first time you heard about Denis Ten?
Marat: Last year when I was invited. Well, I probably heard something before too, but I can't say that I'm a big fan of figure skating. So it was last year when I actually got to know him.
Alex: [During the Games] in Sochi. I was touring at that time. To tell the truth I don't really follow sports, but it just happened that during dinner we turned on the TV and it was exactly when Denis was skating. Of course, I cheered for him!
Will you now follow the figure skating more?
Both: Of course! Now, of course, we will.
What, in your opinion, can be done in Kazakhstan to draw more interest to figure skating?
Alex: I think better conditions should be created.
Marat: More support on the state level, from government. This sport is very expensive and more help should be provided. Denis, his family, his team, they are doing a great job in presenting our culture and in uniting different nations on the same ice.
Alex: Yes, this show gave [the sport] great publicity. I think after seeing it many would want to improve their skating or to start learning how to skate.
Classical treat
The second act had a more classical mood, and most of the numbers were performed with the live orchestra. Having live music is a special treat that not many skating shows can afford, and a symphonic orchestra is even rarer.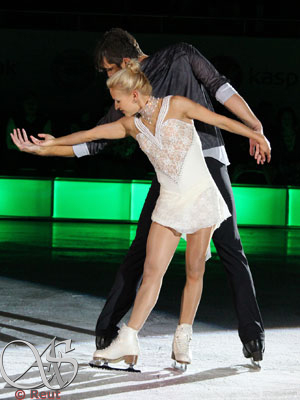 Obviously, it makes the whole experience more vivid and memorable, especially when you see programs to some of the most beautiful classical pieces ever, such as Schubert's "Ave Maria" from Carolina Kostner, Tchaikovsky's "Swan Lake" from Evan Lysacek, Chopin's Ballade from Mao Asada, Rachmaninoff's Piano Concerto from Tatiana Volosozhar and Maxim Trankov, Grieg's Piano Concerto from Stéphane Lambiel.
"It's fun to skate with orchestra, it sounds so great," said Joannie Rochette, who performed to "Samson and Delilah" by Saint-Saëns. "But when you do it with the live music you need to really listen to it, because sometimes the tempo is a little bit different. On the other hand, it's nice to have that connection with the musicians."
"It's very interesting how a live orchestra changes things," observed Mirai Nagasu, who skated to "On Golden Pond" by Dave Grusin. "Luckily I'm a single skater, so it's very easy to adapt. It just sounds so good but very different. Yesterday during the practice the pianist made a little mistake. It was - I don't know what the right word would be - it was... comforting. It was nice to know that they are human too, it made me feel better, because it's usually me who always makes mistakes. (laughs) So now I saw that everyone makes mistakes. Still it was very impressive."
Stories behind
"It's always more interesting to see skaters who show some story," Maxim Marinin noted during our interview. I completely agree with him; the meaning behind the program, the well-thought-out mises en scène are especially important for exhibition numbers.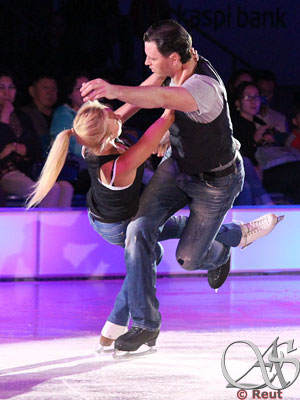 A lot of interesting stories were told during this show, and I'd like to share a few.
"It's time to burn bridges, it's time to search for the answer and to change the burnt-out light bulbs..." Maxim Marinin and Tatiana Totmianina perform their first number to the song "Lightbulbs" by the popular Russian rock musician Zemfira. "This program is about the relationship," explains Maxim afterwards, "about its crisis. The orange, the juice coming out of it symbolizes that everything was 'squeezed', nothing has left between these two people."
In case you wondered, just like I did, how Tatiana and Maxim manage to skate with their hands being sticky from the juice, they are not. "We cut the orange from the bottom only, and when we squash it, the juice leaks only from one side, down," Maxim reveals their little "production secret".
Their second program is to "Maria and the Violin's String" by Ashram. Many skating fans are familiar with this piece thanks to Ksenia Makarova's short program choreographed by Ilia Averbukh (in the 2012/13 season). "We really liked this music," Maxim recalled, "we knew it long before, but Ilia 'intercepted' it. (smiles) He used it in the 'Bolero' TV project first, for Roman Kostomarov and Natalia Osipova. So we're not the first ones to take it and even not the second, but we still decided to go for it, because this music catches you, and also it was never used in pairs. Ksenia had a very different story behind her program, and we didn't want to repeat it. So we started improvising with some lifts and movements, and from there the idea was shaped. I'm sleeping and in my dream I keep losing the person I love. She appears here and there, I am chasing her, then I let her go... and in the end I wake up and see that it was just a dream."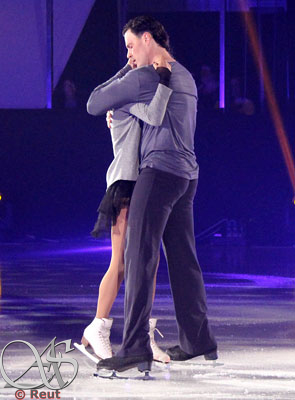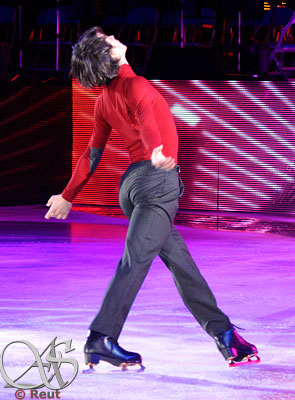 With his avant-garde program to "The Water" by "Hurts" Stéphane Lambiel pulls you down into the depths of the sea, and you're drowning in the whirlpool of his spins. While starting to work on the choreography, he noticed a strange contradiction between the calm, beautiful melody and the lyrics, for example: "There's something in the water I do not feel safe, it always feels like torture to be this close..." And he definitely makes you feel this anxiety in his moves.
The costume is very simple on one hand - just black trousers and shirt, but the shirt has an unusual bright red colour and is form-fitting, a bit like a diving costume. "For Salomé and me," Stéphane explained, "it was important that every move will be seen. So we really wanted some kind of second skin, comfortable for my movements, yet also emphasizing them. It had to look waterproof, as if the water can't drench it.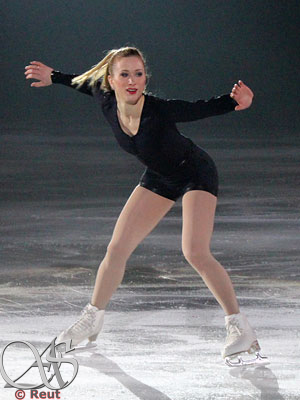 And we also wanted to have a bright colour, so we went with red. [As if] I am some kind of creature from the underwater world that can also survive ashore, mute but colourful. Overall I wanted the costume to be very simple and plain, it was the main thing for both costumes this year. I didn't want too many destructions, I wanted the audience to see the movement, the spirit..."
Joannie Rochette in her program portrays... a killer? "It's a new song 'Shut me down' by the DJ David Guetta," Joannie told me, "we took it as is, no cuts, no edits." (The song was released in February 2014 and is based on the original song "Bang Bang (My Baby Shot Me Down)" by Cher; its cover, by Nancy Sinatra, is well known from the opening scenes of the "Kill Bill: Volume 1" - ed.) "I thought it was a bit repetitive at first. And when I went to work with Shae-Lynn Bourne, my choreographer, I had a few other options in mind. But she really liked that song, she told she wanted to do [in the program] the whole story of the movie. She has great ideas that usually 'work' in shows. I think the crowd loved it."
Joannie's "victim" at the end of the program was Alexei Yagudin. "Nothing personal," she laughs. "Usually it goes based on the order of the show. At first Elladj was going to do it but he skated too early and he needed time to change. Alexei skated last [in that act] so after the opening he could stay."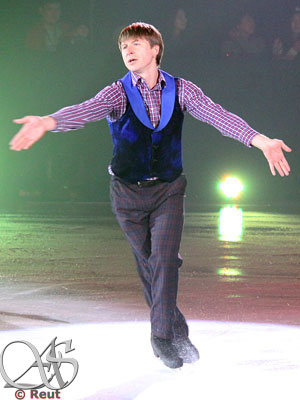 Alexei Polishchuk and Vladimir Besedin showed a very funny routine which led to obvious associations with the political situation between US and Russia. "We created this program a year ago, when the tension between the countries was not that high yet," Alexei explains. "We decided in such a funny manner to show how two countries confront each other. It was, of course, a joke. And, of course, we all want peace and that nobody will fight with anybody. So we hope eventually it will end like in our program, with the friendship."
"Vladimir is our main generator of all the ideas," he gives all the credit to his partner. "Usually I agree with what he proposes and then we try to create a number together."
Alexei Yagudin's "Oblivion" didn't require any additional "libretto", it was a complete mini theatrical piece, a touching story about a young fellow out for a date who was stood up by the girl. With the experience he has gained in theater and movies over the last few years, Alexei has grown tremendously as an actor and performer.
Premieres and blasts from the past
The show was an opportunity to say goodbye to some of the best programs from the last season, among them my favourites - Carolina Kostner's refined "Boléro" and a magical "Little Prince" from Nathalie Péchalat and Fabian Bourzat, and to discover some new favourites.
Denis Ten presented his romantic "Mi Mancherai" (by Josh Groban), which he choreographed with Stéphane Lambiel and showed for the first time at "All That Skate" a month earlier. Daisuke Takahashi skated a gentle "Kissing You" (by Des'ree), which he worked on with Kenji Miyamoto in April and premiered at the Rinkai Sport Festival, just a few days before the show in Kazakhstan. "Kensuke Nakaniwa skated to the song before (in 2006 as an exhibition program - ed.), and I loved it so much," Daisuke explained his music choice in one of his recent interviews. "Since then, I have listened to it quite often, thinking about skating to it myself." Seeing Daisuke on the ice with the new program was especially dear to his fans who hadn't been able to see him skating since Sochi, because of his injury.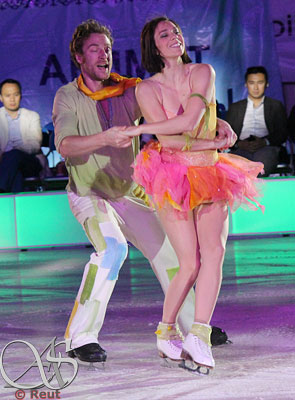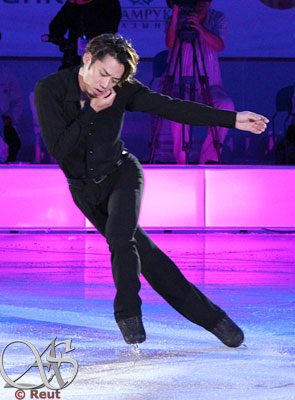 There were also some "flashbacks" from longer ago.
"I don't have any classical piece in my repertoire, my last one was in 2010," Joannie answered why she went back to her Olympic long program from season 2009/2010. "It brought some memories, and they were bittersweet, I guess. But it's great to get another chance to perform this program. And it's a great challenge, because it's a very different style from my show programs and because I'm not used to doing a 4 minute program anymore, with all the spins and footwork. I kept most of the choreography, but I simplified things a bit - I took maybe three jumps out and I didn't do the combo jumps. It's important for me as long as I continue skating to keep all my triples. I competed in October in Japan Open with all the triples, but in a show I find it hard when the ice is small, with the lights; usually I try to keep it simple then. Last night I was just exhausted at the end of the program, but it was fun to do it."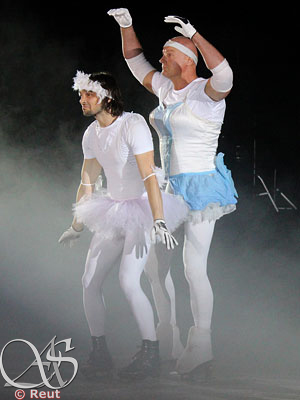 Alexei Polishchuk and Vladimir Besedin performed one of their most "iconic" programs - "The Dying Swan" (or maybe "Dying Swans" in this case?) by Saint-Saëns. "This program is ten years old already," says Alexei. "But it's a first time we perform it in Kazakhstan. So I hope people will smile and laugh, hope they will like it.
It was Vladimir's idea to portray two clumsy ballerinas. We tried it and indeed the audience all over the world loved it. We're regularly asked to bring this program. I lost my count of how many times we performed it in Japan, for example!"
The program reaches its culmination point when Alexei falls from the high carry lift straight to the ice. Every time I saw this program live the audience would hold the breath and exhale with relief only after they see that Alexei had "landed" safely. "Like any stunt on the ice this one might be dangerous, of course," Alexei explains. "But we have a special technique: Vladimir holds me back with his arms, then my shoulders are on his boots and only after that the whole body lays on the ice surface. It's just that everything happens so fast, so the spectator can't notice the details."
A show with soul
"I want to make the show in Kazakhstan as great as possible!" Denis wrote on his Official Facebook a few weeks before the show, when he was in the midst of preparations. "However, it takes a lot of energy and work but I am extremely excited about the upcoming show. Maybe it can't be compared yet to World's biggest shows but there's something special in the 'Denis & Friends' project - my soul."
And indeed you could see Denis's touch in everything, a thread of light from his soul. Starting from the booklets written by Denis himself, where instead of a formal list of titles and bare facts he told a little personal story about each participant, and ending with the speech he gave before the finale. His words to the foreign guests, who came to his home country especially for the show, warmed my heart.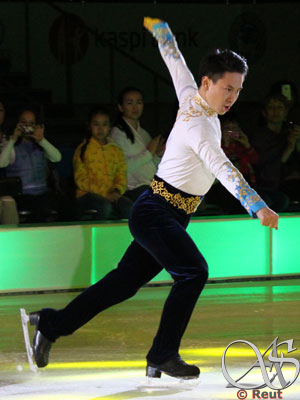 While travelling for figure skating quite a lot, it was the first time I heard such sincere gratitude for this from the hosts.
Like last year, the finale of the show had a special Kazakhstani flair. "The show attracts the attention of skating fans from all over the world and I see it as my duty to acquaint them with our unusual, beautiful and successful country. Meeting a new culture through the ice, music, dance and national costumes is probably the brightest and most memorable way to know Kazakhstan!" Denis said in one of his interviews.
It's important to point out that the show was entirely a charitable endeavor, thanks to the support Denis got from "Kaspi" bank, EXPO-2017 and his hometown council. All the funds raised in Almaty will go to the development of figure skating in Kazakhstan, while the money collected in Astana will help a 6 year old Nursat Zhakypbai, who suffers from neuro- leukemia and needs special treatment.
The Kazakhstani audience, the guests who came to see the show and the skaters who participated in it are all looking forward to the next edition.
When asked during the meeting with young Kazakhstani skaters if he will come back, Evan Lysacek answered: "I hope so, I liked it a lot. I'm training in the U.S. with Denis Ten, we train at the same rink so I heard a lot about Kazakhstan from him and this is my first visit. But hopefully he'll continue to promote skating here and I'll come back."
"The crowd was great. They were so supportive! I think with Denis having so much success in past two seasons they are really into figure skating and it's great that another country is getting into figure skating now. It's pretty cool to skate in full arena, it's not that big but it's full and it's has a high energy, so it feels great, it's awesome," Joannie Rochette summed up her experience in "Denis Ten and Friends".
"I hope that I can come back someday soon," added Mirai Nagasu.
And so do I.