Dreams on Ice 2014
August 9, 2014
By Atsuko Kuryu
Photos © Keiko Kasai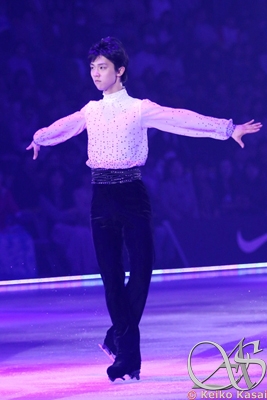 The Dreams on Ice shows 2014, one of Japan's most famous annual skating events, were held June 27 - 29, as usual at the Shin Yokohama Skating Center. The shows officially end the season as well as serving as a kick-off event for the 2014/2015 season. Eleven eligible Japanese single skaters, a couple of ice dancers and a synchronized team performed. As the icing on the cake seven gorgeous guest skaters were added. All the tickets quickly sold out and the seats were filled up with fans of various ages. There had usually been many middle aged women and of course there were many still, however, we could also spot families in the venue, and young women. The ones wearing short skirts particularly drew my attention; they were most likely there because of Olympic gold medalist, Yuzuru Hanyu. Once he appeared on the ice there was loud screaming and cheering in the stands, and we confirmed that a new Japanese figure skating superstar was born.
The venue especially welcomed Russian multi Olympic medalist Evgeni Plushenko, Akiko Suzuki and Nobunari Oda, who all gave super-amazing performances and entertained the audience fully. The crowd gave them standing ovations. The other guest skaters were also given generous applause. World gold medalists, Italian ice dancers Anna Cappellini /Luca Lanotte, showed off their chic and elegant style, World bronze medalist, Javier Fernandez of Spain, skated to modern rock music, Russian hope Elena Radionova sparkled with her cuteness, and Miki Ando showed her great expressiveness. This was however mostly an event for Japanese eligible skaters, so let me first recap the performances of the Japanese youngsters.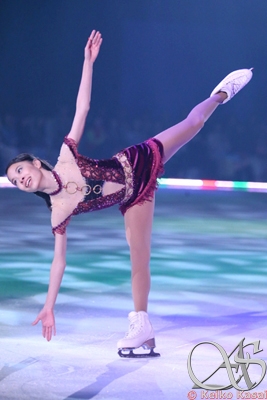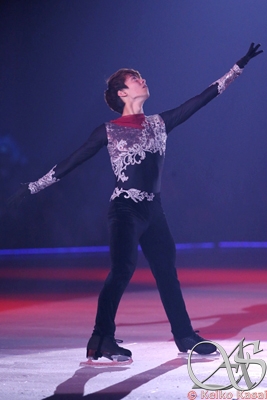 Yura Matsuda is a cutie 16-year old who skated to a danceable program called Cinema Italiano. Yura is quite shy off ice but could express the music brightly and pleasantly on the ice. She skated with good speed and kept her lovely smile all through the program. One who made my eyes open was Ryuju Hino. He performed a shorter version of his free program for the upcoming season, King Arthur. He is a great jumper, but used to have some clumsy movements. No such defect was seen here! He now moves smoothly and naturally with a nice flow of movements. He did fall on his quadruple toe loop and stepped out on the solo triple, but I guess it's mainly because it's off season. I highly admire him because he dealt with his weak points and improved a lot.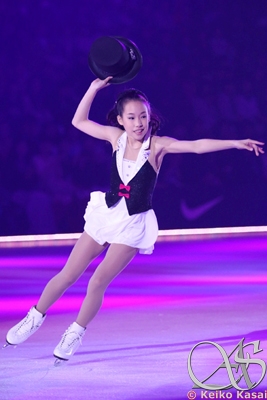 The youngest skater of this show was Mai Mihara. Her black and white costume with red ribbon on her back was so cute and fit her music very well. She used a black hat effectively and moved along to the enjoyable music of Le Jazz Hot. She landed a triple flip, a double Axel and a triple Salchow. Shoma Uno is no longer a cute little boy but matured into a junior skater. He chose the music, Don Juan Demarco, by himself for the first time in his career. I think it fit his skating style and he showed wonderful expressiveness for his age. Somehow I'd rather not watch this kind of serious face from such a young skater, but that is just my opinion. The audience appreciated his performance very much. By the way, he appeared on the ice with a rose and gave it to an elderly woman in the audience. She looked a bit puzzled by this sudden romantic gesture. I loved Rika Hongo at first sight 2 years ago when she performed an amazing Black Swan, and I expected her to rapidly progress. Although that wasn't the case, she has steadily advanced. She won the Junior National title last year and finished 6th at Senior Nationals. Now that Mao and Akiko both are out for the next competitive season, she is actually a real candidate for the senior Worlds team. She skated her free program Carmen where she landed seven jump elements including two combinations. She is powerful and energetic, and if she could only find her own style, she might be the next star on the Japanese figure skating scene. Fortunately she trains at the same rink as Akiko Suzuki and has a chance to learn from her directly or indirectly.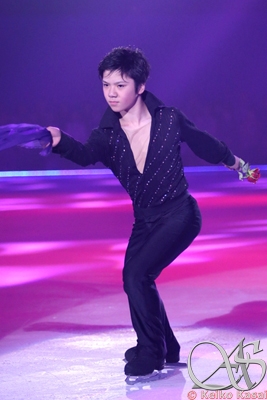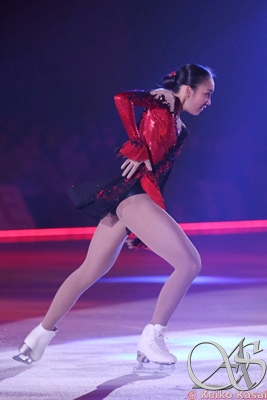 The Japanese junior champion, Keiji Tanaka seemed to have trouble with his jumps because he doubled his planned triple Axel several times through this event, though it is not so serious because the season has not started yet. He chose music with vocals from the opera La Traviata and it might take a little more time for him to get used to it. This program was choreographed for him in the U.S. Once he gets used to the music and choreography, it will be a very attractive program, particularly his step sequence. Another contender for the Worlds team is Haruka Imai. Before she started her performance, the announcer said she aims for the Pyeongchang Olympics in 2018, so she wanted to make a fresh start here. She skated to funny but strong music, Defying Gravity from Wicked. Her dress was lovely as usual and gave her a little wicked-like look. Her speed was amazing and her layback spin so beautiful. She is loved by many Japanese figure skating fans for her loveliness and they have been hoping for her success for so long. Some now predict her success in the upcoming season. Haruka picked up a stick at the end of the program and once she swung it a bunch of flowers popped up. Cool, isn't it?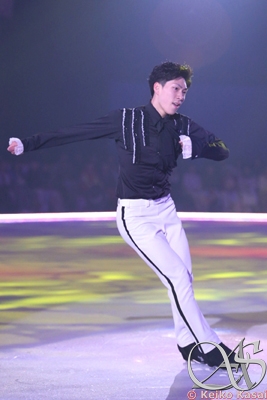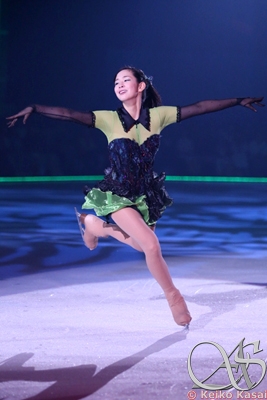 Satoko Miyahara is no more an up and coming skater but stays steadily in top positions. She has great flexibility and used her body effectively to own the ice; her tiny body filling it with gorgeous extensions. She landed all the jumps steadily and showed more beautiful layback spins. Adding to such technical advantage, she also has a way to express herself. We knew through media how she dedicates herself into this sport, and her fans always wish for her future success. Reigning Four Continents champion, Takahito Mura pleased the crowd with his presence. His jumps were all big and high, and his triple Axels were particularly amazing. His skating style is masculine, which is rare among Japanese male skaters. Some have said he has problems with musicality, but he seems to have worked through it. This new program, Feeling Good, has provided him with a new attractive image.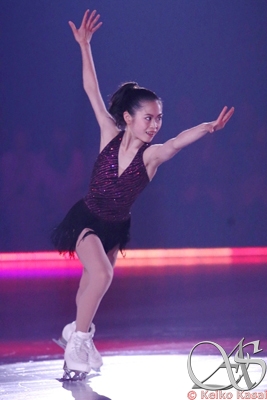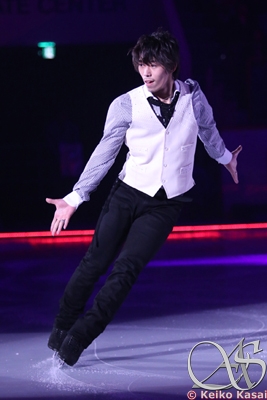 With Mao, Akiko and Miki out, Kanako Murakami is now viewed as the top Japanese lady skater. The announcer said she is approaching a new chapter leading up to the big event in 4 years. Kanako showed her determination through her strong performance with speed and power. Although she failed her trade-mark jump combination: a triple Salchow-double loop-double loop, all other jumps were consistent. Her fast spiral and well-centered spins were also very attractive. The one thing she can work on is grace. If she moved more softly and elegantly it would give her more appeal as a mature skater. She became the World Junior champion at age of 14, and now she is approaching 20. Kanako said at the press conference after the shows she wants to focus on her jumps and is looking forward to challenging herself during the new season. The frustration she experienced in Sochi has only strengthened her motivation to train even harder and with more enthusiasm. She will reach her goals by saying them out loud, making herself believe she can do it. I sincerely hope her big breakthrough will happen this upcoming season.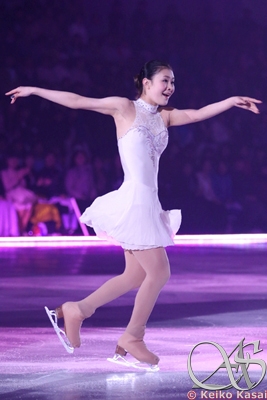 I have been wondering how to appropriately portray the young Olympic and World champion, Yuzuru Hanyu. As tremendous? Terrific? Fierce? No, I couldn't think of the right words. After winning skating's two biggest titles, he seems to have a kind of aura around himself. I saw him in several performances before this event where he skated like he was in another dimension compared to before his Olympic win. As the last skater in this show, he performed his new short program, Ballade No.1 by Chopin. He landed a huge triple Axel in the beginning, a quad toe loop and a triple Lutz-triple toe combination, both in the latter half of the program. He also did a sit and combination spins, and executed his gorgeous step sequence. He moved with outstanding speed, jumped so easily with little preparation, spun so fast and did several moves in the field such as a deep edged spread eagle, spiral and a fast Ina Bauer with bending his upper body backwards. He moved in amazingly sync to the music as usual. Of course this was the first time he performed the program in front of an audience, so he needs more time to get used to it. Still, I must say this program, choreographed by Jeffrey Buttle, will be the sensation of the 2014/2015 season. He ever got a standing ovation after his performance. At the press conference Plushenko was asked about Yuzuru, and called him a young genius of a new skating generation. He has big future potential but needs to stay healthy, which is the most important thing. My concern is the same...
Yuzuru was asked many questions during the press conference. He admitted he was nervous before the shows since choreography had taken all his time and he hadn't been able to practice much. His music choice was made because he wanted to use a piano piece. As a junior, he skated to Paganini and ever since he has loved the feeling of skating to piano music. Programs to classical music are hard because there is often no specific story, but that is fine with Yuzuru as it gives him an opportunity to progress. Like including a quad toe in the second half of the program. He's also working on a quad loop and Salchow, but they are not reliable enough to put in the program yet. Since he is the reigning Olympic champion he feels he has a lot to prove and needs to achieve his best results. The overwhelming response from the audience caught him a bit off guard. He's not used to his superstar status yet, but was inspired by the cheering which helped his performance.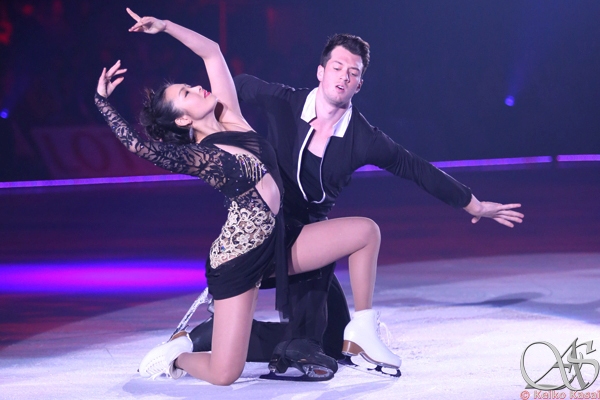 To our disappointment, Cathy/Chris Reed didn't come since Chris is still recovering from surgery. So only one Japanese ice dance couple performed: Emi Hirai/Marien De La Asuncion. They skated to Goldeneye and they have been improving year by year. When they formed a team in 2012, the difference between their levels was obvious. However, Emi has improved a lot and now they are a wonderful match. Emi looked sexy on the ice and so did Marien when they performed this program. They still need more speed and smoothness of the movements going into elements like lifts or spins. But the margin between them and the Reeds is getting narrower each year and there will be a serious fight for the spot on the Worlds team in a couple of years.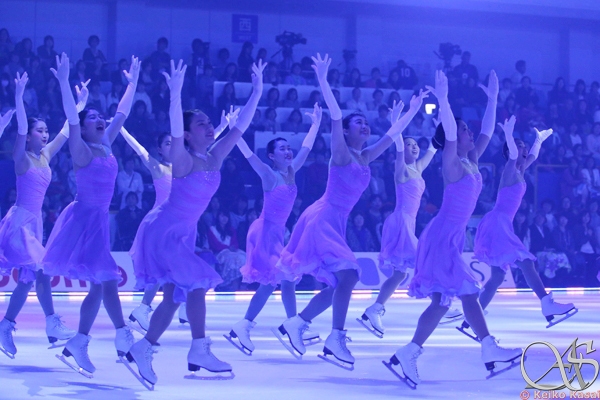 The synchronized team, Jingu Ice Messengers Grace skated last in Act I. After they won the Nationals, they went to the World Synchronized Skating Championships in Courmayeur, Italy last April. They ranked 12th overall which was a pretty good result because five strong nations each sent two teams and most of them made top 10. So this team ranked 7th country wise. They showed their short program Singing in the Rain. They look so beautiful in their pale lavender dresses and they moved in wonderful unity. They showed amazing lift and quick intersections.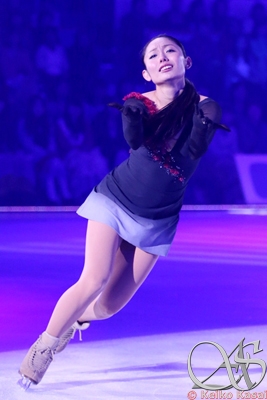 I feel like that their performance is getting more and more worth watching.
As I mentioned earlier there were seven guest skaters and they each gave really wonderful performances. Miki Ando skated to Say Something and showed she has kept her condition very well. She used to be known as a jump genius but now she is a brilliant expressionist. Most of the audience had a deep sigh of satisfaction after her performance. Nobunari Oda overturned his fixed image with this new exhibition program Adios Nonino. He might not appear to be a tango skater, but actually he is. There were neither too many sexy movements nor straight passion, still you felt this minty-fresh eroticism and controlled enthusiasm. Some might think he wouldn't be expressive enough, but they'd change their minds if they saw this program. He was obviously very expressive and impressed the audience since most of them rose to their feet and applauded as he knelt down for his closing pose. His expressiveness was supported by his amazing skating skills, jump technique and awesome spins. I wish, like most skating fans, that Nobu will change his mind and go back to competing. Another skater who we strongly hope will come back is Akiko Suzuki. She skated to Zigeunerweisen and impressed the audience with her enthusiasm. Even from behind she conveyed the message. Her eye power was so strong that it fascinated the audience seated close enough to catch it all. Every movement could attract the crowd and especially her step sequence at the end of the program, which was fast and strong like the music itself. She fully expressed the passion of the music. It might be a paradox saying that because I wanted her to stay eligible, but I dare say this was a very professional performance! She also received a standing ovation. By the way, her bright yellow dress fit the theme of the music - Romany, but afterward she was afraid she might have glowed a bit too brightly in the dark.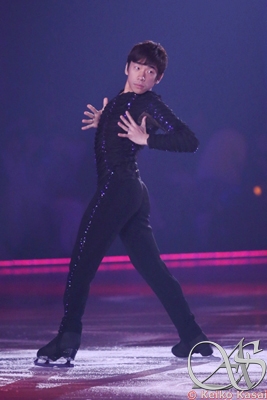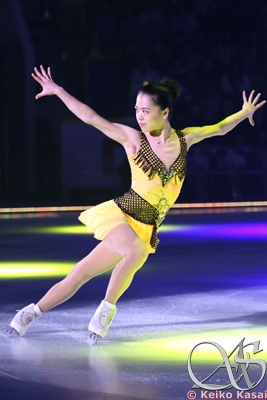 We were so happy that we could watch the World champions, Anna Cappellini/Luca Lanotte here in Shin Yokohama. Recently they have performed light and witty programs making use of their own lovely characters, but here they skated rather quietly and with delicate emotion to Fireflies. I think they represent the European ice dance style which is chic and elegant. Besides, I have been interested in Anna's characteristic costumes, particularly her skirts because they are always special; nice and sweet. She wore a black frilled skirt this time, which was short in the front and longer in the back and looked perfect on her. They also got big standing ovations.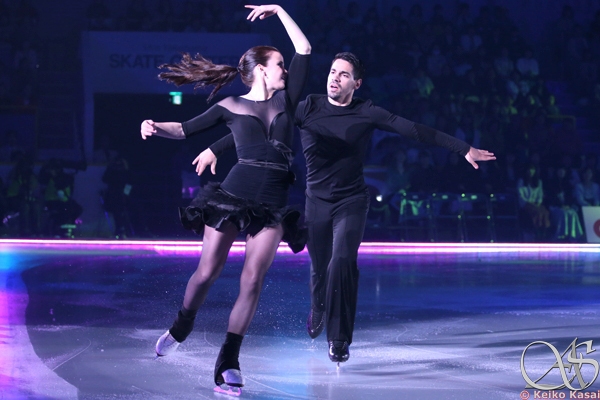 Javier Fernandez delivered his short program for the upcoming season. It is rock music, Black Betty, which didn't seem like a competitive program because it was so entertaining. He looked very cool in a black sleeveless t-shirt and black jeans. He will hopefully catch the younger people's interest and create a new fan base in that age group. I had seen him skate this program two weeks earlier and it had improved a lot since then, so you can expect a much more advanced performance at the beginning of the competitive season. Elena Radionova's program was to the well-known Zombie. No one could be more adorable than she was in this lovely costume. She played the zombie so sweetly that I'd look forward to meeting one rather than being scared of it. Her jumps looked a little off, but her spins were wonderful.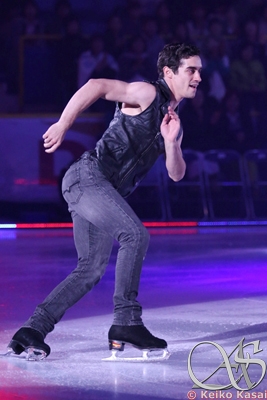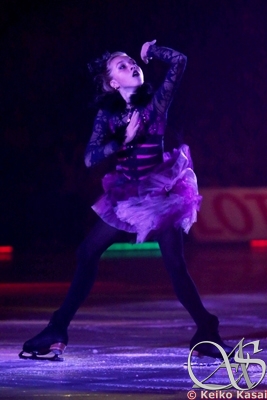 What can be said about Evgeni Plushenko, besides him already being a legend? I wondered as it didn't seem necessarily for him to even perform; as soon as he appeared on the ice it made the audience wild with excitement. Nevertheless, he skated to the famous Storm, where he jumped and did gorgeous and fast step sequences. He even tried a triple Axel and almost fully rotated and landed it. You would never believe he had surgery a few months ago. The whole audience was involved in the euphoria during his performance and after he finished they gave him one of the biggest standing ovations ever. Evgeny was asked about his injury by the reporters at the press conference. He replied he was doing better and can jump again, even do triple Axels. He will spend a lot of time resting but has some shows to do in China.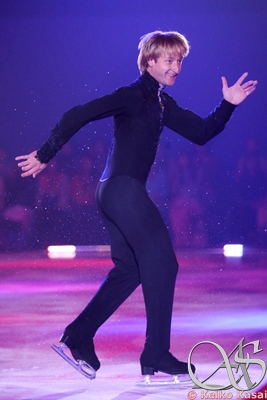 He chose the Storm music because he feels it suits him and people like it. Evgeny will not compete this coming season because of a new project he's starting, but he would like to do another Olympic competition, his fifth, since he knows of no other athlete who has done that. The new project is a fairy tale family show starring great skaters and gymnast. He's financing the project which will premiere in Moscow in December.
The shows ended in a happy and exciting atmosphere and fans can rest assured that even though Japan just lost many of its top eligible skaters, the nation can move on towards a bright future. I really appreciated this show a lot, but I'd like to make a wish to the producers. The show started years ago to give young Japanese skaters the opportunity to perform in front of a big audience. Great idea, but as time went by it changed into an exhibition for Japanese eligible skaters to announce their new programs for the upcoming season, and this year it was advertised as such - a kick-off event for the new season. As much as we all loved the guest skaters and all the new programs, I wish the shows would stick to the original concept. The more young talents given the opportunity to show their potential, the better it would be because the talent in Japan seems endless.