Europeans 2014 - day 1: Ladies go as predicted; intrigues in ice dance will keep us on toes till the very end.
January 16, 2013
By Reut Golinsky
Photos © Reut Golinsky, Joy, Daphne Heij
The 2014 ISU European Figure Skating Championships opened in Budapest, Hungary with ladies and ice dance events. While there were no surprises in the top three ladies, some of the placements in the ice dance event were quite unexpected.
Ladies: Winning youth.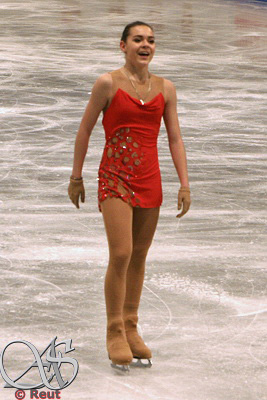 Italian Carolina Kostner and Russian Adelina Sotnikova and Julia Lipnitskaia were named by many as the main contenders for the European crown. None of them disappointed us this Wednesday afternoon; all three showed beautiful and solid performances, while the difference between their scores is only three points at the moment.
Reigning Russian national champion and European silver medalist, Adelina Sotnikova showed her "Carmen" program which included a triple toe-triple toe combination, double Axel and triple flip, two out of her three spins were level four and all her elements got positive GOE. She used to put a harder combination in her short program, but admitted that at the moment toe-toe works better for her mentally and still gives enough points, so she will keep that for the rest of the season.
Adelina earned 70.73 points and the personal best score, but still was critical with herself. "It wasn't perfect yet, there were little mistakes, but overall I am pleased with it. I think that the Axel was a bit shaky and that I lost speed in a spin. Now I have to focus on the long program," she said.
The 2013 Grand Prix Final silver medalist, and the youngest competitor of this championship, Julia Lipnitskaia was the only one who executed the difficult triple Lutz-triple toe combination in the competition today. Her other elements included a triple flip, double Axel and all level four steps sequences and spins, and resulted in 69.97 points. All noticed that this season Julia's performance skills improved a lot. And the program to "You Don't Give Up on Love" is a great vehicle for that.
Julia's and Adelina's programs were choreographed by Ilia Averbukh and Peter Tchernyshev, respectively. For many years Ilia produced multiple Russian ice shows with professional skaters and TV "skating with celebrities" projects with Peter as one of the main participants. Those shows put more accents on the artistic and theatrical side of figure skating, and it's great to see that the creative tools Ilia and Peter acquired return and enrich competitive skating now.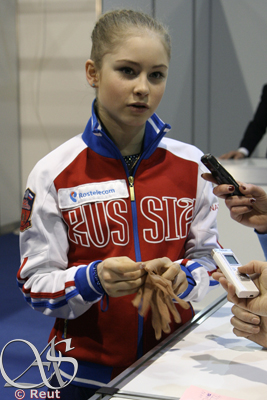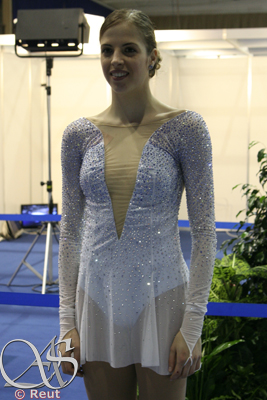 Five-time European champion Carolina Kostner got the biggest standing ovation of the day with her new short program to "Ave Maria". Triple toe-triple toe, triple loop, double Axel, level four steps sequence and spins, and her always amazing fluid skating and musicality brought her 68.97 points and a new season's best. "I had skated this program as a show number in Oberstdorf, but this was the first time for me to skate it in competition. When the music started it calmed me down and it just felt like the fog went away," she recalled. After her last Grand Prix event Carolina suffered from back pain and strong headaches which forced her to withdraw from the national championships. It was Lori Nichol, her choreographer, who had the idea to cheer her up with the new creation to distract her from her health issues. "I thought this would be a very good occasion to have another new program. Who knows, how many more new choreographies I'll be able to create," Carolina added.
Alena Leonova (RUS) with 64.09 points and Mae-Berenice Meite (FRA) with 58.64 points close out the top five of the ladies' first event.
Ice dance: Tenths and hundredths.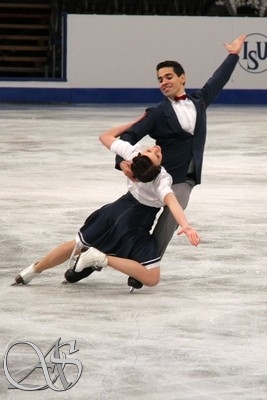 There were times when winning the European title of an Olympic season could almost guarantee you the medal at the Games. Now it seems the reverse is true: it looks as if it almost might jeopardize the chances. Also missing the European title just before the main event of the year might be harmful? Anyhow, citing the very same reason of the need to "dedicate their best effort in preparing to the Olympics" European champions of 2013, Ekaterina Bobrova and Dmitri Soloviev, and two time European champions (2011, 2012) Nathalie Péchalat and Fabian Bourzat decided to skip the competition. This gave Italian Anna Cappellini/Luca Lanotte and Russian Elena Ilinykh/Nikita Katsalapov an opportunity to fight for the gold and left the field wide open for the bronze.
With level four twizzles, lift and a Finnstep pattern Cappellini/Lanotte are currently leading by 0.04. The 2013 European bronze medalists, who had the highest ranking entering the competition, earned 69.58 points. "I've got to be honest it's not the easiest short dance to do and we tried really hard to bring sparkle to the ice. We were really happy with the performance this evening", Luca Lanotte commented. When asked to evaluate their performance in percents, from 0 to 100, after much discussion they went for 85-90.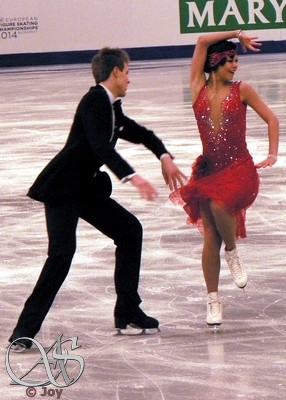 Elena Ilinykh/Nikita Katsalapov on the other hand felt that it was 100% for them, but probably not so for the audience and judges. Their side by side footwork only got level two and they need to investigate the matter. Still they achieved a personal best score of 69.54 points. "Overall everything was harmonious, the twizzles turned out wonderful, ideal, performed in parallel. Emotionally and physically it was easier to skate [this time]. Everything we planned, we did," Elena said.
Penny Coomes/Nicholas Buckland of Great Britain scored their season's best with 61.76 points. "We'd worked really hard in training, so today I just put everything out of my mind. We had good support from the crowd. We've still got some technical things to work on but overall we're feeling quite positive. We worked as hard as we could and we said to ourselves we'd do as much today as we could", Penny said.
Closing the top five are two other Russian couples: Victoria Sinitsina/Ruslan Zhiganshin (60.63 points) who are just ahead of Ekaterina Riazanova/Ilia Tkachenko (60.35 points). The rivalry between the two couples is no less tough than is the fight for the gold. At Russian Nationals they finished third and fourth in this very same order, and the decision of which Russian couple will be the third to go to Sochi will be influenced by their results here. When asked if they feel additional pressure because of that Victoria admitted: "Yes, we do. This is a very important, significant event for us". "But when you go on the ice you forget about everything. You think only about your program," added Ruslan.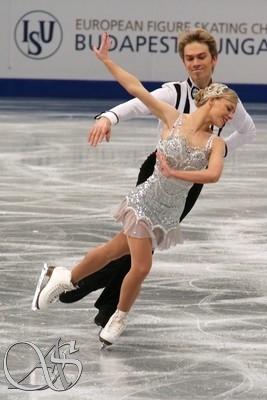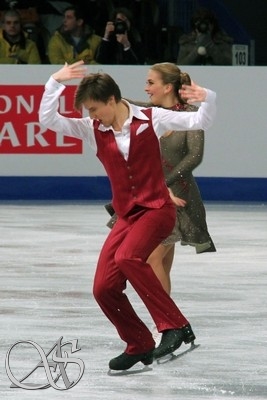 Sebestyén: "I feel as if it was just yesterday"
We met Júlia Sebestyén on Tuesday, one day before the competition, at the men's practice session. And we had an opportunity to ask her a few questions about what she is doing now and about the 2004 and 2014 European championships.
I finished competing in 2010 after the World championships in Turin, and since then I've been working as a coach. I have more than ten students, from 8 to 12 years old. They are working really hard, they are improving, they are national champions in juniors, novice and younger categories. And they compete internationally too.
Is there any specific reason you came to this particular practice?
I wanted to see the Russian skaters, of course. And hopefully to see Brian [Joubert] in the next group. He won when I won, ten years ago, so I'm really cheering for him and hope he will skate very well.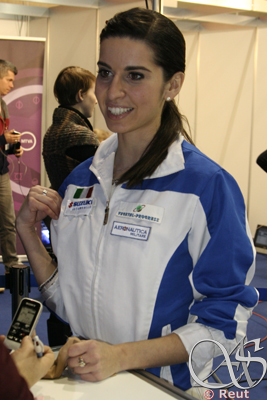 How does it feel to be here ten years later?
I feel as if it was just yesterday. And when I meet the girls I've competed with I feel like I have to go and warm up, because my group is the next one. It's good to see them, and I will cheer for everyone I've competed with before, I know most of them personally. I hope it will be an interesting competition.
Your predictions for this competition?
I think that the most exciting and surprising competition will be the men's, because a lot of European champions will be on the ice and a new Russian champion too. It will be very hard for the skaters. And also it's interesting to see what they are doing now, before the Olympics.
In ladies' event it's Carolina (Kostner) and the Russian girls. I think they will be on the podium. But I will really cheer for, for example, Valentina (Marchei), or Jenna (McCorkell), or Elena Glebova and Elene Gedevanishvili, because we competed together. So we'll see.
In pairs it's of course Russian and German skaters; it will be good to see them competing together but I don't know who will be the winner.
Don't miss our flash updates (containing text updates and fun pics) from the European Championships 2014 on Twitter and Facebook.