Europeans 2014 - day 2: ice dancing drama, gold for Italy
January 17, 2013
By Titanilla Bőd, Új Szó
Photos © Mireille Geurts, Eva Maria Jangbro (EMJO)
Men's short program and ice dancing finals offered moments of emotion and drama on the second day of the European Championships in Budapest.
Fernandez in the lead
At the beginning of the week it didn't seem to be Javier's time in Budapest. He made many mistakes at practice and his season so far has not been excellent. But in the end, missing the Grand Prix Final was a blessing in disguise for Javi. "My problem was getting used to new skates, so I went for the old skates from last year. I didn't qualify for the GP final, but that gave me a week to train. Now I can push harder, because this season is the longest one. It's a good thing for me that all of this happened," he said after his perfect short program, in which he landed a quad Salchow, a huge triple Axel and a combination of a triple Lutz-triple toeloop. His routine to Satan Takes a Holiday was absolutely outstanding and he earned 91,56 points for it. "We got the idea from Robin Cousins, from his exhibition program, to use this music. We asked him if I could skate to it, because nobody has used it after him. He agreed and he says every time he watches me, he is happy," Javier explained.
Voronov, the black horse
While everyone is talking about the rivalry between Plushenko and Kovtun and everyone having an opinion on who should be sent to the Olympics, a third Russian skater stole the show in Budapest: Sergei Voronov. He skated a clean short program with a quad toe- triple toe combination, a triple Axel and a triple loop. He got 85.51 points and is in second place. He admitted that it wasn't easy for him mentally: "I had very strong emotions. I remember last year, which was not good, and today it felt like one year was a very short time ago. I want to win the free program a 100 percent, but this season there are so many strong competitors. I don't think this was my best skate, but I'm so pleased that I beat the nerves and the worries I had before."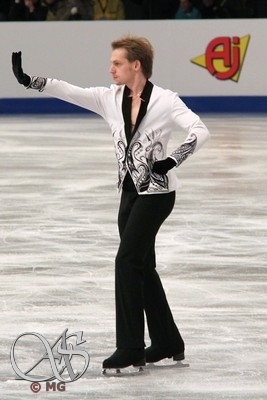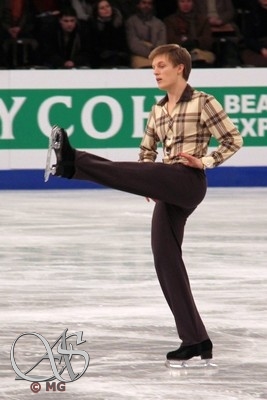 Verner is back!
In the last few years we have seen Tomáš Verner disappointed so many times – it was a pleasure to finally see him as a "smiling sunshine" again. Even though he fell on his opening quad toe, he remained focused and by landing a triple Axel and a clean triple Lutz- triple toe combination, he placed third after the first segment of the competition. "If I had been looking to the past I wouldn't be here. Last year after London I really didn't know whether to continue my career or not. I took time to make the decision and deal with the hatred I had in my heart towards skating, because it didn't offer me nice moments that time. I tried to find the love for skating again and I managed to do it," Tomáš said at the press conference, where he was the "usual" Tomáš: he teased Javi about his costume, made funny comments and in the end made the whole room burst into laughter when he said goodbye to Javi: "Bye, sweetheart!"
Only one quad instead of two
Reigning Russian champion Maxim Kovtun is currently in fourth place, because he doubled his meant to be quad toe. "My energy was good, I was calm through the program, and my practices and the warm up were excellent. But then there was this tiniest fraction of a second in the take-off for the quad where something wasn't right. I couldn't even get a triple from it, I just popped it. It's a big shame because everything else was good; the levels, the components, the quad Salchow... But you can't do anything with a double toe," he commented on his performance.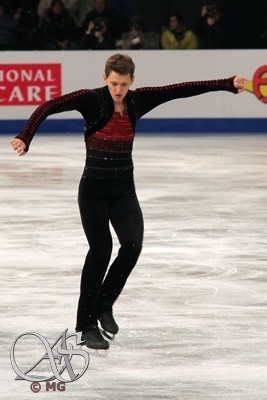 Football helps to relax
Michal Březina had a clean skate after a couple of months of struggling. "I'm glad I finally managed to do it as I always do it at practice," he said with big relief. "I'm happy to pull off my best performance here at the Europeans. Plus my sister couldn't be the only one in the family with a clean program, that wasn't going to happen!" said Michal, who had many supporters from his club in the stands. The secret of his success is also in his special "personal coach", Ondrej Hotarek. "I was playing football with him backstage and it totally helped me relax. I completely forgot that I'm at a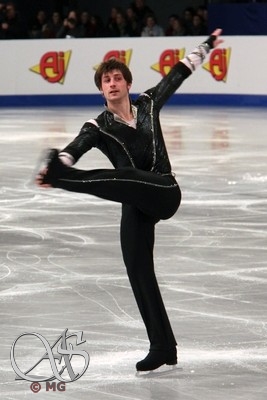 competition."
Joubert changing programs
Brian Joubert is a specialist at Europeans as he has ten consecutive medals from this competition. He was happy to be back in the city where he won his first European title; however, this time he didn't manage a clean short program. He fell on the quad toe and messed up the triple Axel and is only in ninth place. His new program was made just a few days ago in Moscow, where Brian trains with Nikolai Morozov, and the French skater admitted that this affected his performance. "I was nervous because it's a new program and I made two big mistakes on my jumps. But my old program was not me. I was not comfortable with it and we are thinking about the Olympic Games," Brian said and revealed that before Sochi he plans to change his free program too. "But now in Budapest I will skate the free program to Concerto de Aranjuez," he added.
New champions: Cappellini/Lanotte
Anna Cappellini and Luca Lanotte of Italy won their first European title in an evening full of drama in Budapest. The Italian couple performed a clean and passionate free dance to The Barber of Sevilla and danced to gold. Their main rivals, Elena Ilynikh and Nikita Katsalapov, who were behind them by only 0.04 points in the free dance started off powerfully and passionately, but in the fourth minute of their Swan Lake Elena fell and the Russian golden dreams were over. The Bronze medal went to British Penny Coomes and Nicholas Buckland, whose Michael Jackson show really caught the heart of the audience.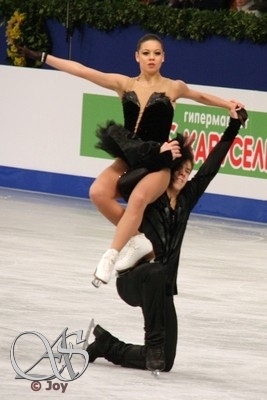 A bitter lesson for the future
There were four happy medalists and two sad ones at the press conference after the free dance.
"It wouldn't be appropriate to say it here," Elena said to the question what their thoughts were when she found herself on the ice. Nikita didn't comment on it at all, but their disappointment was obvious. "It's a sport, sometimes such things happen. We were skating a 100 percent from the beginning. This will be a great lesson for me to stay in control. We were ready, we were skating with our souls, but the mistake still happened," Elena added.
Who doesn't love Michael Jackson?
Penny Coomes and Nicholas Buckland have overcome really hard times. A few months ago Nicholas had some serious medical problems, but after heart surgery he was back on the ice. The British couple gave it their all in Budapest, and third place after the short dance was a good starting position for the free skate. They choose music which everyone could quickly connect to, and the well-known rhythms of Michael Jackson were much appreciated by the audience in the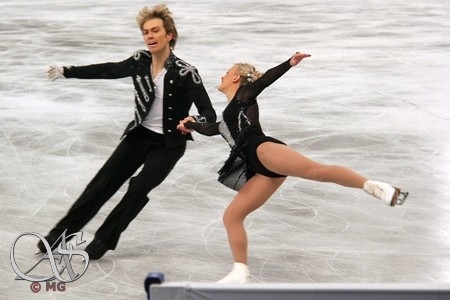 SYMA Arena. "We made the decision about the music towards the end of the last season. We knew that many of the teams would go for classical music, and we wanted to choose something different. We love the music of Michael Jackson, who doesn't? For Sochi we wanted to skate something the audience can relate to," Nicholas explained. The duo caught attention with their fast and interesting lifts too. "We watch videos of skaters, dancers, gymnasts and acrobats and they inspire us. At the beginning of the season we had different lifts than now, because some of them just didn't work on the ice. I'm so tiny compared to Nick so we would be silly not to use that," Penny said about their elements.
Italian anthem
It is not common to clap when the national anthem is played for the winner, but the melody of the Italian anthem actually calls for clapping. It was played for Anna Cappellini and Luca Lanotte, who won their first title. Last year they were third, now they won a tough fight for the gold. "We are very pleased with how things went tonight. We tried to handle the pressure, we are happy with the way we skated, with the score we got and with the result", a smiling Anna said, wearing her shiny medal. "This was a solid performance, but we know there are still a lot of things to work on," Luca added.
The Italian couple didn't think of medaling when preparing for the competition – in their mind there was only a desire to improve. "We try to make everything stronger and more emotional. We always try to improve and then come here and show everything we've got," Anna described their goals. The victory in Budapest will also help them going into Sochi: "We are very happy about the fact that the judges liked our free dance. Now we just want to go to Sochi and skate as well as we can," said Anna, who dedicated her gold medal to her passed away mother. "Every time I feel this happy, I think she is smiling somewhere…"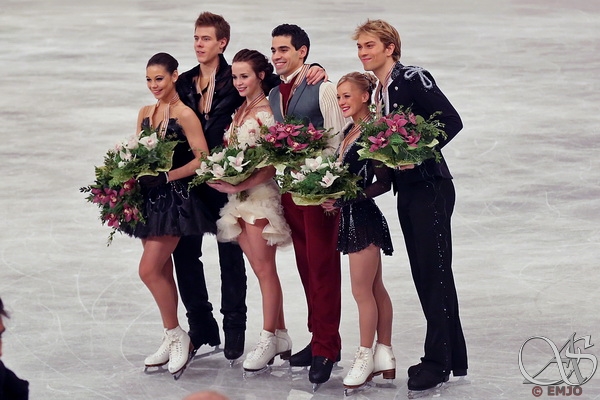 Don't miss our flash updates (containing text updates and fun pics) from the European Championships 2014 on Twitter and Facebook.