Europeans 2014 - day 3: Amazing night by Lipnitskaia
January 18, 2013
By Titanilla Bőd, Új Szó
Photos © Mireille Geurts, Joy, Eva Maria Jangbro (EMJO)
Julia Lipnitskaia from Russia won the ladies' competition at the European Championships in Budapest. In pairs, Tatiana Volosozhar and Maxim Trankov are in the lead.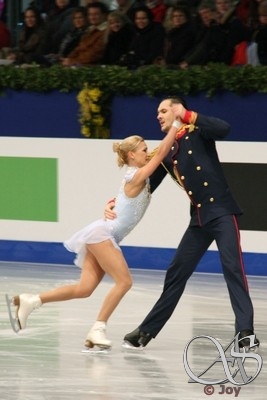 A new season's best for the Russian Waltz
Tatiana Volosozhar and Maxim Trankov have shown us this season that you can actually dance in pair skating too. Their Waltz Masquerade is unique and memorable, and they earned a new season's best for it, 83,98 points. Their short program contained a high triple twist, a nice side-by-side triple toeloop and a throw triple loop. "We skated quite well. We were nervous as we skated towards the end, next to last, and the tension was high. But we were able to deal with it and skated with a good mood. In the step sequence we wanted to give everything and go for a season's best score. We did it, we broke our own record. We have improved the choreography," Maxim said about their performance.
Mistake of the legends
It was expected to be a big battle between the Russian and the German couple, but Aljona Savchenko and Robin Szolkowy made a little mistake in their throw triple flip. In the mixed zone they didn't even comment on their performance, it was their coach, Ingo Steuer, who talked with the press. "It wasn't their best skate today, but they still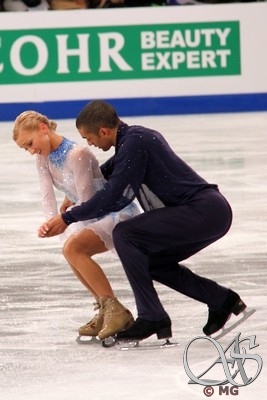 got a good score and all the levels. Mistakes happen. Of course, they are very disappointed now, because the throw flip is usually their best element. But considering that we weren't sure this morning if Aljona can skate at all, it was okay. Aljona's back problem is better now, but since last night she hasn't stopped coughing. It is a beginning bronchitis. Our doctors did everything to help. Now it's about trying to keep her fit," Ingo Steuer explained about the situation.
At the press conference the skaters themselves also talked about it: "There was a technical problem from both of us, we will analyze what happened. Since last night I don't feel so great, but I'm fine," Aljona said and her partner Robin added: "We made some small mistakes, but we had a hard time. We are kind of glad to be sitting here in second place and look forward to the free program." The German pair got 76,76 points for their short program. When asked about their rivals' score, Maxim answered: "They are legends, and they get high scores even when they make mistakes."
The power of being focused
Vera Bazarova and Yuri Larionov skated a clean short program and they are happy to be in third position. "Finally, for the first time this season all the elements were clean. We can show some more emotion in the free program, the short is more about the technical side. We collected our thoughts better and were more focused than in previous competitions this season. The supporters were very helpful for us, so a big thanks to them," Vera commented on their Charlie Chaplin short program, in which they earned 71,70 points. Yuri agreed with her: "We are very pleased with our performance; finally we were able to approach it with a cool head. We tried to show everything; the elements and our skating."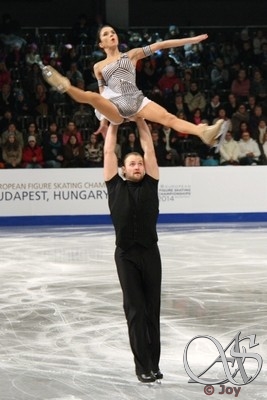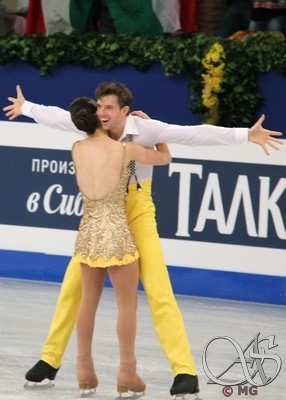 Arguing with grandma
Fans love Stefania Berton and Ondřej Hotárek, no matter how they skate (in Budapest they skated very well!) and no matter what they wear. Yes, we mean the famous yellow pants ("The Mask" SP). Apparently there are people in Ondra's family who are not fond of them either. "I went home for three days at Christmas time and for two days I was arguing with my grandmother about the yellow pants. At the end she said she still didn't like them. We like them though," Ondra revealed. The Italian couple is in fifth place after the short and they don't mind at all that they have to skate their free program on a Sunday. "We're honored to skate on a Sunday. It's the first time the ISU has given us the opportunity and it means a lot of people can watch. We have always been skating on Wednesday or Thursday and it meant people couldn't watch it," Ondra commented on the new schedule.
An engagement
Tatiana Volosozhar and Maxim Trankov made a fool of all of us. When there was an announcement that they would hold a special press conference, everyone got very excited. What might they announce? Why this special occasion? The fans and media were all making guesses. Some hoped that they'd finally let us know something about their private life; the more realistic people didn't really believe it.
"Me and Tatiana are glad to announce that we made an engagement…," Maxim said with a smile and continued: "With a sponsor!"
Well, congratulations to them having a new sponsor and we have to say that they are very talented in PR as well! Never ever was a press conference about sponsorship anticipated as much as this one and that alone is a success, even though some of the disappointed journalists left the press conference immediately following the announcement. They are probably not fond of April fool's day either.
Lipnitskaia's perfection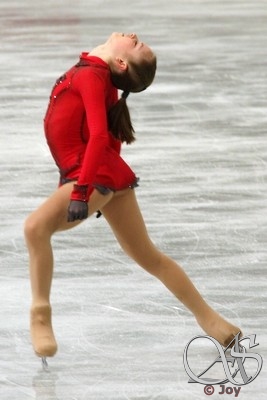 Did you ever think a fifteen-year-old skater could make you cry? Well, Julia Lipnitskaia amazed and moved the crowd with her deep and memorable free skating to the Schindler's List soundtrack. She landed seven triples and delivered a performance to be remembered. She was the last to skate amongst the medal contenders and when she finished her program, the crowd gave a standing ovation for the new champion. She, however, was tense until her score appeared. "I knew what score Adelina Sotnikova had. Usually I don't watch other skaters' score, but now I did. I was afraid that my score would be lower. I was just very, very happy when I saw my score," she revealed. She was also overwhelmed by emotions: "My head is still spinning; I think I might faint right now. I skated my program at two hundred percent. I did two difficult combinations in the second half and the base value went up. I never even skated this version of my program in practice. I was very nervous before my skate, my legs were trembling. In the first part of the program there were still nerves, but then emotions actually helped me perform better. I thought it would affect my technique, but it helped."
Julia is the youngest ever European lady champion, and the first Russian champion in eight years. When Irina Slutskaya, the seven-time European champion, won her last title back in 2006, Julia was seven years old. "At that time I wasn't watching figure skating on TV," the new champion said at press conference. And a little parallel: Irina Slutskaya won the title in 2001 in Bratislava using the same music, Schindler's List.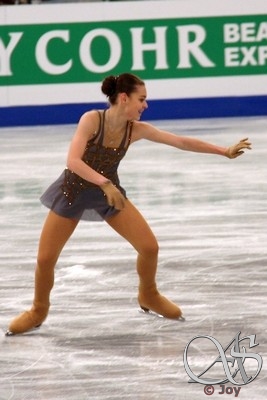 Silver feels like gold
Adelina Sotnikova won the silver medal for the second time in a row. She was in the lead after the short program, but she missed her first combination: a triple Lutz-triple toe. After that she skated clean, but her performance was not enough for the victory. "This silver medal feels like gold to me. The big element was not there again, but after that I managed to pull myself together and deliver a good program," she commented on her performance.
A bronze for the collection
Carolina Kostner has an amazing medal collection, now she added bronze to it. "I'm not satisfied with my skate today, but I can bring home a medal. It's strange, I was here in Budapest ten years ago; it was my second Europeans. I watched Júlia Sebestyén win; I looked at her with big eyes and dreamed about taking her place. And in the end, I took her place five times. It's really great to be here again," she said at the press conference.
Her Bolero is an outstanding program which made an impression even though there were some mistakes in the jumps. Carolina was happy to explain how the program was created and how she feels about it: "There is a funny thing about the music. The original piece is about 15 minutes long. The pace is always the same, but listening to it you feel like it gets faster and faster. That's how we wanted to create the program; the emotion gets higher, higher and higher. Somehow I always wished it would be an Olympic program, but in the summer we went for a new program with my choreographer. We said that if it doesn't work, I could always go back to Bolero. And that's what happened. I love this music; I feel the joy of it."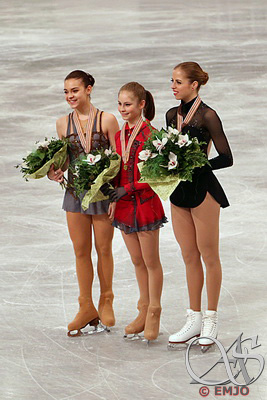 Don't miss our flash updates (containing text updates and fun pics) from the European Championships 2014 on Twitter and Facebook.