Europeans 2014 - day 4: Viva Javi! (and a bit of sadness)
January 19, 2013
By Titanilla Bőd, Új Szó
Photos © Mireille Geurts, Joy
Javier Fernandez defended his title – he won the free skate on Saturday in Budapest at the European Championships and has become the first skater to win two times in a row since Evgeni Plushenko's victories in 2005 and 2006. However, the men's free skate had some hidden sadness in it, too.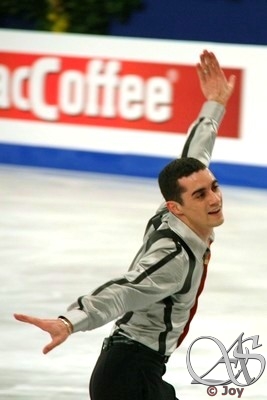 One quad, three quads, ten quads
"I think I have enough quads," said Javier Fernandez after the short program, when he was asked whether he plans to also include two quads in his long program. And he really does, in his free program to Peter Gunn soundtrack he attempts two quad Salchows and one quad toeloop. In Budapest he landed all of them, although he had some wobbles. "None of the quads were really perfect," Javi's coach, Brian Orser noted. However, Javi's performance with three quads and six triples was good enough to win the gold medal. "It was a hard day, because I knew the other skaters were doing well. I did my job. I did my program and I did everything I could do," he commented on his performance.
Winning two European titles in a row is a big achievement, but the main topic of the press conference was the Olympics. Javi was asked what he needs to do to get closer to Patrick Chan."I don't know… Put ten quads in the program? But to be serious, he has a lot of components that I don't have. I might have to push myself the next couple of weeks. I say we have to work more and more in everything to catch up, in the long and in the short," Javi explained.
Russian dilemma
Paradoxically, there were more questions asked to the silver and bronze medalists than to the winner at the post-event press conference. Sergei Voronov had a great free program with two quad toeloops and two triple Axels and this earned him the silver medal. It was the first European medal of his career; his best placement had been fourth in Zagreb in 2008. It was also the very first time on the European podium for his countryman Konstantin Menshov, who also landed two quad toe-loops and two triple Axels in his free program and managed to climb into third place. For the 30-year-old athlete, who wasn't selected for Europeans last year, it must be kind of a satisfaction.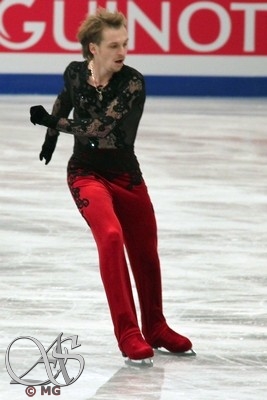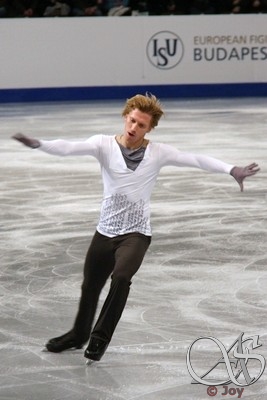 It might sound strange, but the representatives of the Russian skating federation might not be over the moon that two of their skaters medaled in Budapest. Until now it was only "Plushenko or Kovtun for Sochi?", now two more skaters showed that they can deliver a good performance. Who to choose and which criteria to use? That must be a dilemma for the Russians. Evgeni Plushenko is supposed to have a test skate on January 19th and the decision will be made after that.
"Zhenya is a fighter and he will fight 'till the very end. I was with him at the Russian championship gala practice and I could see he was so angry at himself. I'm sure that at the Olympics he would give 200 percent. He will fight; he won't give up without a fight. We have to wait and see," Konstantin Menshov said when he was asked about the situation.
"Of course I want to go to the Olympics. Who doesn't? This is the biggest competition for each athlete, all athletes are striving to be there," Sergei Voronov said, but both Russian skaters emphasized that the decision is not up to them.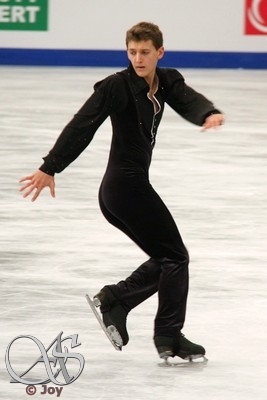 When it's got going to happen
It was a hard day for Maxim Kovtun. He came to Budapest as reigning Russian champion, but there was a lot of pressure on him to prove his abilities. He planned three quads in his program, but he landed only one quad Salchow. The second Salchow and the toeloop were doubled. "After the third quad attempt I understood this wasn't going to happen. I don't really know what happened, because it was all fine in the warm-up and I had a great practice yesterday. After the first element [quad Salchow] my legs were shaking and I popped the next one. I felt good before I started, though – nervous but not too much, just enough to make me stronger. I put all my strength into my skate. The energy was right in the short, but here it just wasn't," Maxim commented on his performance, but denied that he would have any problem with mental pressure. "We work on it a lot in training and I know how to deal with."
Březina used to the situation
It was an unlucky day for Michal Březina – he lost the bronze medal by only 0.26 points. "If I got level fours for my ending spins, or if I hadn't doubled the loop, I would have had the bronze. I think that cost me third place. I was upset when I doubled it. But I'm still happy with what I did. It was the best skate of the season for me and I can build on it. It will help my confidence for the Olympics. I got almost 155 points with two mistakes so I think I can get 165 or maybe 170 points if I skate clean," he said in the mixed zone. It was the fifth time for him to finish in fourth place at a major competition and he earned the so-called "potato medal" (this is the expression in Czech for a fourth place reward). He kept his poker face as always when he was asked about how it feels: "I'm used to it, I'm fine. Maybe when I get back to the hotel, I will break something, but it's OK."
Jorik goes to Sochi
One of the happiest skaters besides the medalists was Jorik Hendricks from Belgium. He finished 9th, which means he met the criteria of the Belgian Olympic Committee and can go to Sochi. "I'm not really pleased with the way I skated. There's still a lot of improvement to make. But I needed to place top 12 for Sochi, and I've done it, so I don't need to fight my Olympic committee. I have had the international ticket but not the Belgian one, and now I have it too," Jorik said with a smile.
End of an era
There was a bit of sadness in the air during the men's free program, though. It was the last European championship of Brian Joubert and Tomáš Verner. They finished back-to-back: Tomáš 7th, Brian 8th.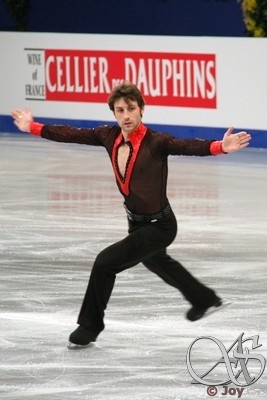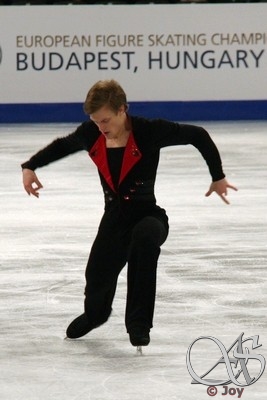 Brian was 9th after the short program, but in the free program to Concierto de Aranjuez he managed to climb up one step, even though he only had one quad (which was not landed properly) and one triple Axel in it. He was smiling in the kiss and cry, but many fans had tears in their eyes. Not because he had a bad skate, but you just can't help feeling nostalgic being in the same place where this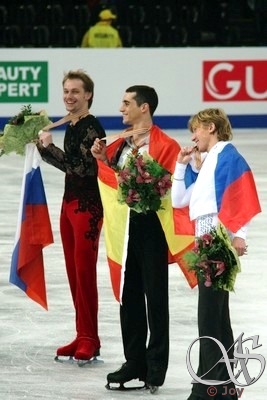 Frenchman earned his first European title ten years ago. "My performance was not bad. Of course I can be better, I can do much more. I can do two quads and two triple Axels, I can be stronger on the spins. This competition was so difficult, especially after the short program, but I was strong enough to fight today and I am very proud," he said.
Tomáš couldn't be satisfied with his free skate. After the short he was in third place, but in the free he tripled his first planned quad, and though he landed the second one it wasn't in combination. Then he popped a flip and an Axel, doubled a Lutz and missed his last spin… "I just failed mentally today. My focus was on the first two elements and I really wanted to skate clean, maybe I wanted it too hard, and this is when mistakes happen," he commented on what occured.
It was somehow a sad afternoon in Budapest. An era of great skaters is coming to its end. But hopefully a new era has already started – the era of Javier Fernandez, the Spanish king.
Don't miss our flash updates (containing text updates and fun pics) from the European Championships 2014 on Twitter and Facebook.