Europeans 2014 - day 5: Russian sweep
January 22, 2013
By Reut Golinsky
Photos © Mireille Geurts, Joy, Ksenia Nurtdinova, Eva Maria Jangbro (EMJO)
Sunday began with the sad news that the German pair Aljona Savchenko and Robin Szolkowy, who were standing in second place after the short program, had to withdraw after the morning practice due to Aljona's acute viral infection. Their team doctor said if she pushed through they risked her being sick for ten days, a possibility they certainly couldn't afford before the Olympic Games. After the withdrawal it seemed that the intrigue concerning who would win had lessened, but the last event of the European Championships brought us a few surprises.
Mozer's podium
If you think about it, four years ago in Tallinn, at the Euros before Olympics, the world of European pairs looked very different! Both Maxim Trankov and Tatiana Volosozhar were still skating with their previous partners, Stefania Berton and Ondřej Hotárek had recently teamed up and were yet to participate in their first Worlds, and Ksenia Stolbova and Fedor Klimov were only promising juniors. And not many heard about the coach Nina Mozer.
Two years ago we already had a "Russian sweep" at the European Championships, with the very same pairs even. But this time they also share a coach which never happened in pairs before, even with legendary Soviet pairs' coach Stanislav Zhuk. If at the beginning of the season some of us questioned how Mozer will manage to "absorb" two more top pairs in her group and divide attention between them, now we've got the answer.
Actually Nina Mikhailovna wasn't that over the moon about the free skates of her students, especially, of course, of Tatiana and Maxim's: "Today I suddenly caught myself thinking that I don't really like those few last European championships we won. The skates, I mean. For different reasons, but all of them were somehow difficult."
"Everybody skated with mistakes [today]. Even Fedor and Ksenia had a small mistake in their lift. But I'm glad for them!" she added.
Bad and good surprises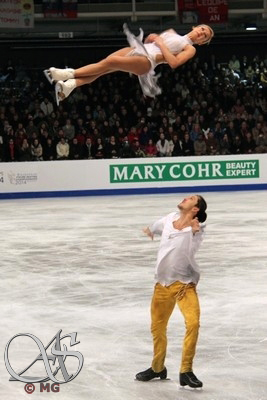 After their record-winning brilliant short program, nobody expected now three times European champions Maxim Trankov and Tatiana Volosozhar to give such a mistake filled performance. Including themselves. "Our elements were ready; we skated very well in practice. Nobody understands what happened. We skated amazingly in practice and our short program was very good but again we made stupid mistakes in the free skate," Maxim commented. "I made mistakes, all the problems were coming from the partner's side, and it was my responsibility. I will work more and will do everything possible to prevent a repeat of this at the Olympics".
Along with a flawless triple twist, throw triple loop and level-four lifts and spins, Maxim stumbled on the triple Salchow, fell on the triple toe and they failed on their throw triple Salchow. Finishing second in the long program with 136.40 points they still had a large enough margin to win the gold with 220.38 points overall.
Maxim and Tania admitted that they lacked a bit of motivation after their main rivals withdrew. They still wanted to give a good performance for the crowd, and for themselves. Maxim also noted that there are many excellent pairs, not only them and the Germans, but also the youngsters who beat them this time. So in his opinion it's not going to be merely a duel in Sochi, but a fight among many worthy contenders.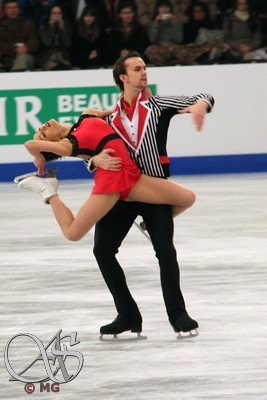 Ksenia Stolbova and Fedor Klimov got a personal best of 136.40 points and were first in this segment with their joyful "Addams Family" program. Fourth after the short program, they rose to win the silver medal with 207.98 points in total. They succeeded in executing a triple twist, throw triple Lutz and Salchow, a side by side triple toe-double toe-double toe combination and double Axels. This program is one of the most interesting ones in their career; it was a wise decision to stick to it for a second season. "We enjoyed every moment of our program, indeed we like this program very much," Ksenia said. "We make progress, move forward, and you can see it reflected in our marks too. At this championship all our scores were personal bests. I'm glad that we pulled off our long program; we had a good attitude after the short," added Fedor.
Vera Bazarova and Yuri Larionov skated to the bronze and achieved 207.98 points (136.40 points for the long). Their throw triple flip and loop and triple twist were performed with positive GOE, and their lifts were spectacular and difficult as always. But Vera was, also as always unfortunately, wobbly on her jumps. "I can't say that we were nervous. We were actually calm," Vera said.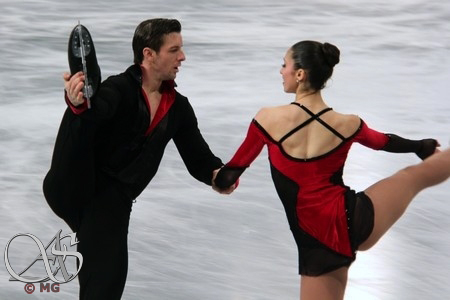 Fifth after the short, Italians Stefania Berton and Ondřej Hotárek had a good shot at a medal due to the withdrawal of the German pair, but their passionate performance to "Dracula" wasn't clean enough; Stefania fell on the side by side Salchow. They produced a triple toe-double toe-double toe combination, a level four spin and finished fourth with 126.39 for the long program and 195.61 overall, both are their personal best results.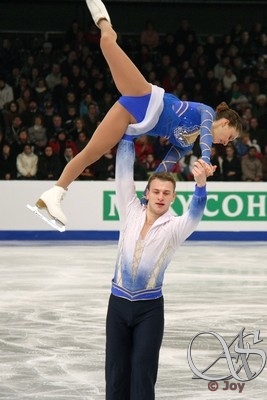 One of the biggest surprises of the pairs' competition in Budapest was an excellent debut by Israeli pair Andrea (Anya) Davidovich and Evgeni Krasnopolski. At the beginning of the season they came "out of nowhere" to qualify for the Olympic Games at Nebelhorn Trophy. Evgeni previously skated with Danielle Montalbano but they split, while Anya was a single skater representing Israel in juniors and she started skating with Evgeni as a partner less than a year ago. At their first Europeans together - and first ever for Anya - they were seventh in the short (55.32 points), long (108.61 points) and in overall standings (163.93 points). In their technical arsenal they have a triple throw loop and Salchow, triple toe loops, and they already perform a triple twist (which Krasnopolski didn't have with Montalbano). They're working on making their side by side triple Salchows more stable in order to add them to the program. Their goal for Sochi is to qualify for the long program, and from such great performances at Euros they of course got a huge confidence boost.
Lyudmila Vlasova: "I want it to be like in ballet"
Former Bolshoi soloist Lyudmila Vlasova has, for years, already worked with many skaters. Among her students were Irina Lobacheva / Ilia Averbukh, Barbara Fusar-Poli / Maurizio Margaglio, Federica Faiella / Massimo Scali. Three couples on this year's European podiums were her students too: she worked with Elena Ilinykh and Nikita Katsalapov and she continues to collaborate with Anna Cappellini/Luca Lanotte and Vera Bazarova / Yuri Larionov.
How did you start working with Vera and Yuri?
I was invited by Lyudmila Kalinina... No, actually it was a bit more complicated. I was working in Novogorsk with Lena and Nikita (Ilinykh/Katsalapov). And I remember noticing Vera and Yuri and thinking: what a miniature girl and what nice lifts they have.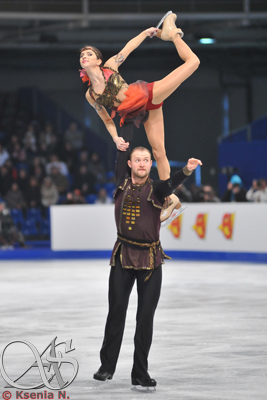 Then some officials from their federation came to see Vera and Yuri's programs before Europeans (in Tallinn, in 2010 - ed). After the test skates they said: "You have a week until Europeans, you need to go to Vlasova and beg her to work with you". And I said: "But what can I do with them in one week?" When I saw them I immediately understood that they had never worked with a choreographer before; they were a pair which had elements only, they had neither "faces" nor "hands", and they didn't know how to present the movements. I wondered what I could do, what was the most important thing we could do in this short period of time. I really loved how they listened to everything I said in those four or five days. And you know what impressed me the most? I watched those Europeans from home and saw that while doing all those incredible elements Vera included everything I had taught them, every movement.
I didn't really have time for them back then, only when I had a break in my work with Lena and Nikita would I check upon them, either on the floor or on the ice. But their schedules often clashed. Later, when we parted ways with Lena and Nikita, Lyudmila Alexandrovna (Kalinina) said to me: "Now we will use you to the maximum". And so we've started working together, and working diligently. It was a very successful start of the season when they were second at the Grand Prix Final; we had "Liebestraum" and "Spartacus" programs then (season 2012/13).
How often do you meet, how much do you work together during the week?
When we started working on a regular basis I came every single day, five days a week and I always had my hour with them. Sometimes we worked on the floor but mostly on the ice, which is even more important because I adjusted their movements for every single step, every single stroke. And I feel that after this work of ours they moved up to a different level. And people saw that they can do it! Previously they usually thought: "Well, this pair goes on the ice and performs some elements."
When they changed their coach, how did that work out for you? They asked Mozer to stay with you?
They asked their federation. It was decided even before they found their new coach, it was clear that this pair would stay with me.
Was your schedule changed?
A lot. Because Nina Mikhailovna holds a lot of training camps - in United States, in Italy, in Sochi. This is how she works, she believes in such approach. And I went with them to nearly all those camps.
She didn't invite you to work with her other students?
No. The other senior pairs have their own choreographer, Alla Kapranova. And I'm there as a personal choreographer of Vera and Yuri.
Talking about other students, are you still working with Anna Cappellini and Luca Lanotte?
Yes, I am, we work with them a lot. And right after this competition they asked me to come to Milan for a few days at least. When we had a training camp in Italy they were at Igor Shpilband's in the United States. But when they learned that I was in Italy for three weeks they came especially to work with me. They are amazing guys, they work really hard, they are very modest, and they don't have big heads at all. Working with them is always a pleasure. If I get tired sometimes it's only physically because we really work intensely, but never mentally. So we will work now and probably before Worlds I will fly to them again.
Vera and Yuri are your first pair skaters. Before you worked only with ice dancers, right?
Yes, they are my first pair.
What is the difference for you?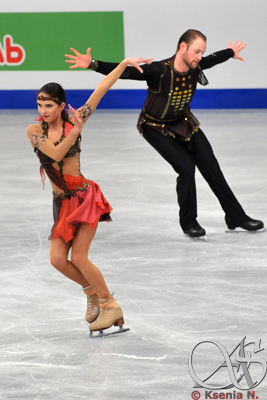 It's true that you have more opportunities [to express yourself] in ice dance. But I think that for pairs, with all their fantastic elements, you can also make a spectacle on the ice. Like, for example, what we did in "Spartacus" (Bazarova/Larionov's LP of season 2012/13 - ed). Or this year with their "Polovetsian Dances", which I once danced myself. Even the dress Vera wears was made to be similar to the one I wore, according to the recordings of that ballet with me as a leading dancer!
Of course, I wanted more. But they are still young and don't have enough experience. What I want the most? To make those hard elements be naturally interweaved into the program, not like "we start preparing for the element, we approach it very slowly, sometimes also with a scared face". I want it to be exactly like [it works with the difficult elements] in ballet, this is my dream. I think that when the elements are easy, when skaters whiz right through them then you can do whatever you want. And, of course, I dream about them coming to that level so that we'll be able do so many other interesting things.
Another European Championships came to its end. Euros before Olympic Games are always especially bitter-sweet, because some of those skaters we won't see at the Europeans next year... We would like to use this opportunity to thank all the skaters, organizers and fans for the amazing experience we had in Budapest.
Don't miss our flash updates (containing text updates and fun pics) from the European Championships 2014 on Twitter and Facebook.