Europeans 2014: Budapestian flódni
January 24, 2013
By Reut Golinsky
Photos © Ksenia Nurtdinova, Reut Golinsky, Daphne Heij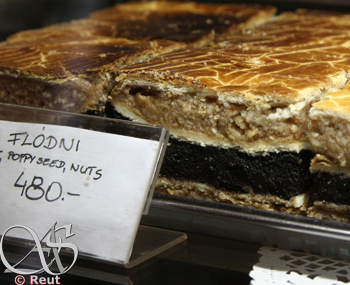 I decided to write an article such as this a long time ago, ever since reading my colleague's report from Trophée Bompard which was called "Parisian Ratatouille". I even had a name for it already: "Budapestian gulyás".
But talking to him in Budapest I discovered that he had the very same idea for this competition! Eventually I had to choose another dish; luckily there are so many in Hungarian cuisine. I settled upon "Flódni", a Hungarian-Jewish dessert with layers of dough and fillings - poppy seed, walnut, apple or plum jam.

So here are some additional, sweet "layers" of the Europeans 2014 for you.
My Euros started with a very important formality: I had to confirm the Israeli flag and anthem. Probably this happened because I was the first Israeli to go through the accreditation process at the competition. I even had to sign a special document about it. Such responsibility and such an honor!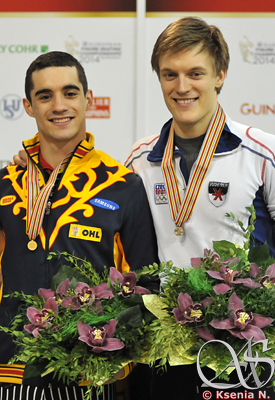 If you have Tomáš Verner in the mix, you are guaranteed to have some good laughs. During the small medals ceremony, when he had to step forward and get his medal, he didn't know where he should stand. "I already forgot how it goes," he joked. During the press conference his mobile phone rang. When asked about the call, he answered that it was his sponsor, who left him during the last two less successful years of his career.
There was also a funny moment when Javier Fernández was explaining why he had to go for something... let's call it a "more creative" solution for his short program costume. Originally Robin Cousins had suspenders in his "Satan Takes a Holiday" routine which inspired Javier and his team, but Javier already used suspenders in his program just two seasons ago.
All in all the men's press conference brought some of the funniest memories of the week. "Next time tickets may even be sold for it," they proposed on the official site.
Previous European Championships in Budapest were held ten years ago. Inevitably you start recalling, comparing... For example, there was only one skater representing Spain at Euros 2004, Yon García, who didn't qualify for the long program. At Euros 2014 the Spanish Team had eight athletes, competing in each of the four disciplines.
Yet there was only one journalist from Spain and he introduced himself as "that one journalist from Spain" before asking questions. Will there be more next year? In ten years? Javier was asked what else he needs to achieve for that to happen.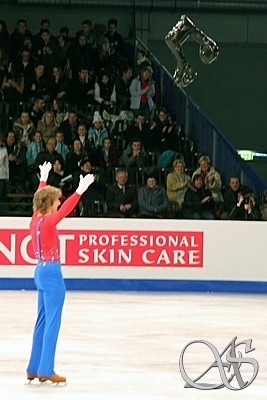 Kim Lucine had special effects in his playful short program: a balloon descended from the ceiling and was floating over the ice during his performance. When I told him that I had a question about the balloon, he laughed. When I suggested that I was probably the hundredth person asking that question, he laughed even more. He said that he had no idea what it was or where it came from, he definitely didn't "plant" it. But we agreed that he probably might use this idea for some gala program later, why not.
Norwegian skater Anne Line Gjersem qualified her country for the Games at the Nebelhorn Trophy in September, where she finished seventh. But she had to perform well enough in Budapest to get final approval from Olympiatoppen, the organization inside the Norwegian Olympic committee. This Monday it was decided: she will compete in Sochi. Anne Line will be the first Norwegian figure skater to compete at the Olympics in 50 years! The last time Norway was represented in figure skating was in 1964, in Innsbruck. One small step for a skater who finished only 19th, one giant leap for her country.
Long program "Boléro" by bronze medalist Carolina Kostner was one of the highlights of the ladies' event. The legendary "Boléro" of Torvill and Dean was also performed in Budapest, at Europeans in 1984.
Julia Lipnitskaia is the youngest European champion in history. She beat the record set by Austrian Hanna Eigel, who won her European title in Budapest in 1955 at sixteen years old. Julia is also the first lady since Sonja Henie in 1931 to win the European championships at her first appearance.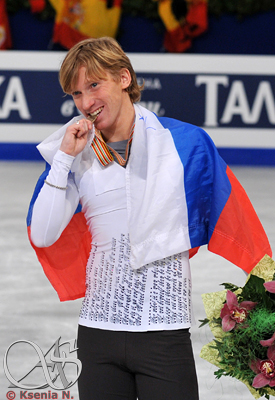 When she was signing autographs and taking photos with the little fan girls after her gala performance she really looked like one of them. But if you heard her answering journalists in the mixed zone you absolutely didn't get an impression that it was a child talking.
Sometimes success comes to you quickly, sometimes it takes much, much longer. Konstantin Menshov of Russia is a good example of why you should never give up. He was one of the oldest skaters of this competition (he will turn 31 in a month) and it was his first medal at the big ISU event, earlier he was only on the podium of senior B's. Last year he was third at Russian Nationals. With two spots and Evgeni Plushenko not planning to go, he was supposed to come to Zagreb in 2013 but was denied Europeans when Maxim Kovtun was sent instead. Somehow it feels right that he finally got that medal.
Being in touch with the fans that supported you all the way to your success is important. Nick Buckland promised to answer every single one who congratulated him and partner Penny Coomes. It was Thursday evening when they won their bronze medal, on Friday evening the task was still not accomplished, and on Saturday it took him an additional two and a half hours, he said. "Don't think I've ever been this active on social media," he wrote on his Twitter afterwards.
Anna Cappellini and Luca Lanotte on the other hand were quiet on their official Facebook. And then, a few days after their victory the touching note appeared: "Sorry about the silence... we just had no words..."
To win is amazing, but you need to set your goals step by step. Each one is important and achieving even a small goal at the beginning of your road can bring a lot of happiness. We talked with Peter Liebers after the men's short program. When asked about his skating role models he named his father, Mario Liebers, five-time East German national silver medalist. One of Peter's goals was to beat everything his father had accomplished during his career, including placing top six at Europeans (Mario Liebers was 6th in 1978). Peter was only 8th after the short program but finished sixth overall. Congratulations!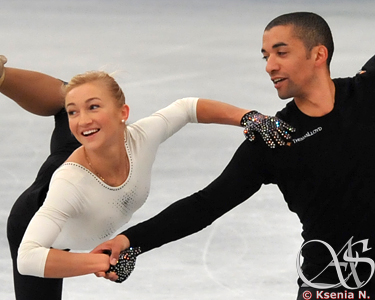 During the pairs' practice I finally understood what is the secret weapon of Aljona Savchenko: her glittering gloves! They definitely draw all the attention to her, make people lose concentration and blind them with their overall sparkliness. Of course, that's just a joke. It's her personality which shines the most! Pity we couldn't see her at the free skate, wishing her to get well soon.
The young skater from Belarus, Pavel Ignatenko, had already acquired some fans in the skating world, not only as a skater but also as a musical editor and harmonist. According to Anna Ovcharova, the music cut he did for her "Music on Ice" program this year was the best musical arrangement she'd ever had. He also sometimes helps his mates from the rink - Maxim Kovtun and Adelina Sotnikova.
Knowing all that, I was a bit surprised to see that for his own long program he just used Alexei Yagudin's "Iron Mask" music. When I told him about my disappointment he explained that it's not exactly so: he indeed took the first, most recognizable part, similar to Yagudin's famous Olympic program (he even asked permission from Tatiana Tarasova to use it!), but the rest was different. And he changed it a few times to better adjust it to the choreography. Talking about choreography, his step sequence, if you watch it carefully, includes some very familiar steps too. These were put there intentionally by him and his choreographer as an inside joke and a tribute to his favorite skater.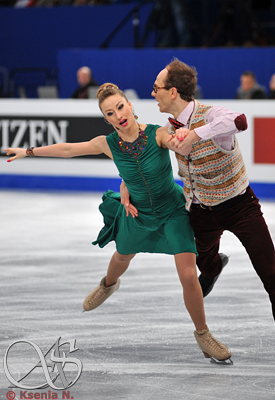 In the mixed zone one of the journalists asked Ruslan Zhiganshin if Nelli is his older or younger sister. This certainly shows some lack of professionalism by that journalist, but also can be seen as a really nice compliment to Nelli, right?
We all know already that when a student of Nikolai Morozov or Brian Orser is on the ice it's as interesting to watch the coach being emotional at the boards as it is to watch the skater. Now I can add another "dancing coach" to the list: Martin Skotnický. When Nelli Zhiganshina and Alexander Gazsi were skating, he was totally skating with them, running from one corner to the other, crouching, tiptoeing, doing all their lifts and twizzles with and for them.
At the end of our interview we were talking with Anna and Luca about the meaning of their family names: "Lanotte" means "the night" (sometimes his name is mistakenly written as La Notte, which is wrong, he says, though such name also exists), "Cappellini" means "little hats".
And then I discovered that many Italian family names can be translated: [Andrea and Marco] Fabbri is a plural of "fabbro" which means "smith"; [Pasquale] Camerlengo is a position in Roman Church; [Valentina] Marchei relates to someone coming from Marches, region of Italy; [Massimo] Scali might come from "scala", "stairs"; [Federica] Testa is "head"; [Paola] Mezzadri - plural of "mezzadro", "sharecropper". (Special thanks to my friend Laura Who-Is-Pissed-Off-Quickly - translation of her family name - for the help with this list).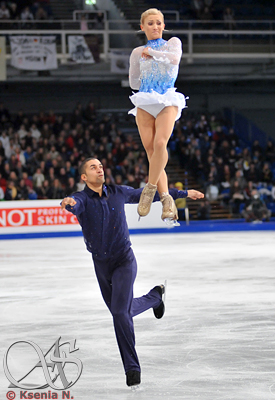 I was talking to my photographer friend and we somehow came to discuss the infamous "jump face photos". I hate them; they show the people I like and respect in the ugliest possible way. And I know skaters hate them too. Still many photographers keep taking them; editors keep choosing them and adding them to the articles. Why? And actually my friend had a very interesting point of view on that topic. She said that although figure skating is a beautiful sport, it is a sport first of all. It shouldn't be about pretty dresses and pretty faces, you want to show the effort that goes into the movement, the power of the throw jump, the speed of the spin. Not that I've started to like "jump faces" more after this discussion, but at least now I understand the motive which might be behind them.
While waiting for "my" skater to come to the mixed zone I chatted with the "quick quotes" girls. "Quick quotes", if you don't know of them, are direct quotes taken during the competition, after skaters' performances; they are then printed and sent to journalists by e-mail. This is a huge aid to journalists who might want to use a direct quote in their report but missed the skater in the mixed zone due to various reasons. It is a really hard job: you need to follow the performance, to think about questions, to ask them, then translate, and write it down in two languages (they were translated to Hungarian for the official site). All this needs be done quickly, as the next skater is already coming. But it is also a unique experience, they say. Some of them have followed this sport for years and this is a chance for them to be backstage at the competition and to talk to skaters they "know" from TV. "This was the best week of my life," one of them concluded.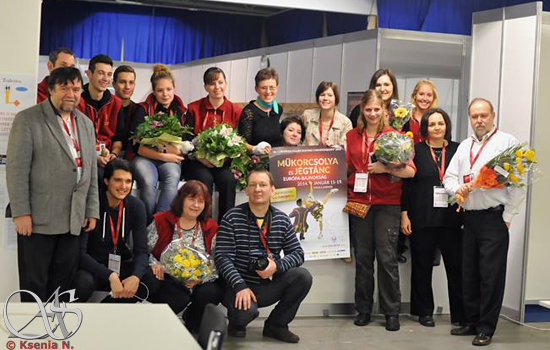 Europeans by the numbers:
1) The competition was broadcast in the afternoons and evenings on Duna TV for a duration of more than 17 hours. One or the other of the programs was watched by as many as 2 million 740 thousand TV viewers for a shorter or longer period, this is nearly 30% of the total population of the country;
2) 1,000 all-event tickets were sold; 18,000 liters of water went to create the ice which weighted 100 kg/m2;
3) 15,000 sandwiches, 18,000 cakes and 12,000 bottles of mineral water were provided to the skaters and the media;
4) The event could not be possible without the 220 volunteers who served the audience in the Syma Hall and the 200 accredited journalists; 100 security guards were responsible for everyone's safety.
The most important phrase I kept forgetting to check in the Internet during the competition and finally did it just now: "Köszönöm szépen". Thank you very much for all your hard work and enthusiasm! Köszönöm szépen, dear skaters, organizers and fans.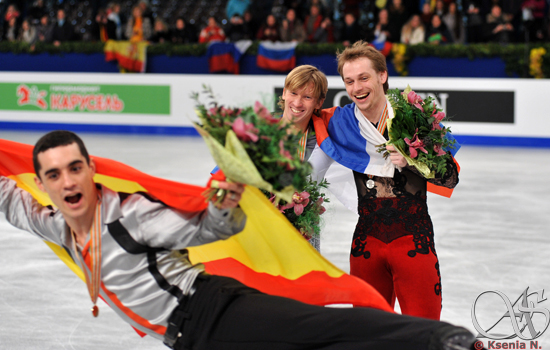 Next year's destination is Stockholm, Sweden. The last time Stockholm hosted a figure skating championship was in 1947! The venue will be the Ericsson Globe arena, familiar already to many "Art on Ice" fans. So see you in Stockholm 2015! All-event tickets are already on sale.
Don't miss our flash updates (containing text updates and fun pics) from the European Championships 2014 on Twitter and Facebook.