Ice Legends 2014
July 6, 2015
By Reut Golinsky
Photos © Reut Golinsky
"Be ready!" said Stéphane Lambiel in Verona, hinting to the coming news about his "Ice Legends" show. And, of course, we were. "You can be sure that the show will be done with a lot of thought behind it, with a good taste and with aesthetic harmony between all the ingredients," I wrote in the promo article. And, of course, it was. The exceptional gala held in Geneva last winter had all the ingredients mentioned above - good taste, aesthetic harmony, a lot of thought and work behind it - and more. It was a beautiful celebration of friendship between great champions, which consisted of skating masterpieces, revived especially for the event, and a plethora of wonderful music.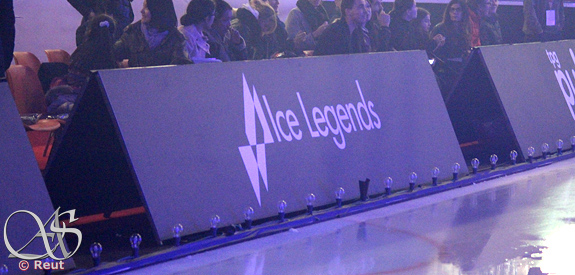 "Dear friends, it is with a bit of nervousness but also with a huge pleasure that I present you this evening with my very first figure skating show that celebrates 150 years of friendship between Switzerland and Japan" - this is how Stéphane Lambiel chose to open the booklet which was distributed before the show. No doubt many of us, who supported Stéphane during his career, who saw him growing as a person and blossoming as an artist, felt that "bit of nervousness" too. But I was lucky, because I had the privilege to follow the last preparations of the show and see with my own eyes that there was no reason to be worried and that the show will come up as perfect as I expected. And maybe even a bit better.
D-1 day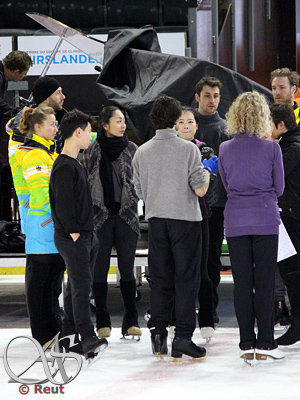 It's only when you are present at the rehearsals that you can truly appreciate the amount of hard work that goes into such a seemingly "light" production as a skating show for one night. And this is not counting all the preparation work, publicity, interviews and press conferences, which usually start a few months ahead. And not including the choreography of new programs and redecoration of quite an ordinary rink to look more festive and sparkly.
Less noticeable during the show itself - he didn't skate more programs than others, his performance wasn't even the closing one of the show - during the rehearsals you could clearly see that it's going to be Stéphane's show. It was his creation in every single detail - in music choices, in programs he choreographed himself or chose from his friends' repertoire, in personal stories he recorded to be played at the rink before the performances. "Each time when touring I saw things I liked or liked less. I have quite a lot of experience as a [professional] skater. So I used to take notes for some day to create my own show, with the components I liked," he explained. "It was an idea I kept thinking about for a long time and which I really took to my heart. I wanted to bring my personal touch, to create a show from the beginning to the end." The choice of the venue was also very personal for Stéphane, for over a span of twenty years he travelled here from Saxon and later from Lausanne to train with his coach, Peter Grütter. They've experienced so many emotions here together; no wonder he calls this rink "his second home".
The D-1 day started Wednesday morning with the open media rehearsal when, for about an hour, all the cast was on the ice working on the group numbers for the opening and finale. And it continued after the lunch till the late evening with individual numbers, sometimes repeated again and again if needed. Skaters were coming and going, but Stéphane was on the ice or near the boards all the long hours of that day - talking to the crew, correcting choreography, lightening up the mood when needed, checking everything up to every small detail. Everything had to be precise as a Swiss clock. Finale should start after the words "Ice Legends" exactly, everyone should know where and how to bow. Even the planned kisses with Peter Grütter after the "thank you" speech should be rehearsed (without Peter being present, of course).
"We have seventeen skaters, among them thirteen legends, such as Alexei Yagudin, Olympic champion from 2002, Brian Joubert, World champion of 2007, Nathalie Péchalat and Fabian Bourzat," Stéphane told the media at the press conference. "There will be Sarah Meier, Miki Ando, Akiko Suzuki, Nobunari Oda and others. And there are four skaters who represent the rising generation from Switzerland and Japan... They are all ready, they are all here, all want to help, and they know that this is my first show. I'm happy to being able to invite all my skating friends to perform for the public of Geneva. I really want us to share something so incredible; all this huge effort was made for one evening only, the evening of an exceptional gala."
The best of
"We're fortunate to have on the ice the most beautiful artists in the world. They are going to perform for us the programs which marked their careers.
And there are also a few original ones choreographed for the 'Ice Legends', so it really is going to be 'the best of' here, at Vernets," Stéphane promised to the press.
And it was indeed "the best of", both cast- and program-wise.
The show gave the Swiss public a unique opportunity to relive, watching live, the legendary programs they've seen on TV. Among them were Alexei Yagudin's "Winter" and Brian Joubert's "Matrix".
"Winter", which was Yagudin's short program of season 2001/02, is rightly considered one of the greatest programs in the figure skating history. Its close to perfection performance in Salt Lake City was the significant step towards Alexei's Olympic gold medal. And at Worlds 2002 he got six "6.0" marks from the judges for it. It was created almost accidentally after his choreographer, Nikolai Morozov, happened to buy the album "Born" by the classical crossover string quartet "Bond" at some Manhattan music store.
The story behind the trademark movement when Alexei throws the snow in the air was also amazingly simple. "There was this girl at our rink, who fell and hit her elbow," Alexei recalls. "Usually in such cases we take some snow from the ice, so I did and gave it to her to freeze away the pain. And suddenly Tatiana Tarasova asked me to throw the snow up and said: 'This is what we need!' Such small details can be very simple but spectacular."
"The program Brian beat me with" was how Stéphane presented Brian Joubert's "Matrix". And it indeed was the one which helped the French champion to defeat Lambiel at Europeans and Worlds 2004. "When I hear the music I become completely different!" said Brian about this program once. "Every time, every practice, every competition I feel so confident, so great with this music and this program!" It was one of his favourite programs ever and he constantly went back to it throughout his career, skating it again in 2006, 2009, and 2011.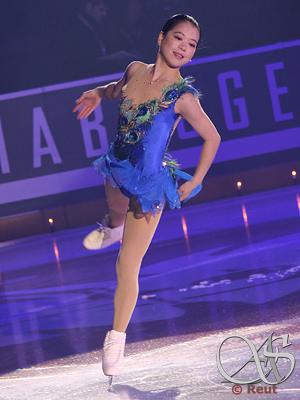 For each one of his guests Stéphane elaborately picked out the most memorable, the most beautiful program he or she skated over the past years. Such was the lovely and gentle "Amélie" for Sarah Meier, one of her most loved gala programs to which she returned a few times. Or the exquisite, wonderfully nuanced "O" for Akiko Suzuki, which was her long program in season 2012/13. Or the ethereal "Ave Maria" for Carolina Kostner.
The World and five-time European champion premiered this program at Europeans just a few weeks before the Olympic Games in Sochi and immediately enchanted the audience with it. "I skated this program as a show number in Oberstdorf, but it was the first time for me to skate it in competition," she recalled during the press conference in Budapest. "When the music started, it calmed me down and it just felt like the fog went away. I have been competing this season, but it felt like it was the first time, it was a special feeling. After the Cup of Russia, I had a problem with my back, and strong headaches and we decided to withdraw from the Nationals and the Universiade. We were thinking of doing something that would cheer me up." With its perfect lines and purity of every movement it is seen by many as one of the highlights of Carolina's career.
Nathalie Péchalat and Fabian Bourzat performed probably the two most significant free dances of their lives: the one they won their first World's medal with, in 2012 - "Mummy and Pharaoh", and the one they bid farewell with - "The Little Prince and his rose".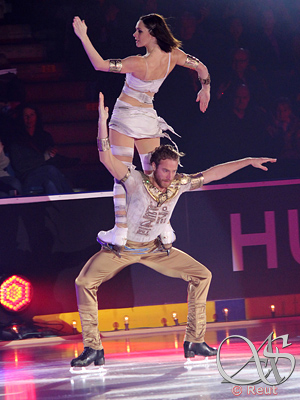 "We strive at finding complete harmony between the theme, music, choreography, costumes," Nathalie said in one of their interviews at the beginning of season 2011/12. "The audience will tell us if we succeed or not. As soon as the music starts, they should understand that they are in Egypt and that I portray a mummy." Always being known as a very creative team, in this program Nathalie and Fabian surpassed themselves - in costumes, distinctive "Egyptian" moves, and intricate lifts. This program will be remembered by many, no doubt.
Their last free dance together had to be special and the preparation was long and thorough. "We were looking for a theme that would represent us completely and have an impact on the audience. We wondered: Which story could move people? 'The Little Prince' appeared to be a great idea," Fabian told to the media back in 2013. "I had to read the book over and over," Nathalie added, "and finally realized that the rose was in fact the main line of the story. Whatever the Little Prince does, he does it for the rose. He is always in connection with her, all the time! Then it became the great idea we needed: 'The Little Prince' is not just a children's book; it also tells the story of a communication between two persons. It's much simpler for us to skate to a story with strong characters who communicate, with intricate emotional statuses."
This was one of the most moving dances in their career. Fabian even called it their best program ever and the one which rendered their personalities best. It was a beautiful way to say goodbye to their fans and some of them were lucky to see it one last time in Geneva.
In order to add more diversity to the blend Stéphane asked his friends and students, Nelli Zhiganshina and Alexander Gazsi, to bring their aerial program to "Danse mon Esmeralda" from "Notre Dame de Paris". "This music is so amazing, it always gives you goose bumps," Nelli says. "And the story of this strong incredible love is so touching. People always love things like that, they always empathize. Me too, when I skate this program I feel all this pain. It is very strong emotionally." "I think the idea of adding aerial elements to this program suggested itself," Alex explains. "Quasimodo was a bell-ringer, 'flying' up high in the belfry, while tugging the bells' ropes. This is how I always imagined him. So it was clear to me that we needed to make an aerial number. To tell the truth I even wouldn't have wanted to make just another skating program, it would have been boring, we've seen 'Notre Dame' on the ice for many times already."
For himself Stéphane chose Rachmaninov's Prelude in G minor, the program which was initially created for "Art on Ice" 2011 in China and performed in collaboration with the famous Chinese pianist Lang Lang. It was one of the first programs he choreographed being already a pro skater and a free spirit, not bound by any competition rules. "The program is a bit severe, but I like it because it has a strong feeling that I never felt in any other program before," Stéphane said about it.
The image, the story behind this piece, as always with Stéphane, had an unexpected interpretation and was beautifully portrayed. "When we worked with Salomé on the choreography of this program, we had this marching sound of the music in mind and we wanted to create [an image of] a soldier, rugged, almost without any emotions. A soldier who is dreaming about better days, lighter days - that's when the music gets slower and a little bit more emotional - but it's only a dream. He has to be strong, he can't allow himself to dream, and he has to stay in reality."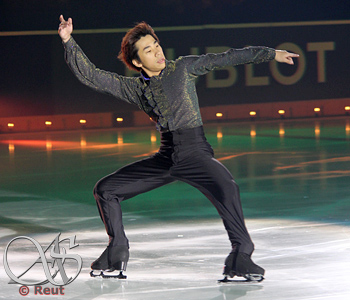 Among the programs performed that night there were a few choreographed especially for the occasion. Nobunari Oda's "Riverdance" and Akiko Suzuki's "Clair de Lune" were choreographed by Stéphane. A "triptych" composition to Gershwin's "Three Preludes" was choreographed in collaboration with Salomé Brunner. Salomé also choreographed a new piece to Chopin's Waltz in C-sharp minor for Carolina Kostner.
And there were also a few pieces choreographed by Stéphane for the season 2014/15.
Denis Ten skated to "Money on my Mind" by Sam Smith which was created for the last summer's "Denis Ten and Friends" show in Kazakhstan. "The story of the program is very simple," Denis explained in social media. "This program reflects my current vision of life. I prepared it for our Kazakhstani project, which didn't have any commercial profit. I do it for the love." Indeed, just like the lyrics of this song say: "I don't have money on my mind, I do it for the love".
Nelli Zhiganshina and Alexander Gazsi performed their short dance to "La Maza" by Silvio RodrĂ­guez and "Ameksa" by Taalbi Brothers. "From the very beginning I had this idea of Nelli as the desperate housewife who is hanging out the laundry being very unhappy. Her life is mundane and boring; her husband is lazy and dull. But then comes macho Alex, conquers her immediately, and Nelli yields to temptation," was the image Stéphane described to his students. "We try to tell a story of everyday life, maybe in a Spanish village. A little fight in the beginning, because she is tired, but on the other hand, the man is there, so she is changing her mind... Big emotions at the end," Nelli said in her interview we published on Absolute Skating.
Kotaro Fukuma: ready for the challenge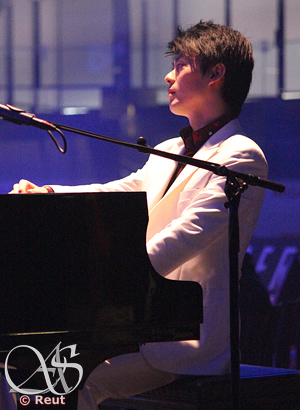 The show presented a beautiful collaboration between the Swiss artist, Lambiel, and the Japanese artist, talented young pianist Kotaro Fukuma, and proved that music, sport and art can bring cultures closer. I've got a chance to catch up with Kotaro during the rehearsals and to have a very interesting chat about Switzerland, music and... figure skating.
This show is dedicated to the celebration of the 150th anniversary of diplomatic relations between Japan and Switzerland. When and how did your personal story and relations with Switzerland begin?
My first visit to Switzerland goes back to the summer of 2000, one year before I moved to Europe to study music. I stayed at my acquaintance's home in Geneva for 3 days, before participating in the music academy in Courchevel. It was a short stay, but I was much impressed by the beauty and the sophisticated atmosphere of the city. Some years later, I started performing in Switzerland, in such cities as Geneva, Montreux, Crans, Zurich, and Bern, and discovered more and more beautiful things.
And how did your connection with figure skating start? I know that you are a devoted fan.
I don't remember exactly, but I have some memories of figure skating being broadcast on TV, especially in 1992 when Midori Ito won the silver medal at the Albertville Olympic Games. I was watching with all my family and we were shouting and cheering for her. She fell on the triple Axel at the beginning but she made it towards the end of the program; that was unbelievable.
But even before that, my Dad used to learn figure skating when he was in his early thirties, with the now famous coach, Mr. Nobuo Sato. It was only for a short period of time, he couldn't do any jumps or spins, but he took me to the ice rink when I was maybe 5 or 6 and taught me the basic things. So I have quite a personal relation to skating.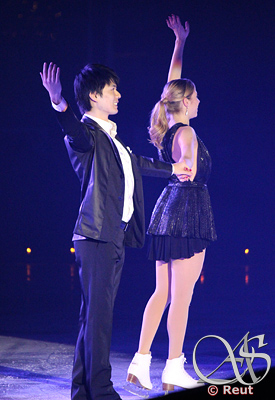 I can just skate forward and slow backward, but I love watching it! I wish I could do more!
I can't express even what an amazing experience it is for me to be here, to participate in this project and to collaborate with wonderful, world class figure skaters.
I also remember Yuka Sato winning the World championships in Makuhari, in Japan in 1994; I was twelve years old then. Maybe that was a time when I really started watching figure skating intensively. In 1995 I remember Lu Chen winning the World championships, and Michelle Kwan winning the year after that. It had a strong impact on me.
Interesting that you name only ladies figure skaters...
Right, I was also watching the men's competitions. And I must say honestly Stéphane was my favourite male figure skater. In terms of artistry everything about the music is important to him; when you watch his skating you hear the music, even if you don't play it. And this is something so special.
In terms of technique I strongly remember Elvis Stojko, and he was a first to do a quadruple-triple combination in the competition, that was in 1996-97. I was watching this on TV and I was so amazed. And Todd Eldredge came into the second place (at Worlds 1997). Yes, that was a time I was watching skating a lot. But in 2001 I left Japan to study music in Paris. In Japan I was taking piano lessons quite seriously but I was not sure if I could become a professional pianist. After I left Japan there was no other way to think about any other profession. I did everything possible to become a professional pianist. I was quite busy and didn't follow the competitions for several years. In 2004 Shizuka Arakawa won the World championships, and that was when I came back to figure skating. During Turin Olympics in 2006 I watched everything! And since then I've been watching almost every competition, on YouTube or on TV, whenever I have time.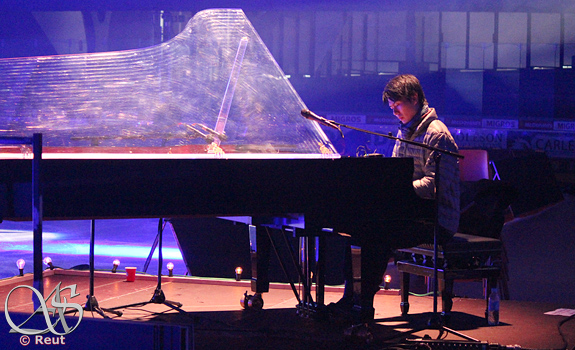 Did you ever have a chance to see some competition or show live?
Yes, I've been to a skating show once, last July I was invited by Stéphane to the show in Makuhari (this year Kotaro Fukuma was invited to the same show, "Fantasy on Ice", as performing artist - ed). That was the only time I saw the professional figure skating live and it was so amazing! And inspiring for me as an artist. Of course, I could be very much inspired by watching TV, but watching it live is different, you receive so much emotions and energy from them.
Different people have a different perception of music. Some see movement, some see colours... What about you?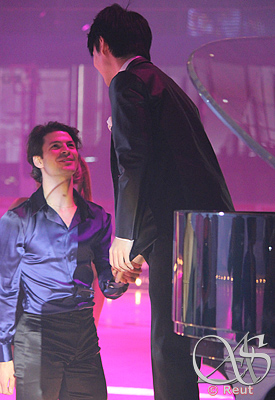 I do see movements sometimes, sometimes colours too or even specific sceneries, some places I've been to... I use a lot of imagination when I listen to music, that's fundamental for me. And that's why I admire Stéphane so much, because his way of working with the music makes us imagine sceneries. It's not just "the choreograph decided for me to move this way, so I do it this way" and "I have to jump and then I have to do a spin". No, he wants to tell us something, to tell a story.
Of course, not only Stéphane but all the skaters here are so wonderful, the music is so important for them and it's so interesting to work with them, individually as well as for [the group number in the] finale.
If you could ask Stéphane to skate to something, to one piece, what would you choose?
This is a beautiful question, but I need more time to think... Personally I'd prefer to see him in romantic piece but... maybe a contrast is one of his specialties. Some slow parts and then it becomes very fast and aggressive. He's got a wonderful speed. You know I was so amazed that he was actually quite small in height. Because when he skates he is huge! The way he moves makes him seem bigger.
You probably understand that figure skating show is very different from a concert. It might get loud, there might be applause in the middle of a piece. Are you ready for that?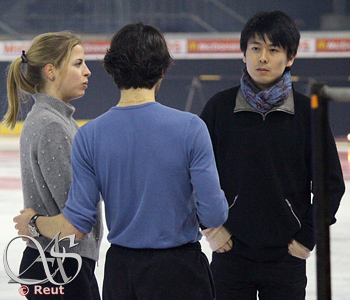 Yes, it's going to be so different. That is only one of the difficulties I was thinking I will face. Of course, the temperature, I've never played in such cold. And also the noise from the audience, the applause, when figure skaters jump or spin. The acoustics are so different from a concert hall. What else? Today it was better but yesterday when I touched the keyboard it was so wet! That's because of the humidity of the ice rink. It was so slippery! So scary!
I play eight pieces in total and it is so interesting because everyone has different opinion, ideas, different attitude to music. For example, Miki (Ando) said that we have to look at each other at certain moments of her performance. Sometimes someone asks me to take more time and then get faster in the following part. Salomé asked me to add some passages, some notes in the transition from the second prelude of Gershwin, to make it longer. I added some notes so that Stéphane could finish his spin and get into the designed spot and get started with the next part. I also had to cut some pieces, as they were too long. So I have to be really concentrated on the music and the new version I'm not used to. If I'm not thinking about it I'll play the original version instead and the figure skater will be confused: "What is it now? What am I supposed to do?" (smiles)
[Playing in skating show] is a huge challenge, but I'm ready and so excited about doing it tomorrow! This is so unique and inspiring, for everybody.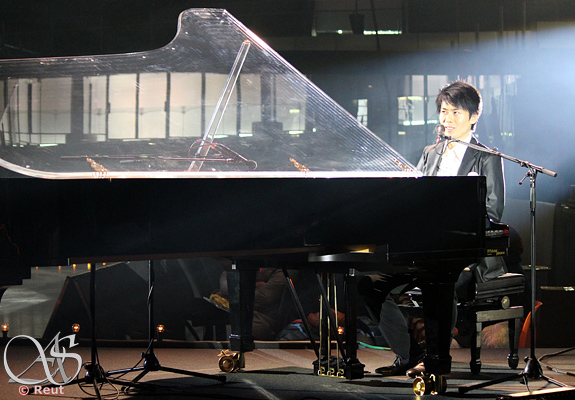 A story of friendship, a story of love
"'Ice Legends' therefore is first of all a story of friendship - between two countries, but also between the artists. I recall with emotions, for example, the first time when I skated alongside my idol, Alexei Yagudin, at the gala of the Worlds in Lausanne in 1997, or my first junior Grand Prix, in Saint-Gervais in 1998, with Sarah Meier, Nathalie Péchalat and Fabian Bourzat. I also think about my first confrontation with Brian Joubert at junior Worlds in Germany in 2000. Each one since then followed his path, led by his own dreams, which brought all of us here, today, to share with you an unforgettable moment," Stéphane concluded his introduction in the booklet.
But for me personally, "Ice Legends" is first of all a story of love. Love of Stéphane's friends for him. His skater friends, who made a special effort to squeeze his show into their tight schedules and recalled their old programs by his request. And his "non-skating" friends, who did a huge amount of work behind the scenes, helping him to make his dream come true. The love of his audience and fans, who gathered that evening - some coming from afar - to show him their support and admiration; and his love and gratitude back to them. And, of course, a story of love for music and for figure skating.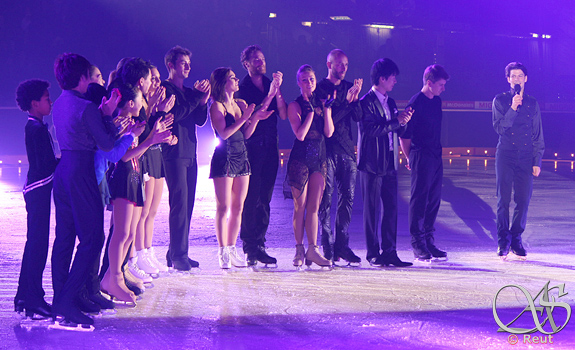 We are excited to tell you that the "Ice Legends" team is already working on a second edition of the show, but for further details you will have to wait a little bit more. Stay tuned...