Ice Legends
December 4, 2014
By Reut Golinsky
Photo © Ice Legends, Reut Golinsky, Ksenia Nurtdinova
On December 18th at Vernets rink of Geneva Stéphane Lambiel will present "Ice Legends", an exceptional gala evening held in celebration of the 150th anniversary of diplomatic relations between Japan and Switzerland, featuring the best of international figure skating.
"It's going to be big"
September 21th, Arena di Verona. Stéphane Lambiel is surrounded by his fans, answering their questions. "I won't tell you [the details]," he teases, with an intriguing smile, "but I can tell you that you have to be ready by December 18th. There will be something new. It's will definitely be new and... big. Be ready! December 18th!"
Two weeks later the mystery was revealed: it's going to be a show. Stéphane Lambiel's very first show of his own.
Starting the fifth season of his pro career at age 29, it feels as if the Olympic silver medalist plans to achieve every possible goal and to accomplish every possible task before getting a "3" in the first digit of his age. Be the leading performer in the biggest skating productions such as "Art on Ice", "All That Skate", "Artistry on Ice", and "Kings on Ice"? Check. Choreograph for world class skaters (including Daisuke Takahashi, Miki Ando, and Denis Ten)? Check. Skate pairs (with Shizuka Arakawa, Carolina Kostner)? Check. Dance and sing on stage ("La Revue", "Rock Circus")? Check. Open his own school and produce his own show? Check and check.
"I've been dreaming about it for some time," Stéphane wrote on his Facebook on October 3rd, "choosing the music, the artists, the numbers, the lighting... For the first time I get to create my own show from end to end. Above all, it's a story of friendship - between two countries, but also between artists - and I can't wait to share it with the audience, and with you."
The list of sponsors and media partners Stéphane attracted to this cause is impressive and intelligent, including "Honda", "Hublot", "Swiss airlines", "L'illustré", "Tribune de Genève", and others.
"Being a sponsor, investing a certain amount of money in different events, is an activity which is very important for the airport," says Robert Deillon, director of the Geneva airport. "Obviously, we especially like events which involve the local population and also have international character about them."
Story of a friendship
150 years ago, Japan was in the Bakumatsu - a period at the end of the Tokugawa Shogunate which also marked the end of its isolationist foreign policy known as sakoku. Switzerland, which had just become a Federal State, heard about the opening of Japan and sent a delegation with the goal to establishing trade relations. A trade agreement was signed, diplomatic relations were established and the friendship between the two countries has constantly developed ever since. To celebrate this important milestone, Japan and Switzerland collaborated to organize diverse events in 2014.
Stéphane Lambiel himself has a strong connection to Japan, and no doubt personally contributed a lot to the bond between the nations. This love story began a long time ago, he says, when at the age of 14 he won his first junior Grand Prix medal in Nagano. Since then he has participated in numerous competitions and shows in Japan and was invited by the Japanese federation to work with their skaters. He returns to Japan 4-5 times a year at the least, always getting an overwhelming welcome there. There are even special Japanese tours in existence which bring his fans to see the shows in which he participates around the world.
The story of "Ice Legends" is a story of friendship, so it's no wonder that Stéphane decided to invite his close friends to be cast members. Among them Kotaro Fukuma, talented young pianist from Tokyo. "We met at the Narita airport, Tokyo, in July 2013. As I was a big fan of Stéphane, when I saw him by chance I couldn't help but talk to him. We kept in touch by email, and I invited him to my concert in Geneva Victoria Hall last January," Kotaro recalls.
"When Kotaro came for a concert in Geneva, I was lucky to be able to listen to his beautiful and powerful interpretation of Firebird and thought he would be ideal for a skating show," Stéphane adds his side of the story, admitting he keeps listening to Kotaro's music non-stop.
When they met after the concert the proposition was voiced: "We must do something together!" The concert was dedicated to the 150th anniversary of diplomatic relations between Switzerland and Japan, and the idea was immediately discussed with some key personalities. "It was hard for me to believe that it really could happen. I am grateful to all the people for their efforts to make this dream project come true," Kotaro says.
"I've always wanted to create such show," Stéphane explained in one of his recent interviews, "and the opportunity to celebrate this anniversary encouraged me to launch this beautiful project. To invite my friends to take part in this spectacle, Japanese skaters including two-time World champion Miki Ando. And also Nathalie Péchalat and Fabian Bourzat, my close friends, who sparkled during their career and Nathalie continues doing this in [French] Dancing with the stars." Other invited ice legends are Alexei Yagudin, Brian Joubert, Carolina Kostner, Akiko Suzuki, Nobunari Oda, and Sarah Maier. And from the generation of skaters who still compete and aspire to become legends in the nearest future there will be Stéphane's students he worked with as a choreographer - Denis Ten, Nelli Zhiganshina and Alexander Gazsi.
"Winter", Mussorgsky, and Gershwin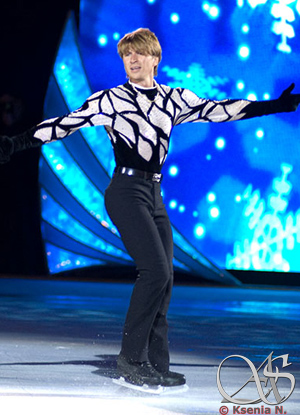 The show will include some iconic programs like Yagudin's "Winter" and there will be a lot of premieres too. The musical pieces were carefully chosen by Stéphane and Kotaro. The audience at Vernets will be treated to masterpieces of Mussorgsky, Gershwin, Chopin, Debussy, and Rachmaninov. "Stéphane and I discussed and exchanged some ideas. Eventually I gave him my repertoire that could be appropriate for the show, he picked up some pieces and then asked other skaters to choose what they want to skate to," Kotaro explains. "He specifically asked me to play Three Preludes by Gershwin because he was dreaming of choreographing to them. And I asked Miki Ando to skate to Lullaby by Mizokami, particularly since she is a mother of a twenty-month-old daughter. I thought it would suit her perfectly."
The opening and final numbers will be choreographed by Stéphane and his long-time choreographer, Salomé Brunner. In October St├ęphane also spent one week in Japan creating programs for Akiko Suzuki and Nobunari Oda (check out a clip about his journey created to promote the show on social media). Kotaro Fukuma was present during the practices. "It was an absolutely amazing experience for me even to just see the training of the figure skaters so close up!" says the pianist who has been an avid figure skating fan since his childhood. "It was very helpful and necessary to hear my recordings in the ice arena because the acoustics of ice arenas are quite different. And to see the choreography as well, because I realized that some of the passages were a little too fast for the detailed steps sequences. I made a new recording of each piece so that it would be more comfortable to perform. I even had some choreographic ideas, about the timing of jumps or spins, for example."
"I trust 100% and support what Stéphane wants to achieve in this show," Kotaro Fukuma adds.
Knowing how meticulously Stéphane Lambiel approaches his every creation, how every single detail of the process always important for him, you can be sure that the show will be done with a lot of thought behind it, with good taste and with aesthetic harmony between all the ingredients.
For information and tickets check out the official site of the show and its official Facebook.