The Infinity Ice Show
May 22, 2014
By Magdalena Osborne
Photos © Eva Maria Jangbro (EMJO)
An opportunity like this simply cannot be passed up. An amazing ice-show being set up in Malmö, Sweden, just a stone throw away from my home base. The arena is familiar too, the European Championships 2003 were held here, and since then the Junior Grand Prix Final, the Swedish Nationals, the Nordics, club shows and local competitions. The arena's been old and run down for years, but received a substantial facelift last year when Malmö hosted the Junior Worlds Hockey Championships. But this weekend figure skating would rule again!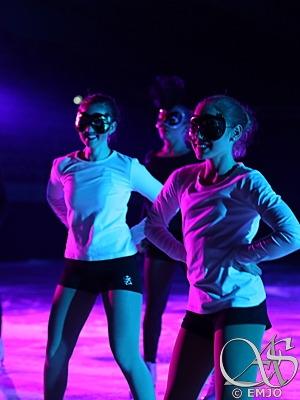 Photographer Maria Jangbro and I have been here many times before reporting on people and events. There are undoubtedly advantages to being local. Like VIP treatment. A spot by a table, where no one else was allowed to sit, and with a great view of the ice was offered me. Maria got an on-ice seat facing the stage. About half hour before the show started the doors opened and people almost ran in to grab the best seats. The large stage was placed on the ice making it possible for the skaters to enter and exit from behind. Several rows of chairs were placed on ice leaving about a third of the normal ice size for the skaters to perform on. There were show lights and spotlights and it all looked very professional.
As the seats filled up, the buzzing of the crowd increased. Excitement was in the air. A show like this was a big undertaking by the Malmö skating club. No less than 125 skaters would participate, the youngest only four years old. Ela Magnusson is the head coach at the club:
"I worked on the ballet group number and some solos, and the other coaches had their numbers. It took only four training sessions to get the ballet together since Fredrik already had the concept and the music. He has worked so hard."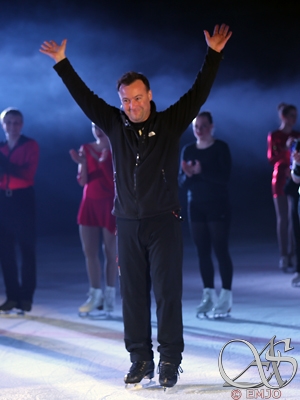 She meant Fredrik Granqvist, the main brain behind the show. He is also a coach at the club, but has a history of skating as entertainment. In the glossy show program he modestly just signed his name to the introduction, but the truth is that he was the creator, producer and director of the show.
"Most clubs have a show to close the season. I was asked for ideas and I had a few. But my vision was not a traditional club show where one group or skater after another performs and only the parents are in the audience. I wanted variation and older, more experienced skaters mixing with the younger skaters. And the idea of mixing different ways of expressing art, like dance, also appealed to me. The show is called Infinity which indicates no limitations, but anything can happen," Fredrik said.
And it did as we'd seen during the dress rehearsal the night before. But now the lights went out and cheering broke out. It was show time!
The music started and several masked skaters in black or white costumes took the ice. They danced and made formations. Then the music switched to I gotta feeling and there was spontaneous clapping along by the audience. They loved the show already and tonight was indeed going to be a good, good night!
Gabriel Folkesson, age 12, is a whiz kid. He already has a triple toe and Salchow. He played the guitar and then took off like wild fire on the ice to a medley of rock. He did splits, hydroblading, fast spins and then went even faster. The audience clapped faster but could hardly keep up. This little guy is awesome and very entertaining.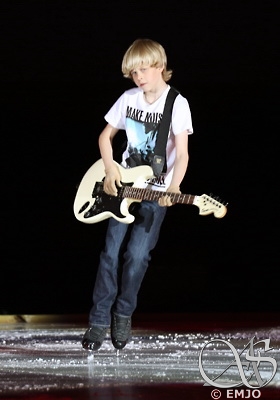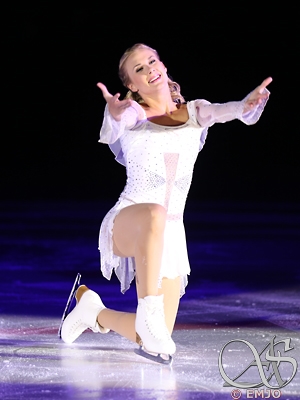 Isabelle Olsson moves like a fairy on the ice and she has the most gorgeous spins. The blue lights went perfectly with the white dress. Beyonce's Halo was never more emotional and this was a breathtaking number.
The Keltic drums played and suddenly I didn't know where to look. There were dancers on the stage and skaters on the ice and I wanted to take it all in. The dancers used sheer ribbons and the way they moved was very pretty. The skaters divided into groups doing different things and I could have used another set of eyes. Very nice!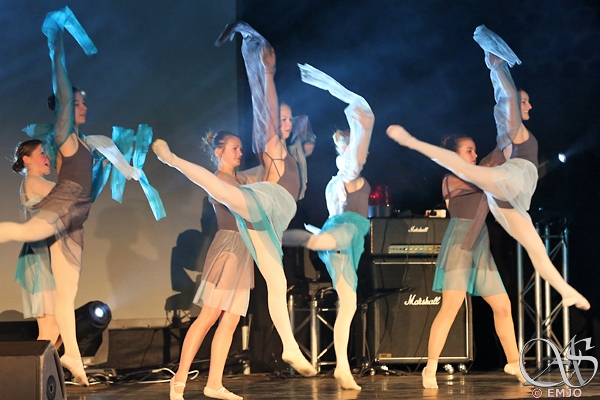 Norwegian Anne Line Gjersem trains in Malmö and showed the audience that she can be a whole lot more than just pretty. Her first solo number was a tango, and she moved effortlessly across the ice wearing a sparkly black dress. In the second act she skated to the secret garden, beautifully romantic music choreographed to bring out the best in Anne Line's flexibility and light as a feather skating.
The audience started screaming when they realized who was on the ice. Tomas Verner wore a black wig, pink tank top and shades. He lived his program Sexy and I know it and the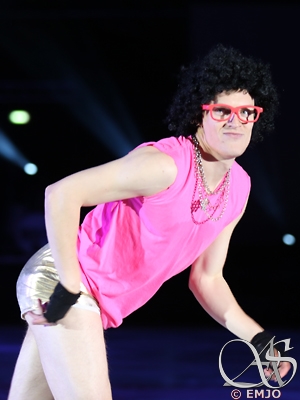 crowd loved it. He did a head stand, rolled on the ice and then his black pants came off revealing silver drawers. The cheering knew no end; this program was a real hit! Tomas came back a bit later performing his short program Dueling banjoes. It's a fast and fun program and although the ice was small he managed some triples. The audience clapped to the wonderful step sequence. Tomas looked like he was having so much fun out there and he really is a first class entertainer. More, please!
The ballet dancers returned for Vivaldi's Four seasons, starting with spring. This was a very clever number and one of my favorites. The dancers wore bright pink skirts and all the skaters body suits. The spring skaters had tiny flowers and buds attached; for summer the flowers had grown and in the fall there were orange leaves, even the ice turned orange. Again there was the dilemma of what to watch since there was so much going on at the same time. In the end winter moved in and we were delighted to see Michelle and Richard Lundberg. A couple of years back they were a promising young pair getting ready to compete at Europeans. But Michelle broke her foot badly and can't take the pressure of landing throw jumps anymore. Here they portrayed winter and did a death spiral and several lifts. They haven't lost their touch and the crowd appreciated them with loud applause. Skaters and dancers closed this number to a short but dramatic part from Romeo and Juliet by Prokofiev. A lovely performance!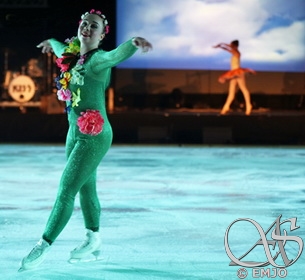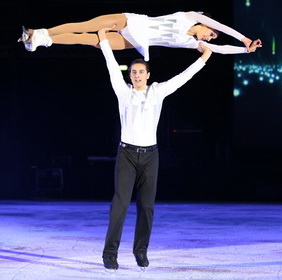 The spotlight was on Viktoria Helgesson as she took on Say something. This was elegant and beautiful and the way we are used to seeing Viktoria. The screaming wouldn't stop; this girl is a superstar. In act two the music turned into a modern Charleston. The dress was black a la 1920ies with a matching headband. She pulled off a beautiful double Axel and did high Russian splits. Skating to a faster piece doesn't make Viktoria lose any of her elegance and this program suited her very well. Bring it on, girl!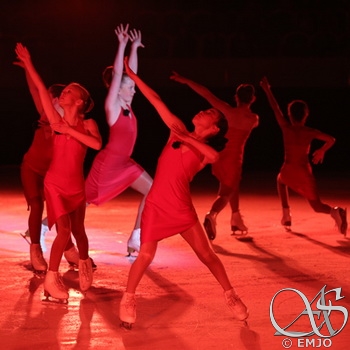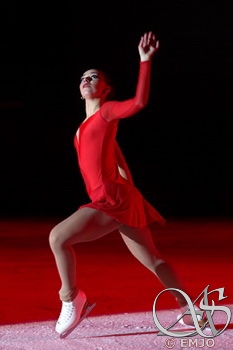 Dancers Sonny La and Cecilia Warfinge from the dance school Tango kompaniet came on the stage doing variations of tango steps. No matter how hard I'd try, my feet would never comply with what they did. The tango theme continued as skaters in red dresses filled the ice with Linnea Wittzell in the lead. She did a routine backed up by the other girls. It was very pretty and well rehearsed. Enter Nicole Svensson who took the lead and did her solo to wonderful Tango Roxanne. Unfortunately there was a sound problem and Nicole ended up skating most of her part in silence. But that didn't face this brave girl; she finished her routine with the audience cheering her on. The music came back on and we got to see it all again, yea! Very well done, all!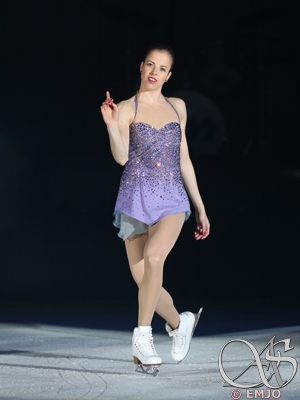 There's something magical about Carolina Kostner skating to Ave Maria. The music is divine and so is Carolina, in so many ways. If this number is lovely on TV, multiply it by ten in a live performance. The audience was privileged to have her come to Malmö and even more so to watch her in two more cold spots: Bolero which has drama, both the music and the movements, and Imagine where Carolina floats on the ice. All these pieces show why she is one of the best skaters in the world, and one you never grow tired of watching. With her beautiful lines and extensions she is an angel on ice. Bolero closed the first act and there was an intermission and chance for people to go and get some snacks.
So far so good. Everything ran smoothly and all the skaters were there which made Ela happy: "My biggest challenge was to get Carolina och Tomas to come. Her ticket had to be changed once, but she made it!"
The second act started with Ela's ballet number. Several girls and Nils Strässe, with soloists Nicole Svensson and Linnea Wittzell, took the ice in a breathtakingly beautiful performance all set to music by Sergei Rachmaninov. This was a must-see to fully appreciate all the details in the costumes and choreography. It also served as a reminder of how closely related ballet and skating are. This was another favorite piece of mine.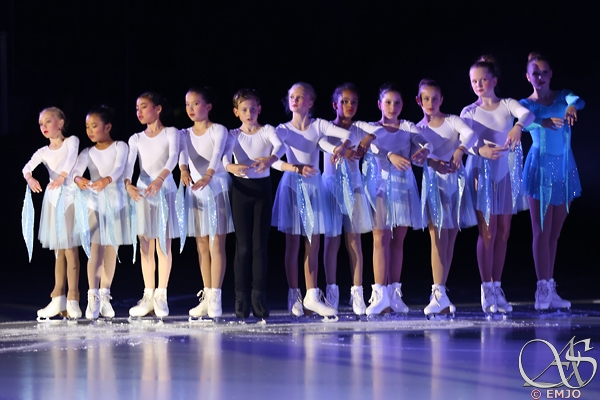 And from the elegance and softness of ballet, to the noisy, fun and over the top Circus. Lots of little skaters, and I mean little, filled the ice and were joined by two clowns, Frida Magnusson and Christina Papavramidi. This was very entertaining and showed that Olympic skating skills are not needed in all numbers to make a great show. These little guys are cute as buttons and were just right for this context. It was altogether a very feel-good act and left everyone with a smile on their face.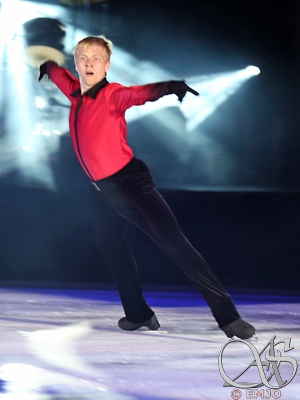 Marcus Björk, the national silver medalist, performed to Notre Dame the Paris. His skating has really matured and next year he's moving up to do senior competitions only. There's no doubt he's ready. His jumps are incredibly high, the spins offered some unusual positions and he skates with a lot of feeling. A bit later in the show he did a number together with Gabriel Folkesson and Nils Strässe as part of the Las Vegas act. It started out with the trio skating to Mr. Bojangles, sung by Robbie Williams. This was another very cleverly choreographed and fantastic group number and I found myself wishing it would go on much longer. The guys were joined by nine show girls in black wigs and brightly colored dresses as the music changed to Dance apocalyptic. It was a dance party! Coach Laco Vince made this wonderful piece.
During the instrumental act to La maison by Gabin the ice was once more filled with skaters in colorful outfits. Josefin Flomén had a solo and handled it like a pro. The well-known musician Peter Zimny played the saxophone on stage and a fun video played in the background showing two men playing air instruments while sitting in chairs. What was played/tapped on the screen matched the music played on the stage. Funny and very clever!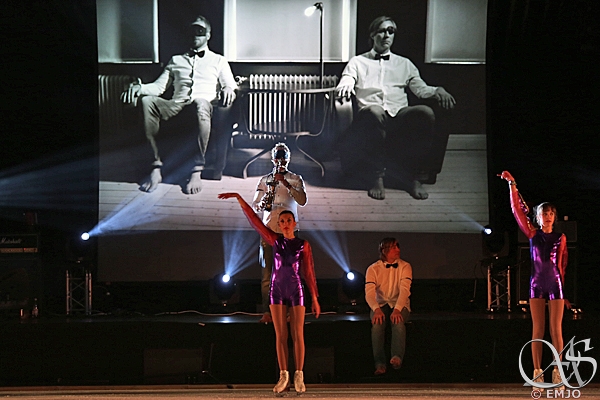 Dancers Timmy and Nicole came on stage and did a modern routine. A one word description of this program would be vibrant.
Tomas Verner returned for a third number, with a little help. Set to Sway, Tomas danced by himself, but it was no fun so he went looking for a partner. His first victim was Frida Magnusson, who soon decided he was getting just a little too intrusive and turned her back. Next Tomas got Carolina from the audience and danced with her, until she also gave him the cold shoulder. Poor Tomas! But third time's the charm, he asked Anne Line to dance and they hit it off well. This was very entertaining to watch with great performances from all involved.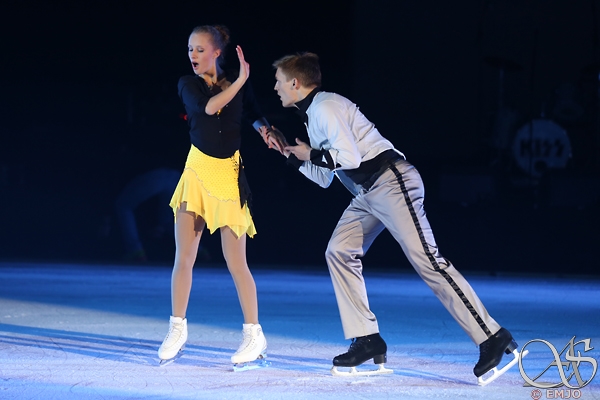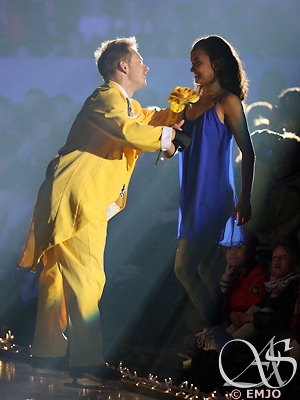 Arriving straight from the airport and twirling onto the ice with incredible speed, wearing an oversized yellow suit; Alexander Majorov! His the mask program was funny, inventive, and jam packed with goodies like a cartwheel, several jumps and splits, and a beautiful rose that in the end was handed over to Anne Line. Alexander was all over the place, just like Jim Carrey's movie character Stanley Ipkiss once he put the mask on. This was such an amazing act; the only bad thing about it was that it was over way too soon.
The whole show closed with Dressed to thrill, the Kiss tribute band that took the stage and rocked the arena with songs like I was made for lovin' you, Heaven's On Fire and Rock and roll all nite. Many skaters in glittery wigs filled the ice and Anne Line was a tough rock chick in black leather. All the skaters participating in the show came back during the last song and the soloists entered one by one doing a jump or lift.
Altogether it was a wonderful, high class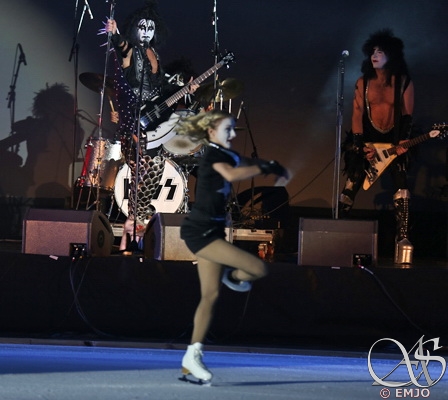 show. But the ticket price was kept down thanks to all the volunteer work from parents, sponsors and collaborations with various clubs, companies and schools. All the hair and make-up was done by students, the stage was built by parents, some of the props were donated or heavily subsidized etc. Fredrik was happy with the outcome:
"The club really took a chance on this project. I wish we would have sold a few more tickets but for now we just hope we broke even, or it'll be hard to plan anything for next year. But there are some ideas for a new show already."
We love the thought of that and will be back for sure!
The show had many wonderful solo performances and group numbers, too many to show them all here. But watch for a special photo album, coming soon on Absolute Skating.