Jorik Hendrickx - The journey becomes Olympic
February 13, 2014
By Mireille Geurts
Photos © EMJO, Mireille Geurts, Jorik Hendrickx, Daphne Heij, Joy, LMDJ, Ia Remmel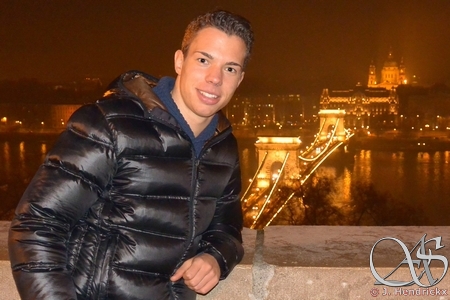 In the season where it's all about the Olympic Games, there were several figure skaters who didn't know until very shortly before the competition, if they would even be allowed to go. Jorik Hendrickx from Belgium is one of those skaters. Despite having met the international requirements with his 19th place at the World Championships in 2013, his own country's Olympic Committee held to the requirement of top 16 at Worlds, or top 12 at the European Championships. Not having been able to compete at the Europeans in Zagreb last year put all the pressure on this yearÂ's competition in Budapest.

With huge success Jorik was able to keep it all together and skated not only to a top 12 spot; he even became 9th. With the Olympic passport figuratively in his pocket, Eva and I met him in Budapest the morning after the men's free program, between breakfast and his departure to the airport.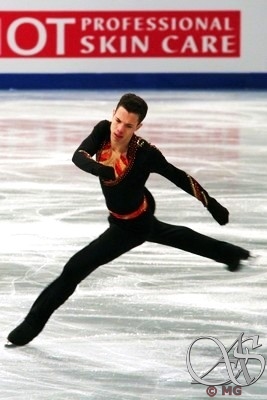 "I'm happy. I was very content with my short program. The free program, I think everyone could see, wasn't a 100% yet, but in general I am very happy with the scoring and the placement. Of course I hope to be able to skate it a bit better in three weeks."
Best in Budapest?
In three weeks, thatÂ's how fast these Olympic Games were already approaching. It must be pretty stressful to find out so late if youÂ're allowed to go, and then deal with all the pressure that has been put upon you.

"I started my season as if I would go to the Olympics. For these Europeans the goal was 'these Europeans'; a chance to show that IÂ'm in shape, I didn't see it as extra pressure. Despite wanting to go to the Olympics, I wanted to skate well here too. I for sure didn't have "top 12, top 12" in my head the entire time. I just did my job and got the result. If I had become 15th with these two programs, I would have been content also. It's not just how you skate, but also how the others skate.
Of course now it's in my head that I want to skate the short program the same way in Sochi, or maybe even a bit better, if possible. I am not really happy with how I skated the free program, the jumps could have been better and cleaner. But since the practices have been quite problematic I am happy I was able to skate as I did."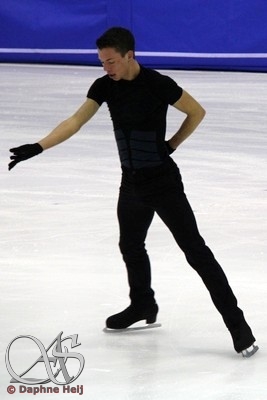 The reason Jorik wasn't able to skate at last year's European Championships was because he broke his ankle several weeks before the competition. This and more you might have read in our previous articles about Jorik (link to 2012 and 2013), since we are documenting his skating journey. And if you have read those articles, you will also notice a recurring theme, Jorik being a perfectionist and our 'arguments' concerning that. In that light, I wondered which feeling was more prominent, being happy about going to the Olympics, or still not having skated perfectly.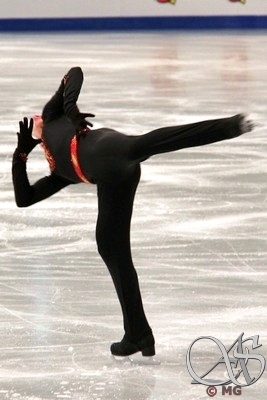 "That I skated top 12...."

I interupt him... Top 10!

"Yeah (laughs), but top 12 was the criteria of the Belgian Olympic Committee to let me go. I am happy I just met them, so I won't have to start a fight at home to be able to go anyway. You see, if I had been 13th or 14th, I'd have to beg to go and still have to wait for a decision, and now it is just clear. They probably would have sent me anyway, but the feeling would have been different.
Being top 10 is fun, but it is just a snapshot, everyone had to skate and a few more technically advanced than me made more mistakes than I did. It's what you do in the moment, I just did my thing."

If I had to name one thing I always liked in Jorik's programs itÂ's the focus he puts on the spins. HeÂ's always aiming for the highest levels and trying to find different variations. However, at this competition he did not clock as many points on those as he normally does.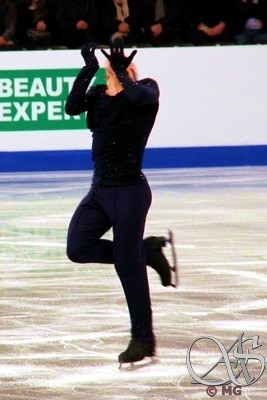 "Yeah, true for the short program but also for the free. It is strange. Normally, at all other competitions I get level 4, but the European and World Championships are just that tiny bit stricter. So I have to work just a bit harder, to make sure that the difficult variations are executed perfectly so there aren't any doubts about the levels.
In the short program it was a bit more convincing, because the jumps were there and then you can throw yourself more in there. In the free you have to stay focused the entire program, while in the short you can let loose once the jumps are done."

A top 10 placement.. That means Belgium will have two spots for the European Championships next year. However, Jorik has no direct competition in the seniors and in the junior level there is only one boy. But Jorik found a good solution to that problem:

"I can try to skate four times and see which program gets the best scores! Maybe then I will land my Axels clean at least once."

(all three of us laugh)

"It is a shame not having competition in my own country, but it also has its benefits, like automatically getting selected for the big events like Europeans and Worlds. And you can focus your training differently. If you have a lot of rivals, you have to win your Nationals first, while I can focus more on peaking at those before mentioned events."
No woes at Worlds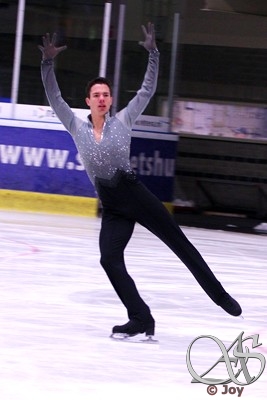 We are following Jorik's journey, but before we look to the future, we have to look back into the past. LetÂ's pick up where our previous article left off, which was last year, right before the World Championships. As already mentioned, Jorik placed 19th there, just like at his first Worlds two years earlier.

" I was dissapointed after my short program, I knew I could do better, but the free program really couldn't have been better, considering the circumstances; I only had a short time to get completely back into shape again after that broken ankle. Conditionwise it could have been better and I did make a few small mistakes. Now there is a lot of positive media attention on me, but I was actually much more satisfied with the free program then, I did a good triple Axel... If I had skated that same program here, I might have ended up a bit higher even. Technically speaking my components were like 10 points lower there. But Europeans versus Worlds... I also skated in the second to last group here..."

Which does make a difference, even though it really shouldn't, but we will get back to these components later. At the end of the season, before the off season was in full swing, we drove to Jorik's training rink for a photoshoot. Here's a selection of these photos (click thumbnail to see a larger image):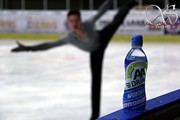 Jorik used the summer to create and practice his new programs, as most skaters do. For the short program he ended up skating to Caravan by Duke Ellington and the free program to Rhapsody in Blue by George Gershwin. Especially the latter was a surprise to me; different from what I was used to from Jorik.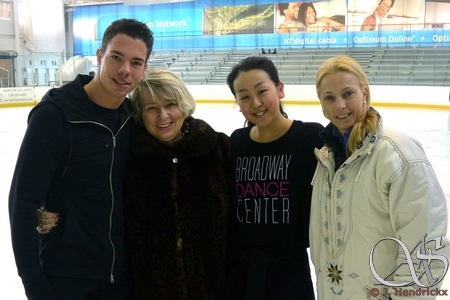 "I trained for 6 weeks with my choreographer Shanetta Folle focusing only on skating skills and choreography. I didn't choose the music myself, Shanetta did. She just told me: "These are your programs." In the beginning of the summer I had doubs that it was really my style, since the free program is a bit more classical, and many people have skated to it already. But in the end I think it suits my skating style well, so I am happy with them. I trust her experience and we now see that mirrored in the scores; they are a bit higher than last year."
Fall part of the season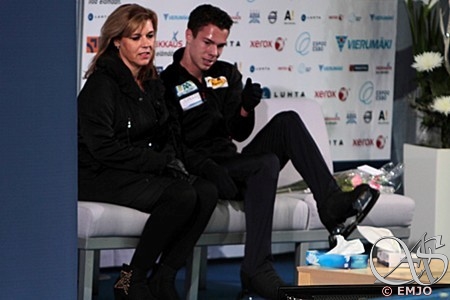 The first half of the season, before Budapest, wasn't the best Jorik'd ever had. Having kept in regular touch I knew he'd had a tough time having to train with other coaches, because his own coach, Carine Herrygers, was on maternity leave. His first competition of the season was the Finlandia Trophy, where he reached a nice 5th place.

"The start, the Finlandia Trophy, was quite okay. The short program was good, with the free you could really tell it was my first competition of the season. But after that things went downhill. I wasn't in my trusted environment with my trusted coach. Carine gave birth to her baby, and during that time I trained in Oberstdorf, with Karel Fajfr. He is a great coach, but for the mental aspect I missed Carine. Then my practices went badly and the "home sick" feeling only got worse."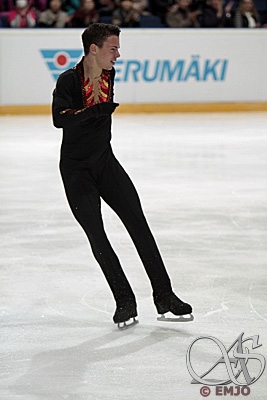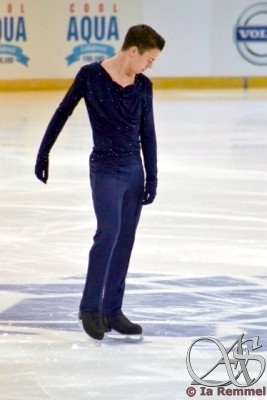 At the end of October, he went to the Crystal Skate in Romania. The week before that competition his practices went a bit better, but despite that he only finished 4th, behind skaters he usually is ahead of. This is where the before mentioned components pop up again.

"I skated really badly there, I admit that, but I also got much lower components than the other skaters and I did feel a bit underscored. But you can see that skaters who ended up above me there, got much less in those same components here at the European Championships. Then you see that in smaller competitions the judging is more based on if the skater did his jumps or not. I mean in 2 months you can't really go from 55 to 65 points."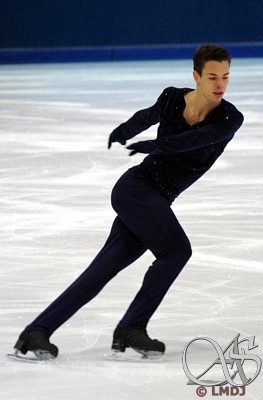 Wowza, that is a huge difference in such a short time!

"I believe so too! And other skaters who did do their jumps okay, got 70 in the components. That difference isn't this big at a European Championship. The judges should look at skating skills and transitions and such, and of course those are lower when the jumps don't work, my interpretation was of course less as well, but such a big margin isn't right.
I must say that I was very disappointed with my marks, and it really put me down for quite a while. I got the lowest score in 5-6 years. And then I came home and continued practicing, but that didn't go well, my confidence really sunk into my shoes. It only went badly, even more bad and then worse."

So Jorik was truly in a dip. His coach was on leave, he didnÂ't feel at home, had a bad competition, poor marks and practices not going well... But then coach Carine came to the rescue!

"Of course after having a baby she couldn't immediately pick up work again, but luckily she did start coaching me 2-3 weeks earlier than planned, so I could go home and train there.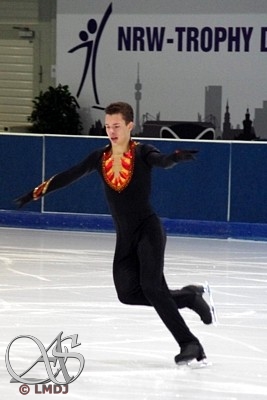 I skated at the Warsaw Cup, Vera Vandecaveye went with me as my coach. After that I trained fully with Carine again, so at my next competition, the NRW Trophy, things went a bit better again. But then I needed new skates... so I was fiddling again .... "

(we laugh, understanding it immediately) your blades! (Explanation to this by us dubbed "Blade Phobia")

"Even now they still don't feel correctly placed!"

(Jorik laughs as well) Between the Warsaw Cup and the NRW Trophy were the Belgium Championships, which he ended up skipping.

"I had the flu. I wasn't feeling too well, and at a competition you always have to give a full 100%. I wasn't able to do that, so it was better to skip it. I had to listen to my body and rest a bit and focus on the NRW Trophy in Dortmund 2 weeks later."

Where he came 3rd. His little sister Loena (14) did skate at the Belgian Championships. We inquired how she is doing.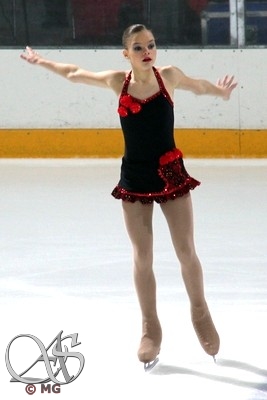 "At the Belgian Championships she was in great shape and she became the junior champion. We hope that next year she will be assigned a junior Grand Prix and get the required points for Junior Worlds. There sheÂ'd gain some experience so she can see what she has to work for. In Belgium she can skate quite poorly and still win, but internationally she really needs that double Axel and a triple. In the summer she made a lot of progress, but you can see we're a family, she is also a bit inconsistent with the jumps. (laughs) Performance and components are pretty good though."

Which my sister Joy and I had seen for ourselves while attending the Belgian Championships for a day. Despite the busy schedule, we hope Jorik was able to celebrate Christmas with his family?

"Yes, I was. I left the day after for Oberstdorf to train till January 5th. Even on January first I trained, since the Europeans were so early this year. It was a bit heavy though, I went to bed around 00.45 on New Years Eve, not really late, but my first practice was around 10 o'clock. I even did a complete run through of my free program!"

(we all laugh) On top of all that?

"Yeah, the ice was quite empty, there was room so my coach said: "Let's use this opportunity!"
On the road to Sochi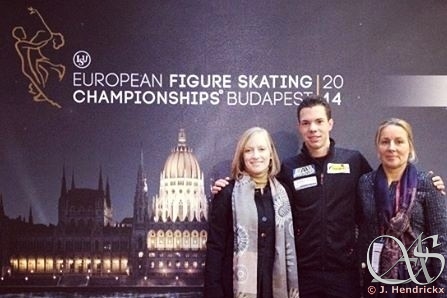 And that brings us back to the "now" of this interview; the last day in Budapest.

"I think I found my confidence again and I hope I can keep it up. WeÂ'll leave in about 2.5 weeks for Sochi. It seems to be going in the right direction. I am only now officially selected, so a lot of procedures will start: visits to the doctor and to the dentist, then the team clothes, rules and all of that... Luckily itÂ's all very structured. I think I have to really enjoy these Games; it is a 'once in a lifetime' opportunity. I am very happy I am allowed to go, and itÂ's getting really close now. I think I will just have to continue practicing as I have been, and hopefully perform as well there as I did here."

What does Jorik expect from the Olympics? It is a question I hate to ask, but have to sometimes, can you name a placement as goal?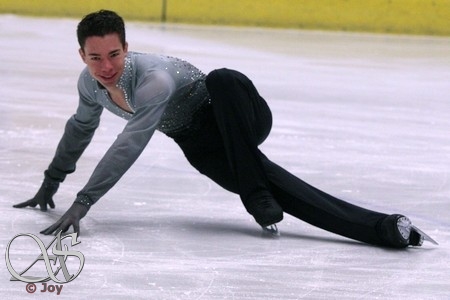 "Not really. If I look at last yearÂ's Worlds, I had a 19th spot. That would be great, maybe a bit higher than that. But you never know how you will perform in the moment. So first of all I hope to make a good start, I want to make it to the final. There are six skaters that won't make it to the free program and it would be a big disappointment if I were one of them.
If I skate my short as I did here in Budapest, I will probably make it, but yeah, I will have to do it there again. As I said before, it's how you skate in the moment."

Will you experience the Olympig Games completely, or just focus on the skating part?

"I will arrive on the day of the Opening Ceremony and I will stay there. But IÂ'm leaving the day before the Closing Ceremony, because after the closing itÂ's very hard to get a flight and that would mean I'd have to stay an additional 3-4 days. ThatÂ's unnecessary, and I have to keep in mind that Worlds is then just around the corner as well.
Will I watch other sports? Certainly! I have a full week to take in the Olympic experience, so I hope to be able to catch some of the sports of my fellow Belgians, like speed skating. Bart Swings is a medal contender after all. ThereÂ's snowboarding and all kind of sports I could go to. It's a unique experience I don't want to miss.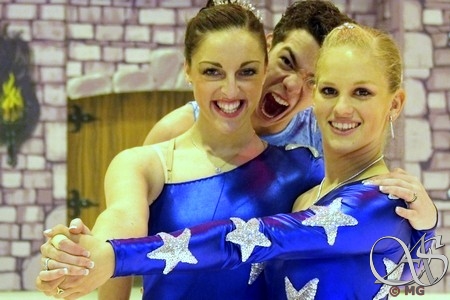 And have some teamspirit, of course, which is lacking a bit at the European Championships because there are so few Belgian skaters. At the moment it's only Kaat van Daele and me, and of course we do get a lot of support from each other. And the first days we can have dinner together etc. Or pick new music together. (laughs) Later in the week it's a bit harder. Kaat can be very impulsive and sometimes needs someone who tells her to just do her thing and don't doubt too much, and she picks me up as well if needed. We are a small team, but we are very close."

Which is something we noticed in our interview with Kaat as well. Last but not least, another question I hate to ask. How are you progressing on the quad?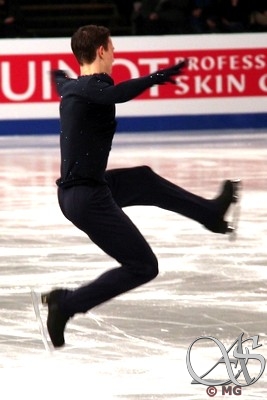 "This past summer my focus was on skating skills and I didn't train the quad too much. I think I get good feedback now for doing that, but of course the jumps have to get better. ItÂ's hard to integrate the quad in the program, unless you are very sure of it, which I am not, yet. It will certainly be a goal for next year, at least to get it working in practice. IÂ've never really landed it yet and I still have issues with the triple Axel. Next year the programs have to be ready in two weeks, as I have improved so much in 'the second mark' that I can focus more on the jumps. I am aware that I will never be a jumping bean.
I have to take things step by step... If I look at where I was 4 years ago, I would never even have dreamed of becoming 9th at a Europeans, let alone going to the Olympics!"

But you are aiming for the next Olympics as well, right?

"Yeah, certainly. Well... you never know what will happen, 4 years is a long time, but I surely hope it will be on my path. And if my Axel is consistent by then and I hopefully have a quad, I hope to achieve more than a 9th place here and a 19th at Worlds."


But to be top 10 at Europeans without even attempting a quad is pretty awesome! - Eva pointed out.

"... and without a clean triple Axel in the free program and... "

(all three of us laugh)

"Yeah, I indeed hope so, and if the jumps are there, the components go up as well. So I am well aware I need to work on those jumps. To medal these days you need two triple Axels and two quads in the free program, as opposed to several years ago. I think I was just born a bit too late. (laughs) I just try to do my best and to enjoy every moment I experience. It isn't always easy, but if you feel satisfaction after such a competition, you know why you keep doing this."
That's right! We hope Jorik will have his dream skates at these Olympics and get the contentment he is after. And if his path truly leads towards the 2018 Olympic Games, we'll keep following his steps as we have so far. Good luck, Jorik!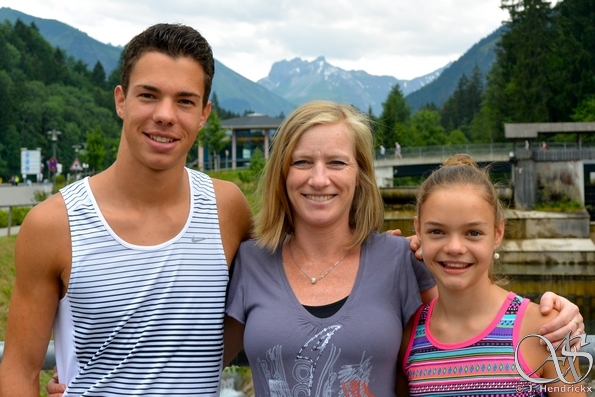 Jorik, coach Carine Herrygers, and sister Loena Hendrickx