Junior Worlds 2014 – The future of figure skating is bright
April 21, 2014
By Veneta Yaneva
Photos © Andriana Andreeva
Welcoming guests with bread and salt is an ancient Bulgarian tradition. Children, dressed in folk costumes with their hands full of bread and salt, welcomed the participants of the 2014 Junior World figure skating championships, held in Sofia for the fourth time in history.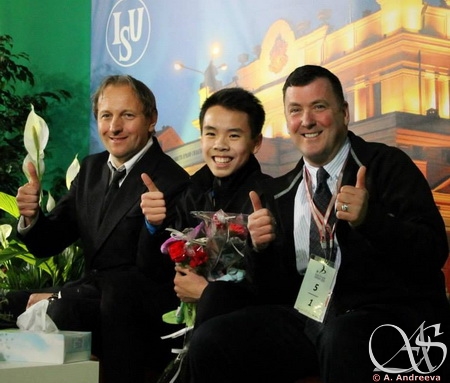 From March 10th to 16th, the future of this beautiful sport of figure skating met in the Winter Sports Hall for a competition which proved that the young skaters are of high quality and that the future of the sport is bright. For certain some of these junior skaters will compete at the important, senior championships over the next years, starting this fall.

It was a bittersweet tournament for people who love figure skating, due to the low attendance. Successful coaches such as Brian Orser, Evgeni Platov, Alexei Mishin, Anjelika Krylova, Barbara Fusar Poli, Michael Huth, and Oleg Volkov were behind the boards, watching the talented juniors, such as Elena Radionova compete. Elena had won 2 Grand Prix medals in the fall, but there was no audience to watch her. The empty stands were noticed with regret by Platov and Rafael Arutunian. And this is a huge competition "I always get excited to see athletes experience Junior Worlds," Orser said.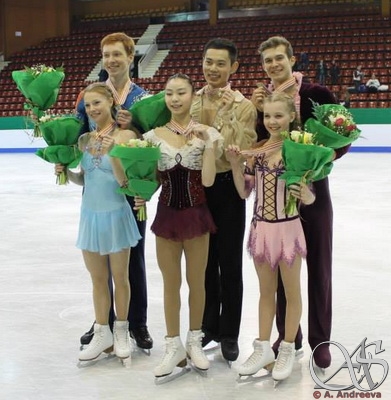 The pairs were the first to be crowned, where only 15 teams participated. It was the third attempt by gold medalists Xiaoyu Yu and Yang Jin (China) to win the title, as they came in second two years ago. On the podium stepped Russians with interesting and familiar names: Evgenia Tarasova/Vladimir Morozov and Maria Vigalova/Egor Zakroev. They all had more difficult programs than some senior pairs, with triple jumps, triple throws and triple twists. Yu and Jin again proved that China will not allow their strong traditions in pair skating to fade with the retirements of Xue Shen/Hongbo Zao in 2010 and now Qing Pang/Jian Tong.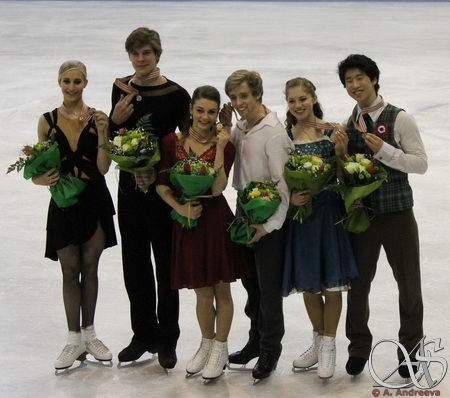 In ice dance, Kaitlin Hawayek and Jean-Luc Baker from the United States broke the Russian hegemony of the last four years. Alexandra Stepanova and Ivan Bukin were to defend their title but injury forced them to withdraw days before the competition. With very mature skating, Anna Yanovskaya and Sergei Mozgov won the free dance but ultimately ended up with silver. Madeline Edwards and Zhao Kai Pang won the bronze. Evgeni Platov praised the first two teams by saying that they are ready for seniors. Platov, the only two time Olympic champion in this discipline, compared Jean-Luc to the great Christopher Dean. It's funny that they even have visual similarities.
The happy winner mentioned that Dean and Maxim Staviski are his favorite skaters. And while the young Americans were enjoying their moment, their coach Anjelika Krylova was the happiest of all. "These are my first World champions. It was a great event for them. I'm very proud of the way they skated," she said between hugs and kisses at the press center. The skaters were adorable during the press conferences and Jean-Luc shared his opinion that ice dance is beginning to look more like pair skating. Jean-Luc suggested that Mozgov try pairs because he has the height for it. The Russian said he prefers the dance and wants to see more dancing in the programs.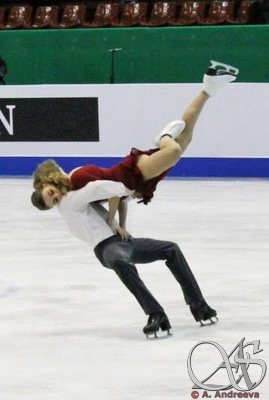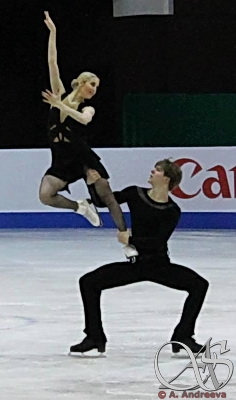 Ukrainians Alexandra Nazarova/Maxim Nikitin and Koreans Rebeka Kim/Kirill Minov made a great impression and finished 5th and 6th while British skaters Olivia Smart and Joseph Buckland showed that Evgeni Platov is using his skills with fancy lifts for that team, and not just for the dance couple of Penny Coomes/Nicholas Buckland (it's no coincidence, they are brothers). The French couple Estelle Elizabeth/Romain Le Gac made the public clap along with "Gipsy Kings" while Carolina Moscheni/Adam Lukacs showed that Michael Jackson is always a good music choice. And while the dancers had many falls and mistakes that are not typical for seniors, their competitions garnered more interest, probably because it's the discipline in which Bulgaria has been most successful in the past and because it combines sport with art, as the skaters noted. Very different from the others, with difficult impressive lifts and attractive choreography on Cabaret Soundtrack were the Ukrainian Alexandra Nazarova/Maxim Nikitin coached by Alexander Zhulin and Oleg Volkov, who finished on 5th place.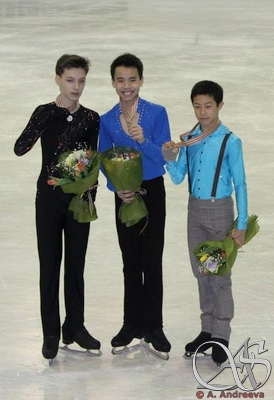 In the men's competition we saw the birth of big future skating stars. The first eight skaters are really special. Nam Nguyen from Canada won the gold, Adian Pitkeev from Russia won silver and Nathan Chen took bronze. Nguyen made Brian Orser an even more successful coach (his student Yuzuru Hanyu is the Olympic champion, Javier Fernandez - European). Nam is no longer the cute young man we remember from the Vancouver Olympics gala. He has grown up to be a nearly complete skater who can perform 2 programs without mistakes, do seven triple jumps in a free program and fill the rink with his presence. His coach mentioned that his main task when first starting to work with Nam two years ago was to rid him of the cuteness and make him skate with more maturity. Mr. Orser noted that he saw his pupil grow up after the Four Continents Championship.

A "Coach of the Year" award could go not only to Orser, but also to Eteri Tutberidze. The "youngsters" coach is gaining more and more respect due to her work with a huge group of talented skaters – Yulia Lupnisktaya, Sergei Voronov, Evgenia Medvedeva (bronze medalist here) and Adian Pitkeev. Pitkeev made an amazing jump from seventh place after short program to second in the competition. Adian is pleasure to watch with his good choreography, presentation skills, transitions and solid jumps.

Another huge jump was made by Nathan Chen – from sixth to third and this with a broken right hand. 14-year old Nathan was a tiny Florant Amodio, if we talk about his presentation, but his jumps are perhaps more consistent. Shoma Uno and Keiji Tanaka give the Japanese people a reason to accept the retirement of Daisuke Takahashi, and belief in the bright future of Japanese men's figure skating. Another skater that deserves some praise is Deniss Vasiljevs (LAT). At 14, he is a pleasure for the senses with his musicality, dancing ability and presentation skills.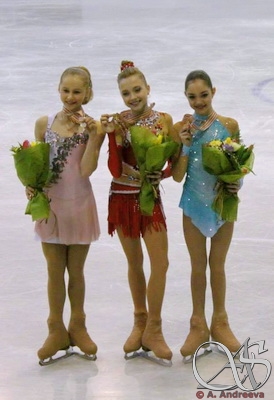 And finally we have the ladies. This discipline contained the only defending champion, Elena Radionova, who became the first female skater to defend her junior title in the history of figure skating. An all Russian podium – Radionova, Serafima Sakhanovich and Evgenia Medvedeva happened for the fourth time in history and second time in a row, since last year it was Radionova, Yulia Lipniskaya and Anna Pogorilaya. Elena was a substitute for the team due to injury, but her presence demonstrated the definition of "star". With every word, every movement, she showed that she is ready to challenge the best female skaters; she did that all season, with 2 senior Grand Prix medals and fourth place in the final.
These three girls made their press conference the most fun of all, answering silly questions for their stuffed animals and also serious questions, for example concerning the inability of skaters go to school like other girls their age. The interesting thing is that they all train in different clubs and with different coaches yet seem to be very close to each other. They shared the fact that they have been friends for several years and always enjoy competing as a team. It was cute because all of them wished their best to Maria Sotskova, who was forced to withdraw because of injury. Interesting was the answer about their motivation why they choose to be skaters.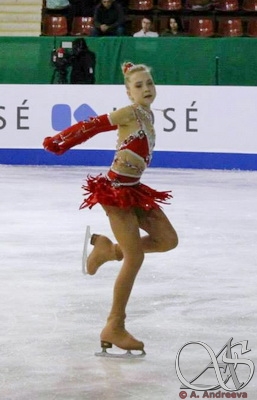 Rodionova explained that this is the way to do something important in your life and your grandchildren will be proud of you. "Also you can meet famous people – actors, musicians, even the president – the Russian Olympic Team met President Putin in Sochi – nobody can just meet the President," she added.

Satoko Miyahara (Japan) and Alaine Chartrand (Canada) also did great job. One of the conclusions we can make is that South Korea, having the amazing Yuna Kim, is guiding this sport in right direction. South Korea has a good dance team plus two talented ladies, Da Bin Choi and Na Hyun Kim, who finished in 6 th and 10 th place. The same situation is happening in Kazakhstan. After the success of Denis Ten the Asian country is now searching for a new star, and Elizabet Turzynbaeva (11th) is now in Toronto training with Brian Orser. These are examples of how one skater can make the difference in this sport for his/her country; they need only to capture the moment and find his/her followers.
After all the sweat, hard work and pressure it was the time for the party.
The gala was full of emotion. Fifteen minutes after its end, the skaters received standing ovations and they deserved it. Russians Adian Pitkeev and Aleksander Petrov prolonged the ovation by refusing to leave the ice. The men kept coming again and again, sweeping the others along. The dancer Sergey Mozgov showed that Baker's idea to try pairs is reasonable by executing a throw with Andrey Deputat. Petrov liked the exercise and repeated it with Pitkeev. The boys then tried some jumps in parallel, and at one moment all the skaters were rolling around on the cold ice. At the end of the gala they made a train to wave an enthusiastic "Goodbye" to the crowd.