Olympics 2014 - Colin McManus shares his free dance highlights
February 18, 2014
By Colin McManus
Photos © Ludwig Welnicki (Joluskating)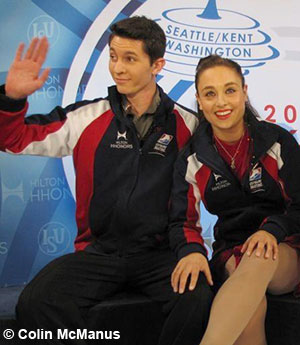 My name is Colin McManus, and I'm an ice dancer currently competing for Team USA with Anastasia Cannuscio. We have had the privilege to compete on both the Junior and Senior Grand Prix circuits. I also spend a lot of time coaching. So, I really enjoy sitting back and watching skating with a critical eye. I think that the Free Dance event was the best figure skating event of the Olympics so far and I am really excited to share my thoughts on it.
I focused mainly on the top 5, but three stand-out teams for me outside the top five were Anna Cappellin/Luca Lanotte, Kaitlyn Weaver/Andrew Poje, and Madison Chock/Evan Bates. I think that Anna and Luca are always incredibly charming, and their "Barber of Seville" FD was a great choice for them. Kaitlyn and Andrew skated their program like they were the only two people in the world. It was intense and totally committed. Madison and Evan are two of the nicest people I have ever met in skating, and I thought this program was underscored. I generally agreed with all of the placements, but I felt that they should have placed higher.
Now for the top five...
Ekaterina Bobrova and Dmitri Soloviev
This performance did not grab my attention. The program was just a little too strange and disjointed for my taste. I thought they were a little overscored in both of their programs. Their skating style is very harsh, and pitched forward, and they did not skate with the same intensity and spark as Elena and Nikita. Thinking back on their programs, there was nothing that really wowed me. I did not agree with their top five finish. I felt that the three teams below them were more deserving of a top five finish based on their performances.
Nathalie Pechalat and Fabian Bourzat
My heart broke for them because I wanted them to get that Olympic bronze so badly. Not to take anything away from the Russians, but Nathalie and Fabian have been in this for so long and it would have been nice to see them walk away with a medal. I thought their FD was very innovative, and I think they have the most interesting lifts, but I feel like their performance fell flat for me. I found myself only remembering their lifts and not any of the program itself. At the end of the day the Russians had the better performances, but I was really rooting for Nathalie and Fabian to end their career with the bronze.
Elena Ilinykh and Nikita Katsalapov
I loved this program! I thought it was the perfect choice for them, and they just fit into those roles perfectly. It was dark, and powerful, and I would watch it over and over again. I have to admit that when I was talking about the battle for third I did not have them in the conversation...until I saw them in the team event. I thought the program was amazing then, and I couldn't believe that I liked it even better just days later. One thing that always grabs my attention is their speed and power, and their opening straight line lift was one of the best lifts I have ever seen. I have been a fan of theirs since they were juniors, and I feel both of their performances were truly deserving of their placement.
Tessa Virtue and Scott Moir
I have to say that I am not a huge fan of this FD. Though it's a beautiful program, and it showcases their classic Tessa and Scott style, it was really lacking a good story line. I felt it was a little too similar to what they did in Vancouver, but it did not have the same impact as their program did four years ago. That being said, it was still an incredible performance, and they skated the program beautifully. I wish I could have a quarter of the grace and ease of their skating, and the Olympic medals wouldn't be too shabby either...
Meryl Davis and Charlie White
It was a gold medal performance. This free dance is one that will go down in history. I think it was a masterpiece, and there was not one thing they could have done better. I feel like a lot of teams had some moments and highlights throughout their programs, but this performance was truly incredible from start to finish. They have a great ability to tell a story, and it was a true balance between incredible elements and memorable choreography. What they have done for US Ice Dance on the world stage is incredible, and they deserve this gold medal and to make US Olympic history.
Congratulations to all of the teams! It was awesome to watch all of you, and best of luck to the teams continuing on to Worlds! Like I said at the beginning, this Free Dance event has been the highlight of Olympic Figure Skating for me.
Olympic photos courtesy of Ludwig Welnicki (Joluskating), for more photos, check out his site here!