Absolute Olympic memoirs and musings
February 5, 2014
By AS crew
Photos © Daphne Heij, Susanne Kempf, Carole Swan, Marni Gallagher, Titanilla Bőd, Reut Golinsky, Hektor/Wikipedia Commons, Jude Freeman/Wikipedia Commons
Are the Olympic Games special or just another competition? What makes them significant in the eyes of athletes and fans?
Four years ago we tried to find answers to those questions when we gave a few skaters our small "Olympic questionnaire". This time we decided to discuss the Games among us, the Absolute Skating staff. Coming from different backgrounds, different countries, having different histories of our love of figure skating and sports in general, we all had diverse answers in recalling:
- Our first Olympic memory
- Our strongest Olympic experience.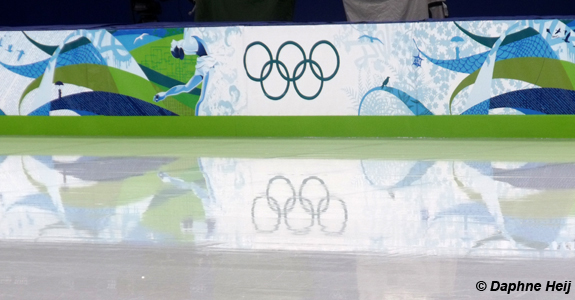 Melanie Eley
My first Olympic memory is watching Robin Cousins skating his free program at the 1980 Olympics in Lake Placid. I was almost 12 years old and had just started skating 2 years before. I got up out of bed through the night to watch because of the time difference. It felt very special. I was in awe of his ability to do an outside edge camel spin in the opposite direction and his beautiful delayed single Axel. Even now when I hear those pieces of music it makes my heart beat faster.

I watched Stéphane Lambiel skating live for the first time in Lausanne Europeans in 2002. I knew then he would one day be World Champion. I watched him again live in the 2006 Olympics and got to meet him for the first time too. It was amazing to hold his Olympic medal!

Olympics are special. I'd rather have an Olympic medal than a World Championship one. So much can happen in four years and it must feel like a lifetime for young athletes.
Joy Geurts
I was in high school, and the Dutch television had an "Olympic Journal" every morning during the Winter Games. I recall seeing images and a very brief summary of figure skating; most vivid is a memory of a woman with big curly hair (well, it WAS the eighties...), who must have been Natalia Bestemianova, the winner of the gold medal in the ice dance with her partner Andrei Bukin.

My strongest experience actually isn't about a specific win (though Alexei Yagudin's victory in 2002 was splendid), but more strongly I remember, and somehow pity those who couldn't make their dreams come true.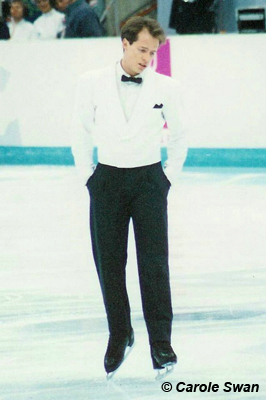 Think Michelle Kwan, Surya Bonaly, Wötzel/Steuer, who were either surpassed by young talents, or had a nasty fall, or just flunked their program (random order). Having said that, one of the most memorable moments for me is Lu Chen skating to the bronze medal in Nagano 1998; she was so adorably happy...

Olympics aren't just any championships. Strange things always happen... having an Olympic title bears more weight, because it's only once every four years. But that also brings along lots of expectations, and pressure; stuff not everybody can handle, even the most famous skaters can suddenly flunk their programs. However, it can be wonderful as everything falls into place (aforementioned Yagudin), or some skater(s) deliver something new and unexpected (for example, Grishuk/Platov in 1994).
Mireille Geurts
I used to watch figure skating with my mom, when I was a child I did my homework on the couch, counting up the scores the skaters got. My first Olympic memory actually is a sad one, from the OG in 1994 in Lillehammer. In the pairs event, Mandy Wötzel fell very hard on her chin (belly down), and had to be picked up by her partner Ingo Steuer and carried off the ice. I was in complete shock.
Tied into that memory was my favorite for the gold, Kurt Browning - not winning - which after his four world titles was also a shock.

One of my strongest and favourite Olympic memories was Alexei Yagudin winning in 2002. My favorite at the time, and after seeing him lose Europeans 2001 live, this was very uplifting and for me a great distraction of my illness at the time.
I also have to mention the carrying of the flag by Kevin Van Der Perren in 2006 and 2010. By then AS existed for several years, I knew him personally, which makes you watch such an event through very different eyes. And seeing him there, taking part in the Opening Ceremony, was just such a joyous moment.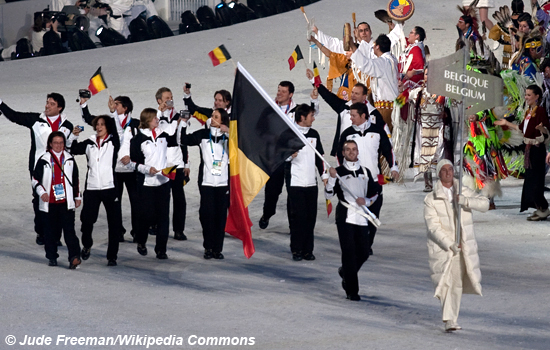 Program-wise I vividly recall Aljona Savchenko and Robin Szolkowy's short program "Send in the Clowns" (season 2009/10). The combination of the music, the costumes, the make-up, their innovative moves; it was so different and yet so good, I absolutely adored it.

Olympics are different! It is almost every skater's dream, which leads to expectations and pressure. Many skaters do not skate their best, due to these nerves, or are very reserved, afraid to make mistakes; so many broken dreams, broken hearts. So I am not too fond of it - while of course, if everything and all the pieces fall into place, magic is created. And luckily, that also happens at almost every Games.
Lena Halonen
I grew up watching sports because my parents, mostly my dad, would watch everything. Track and field, cross country skiing, canoeing, the list could go on forever. The first Olympic moment that comes to my mind is the mascot Mishka crying at the end of Summer Olympics in Moscow 1980.

My strongest Olympic experience: Marja-Liisa Hämäläinen winning everything in women's cross country skiing in Sarajevo 1984. Another great memory is Florence Griffith Joyner from the summer Olympics in Seoul 1988. Doping or not, she was so cool! And in figure skating it's maybe Torvill & Dean's "Boléro" in 1984.

Olympics are special: they only happen every fourth year and the title "Olympic champion" sounds greater than other titles.
Titanilla Bőd
My very first Olympic memory is watching gymnastics on TV from Barcelona 1992 and trying to lift my leg as high as possible next to my grandparents' bed. Henrietta Ă"nodi of Hungary won gold and silver there; I was impressed. Atlanta 1996 was the first Olympics which I actually looked forward to and couldn't wait.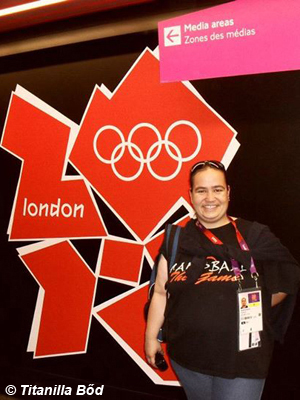 I was in London in 2012 as a journalist (I work as a sport's journalist at daily "Új Szó", the only Hungarian daily newspaper published in Slovakia) which was an incredible experience and I will never forget it. There were many significant moments, but since Winter Olympics are starting soon, I'm choosing a moment from the Winter Games. It was in February 2002. I was a huge fan of Alexei Yagudin. I felt my world would fall apart if he didn't win the Olympics. I couldn't watch the short program live, because it was my first year at the university. I was lying wide awake in my bed at the dormitory, nervous, excited, longing for a perfect skate by Alexei. At around 4am I phoned my mum and she said: "He was amazing!" "What about Plushenko?" I asked. "He fell... Alexei is first after the short program!"
Luckily, I could go home for the long program. It was late at night when it started, but I wasn't sleepy at all. Alexei was last to skate. Plushenko made no mistakes, but he'd had a fall in the short. And then, finally, Alexei took to the ice. He looked so focused that I knew he would win. He landed the quad in combination and he landed a quad again. He landed all his jumps and then cried in the Kiss and Cry. I was the happiest person on earth! Next day my mum even baked a big cake to celebrate the victory properly!

When I realized that I wanted to be a sport's journalist (and I realized it pretty soon), from the very beginning my ultimate goal was to report from the Olympic Games. I didn't know how I would reach this goal, but I was 100% sure it would happen. The Olympics has always been a special competition for me. The Games were a big event for our family; we always watched the broadcasts and cheered for the Hungarian athletes. So it is obvious it is not just an ordinary competition. It's the celebration of the four-year effort. Even thinking about it gives me the goose-bumps.
Marni Gallagher
As a 7 year old girl, it was thrilling for me to be allowed to stay up late at night with my parents and sister to watch the 1976 Olympics in Innsbruck, when Dorothy Hamill won the gold medal. She was perfection and I spent the next 5 years wearing a wedged bob "Dorothy Hamill haircut" out of love for my new heroine, and begging my mother to take me to see her skate in shows. It was as thrilling for me to meet her in person 3 years ago as it would have been to meet her as a child. This was my first memory of watching the Olympics, and seeing an American win the gold filled me with pride.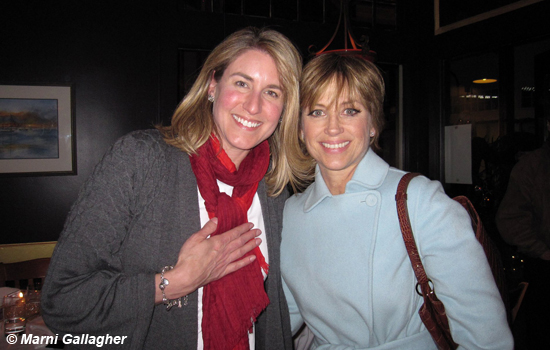 I have yet to attend any Olympic Games in person, and my strongest Olympic memory was watching the USA gymnasts at the 1984 summer Olympics. I was 15 years old by then and completely in awe of the strength and balance of those athletes. Plus the male gymnasts were handsome. I even gave up eating "Life" cereal, switching to "Wheaties" so Mary Lou Retton could smile at me from the box while I ate my breakfast.
Magdalena Osborne
My first Olympic memory is from 1980 when the Swedish alpine master Ingemar Stenmark won two gold medals in Lake Placid. In figure skating I followed the famous battle of the Brians (Boitano and Orser) in the 1988 Games in Calgary with great excitement.

My strongest Olympic experience is Alexei Yagudin's victory in Salt Lake City in 2002. That may very well stay my favorite Olympic moment forever.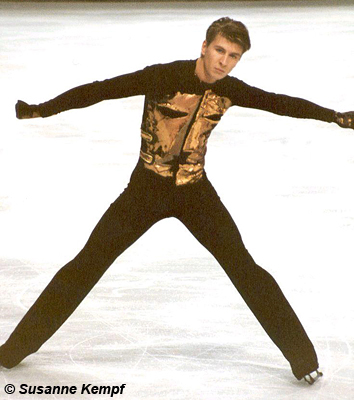 I think Olympics are not like other competitions, because the title 'Olympic champion' weighs a bit heavier than any other title. And the Games are on for a couple of weeks and there's excitement every day as new champions are crowned. The whole world comes together and it's a grand celebration of good sports and sportsmanship.
Ioana Visan
The one memory that stands out for me is the Albertville Olympic opening ceremony in 1992. It was the first time we watched the Olympics live and on a color TV. I'll never forget the ladies who led each team, trapped in those giant see-through bubbles.

My strongest Olympic experience would be Alexei Yagudin winning the Olympic gold in Salt Lake City in 2002. I remember watching in the morning with both my grandmothers. Because of the time difference, I hadn't been able to watch the competition live, and I already knew he'd won. When it was over, we looked at each other and went: "Wow! Now this was skating!" Nothing can beat that.

Are the Olympics different? Since I'm not an athlete, I can only answer this from a viewer's point of view. First, there are two big shows in the beginning and at the end. Second, there are two weeks of basically non-stop winter sports on TV. Third, the skating events are more spread out, which makes handling the work schedule easier and managing the site too. It's also a little sad because several of the top skaters we won't see again in competitions once the Olympics are over.
Maria Jangbro
I don't remember when and where it was but I do remember we, that is me and my brother and my "sport mad" dad, were up in the middle of the night to watch the Games. I thought it was really cool since:
1. I got to be up reeeeeally late (or was it early?)
2. I was allowed to bring everything onto the couch, including food
3. I walked around in my nightgown night and day
Ever since, I always think it is extra special when the Games take place in those time zones where my night is day-time for them.

I would say that the strongest experience is definitely Salt Lake City 2002 when Alexei Yagudin won. That was so right, he deserved it.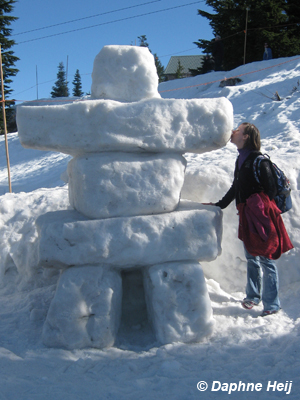 He was number one, no doubt, and I still think he is the number one skater in my mind. It was extra funny when some friends and I went to see "Stars on Ice" and stayed at the same hotel as him, which had a Jacuzzi and where some of the male skaters ended up before the show. What a surprise bathtub! Alexei Yagudin, Anton Sikharulidz, Todd Eldredge, and us.

Sure Olympics are different from any other competition. Unfortunately it is not always the right "deserving" winner, for example Magdalena Forsberg, biathlon, who has six world titles, one silver and six bronze medals but she never won an Olympic gold. Everyone in Sweden, including me, wanted her to get that gold but she won a bronze medal and was happy for that too.
Daphne Heij
I vaguely remember watching the Nagano Olympics in 1998, but my first vivid memory comes from the 2002 Olympics. I was rooting for Plushenko to win and was sad that did not work out. It's then that I started to look for Internet forums about figure skating so I could post typical teenage girl things.

I traveled to Canada for the Vancouver Games in 2010 and it was one of the most amazing 2 weeks of my life. The Olympic spirit was everywhere and it was a privilege to be part of that. I think the best moment of these two weeks was when my friend and I received two tickets to the quarter final hockey game between Canada and Russia from Tomás Verner. The atmosphere at the rink was really something magical.

Since the Olympics are just once every four years I think there is a lot more at stake. There are a lot more emotions coming from the athletes, which makes it a lot more nerve-wrecking and I also have to cry all the time.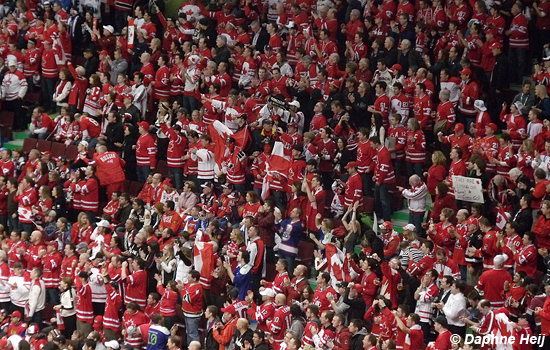 Suzanne Herrmann
Although watching Kristi Yamaguchi skate during the 1992 Olympic long program is my first recollection of actually WATCHING skating, my first memory was when my mom asked me, in 1st grade, who I thought would win the Olympics in 1988. Of course my answer was Brian Boitano and Katarina Witt! They happened to be my mom's favorite skaters and naturally I knew the most about them. (Little did she know exposing me to skating would turn into the level of involvement I have had since!)

I think I would have to say that my strongest experience was Katarina Witt's "Where Have All the Flowers Gone" free skate at the 1994 Lillehammer Olympics as a tribute to the fallen Sarajevo, where she won her first Olympic Gold medal in 1984. She did not come back to the Olympics to win-of course that's in the back of every athlete's mind - but this was the first time that she could compete at the Olympics and have her family come to watch - they previously were unable to travel as they lived in East Germany. It was special because she was there to enjoy the moment and her tribute brought attention to a place that was suffering greatly and was a wonderful sentiment.

The Olympics are most certainly different for me than any other competition.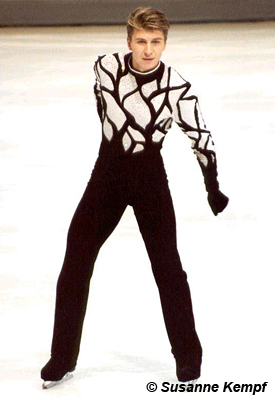 I think what I love about it is that many people from many cultures and regions of the world come together from different sports to engage in the most prestigious competition. It's a moment when the world can see how people can come together and respect one another. Across the globe, some in their comfy couches with big screen TV, others gathered in a community gathering place watching a TV with poor reception simultaneously sit down just to experience an Olympic moment. While the concept of the Olympics is idealized through the media, it is enjoyable to get caught up in the moment. No other competition at this level provides the exposure to other sports, cultures and nations as does the Olympics.
Anna Zeitlin
Ilia Kulik skating to "Rhapsody in Blue" in Nagano-98 is my first Olympic memory. I was never interested in any sport, but that day I came home and the TV was on with the men's free skate. That was the moment I discovered the thrill of the Olympics, and of figure skating in particular, for myself.

My strongest experience is definitely Alexei Yagudin winning in Salt Lake City in 2002. I couldn't stop re-watching his programs and his and Tatiana Tarasova's reaction in Kiss & Cry.

The Olympic Games are different, because it's the most intense moment for all the sportsmen/women, and the one point in time and space where the most important competitions for every winter (or summer) sport are taking place. For me personally it's also the only time I become interested in sports I usually don't follow, and can suddenly find myself watching curling or ski jumping. Just because it's Olympics.
Anna Bertoloni
My first Olympic memory is unfortunately very recent, as I didn't really have the opportunity to follow the Games when I was a child. So the first Olympics that really got my attention were in Torino 2006. We didn't have lessons at university in those days (it was exam period), and figure skating seemed to me such a beautiful discipline that I thought it was worth it to see the whole competition. And it moved me so much that from that day on I never stopped following this sport.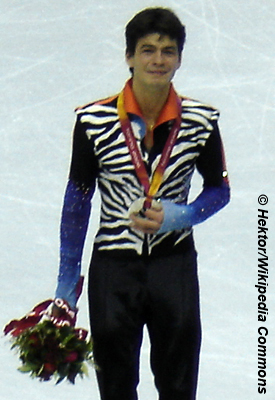 Of course this made my first memory also the strongest one: I will never forget Stéphane Lambiel crying on the podium at the end of the men's event.

The Olympic Games seem to be different from every other championship. The huge worldwide attention, the big celebrations organized for the opening and closing ceremonies, the feast for the nations involved... and above all, you can see how important Olympics are for the athletes. Even if some of them speak about Olympics as "a competition like the others", many athletes see the Games like the most important event of their life: this makes the emotions stronger than ever - for them but also for us, watching and wishing to all of them the best performance possible.
Ia Remmel
I watched many Winter Olympics in our black-and-white TV but I remember most the 1980 Lake Placid Games. The men's winner was wonderful Robin Cousins. I loved artistic skaters and didn't care much about "just jumpers". Cousins was everything artistic you can dream of. In ladies I loved Denise Biellmann, her spins were so different and beautiful; no one else did something so interesting. Pity that her low placing in compulsory figures didn't let her get on the podium (she finished fourth). In pairs I had less bright memories as invincible Irina Rodnina and Alexander Zaitsev won again. From ice dance I liked much more the Hungarian couple who were in second place, Krisztina Regőczy and András Sallay, than the winners Linichuk/Karponosov.

The strongest Olympic experience for me was Shizuka Arakawa winning gold in Turin. Her "Turandot" long program was so extraordinary, strong and sharp like a samurai sword; her win was so impressive!

For me as an ordinary viewer, the Olympics are not more important or interesting than any other competition. They are only much more nerve-wrecking. Sometimes it seems unfair when in such a discipline as figure skating, someone lucky wins gold ahead of someone who has been the leader but fails in that particular moment.
Reut Golinsky
I probably grew up with the Olympic Mishka at the background of my childhood, as a toy or cartoon character, like all Soviet children of my age did. But my first "conscious" Olympic memory is about Oksana Baiul in Lillehammer 1994.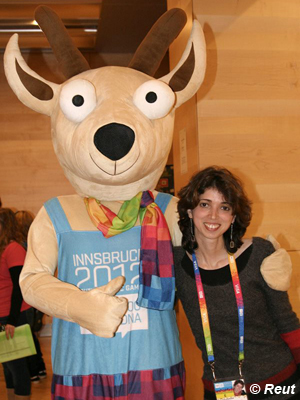 It was the first Olympic Games of Ukraine as an independent nation, and Oksana was the first (and so far the only) Ukrainian gold medallist in the Winter Games. Funny enough I probably wouldn't love her programs now if I re-watched them, but it wasn't even about the skating. It was about the pressure and the pain (during the practice she collided with Germany's Tanja Szewczenko, sustaining a wrenched lower back and a cut on her shin that required stitches) this little sixteen year old was able to overcome and win. The whole country was so proud of her!

My brightest Olympic experience is, of course, the week I spent in Innsbruck during the 1st Youth Winter Olympic Games (check my article and photos). It was more modest than "actual" Olympics, but it was very real for me. All the different sports, all the colourful uniforms, Olympic symbols everywhere, this special festive air mixed with excitement and anxiety... "Grown up" Games are probably huger, much more intimidating... Not sure I could have enjoyed them the same way.

The Olympic Games are of course different from any other competition whether we want them to be or not. And the Olympic title is the most valuable of all whether we think it is overrated or not. The Olympic Games brought many memories and feelings, not all of them happy. I still remember my favourite athlete missing the podium by half a point; I don't think I will ever forget his face after he finished his free skate. I still think Olympic victory is not always "fair" (not talking about the judging but about some higher justice maybe), but that's life, that's sport. I have many favourite skating moments from different competitions. And the fact that they were not at the Olympics doesn't make them less amazing. But, of course, I hope and am looking forward to seeing some beautiful and memorable performances during these coming Games in Sochi.