Olympics 2014 - Tamar Katz recaptures the roller coaster ride ladies free skate
February 21, 2014
By Tamar Katz
Photos © Ludwig Welnicki (Joluskating), J Barry Mittan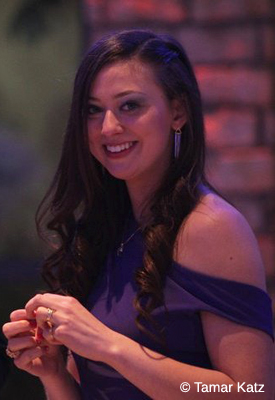 I am Tamar Katz. I am a four-time Israeli national ladies figure skating champion and the first lady skater for Israel to qualify for the Winter Olympic Games. I am a senior at the Wharton School at the University of Pennsylvania.
My name is called as I take the ice to my starting position. I look at the judges as my music starts. I skate down the ice to land a perfect triple-lutz double toe combination. I hear the crowd roar as I lift my leg over my head in a spiral. I grab my blade, spinning at lightning speed, and pull it over my head as the crowd rises to their feet.

Four years pass and I suddenly jump from my chair and yell "yes!" - only to have 40 pairs of eyes and a professor looking at me strangely in a lecture hall at the University of Pennsylvania. I am in tears as I watch Mao Asada skate the most incredible performance I have seen her skate in four years. The performance I knew that my friend was capable of. I sit back down, pull my hat over my head, and continue secretly watching the Olympic Games on my laptop while my professor points at numbers on slides... I wonder how anyone can pay attention when Mao Asada just landed a triple axel, a triple-triple combination, and made the best comeback I have ever seen in figure skating history.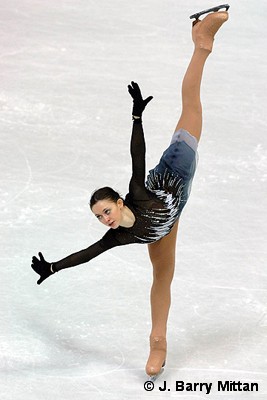 Ahhhh... the Olympic Games. The one time where everyone - from all backgrounds - comes together to watch the amazing, heart wrenching, and roller coaster of a ride that is ladies figure skating. It has been four years since I sat to watch an entire event of ladies figure skating and oh boy, how has the sport changed. The most palpable change is in the details, not obvious to the average eye. One after the other, young and "old" alike, the ladies took the ice and hit off triple-triple combinations, beautiful skating, and quality elements. There was good flow going into and out of jumps, fast spins, pristine footwork, and complex choreography. Not only have the technical jumping requirements to be in the top ten increased ten-fold since the last Olympics, but the required quality of the elements has also increased. It is no longer enough to do a triple Lutz. You have to do a triple Lutz in the second half of your program, with a difficult entry, and a good flow on the landing.

My Facebook feed is full of people debating whether Yuna Kim or Adelina Sotnikova should have won. Although Adelina laid down a stronger technical performance, I vote for Yuna Kim and I'll explain why in a bit. Before I do that, I want to cover some of the top athlete's stories, not just their performances. I grew up competing against some of these skaters. Others are just coming on to the scene. But they all have stories and a different contribution to the tale of figure skating. Before I get to the top six skaters, I want to mention a few of my favorites.

Akiko Suzuki
At 28, she is the true veteran. Akiko is a beautiful skater with a lot of heart. She is proof that it is never too late to make your dreams come true. Akiko's career has had many ups and downs. She suffered from an eating disorder earlier in her career, and she was not a favorite to be named to the Japanese Olympic team. At her final nationals, she won her first National title. While technically she wasn't on at the games, her story is important for young girls: as long as you have heart, it is never too late to make your dreams come true.

Mae Berenice Meite
You can't help but think of Surya Bonaly when you watch Mae. As the only black ladies skater in the event, she defies the typical figure skater persona in many ways. Mae's story is great for our sport because she doesn't try to be anything other than herself. She is an incredible athlete, with high jumps, and excellent technique. She is not the most graceful or petite skater, but what's so great about her is that she doesn't try to be. She is 100% herself - skating to different music, unique choreography, with excellent dance skills, and tops it all off with awesome jumps. She shows that figure skating isn't just for ice princesses but also for fierce warriors.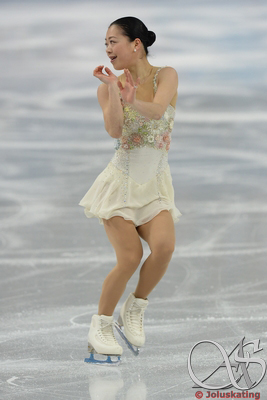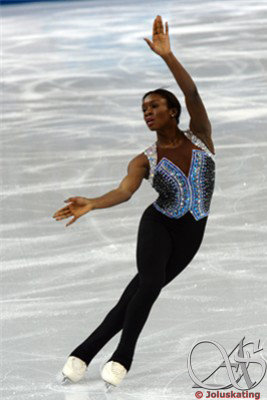 Ashley Wagner
I'm sorry, I just wasn't a fan. Don't get me wrong, Ashley is a very solid skater, but I found her Kiss & Cry theatrics to be unwarranted and distasteful. Ashley doesn't have a clean triple-triple combination. I have never seen her land it clean in competition. It's either two-footed or under-rotated. Her skating is strong and fierce but to me it lacks grace and audience connection. Her finishes both in the team event and in last night's event were very respectable and just where she should be.

And finally, for the top 6 skaters:

Mao Asada
So I was secretly rooting for Mao to defy everyone and win the gold. I have never seen her skate as badly as she did in the short program. Yes, she has had a rough four years - completely changing her technique, losing her mother, changing coaches, it's been a difficult journey for her and her fans. Her performance tonight was technically SO difficult. She landed a beautiful triple axel, a triple flip + triple loop combination (the most difficult triple-triple combo of the night) and a double axel + triple toe. She skated with soul. She skated with vigor. She skated with abandon. She should have been the long program champion but her component scores were deflated because she skated earlier in the night... ah, the nature of figure skating. I was sad for her, but she is an incredible skater, person, and athlete. Her story says that even if you are the most talented, sometimes the odds just stack up against you, and you need a little bit of luck too.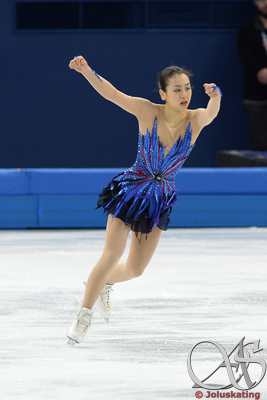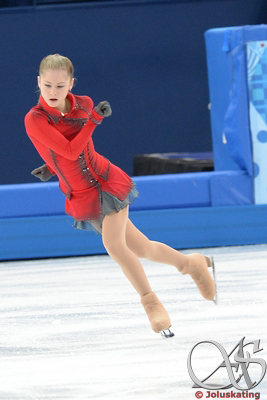 Yulia Lipnitskaya
No doubt an incredible talent and skater. That being said, I am really glad Yulia did not win or medal at this event. She is not the best skater here at the moment and it is not good for the future of our sport if fifteen year olds win Olympic Gold Medals. At the one time when the whole world watches our sport, we need to send the right message - this is a sport for women, not little girls - longevity, beauty, and technique need to be emphasized. Yes, Yulia is one of the best skaters in the world, and undoubtedly the best spinner. However, yesterday her skating was slow, her transitions were weak, the edges shallow, and her jumps small. She needs more time and I have no doubt she will be a world champion in the years to come (if her body holds up).

Gracie Gold
Gracie Gold is the stark contrast to Mae Berenice of France. Skating to Sleeping Beauty, with a glittery dress, with blonde hair and blue eyes (and her incredible name) she is the epitome of the ice princess. That being said, she is also a superb technician. Gracie nailed most of her elements but there seemed to be a wall between her and the audience. A disconnect. She has nice lines, everything is in place, but she lacks that X-factor that the other top 6 ladies have. Hopefully Frank Carroll can help her develop that in the years to come.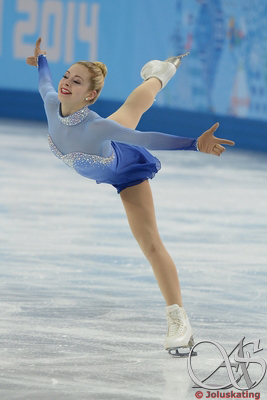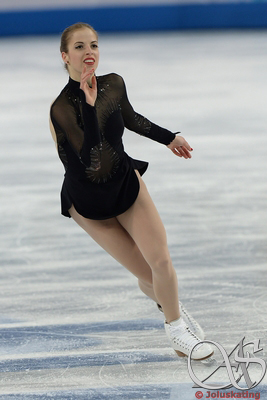 Now for the top three:

Carolina Kostner
Carolina's bronze is gold in my eyes. Carolina Kostner is the story of trial and error. It is also a story of perseverance. For ten years everyone knew Carolina had the goods and gave up on her ability to deliver. At the ripe "old" age of 27, after leaving her coach, traveling half way across the world, and coming back to her coach, Carolina figured out the formula that works for her and started believing in herself. In the short program, Carolina skated with a smile on her face going into her triple-triple combination!! She skated with an ease and comfort I have never seen from her before. She skated for the pure love of the sport. It was so beautiful to see her skate the performances of her career, this late in the game, at the Olympic games, and with such joy. She is a great role model for any young skater out there and I hope there will be more skaters like her in the future because she is a true inspiration and a true artist. When everyone in the world figure skating community unanimously respects a skater, that's a true gold medal.

The Yuna and Adelina Dilemma:

Let's flip this around. Let's say we were in South Korea and Yuna skated earlier and Adelina drew to skate last? What do you think would have happened? I personally think Adelina would have caved under the pressure. Yuna waited 45 minutes to skate and took the ice knowing that she had to be perfect to win. The Russian crowd is not a friendly crowd. The judging in the short program was dubious at best. It takes a whole other kind of athlete to deliver a clean performance under those conditions. These qualitative factors are unfortunately not factored into the score. Yes, on a pure technical base point Adelina had more content and better spins. However, on a quality side, Yuna's jumps were completed with more ease and flow and without question, to me her skating skills and interpretation are superior. So the question is: Was Yuna's second mark spread enough to overcome Adelina's technical superiority? In my opinion, yes. Adelina's program component score was one-tenth lower than Yuna's and her technical score more than 5 points higher. This is completely unjustified. Yuna's program component scores should be five points higher than Adelina's. Further, Yuna's grades of execution on her elements should have been higher. Adelina's GOE's were inflated. Taking that into account, I think Queen Yuna deserved to be the champion tonight.
This is all a matter of opinion though and both performances were spectacular.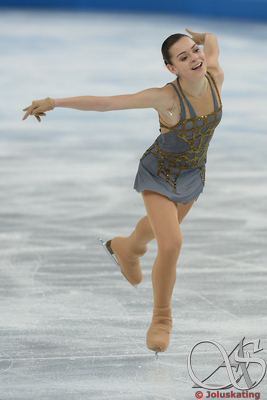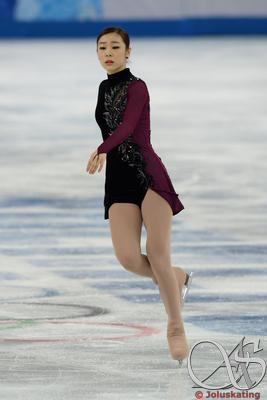 It was a night of Olympic Ladies Figure Skating like no other and it made me fall in love with the sport all over again as if I was 8 years old and watching "Tara vs Michelle" in Nagano.
Olympic photos courtesy of Ludwig Welnicki (Joluskating), for more photos, check out his site here!