Olympics 2014 - The Cannuscio sisters take on the men: free skate
February 15, 2014
By Isabella and Anastasia Cannuscio
Photos © Ludwig Welnicki (Joluskating), Mireille Geurts, Joy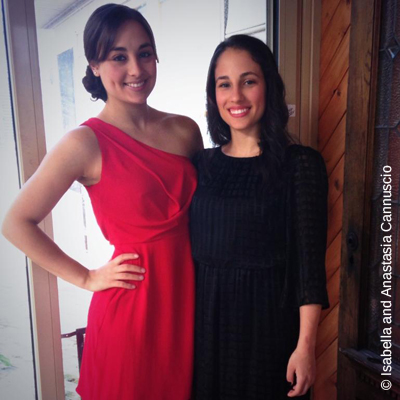 Hi everyone! Our names are Anastasia and Isabella Cannuscio, and we will be reviewing the men's free skate!
Isabella: I have been a competitive ice dancer for 11 years, and have recently retired. I have been lucky enough to represent team USA in various Junior Grand Prix and Grand Prix, as well as make it to Nationals the 11 years of my competitive career. Now that I've retired, I am devoting my time to coaching, and looking into becoming a technical specialist and a team leader for Team USA.
Anastasia: I'm a senior ice dancer competing on behalf of team USA with my partner Colin McManus. We have competed at Junior Grands Prix, Junior Worlds, Skate America, and other senior international competition. We are currently starting our 7th season!
Our overall take on the long program was that it was very underwhelming. No one performed as if they wanted the gold, or any medal at all for that matter. There were so many huge talents at these Olympics, and so much potential for an amazing event!

Brian Joubert (FRA) 13th & Tomáš Verner (CZE) 11th
Isabella: Brian Joubert was someone I was secretly rooting for. I feel like no matter what happens, he always fights. He hasn't had the best placements over the years, or the best skates for that matter, but there's something about him that I always root for! I always put Brian and Tomáš in the same category, and I think I like them so much because they're among the last few skaters who transitioned from the 6.0 system to the new judging system, and have both done a very good job with it! They still have remnants of the old system in their style of skating, and honestly, I really love it (because I secretly miss it). I was bummed they both didn't perform as well as they could, but like I said, they are definitely both fighters, and as a fellow skater, I appreciate that. It can't be easy competing under the 6.0 system for most of your career, and then having to switch to the new judging system, and I admire them for that!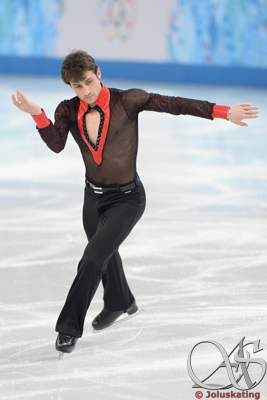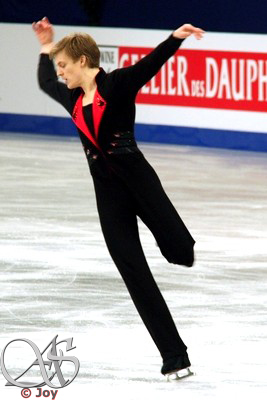 Yakov Godorozha (UKR) 20th - Worst Costume
Okay, I'm not sure what West Side Story is like in the Ukraine, but over here a bright orange shirt does not relate. Also, the sparkles on the butt were a bit distracting. Overall, sparkly butts and bright orange shirts definitely do not scream West Side Story!

Misha Ge (UZB) 17th - Most Memorable - Worst Hair
It's not so much the color that bothers us, but more so the fact that it looks poorly done. It looked as if he dyed it himself, and missed a few spots. The color definitely suits his charisma though! On a happier note, we did enjoy his performance! It was really clear that he was out there enjoying himself, and the footwork at the end was a huge highlight for us. It had energy, it was musical, and it was a really nice way to end the program! It's always heartwarming to watch someone who just goes out there and enjoys themselves, so we thank him for an entertaining performance!

Jeremy Abbott (USA) 12th
Jeremy Abbott is one of the four "dancer approved" skaters in this event. We can't speak for all ice dancers, but for us we really pay attention to the choreography, musicality, and just all around skating skills. Jeremy is such a beautiful and smooth skater. You can see that he understands the music and isn't just doing arm movements because his coach told him to. He was also one of the few skaters who actually skated clean. After the bad fall in his short program yesterday, it was really nice to see him deliver a clean long program!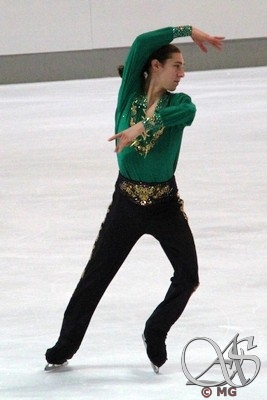 Jason Brown (USA) 9th
We are HUGE fans of Jason Brown! Unfortunately, he didn't skate his best, but we are still so happy for him. He is another one of our "dancer approved" skaters. His performance and musicality is so unlike anyone else! He is going home with a bronze medal from the team event, and there is no one more deserving!
Anastasia: My partner and I have traveled internationally with Jason 3 times (and hopefully there are more times to come!). He is absolutely the sweetest person I have ever met. One of my best memories would have to be when we were in South Korea competing at Junior Worlds. We had a free day at the end of the trip, so we all got the chance to go skiing. Between Jason singing Pocohantas all the way down the mountain, and me wiping out pretty much the whole way down the mountain, it's something I'll never forget! The look of horror on Jason's face every time I went down is truly unforgettable. He was obviously killing it on the slopes, and being the amazingly talented kid that he is! I'm so lucky I was given the chance to travel with him, and I'm truly blessed to be able to call him my friend!

Daisuke Takahashi (JPN) 5th - Best Costume
We were really upset for Daisuke. Again, he is another "dancer approved" skater, and it's always a shame to see someone with so much skill not skate the way you know they can! Daisuke's music, his costume, and the pure talent he has, were all the components for a show stopping performance, but the consistency just wasn't there. In our opinions he is one of the most captivating skaters, you watch him and you feel the love he has for the sport, and that's something that can never ever be taught!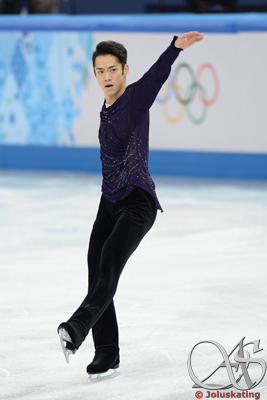 Javier Fernandez (ESP) 4th - Most Attractive
Anastasia: He won the most attractive award by a landslide in my opinion! I received some anonymous flowers and chocolates this past week, and I'm not so secretly hoping they're from him. Sure, he may not know I exist, but one can hope, right? When he wished his girlfriend a Happy Valentine's Day in the Kiss and Cry my heart actually broke. Whatever, he'll come around eventually. Our heart does go out to Javier, we were really hoping he'd grab the bronze medal! Performing really seems to come naturally to him, and he is always a joy to watch. His costume and choreography were very fitting to the music! It was flirty, he expressed really well, and he threw in a body caress which is always a crowd pleaser!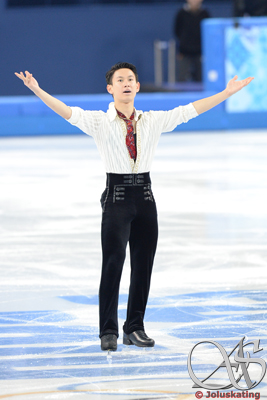 Denis Ten (KAZ) 3rd
His jumps were clearly beautiful, and other than the touch down on the triple flip, it was a clean skate! Technically he is a very strong skater, but on the components side of things he falls a little short for us. We were left wanting more at the end of the performance. He did have flow, and he did have musicality, but his facial expression and overall choreography was a little lackluster. Obviously everyone is entitled to their own opinion, and we're not at all saying he didn't deserve the bronze. He went out there under what I could only imagine is an insane amount of nerves, and held it together when nobody else could. That is something no one can take away from him, and it very deservingly earned him an Olympic bronze!

Patrick Chan (CAN) 2nd
Patrick has always been one of our favorite skaters! We could literally sit and watch him do footwork for hours (maybe that's the dancers in us?). He is obviously "dancer approved" and we are really happy he was able to hang on and grab the silver! Being a top man going into the games, the expectations are always very high so we weren't sure he'd be able to handle all of the pressure. His costume was lovely, his overall program was absolutely beautiful, and he was a joy to watch as you always expect from him. We are so glad he delivered what was necessary to get him on the podium!

Yuzuru Hanyu (JPN) 1st
Yuzuru is another man that we would like to see a little bit more all around skating from. His jumps are absolutely unreal, and it looks as if they come so easily to him! If he had a little bit more substance and choreography he really could be an amazing show stopping skater. He has all of the talent and potential to keep improving and growing!
Anastasia: He competed at Skate America the same year Colin and I did, and I just remember so clearly him giving up in his long program. He skated an amazing record breaking short, and when his long didn't start off perfectly he just gave up. For me, that is something that really makes me lose respect for an athlete. So, being able to watch him fight until the end of this program really showed me how much he has grown, and that he is an athlete to be respected. He won the first men's figure skating gold for Japan, and that is absolutely incredible. Being able to accomplish something that huge at the age of nineteen is absolutely incredible!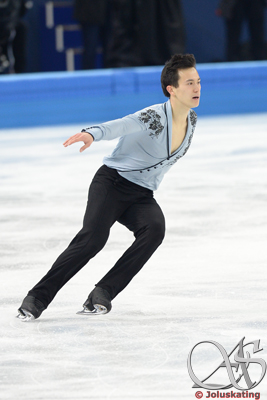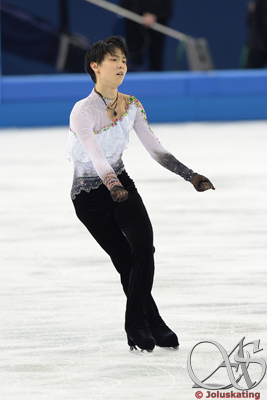 A huge congratulations to all of the medalists! While the event left us wanting more, you definitely earned your spots, and you are forever not only Olympians, but Olympic medalists!
Olympic photos courtesy of Ludwig Welnicki (Joluskating), for more photos, check out his site here!