Olympics 2014 - John Kerr shares his thoughts and grants awards after men's short program
February 14, 2014
By John Kerr
Photos © Ludwig Welnicki (Joluskating)

Hi there Absolute skaters,
My name is John Kerr and I am a 2-time Olympian, a 2-time European bronze medalist, and a 7-time British Champion with my wonderful sister Sinead Kerr. I achieved all this in Ice Dancing, so you are probably wondering why then I am doing a review on the men's short program? Search me but I will give it a go.
I was going to write about the top 5/6 skaters, but since so many are still in contention, well for the bronze medal at least, I feel like I will have to expand on that a little bit.
Even when he doesn't skate Evgeny Plyushchenko (since when did we start using a 'y' in his name?) still manages to be the event's biggest talking point. There had been a lot of talk coming into the event that Evgeny would perform in the team event and then pull out of the individual event citing 'injury'. It was clear from the warm up that he was having problems with his back and you could feel a certain inevitability that he was not going to be able to perform. Personally I feel like he should have bowed out after the team event, but when you are such a great competitor like him I can understand the impulse to be back out in front of a home crowd. Unfortunately all they got from him was a bow and a wave and you could just sense the air being sucked out of the building the instant he left the ice.
It was clear the audience was going to need something memorable to happen to get them over the trauma of 'that' withdrawal and they clearly got it through the rather unfortunate Jeremy Abbott. I have skated with Jeremy at a number of competitions and shows and he is a true artist on the ice. Unfortunately he does have a reputation for not delivering his best at major international events and this was no exception. He took an awful fall on his opening quad and for a horrible moment it looked like he was not going to be able to continue. After what seemed like an eternity (it was probably only 10 seconds) he did manage to get up and deliver a clean performance from then on out. The crowd did a great job of supporting him and I have been really impressed by how supportive the, largely Russian, audience have been to non-Russian skaters.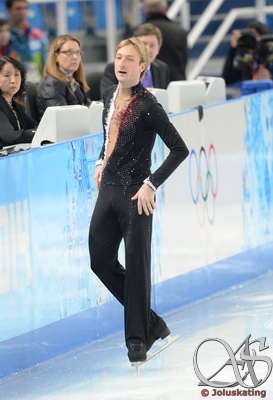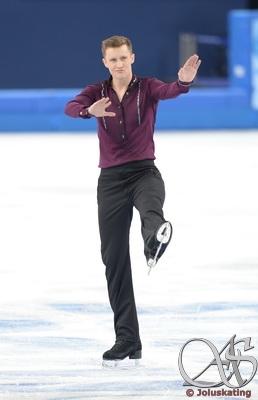 What a wonderful new talent Jason Brown is. A good jumper, an excellent spinner, and blessed with a real ability to connect with an audience. I really enjoyed his performance to 'A question of U' by Prince, probably because I skated to it myself once, and he just nailed every single element in the routine. I was a little surprised that he managed to end up in 6th place without a quad, but it does go to show the benefit of picking up points on spins, steps, and the components. That being said I feel he was a little fortunate to keep Brian Joubert out of the top group.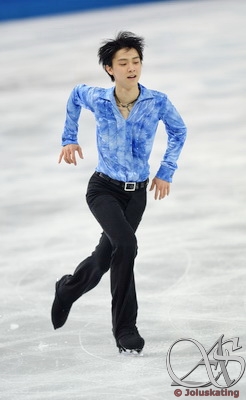 Was there ever any doubt that Yuzuru Hanyu could produce as good a performance as he did in the team event? He certainly didn't have any doubts. He produced an even more scintillating performance with soaring jumps, fast spins, and excellent choreography. It was all performed with such aplomb and confidence that you would never think that this 19 year old kid was competing at his first Olympics. It certainly wasn't a surprise when he broke the hundred point barrier for the short program. Great performances on the biggest stage deserve to have a World record.
The unfortunate person to follow Yuzuru was his training partner at the Toronto Cricket Club, and reigning European Champion, Javier Fernandez. Javier can sometimes look a little labored on the ice and he looked positively pedestrian after the whippet like Yuzuru. He fought through his performance to 'Satan takes a holiday' by Larry Clinton, but small mistakes on 2 of the 3 jump passes cost him. Personally I think he is a little lucky to find himself in 3rd place.
I knew he was good, but I never realized how good Patrick Chan was until I toured with him on the Canadian leg of 'Stars on Ice' last year. His skates hadn't arrived in Halifax where we were rehearsing for the tour so he borrowed my broken down old dance boots. He then proceeded to reel off 5 different triple jumps in them within 30 minutes. His performance to 'Elegie in E-Flat Minor' by Rachmaninov was simply sublime. His only error was a step out on the triple Axel, which cost him the lead to Yuzuru. These guys are locked in their own private battle for the gold, with everyone else fighting for the bronze.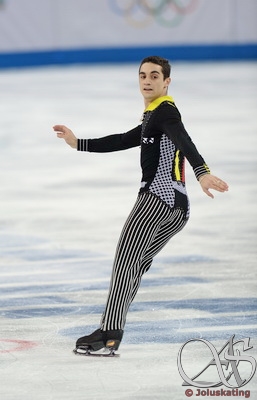 Brian Joubert rolled back the years and produced, arguably, his best Olympic performance at his 4th attempt. He is such a powerful skater with great jumping ability, but he can be a little stiff and mechanical in his moments. He also lacks the flexibility to perform some of the steps and spins that his younger compatriots achieve. But, he does have the ability to bring the crowd into his routine when he is jumping well. I really enjoyed his routine and he was definitely representing the older generation since Evgeny Plyushchenko (that 'y' again) withdrew.
I am a huge Denis Ten fan and he almost produced a great performance. He has the charisma and skating skills to match Yuzuru's but not necessarily the confidence to go with it. His quad looked great in the air but lack of belief seemed to be his undoing. A double instead of a triple on his combo cost him more points. His choreography was top-notch though and the routine just seemed to fly by. His step sequence was especially good and it really emphasized his excellent blade control. He finished in 9th but has only 3 points to make up on 3rd place. He would be my dark horse for that bronze medal should Javier falter.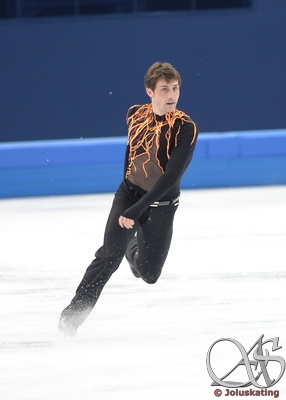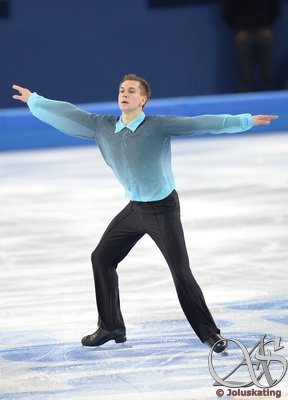 The biggest surprise of the men's competition has to be Peter Liebers of Germany. He was fabulous in the team event and produced an even better performance in the individual event. Beautiful jumps, decent spins, and a nicely put together routine have put him in 5th place at the Winter Olympic Games. Let's be honest, who would have bet on that? He is definitely not the most fluid or expressive of skaters, but he is producing his best on the biggest stage.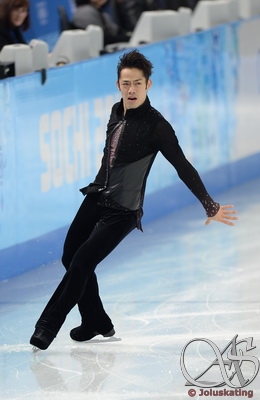 For me the biggest disappointment of the night, excluding Evgeny's non-performance, was Daisuke Takahashi. His quad attempt was woeful and he was very fortunate not to receive another downgrade on his triple combination. Don't get me wrong, I am a huge fan of Daisuke, but this was a subpar performance by his lofty standards. He does have wonderful skating skills and he is such a fluid mover, but somehow the routine left me cold. He has never been a great spinner either, so that, combined with the big downgrade on the quad, left me a little befuddled as to how he found himself in 4th place going into the free program.
With so many skaters still in bronze medal contention and with Patrick and Yuzuru locked in a battle for gold, the men's free program should be an amazing night of skating.
Some honorable mentions and, just for fun, awards:
One to watch in the future - Michael Martinez
Most annoying in the Kiss & Cry - Misha Ge
The Johnny Weir 'Pay attention to me' Award - Misha Ge
Best Hair -
Florent Amodio
Worst Hair - Misha Ge
The 'I don't give a crap about my costume' Award - Alexei Bychenko. It's the Olympics, tuck your shirt in!!!
Runner up - Viktor Pfeifer. Did he forget he had gloves on?
The 'Us old guys still got it' Award - Brian Joubert
The 'Nicest floaty shirt' Award - Patrick Chan
Worst Music - Michal Brezina. An awful version of 'In the Hall of the Mountain King'.
Best Music - Kevin Reynolds. The performance was far from stellar but AC/DC always are!
The 'Inability to place your braces correctly' Award- Abzal Rakimgaliev. It's a Kazak thing, I guess.
Most likely person to be sued by Prince - Jason Brown

Olympic photos courtesy of Ludwig Welnicki (Joluskating), for more photos, check out his site here!