Olympics 2014 - Olga Beständigová reviews pairs' free
February 13, 2014
By Olga Beständigová
Photos © Ludwig Welnicki (Joluskating)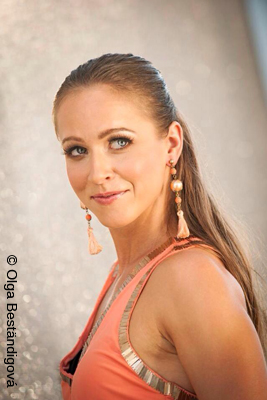 I'm a Slovakian pair skater, currently competing for Turkey. Skating with my brother, Jozef, we won our national championships (for Slovakia) 7 times. I've had plenty of experience at high level competition, with my best placement being 7th at Europeans, also 15th at Worlds, as well competing at the Olympic games in 2002 (17th).
After I quit skating with my brother, I participated in a figure skating show in Turkey called "Skating with the Stars", where I was partnered up with ex-pro soccer player Ilhan Mansiz. We won the show and decided to compete together at real figure skating competitions. Our first ever competition was the Olympic qualifier in Oberstdorf in the fall of 2013 and although we didn't make it to the Olympics we received a lot of respect from the skaters, audience, judges and people all over the world.
The Olympic Games are very special for every single athlete; for figure skaters it's special due to the atmosphere, spirit and energy present there. You may compete at Grand Prix competitions, Europeans, or Worlds, but that feeling at the Olympics is incomparable. That special moment came last night for my favorite discipline, pairs.
Although I would have loved to be skating there myself, it was interesting to be a part of it from home. I watched the final event with Ilhan. So far it's been a very inspiring and great event, and I missed that explosion and crazy spectators cheering for their favorites, getting louder and louder and waiting for the results up to the last second of the event when the last skater performed. Although there were fantastic and spectacular moments that were worthwhile to see.
Peng Cheng and Zhang Hao: They started their program with an amazing quadruple split twist that was pretty much the highlight of their program. The program wasn't perfect, as their twist was followed by mistakes in the solo jumps. But of course they had amazing throw jumps, with huge height and length, which are a Chinese specialty and for which their country is well known.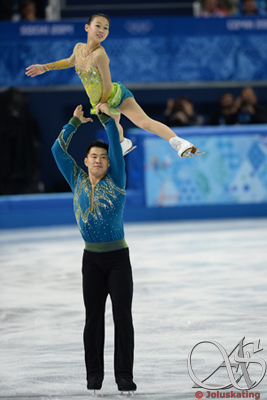 Ksenia Stolbova and Fedor Klimov: The first to perform in the last warm up group, this Russian pair team was competing their long program for the second time at this Olympics (the first time was during the Team Event) and I can simply say that they were just amazing in every single way. They were the only team at this event without a single mistake in the program. Their enthusiasm, energy given to every move, unison, harmony, perfect choice of music, costumes, choreography, artistic expression... simply the best performance of the evening, although they ended up 2nd. One especially interesting thing about this team is her jumps and throws, where you get the feeling she won't be able to finish the jump, due to her delayed rotation, but she is able to do it with grace.
Tatiana Volosozhar and Maxim Trankov: This Russian team performed right after their countrymates as the biggest favorites to win Olympic gold, skating with a 5 point overnight lead from the short program.
They were the only skaters that I felt nervous about while watching because of an encounter Ilhan and I had with Max in Oberstdorf, after our competition. Max approached us because he wanted to meet Ilhan. Max had watched Ilhan compete as a soccer player during the World Cup 2002 and wanted to tell Ilhan that it's cool he's a skater now. Also Max told us he was cheering for us! This is why we really wanted Max and Tat to have a great performance.
The reigning world champions delivered a solid free routine, set to Jesus Christ Superstar. They had chemistry, harmony on the ice, and perfection in every element except the triple throw loop, where she touched the ice with her hand. They were loudly applauded by the home crowd which had been cheering for them throughout the whole program.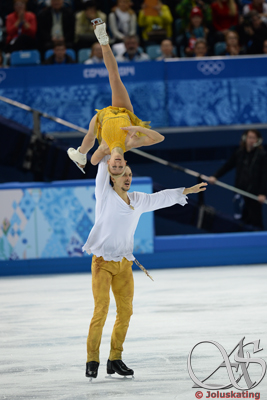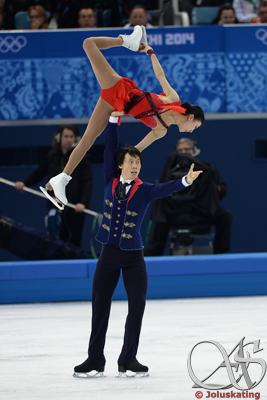 Qing Pang and Jian Tong: It must have been very difficult for the Chinese pair to skate right after Tatiana and Max. What is remarkable about this couple is their harmony; they have been skating together for so many years. They started with a mistake in the jump sequence, but apart from that they performed a very solid free skate. Their strongest elements were huge throw jumps and a huge split twist.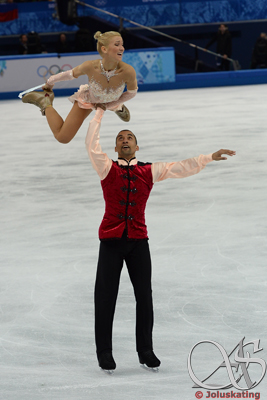 Aljona Savchenko and Robin Szolkowy: The last ones to perform this evening were 4 times world champions Savchenko/Szolkowy, and only title they were missing in their career was the gold Olympic medal.
They started their program with an amazing triple throw flip, followed by a mistake in the combination jump. Szolkowy hit the ice after the first triple toe loop, and this was the most important moment of the program, as it seemed likely they couldn't win. At the very end of the program Aljona took a huge risk and went for the triple throw Axel, but she fell, and at that point there was definitely no chance for them to win a gold medal.
I can say that this was an event with plenty of spectacular moments, but for me it wasn't the best one we've seen in the past four Olympic Games. Definitely the highlight of the event for me was watching the silver medalists, Russians Stolbova and Klimov. Everything about them was in harmony, a great program performed to music from The Addams Family.
Olympic photos courtesy of Ludwig Welnicki (Joluskating), for more photos, check out his site here!