Olympics 2014 - Sinead Kerr comments on the team event
February 10, 2014
By Sinead Kerr
Photos © Ludwig Welnicki (Joluskating)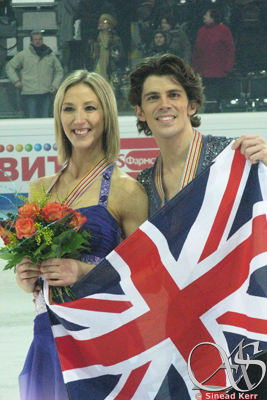 I was more than happy to be asked to write my thoughts on the Team Event for Absolute Skating, so for those of you who don't already know - here is a quick summary of whose thoughts you are reading!
My name is Sinead Kerr and along with my brother John we competed for Great Britain in the Ice Dance event in Turin and Vancouver Olympics.
We also placed 3rd at European Championships in 2009 and 2011.
I currently live in New Jersey, US where John and I shift between performing in shows and coaching/choreography for up and coming skaters.

Having competed in the last two Winter Olympic Games, I am now more than happy to sit back, relax and watch the excitement unfold from my living room. Of course there is a twinge of nostalgia - competing in the Olympics is the greatest achievement for an athlete and I had the time of my life in both Turin and Vancouver.
Sochi will create amazing memories for everyone involved and seeing the pictures on Facebook from my friends who are there competing brings a feeling of wishing I was there to share the excitement!

One of the things Olympics really bring out in every athlete is the feeling of competing for your country as well as yourself. That is something that was really brought to the forefront in the newly added Figure Skating Team Event.


I have to admit that at first I was a bit skeptical of this new format, but I found myself really drawn in from the start. The feeling of camaraderie within the qualified teams was there for all to see, with teammates cheering on their fellow countrymen right from the side of the boards in their allotted team seating areas.

Having spoken to a few of the "team event" skaters before they were leaving for Sochi, the general consensus was that they relished the chance to compete more than just once in the Games.
Nathalie Péchalat of France for example told me she saw it as a good chance to see how the technical panel might score the routine in the individual event as it would be the same panel. Nobody seemed to see it as having a negative impact on their "main event".

The competition was not short on drama and excitement!

Plushenko was of course one of the big stories and I - along with the rest of the world - was curious to see how he would stand up against the new stars of the sport. I can imagine the feeling in the arena was electric when he stepped on the ice. It's hard to describe his impact to those who haven't seen him skate live but he is the king of charisma and commands attention more than any other skater.


When I skated on his tour I found him very charming and nice to everyone but always with that extra "something" that defines a true star. Personally I don't like a lot of things he does when he skates but I still find him amazing! Unfortunately I found his free skating performance a little underwhelming, especially after Jason Brown - who was my favourite of the night - and Kevin Reynolds.

Kevin is a jumping machine for sure but from a performance point of view I really enjoyed Jason. He reminded me of a mix between Johnny Weir and the flexible showman Shawn Sawyer. I found his program fresh and unique and couldn't help smiling along with him when he did – which was pretty much throughout!

For sure the two favourites for the individual Men's event though will be Yuzuru Hanyu and Patrick Chan - both of whom skated only their short programs (coincidently both choreographed by Jeffrey Buttle).
I love both these guys and can't pick a favourite. Hanyu is so loose and confident while Patrick has the best knees in the business! I skated alongside him last year in Stars On Ice and have never seen anyone build up speed so easily!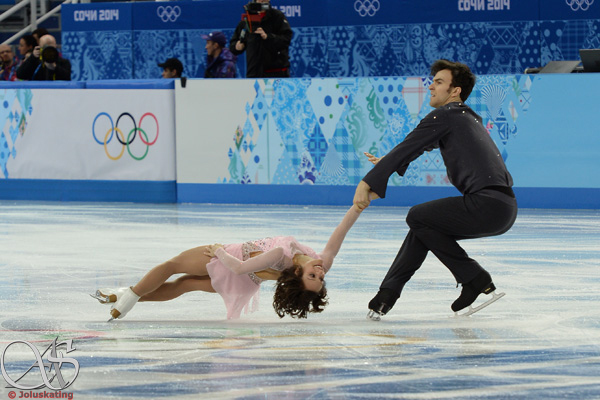 In the Pairs event there were many good performances but my favourite was the short program of Eric Radford and Meagan Duhamel. I may be a little biased as Eric is a good friend but I loved the freedom of the way they skated. It was exactly the performance they would have dreamed of giving and one that's not always easy on such a large stage. So many times you hold back a little - afraid to make a mistake – in big competitions, but Eric and Meagan looked like they wanted to leave everything out there on the ice and skate from the heart. Their performance literally gave me goosebumps – especially knowing that Eric composed the piece of music himself (yes - he is also super talented and plays the piano as well as any professional pianist!).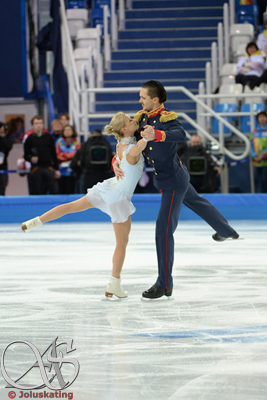 It was a good choice to let them rest for the long program and have Moore-Towers/Moscovitch take over. I can't believe the energy of this team and the lifts at the end of the program show that they are fighting fit and as strong a contender in the individual event as Eric and Meagan.

Of course Volosozhar/Trankov remain favourites to win the individual Pairs event. Their short program was sublime and their split-twist has to be seen live to be fully appreciated! They are both beautiful skaters and although had a classic routine, for me they still managed to bring a fresh modernity to it somehow. They also have a lovely connection on the ice - you really feel they care about each other - and their personality comes across which is not always the case with Russian Pair teams in my opinion.

The Ladies event was a huge surprise to me - I haven't really kept up with it this season and although had heard of Lipnitskaya, I expected a young jumping machine with not much else. Boy was I wrong! This girl blew me away and I can't believe she is just 15 (but for the fact she looks about 12!). Not only can she jump but she can also really skate, hold my attention and wow can she spin!!! The best part was watching her come off and simply shrug her shoulders as if to say: "OK job done - now can I go play with my phone?" like any normal teenager rather than the star she is set to become!

Another star in the making is Gracie Gold - she is beautiful, feisty and talented - a marketing dream that the US will be hoping to bring skating back to the popular sport it once was. Between her and Ashley [Wagner] - another gutsy performer whose sexy, fierce short program I loved - America is looking strong once again in its favourite discipline.
Which leads me to my own discipline of the Dance - which was always going to be a fight between Meryl and Charlie [Davis, White] and Tessa and Scott [Virtue, Moir].
As it happens it wasn't actually that close a battle, with Davis/White emerging the clear victors.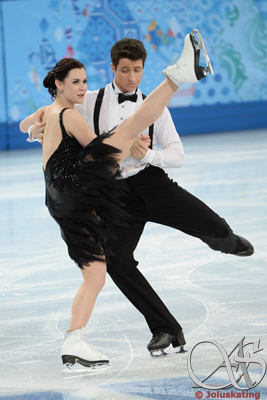 In the short dance it was unfortunate that Tessa made a small mistake on the twizzles as I find their routine full of charm and it really draws me in. I didn't want their performance to end! If my life were on the line and I was asked whose short dance I preferred, it would be a close call but I probably would choose Tessa and Scott.

However with the mistake there is no question Meryl and Charlie deserved to win and they carried the mantle of Champions into the free dance where, for me, they cemented their authority with definitely the winning performance.
In the free dance I felt that while Tessa and Scott were great, Meryl and Charlie looked like the Olympic Champions. Their energy throughout is always great but I saw a level of performance - especially in Meryl - that I have not seen before (to that degree).

I also loved the free dance of Elena and Nikita [Ilinykh, Katsalapov]. Their lifts - previously a big weakness for them - were outstanding and their skating is excellent.

Having only seen Nathalie and Fabian's short dance it was hard to compare but I feel the fight for bronze in the individual dance event will be between these two teams. In fact having seen this team event, if Nikita and Elena skate both programs amazingly clean, they have a chance even at the silver! Is that a controversial thought?!

I can't wait to watch it all unfold!!! :)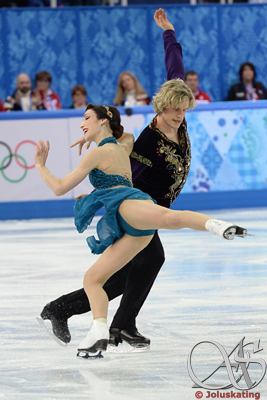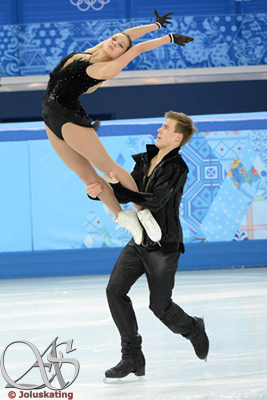 Olympic photos courtesy of Ludwig Welnicki (Joluskating), for more photos, check out his site here!