So do you know who Ondrej Nepela was?
October 28, 2014
By Titanilla Bőd (Új Szó)
Photos © Stanislav Mitick├Ż
The Ondrej Nepela Trophy is one of the earliest competitions of the season. This year it hosted a less impressive field than in the previous seasons, but it still offered some very good skating.
A new director
The event has a new director now, Jozef Beständig, former pair skater who used to skate with his sister Olga. He is a financial counsellor now, but slowly he has become involved in skating again. "After we quit, I didn't really stay in the sport. I went skating only when Draždiak [a lake in Bratislava] froze in the winter, which happens once in two or three years. But last year, I was contacted to skate in the fashion show which presented the official Olympic outfit of the Slovak delegation for the Sochi games. I was offered the job of being director of the event," Jozef told us, and he added with a smile: "What are my duties? To be dressed elegantly, to smile and to create a good atmosphere."
However, there was one reason which made the organizing committee sad: at the last minute, all the pairs withdrew, so there was no pairs event this year. "I'm sorry about this, because I was a pair skater myself and I would have loved to have this category in Bratislava. When I heard about the withdrawals, I tried to contact some coaches and pairs and persuade them to come, but I didn't succeed," Jozef Beständig explained.
Knowing Nepela
The name of Ondrej Nepela is well-known in Slovakia. He was an Olympic champion in Sapporo. In the Czechoslovak era he was the only gold medallist at winter games who actually came from Slovakia (and not from the Czech part), so he was elected for the sportsmen of the century in Slovakia. He died 25 years ago, but his memory lives on. His former coach, 88-year-old Hilda Múdra is always present at the Ondrej Nepela Memorial - she awards the trophy to the winner of the men's event.
"I just wish everyone knew who Ondrík was. It might be a good idea to show a short film about him in the locker rooms or to make an information panel about his career," Mrs. Múdra suggested.
But it seems the skaters who come to Bratislava know Nepela's achievements very well. "I think everybody is here in honour of Ondrej Nepela. He was one of those guys who paved the way. He was an icon," Stephen Carriere of US said.
Victorious Roberta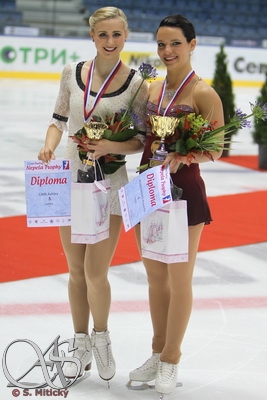 This year the largest field was amongst the ladies. Sixteen competitors took part. The victory was taken by Italy's Roberta Rodeghiero, who was only 6th after the short program, but with a strong free program to the tones of Evita, she jumped into first place. Roberta landed five triples and two double axels in her free skate. Still she captured the gold with a very small margin, only by 0.78 points ahead of Joshi Helgesson of Sweden, who won the short program.
Joshi left the ice after her long program in pain and she immediately took off her skates. She still has screws in her leg and she was afraid that they might have moved. Joshi was immediately taken to the hospital where she got the good news that no bone or screw was broken or moved. " Later in Sweden, I saw my doctor and it turned out that there has been too much stress on the screw, an overload. I thought that it would get better in time for the Skate America, but I can still only jump triple loop and triple Salchow on the ice. I have consulted with doctors and physical therapists and we have decided to take the screw out. I will hopefully be able to practise again in 3 weeks," Joshi informed on her blog.
The bronze medal went to Ashley Cain from the US, who also skated to Evita, but had a completely different approach to the story than Roberta. "I think it is great that there were two so different Evitas, because this way the spectators had the story as a whole, from different angles", Ashley said.
Dominance of Shib sibs
In ice dancing only eight couples competed and it was no surprise that the 2011 world bronze medallists Maia Shibutani and Alex Shibutani dominated the field. They won by an almost 20-point margin. In second place were Charlene Guignard and Marco Fabbri, while the bronze medal went to home dancers Federica Testa and Lukas Csölley, who once again impressed with their unique dances.
It was great to see a new couple from Turkey. Cagla Demirsal and Berk Akalin placed last - a lot of points behind the seventh place, but they tried very interesting twizzles and proved that ice dancing in Turkey is progressing.
First place for Stephen
The Men's field was divided into two halves by the competitors' level of skating. Medallists were at a much higher level than the rest of the field (four other competitors). So it was obvious that Stephen Carriere from the US, Jin Seo Kim from South Korea and Gordei Gorshkov from Russia would take the first three places, the only question was in which order.
Stephen Carriere was the only one who attempted a quad jump in the short program, but he fell, so after the first segment of the competition Kim was in the lead. He landed a triple Axel, a triple Lutz and a triple toe-loop, triple toe-loop combination. Carriere was second and Gorshkov third.
In the free skating, Carriere landed his quad toe-loop and six more triples and this was enough for the victory. Gorshkov was second in the free skating, but it wasn't enough for him to climb to second place overall, even though Kim doubled several jumps. The happiest of all medallists was Kim, who took lots of selfies on and off the ice before, during and after the victory ceremony and seemed to be really enjoying his time.
Ondrej Nepela Trophy was once again a very friendly and cosy event and there is a hope that next year it will be even bigger, with a larger field. Next season, Europeans will be held in Bratislava and probably lots of skaters would like to experience the arena in advance.