Federica Testa and Lukáš Csölley: First subs for the Olympics
Jan 2, 2014
By Titanilla Bőd
Photos © Mireille Geurts, Joy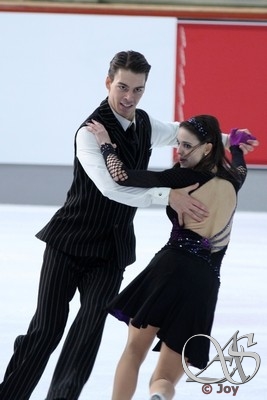 Federica Testa and Lukáš Csölley of Slovakia skated two great programs at the Olympic qualifying event in Oberstdorf but finished in sixth place in the ranking of countries who hadn't earned a spot before. The first five couples secured a spot for Sochi, so Lukáš and Federica now have to wait. They are first substitutes and it is uncertain whether they can take part at the Olympics or not.
"We did everything we could, we did our best. It's such a pity. What can I say?"Lukáš explained with teary eyes when the results became clear.
"Now we just can hope for a miracle," Federica sighed.
Trying to forget the pressure
To take part in the Olympics is a big dream for them, but before the Nebelhorn Trophy they tried to forget how much was at stake.
"We decided that when we go on the ice, we won't think about that. We will just go and have fun. I think this is the most important thing we've learnt this summer: to actually be happy when we are skating. We want to show that we enjoy what we are doing," Federica said after their short dance.
"It would be too big a pressure to think about the Olympics," she commented after the free dance.
Comfortable with the Finnstep
The couple likes the short dance with the Finnstep pattern.
"It's a lot better than the polka. We are much more comfortable in this," she said and her partner added: "We like the classics more so that's why we prefer the Finnstep. The Polka is more country."
Federica however admitted that at the beginning it was hard to adapt to the pace of this dance:
"It's very fast, but later we learnt how to skate to this music and how to perform in a ballroom style."
Testa and Csölley are a storytelling couple. They can create a story even when dancing the Finnstep.
"This is very important to us, because we are trying to be different. For example, in this short dance she moves my body, as if I was a puppet. It's like a movie; we are also actors," Lukáš said.
"This way it is easier for us. We don't just think about the steps, but also about the story. We focus more on that," Federica stated.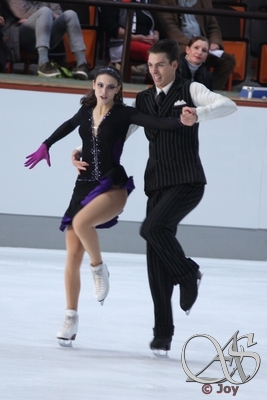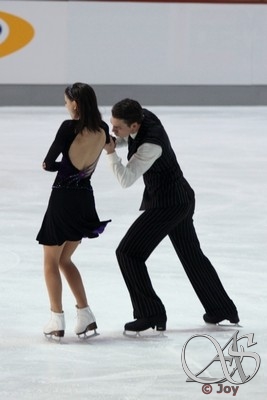 Addams Family
This season their free dance is the Addams Family.
"I've chosen that," Lukáš said proudly. "At the beginning Federica was not fond of the idea. She said too many couples have already used this music. But I insisted that we could do very well with this music - we can play. At the end, we were quite satisfied about it," he added.
"It's kind of a comic program; it's new for us. We'd like to see the reaction of the judges and the audience. We are happy with the work we have done so far," Federica smiled.
Last year they portrayed a love story of two people who became separated during the war and are reunited after it. The Addams Family has a completely different style.
"We love every kind of program, as long as there is a story to it. It's like being in a movie. Every year you perform something different," Federica said.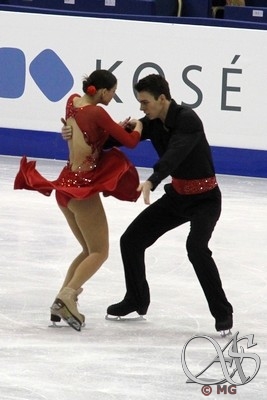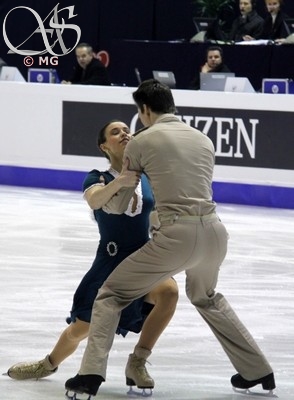 To learn something at every competition
Their partnership started in 2011. Their first international competition together was the Worlds in Nice in 2012 [left photo above]. They didn't pass the qualification round but they made a good impression on the spectators and the judges. Next year they were 17th at the Europeans in Zagreb [right photo above]and 26th at the Worlds.
"As a junior, I skated for five years with a Czech girl. When we split, I started to skate with Federica," Lukáš explained.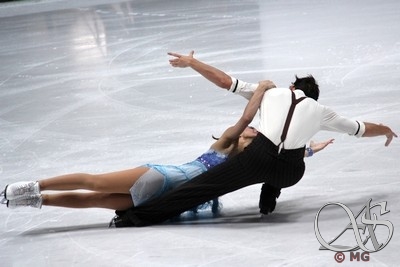 Federica began as a singles skater, but after two years she switched to ice dance.
"My mom was expecting another child and she couldn't take me to the practices. So I stopped for one year and when I started again, I realized I like performing and dancing more, not the jumps," she explained.

The couple is training in Milan, and year by year they improve greatly.
"Every competition we try to learn something about the other person and even about ourselves; how to manage the tension and our worries and to be the best we can on the ice, without thinking, just doing our job, and trying communicate something to the audience," Federica said. She also declared that she is happy to be part of the Slovak skating team.
In November, she got Slovakian citizenship so she was eligible to represent Slovakia at the Winter Universiade and - if a miracle happens - at the Olympics. In Trento at the Universiade the couple did really well; they finished fourth. One week later they proved their dominance by winning the Four Nationals ahead of the Hungarian, Polish and Czech couples.
Now the question is, whether they can fulfill their Olympic dream this year. As we learned from the Slovak federation, national federations must announce by 11th January if they use all the spots. Even so, the Slovak couple could still get involved if anyone gets injured. The Slovak federation is arranging the necessary documents for Lukas and Federica so they can travel immediately to Sochi if a chance occurs for them to compete.