Hungarian skaters looking forward to Budapest
January 15, 2014
By Titanilla Bőd, Új Szó
Photos © Mireille Geurts, Joy, Gergely Sallak, Johanna Welnicki
For the first time since 1960, there won't be any Hungarian skaters at the Olympic Games, however they still have extra motivation for the season since the European Championship will take place in Budapest.
Operetta rhythms for ice dancers Turóczi / Major
It's good to know the faces of ice dancers Dóra Turóczi and Balázs Major at Europeans in Budapest this year. They are on the posters and it's a sure thing that the crowd will love their Hungarian-themed free dance. The couple looks forward to competing on their home soil. "It's a huge motivation. We chose Csárdáskiralynő [The Csárdás Princess, in English known as "The Riviera Girl" or "The Gipsy Princess"] as our free dance especially for this competition," Dóra said.
The couple trains in Budapest, but they spent three weeks this summer in Lyon. "We trained with Muriel Zazoui and Olivier Schoenfelder and their group. Olivier also came to Budapest for a few days to work with us. He knows the compulsory pattern for this year, the Finnstep, really well because he was asked by the ISU to make the demonstration video of this dance. So we felt it might be an advantage for us and we were right; this dance really fits us. In Lyon there were seven or eight senior couples which were a big motivating factor. At home we are the only senior ice dancers," Balázs told us. "Our training conditions at home have improved. Now we have two practices each day, of course on the weekend we have a rest day, and Sunday we have a lighter practice. But the most important thing is that the one and a half hour ice time is now available every day," Dóra underlined.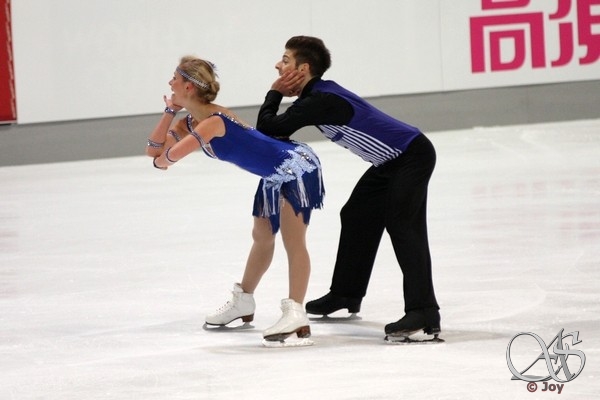 The Hungarian couple likes the Finnstep and they don't mind that it is a very quick dance. They chose another quick rhythm for their short dance, so they really can't rest during that 2 minutes and 50 seconds. "Most of the couples chose a slower foxtrot in order to have some time to breathe during the program, while we chose a quick Charleston. It's a challenge for us! I love it a lot, because we worked with László Bóbis, who is a world champion in swing and he is also a dance teacher who specializes in swing and Charleston. We learned the basics of the dance off-ice first, and then we did the choreography together. It's a great program, but you sure have to be in great physical shape for it. However, we also know this is unique, there are not many couples who dare to skate to two quick dances without any slow part," Dóra said.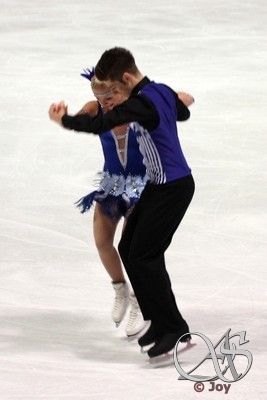 As for the long program, the couple was also considering transforming their previous Star Wars short dance into the free dance. "It was a very interesting dance and many coaches and choreographers said it is a unique one. Last season we didn't compete much, because at the beginning of the season I had surgery and at the end of the season I got bronchitis, so we didn't have many possibilities to skate this program. We considered keeping it, but in the end we decided on something Hungarian. So we thought about operettas and we decided to choose Csárdáskirálynő, which is one of the most well known Hungarian operettas," Dóra explained. They also had to make an effort to get the instrumental music. "We didn't want to use the music with Hungarian vocals; the instrumental music is more international, and foreigners can also relate to the well-known melody. We contacted the Hungarian Operetta Theater and they gave us the instrumental version," Dóra said. "It wasn't easy to compile the music, as there are too many good parts," said Balázs, who cut the music. Another task was creating the costumes, and they spent some time finding the right fabric, which looks massive but in fact is very flexible and not too hot.
The main goal of the couple is to skate well at Europeans in Budapest, but they also had a good skate in Trento at the Winter Universiade, where they placed 10th. In Bratislava at the Four Nationals Championship, they were second behind the Slovak couple Testa/Csölley.
Chelsea couldn't make it
Chelsea Rose Chiappa was born and raised in the US, but she has Hungarian roots. She represented Hungary in Sheffield at Europeans, but she kind of disappeared after that. We met her again in Oberstdorf at the Nebelhorn Trophy, where she finished 34th.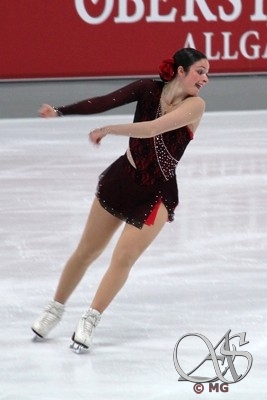 "I just wanted to take some time, to just train and focus, so that's why I wasn't competing for a while," she told us in Oberstdorf. Though she hasn't managed to earn the minimum technical score for the major competitions so far, she is excited about Europeans in Budapest. "I think I can do it, I was almost there, I just need to stand up on the jumps [the minimal technical score is 20 for the short program and 35 for the long program, Chelsea had 16.52 and 26.47, respectively]. As for the European Championship, it's my main goal for this season. I'm sure it's going to be great. My grandmother is also very excited. She talks about Budapest a lot."
Chelsea trains in Connecticut and she likes the environment a lot. "There are some other girls from the Ukraine, so it's good because we push each other and encourage each other. It's nice."
Hungary this year joined Slovakia, the Czech Republic and Poland so they will organize a Four Nations Championship now. This year the Nationals were held in Bratislava, Slovakia. "I think it will be an interesting and different experience. There will be many more skaters. It will be nice to see different countries," Chelsea said at the beginning of the season, but in the end because of some injuries she couldn't compete there. "I have been fighting an injury since the end of August, in my back and hip. I kept going and tried to ignore it, hoping to earn the spot in ladies for the Olympics for Hungary. I am trying my hardest to heal it for Europeans," she said, sharing the news in December. However, she didn't compete after that at all, so she will miss the Europeans.
Besides skating, Chelsea is also in school. "I study religion and psychology. It's very interesting. One day I'd like to be a youth minister, to work with kids in a church or something. I enjoy working with kids, also on the ice. I teach "Learn To Skate" lessons, and it's great to see how they love skating, because I also love it so much."
Markó in Oberstdorf, Forgó in Budapest
Márton Markó already competed at the Europeans in Tallinn and Sheffield, but now it seems he will miss the competition in Budapest, even though at the beginning of January he earned the minimum technical score.
He was close to it also in Oberstdorf, where in the short program, he missed it only by a slight margin. "It's a pity that I couldn't jump the Lutz, otherwise I would have earned the necessary points," he said after the first segment of the competition, in which he had to skate early in the morning. "I got up at five because I had a practice at seven o'clock. I was like a zombie there, but luckily at the competition a few hours later I was okay."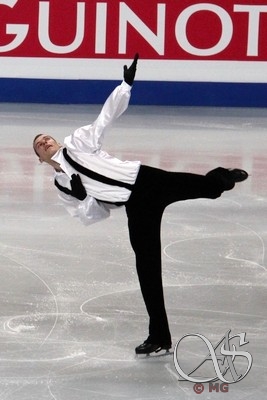 His short program is wisely created to earn as many points as possible. The spins and step sequences are performed in the first half of his program, while all the jumps are in the second half. "Last season the rules were changed and now it applies also for the short program that the jumps are worth more if performed in the second part of the program. Last season we put only one jump into the second half, but this year we decided to put all three there," Márton explained, and added: "Of course it is harder, but it's survivable." Markó's coach, Ildikó Magyar added some further explanation: "This way it is more difficult, mainly because the Lutz goes right after the step sequence. But as he has to pay a lot of attention to the step sequence, to have everything right, it's better that he can concentrate on it. If it was at the end of the program he might miss some details and lose levels."
Márton usually starts to compete around November, but this season he started earlier. "It is also because Europeans will be in Budapest. This fact is always on our minds, all the time." However, it turned out that the young Kristóf Forgó will represent Hungary in Budapest. This is his first year as a senior, and his main goal is to qualify for the free skate.
Márton's coach was happy that Hungary joined Slovakia, the Czech Republic and Poland, and he took part in their Nationals, which has been expanded to Four Nationals this way. "We are a small country without many senior skaters. At Nationals often only two guys fought for first place. It was a bit weird. Now that we joined the other countries of Middle Europe, the competition will be much more interesting and at a higher level. It's better for the sport and for the skaters too. The only disadvantage is that there is more traveling, but this is only a minor thing," Ildikó Magyar said.
Hungary won't have any pairs teams at Europeans, because Márk Magyar, the son of Ildikó Magyar, who had skated with various partners in the last few years, had a shoulder injury and he missed lot of practice time.