Tidbits from the World Championships 2014
April 29, 2014
By Atsuko Kuryu
Photos © Keiko Kasai
It has been a few weeks since the World Championships ended successfully. I already wrote a report about the top three of each discipline, but now let me comment on some of the other skaters and gather some tidbits that impressed me during the competition.
Pairs
The opening performance of this big event was made by Miriam Ziegler/Severin Kiefer from Austria, who showed a solid performance in a very tense atmosphere. Fortunately, the music they chose was very familiar to Japanese fans because Takahiko Kozuka uses same one, so they supported the pair by clapping along to this difficult beat. Maylin Wende/Daniel Wende of Germany stood out in the first warm-up group. They moved so gracefully and with good speed, and the audience awarded them with big applause for their wonderful short program. Unfortunately they didn't stay as strong in the free program.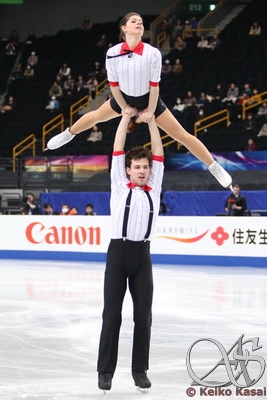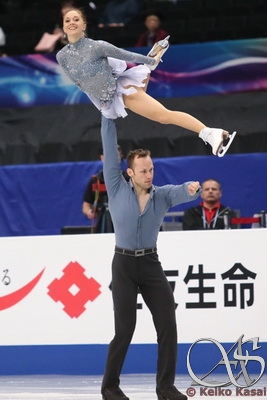 Julia Antipova/Nodari Maisuradze (Russia) gave two strong performances. They impressed us with high throw twists and a fast death spiral. Julia's beautiful positions and smooth position changes were really inspiring. Kirsten Moore-Towers/Dylan Moscovitch from Canada did pretty good as well, as did their bronze winning countrymen, Meagan Duhamel/Eric Radford. The music and the atmosphere they created on the ice went well along with each other, and they both had heart-touching performances. Even though only ranked 12th, Canadians Paige Lawrence/Rudi Swiegers showed two lovely and enjoyable performances and became audience favorites. Chinese pair Cheng Peng/Hao Zhang ranked 5th and hit their season's best in both programs, but I think they could have been stronger artistically. Wenjing Sui/Cong Han delivered an outstanding short program, but due to a disastrous free skate they only finished 6th.
Men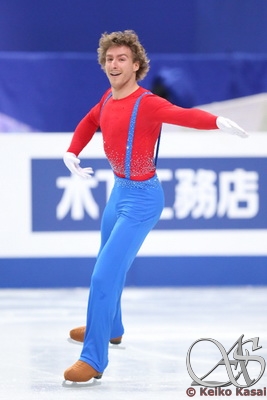 Nothing was sadder for me than the fact that Victor Pfeifer from Austria didn't make the free skate, since it was his first appearance in Japan. He didn't try difficult jumps like a triple Axel or a quad; still he is a really charming skater with great flexibility and a tender skating style. Another skater who didn't qualify for the free skate, but was equally impressive was Kim Lucine of Monaco. He is a true entertainer and was warmly greeted by the Japanese fans for his unique Super Mario program. A memorable moment was Maxim Kovtun, Russia, nailing two quads in his short program. He must become one of the top three contenders in the very near future.
Two veterans, Tomas Verner, the Czech Republic and Jeremy Abbott, USA, showed solid short program. Sadly Tomas didn't do the same in the free skating and Jeremy seemed not too happy with his points after delivering a to me wonderful free skate. Nam Nguyen, the junior world champion from Canada, did pretty well this time. He came here to gain experience, but after giving two nice performances, he ranked 12th in his first senior Worlds. His countryman, Kevin Reinolds, landed four quads in this event, but stayed 11th overall due to under-rotation.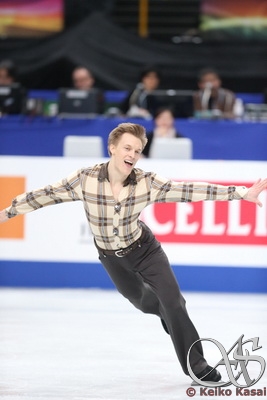 There was a notable phenomenon in Saitama: Asian skaters in the men's field! Besides the obvious (the Japanese team), there are so many charming Asian skaters such as Christopher Caluza of the Philippines–a very elegant skater, Abzal Rakimgaliev from Kazakhstan-featuring the funny play with his suspenders, Jim Seo Kim-a new Korean hope, Misha Ge-the passionate step sequence performer from Uzbekistan, and Han Yan, China, who placed 7th. Now Asia is a power in the figure skating world along with North America and Europe, particularly in the men's field.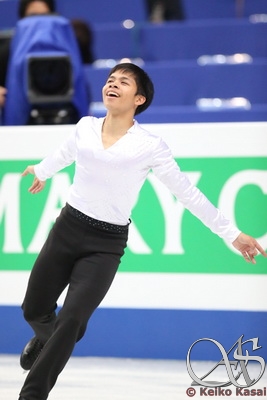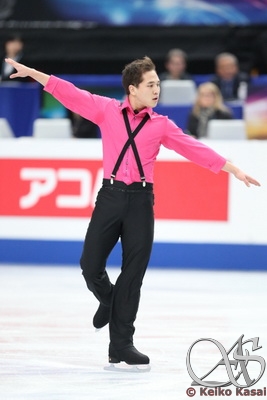 Here is a brief interview with Nam Nguyen after his short program where he placed 16th:
First of all, congratulation for winning the Junior World Championships!
Nam: Thank you! It was amazing. My goal coming into the competition was to finish in the top 5. And I think when I skated the best program I could, it just happened.
You are getting so tall! How much have you grown since last season?
Nam: Well, like… probably 3 or 4 inches… maybe 4 to 5 inches.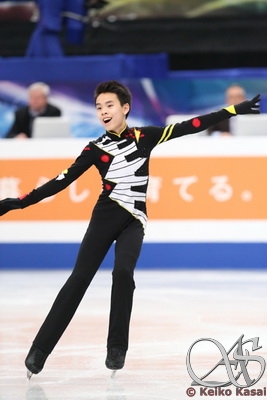 Does it affect your jumping?
Nam: Yes, it does. I have to fight for it.
What are your goals for these World Championships?
Nam: Just to gain the experience and have fun.
Are you nervous because this is your first senior competition?
Nam: No, like not at all.
I thought you fell at the beginning of the program because you were nervous.
Nam: No, I don't know why I fell. Maybe I just lost my footing…
Please tell me about your goals for next season.
Nam: I'm not sure; I don't have any goals yet.
You practice with Yuzuru (Hanyu) and Javier (Fernandez) at you home rink. How does that work?
Nam: It's amazing to train with them. I train with them every day and I watch them train. It motivates me to work harder.
Ice Dance
Russians Elena Ilinykh/Nikita Katsalapov couldn't quite make it to the podium; however, the audience gave them as much applause as they had given Nathalie Pechalat/Fabian Bourzat of France right before. Elena and Nikita performed a straight line lift where she was in a beautiful position in their very gorgeous Swan Lake program. It is sad that they will separate after this event. Madison Chock/Evan Bates, USA, skated two strong programs. Especially their free program was appreciated by the crowd because it was really dramatic.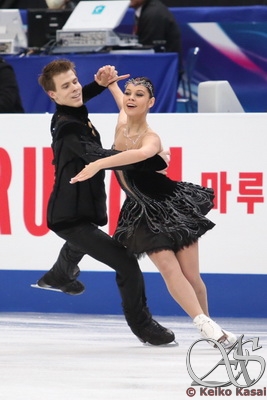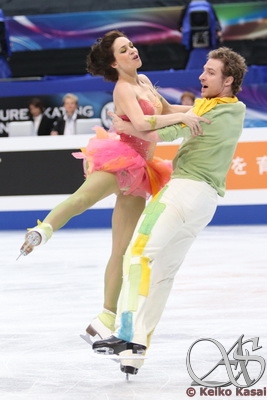 Finishing only 11th, Nelli Zhiganshina/Alexander Gazsi from Germany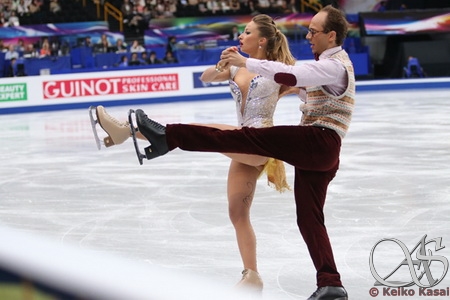 were surely the most popular with the Japanese audience. Their funny and entertaining program was very unique and fun to watch. The free skate of Canadians Piper Gilles/Paul Poirier was my favorite of this season. The music and choreography seemed to stick out and be different from all others. They showed unique positions here and there, and performed the whole program very dramatically.
Their compatriots, Alexandra Paul/Mitchell Islam, had wonderful flow in their performance. They moved from one element to another with speed and without stopping, and their positions were always very beautiful. I love Julia Zlobina/Alexei Sitnikov from Azerbaijan and their Pink Panther short dance very much. It was so entertaining and enjoyable that you had to be happy while watching it. And although they didn't make the free dance, Federica Testa/Lukas Csolley (Slovakia) and their Cotton Club and Justyna Plutowska/Peter Gerber's Addams Family were unforgettable. Federica and Lukas were vivid and joyful while Justyna and Peter moved lightly; especially Justyna made every step springy.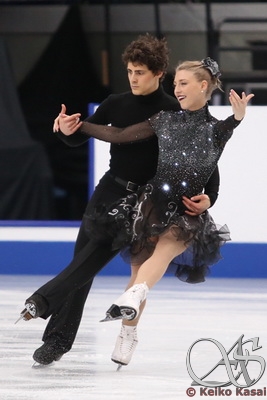 Ladies
Ashley Wagner, USA, nailed two seemingly perfect programs but remained only 7th. It was mainly because many of her jumps were under-rotated or down-graded. If she could rotate all the jumps cleanly, she would at least have beaten her teammate Gracie Gold, and probably made the podium. Gracie is very young but strong hearted. She delivered an awesome short program at her Worlds debut. But being the very last performer in this big event seemed to be too much even for her. She made several mistakes but still hit her season's best score. Russia's Anna Pogorilaya was mentally stronger and her free skate was technically best of all. At age 15, she ranked 4th at the World Championships.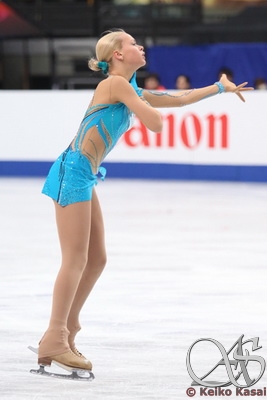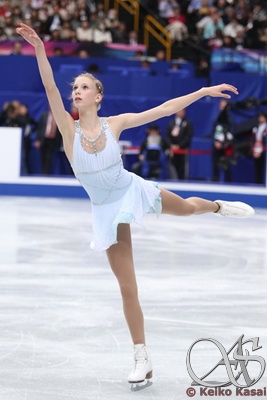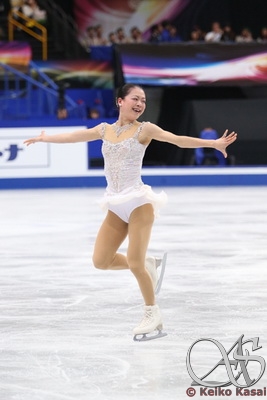 Polina Edmunds, USA, is the same age as Anna and did pretty well too. I think Polina moves gracefully for her age, and Anna has the technical strength. They might be neck to neck rivals in the days ahead. Even though she wasn't able to show her best, Akiko Suzuki left some very touching impressions on the ice. What an expression on her face at the end of the program! When she left the ice, she bowed long and deeply to show her gratitude to the home crowd as well as to all her supporters because it was her retiring moment from the competitive stage. Kanako Murakami, also of Japan, landed seven visibly clean jumps in the free skate. She was not bad, but the score was not what she had expected.
Korea now has a new potential star: So Youn Park. She delivered a near flawless free skate and received warm applause and some standing ovations from the audience. Being ranked 23rd, Hae Jin Kim also showed her potential. She strongly reminded me of a young Yuna Kim. Korea will continue having a strong ladies' team. France's Mae Berenice Meite was very different from the other female skaters. She skated very strongly with a beat and was more masculine than feminine, but very attractive.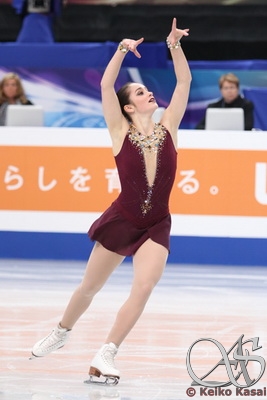 Kaetlyn Osmond of Canada danced through her short program which gave a happy feeling to the audience. She was strong and powerful and you can expect her to be on the World podium in the near future. Sadly her free skatewas only mediocre. I swear Brooklee Hann from Australia is a wonderful spinner! Her donut spin was the best of all. Natalia Popova, Ukraine, moved very gracefully on the ice, but I kept wishing for some variations in her performances. Swiss Anna Ovcharova attracted the crowd with her loveliness and big smile. She skated well in the short program and so so in the free, but smiled all the time anyway. One of my favorites, Valentina Marche iof Italy, disappointedly ranked only 16th. She is a brilliant skater, but it just wasn't her day in the Saitama arena.
And so the 2014 World Championships ended. They were supposed to be held in Japan two years ago and if that had happened, the results and the atmosphere in Japan would have been completely different. But because of Hanyu's win and Mao's inspiring free skate but tragic short program in the Sochi Olympics, Japan is in the middle of a figure skating craze. Almost all the skaters admired the Japanese crowd for their support during the competition. We are happy and proud that we could make it a successful event.
The World Championships of the Olympic year somehow always show the generation shift, and it was definitely a remarkable one in Saitama. This new generationof skaters showed off their potential, and the packed stands in the arena became witnesses of this pivotal moment. We will talk about it for a long time; the excitement and the many new talents we watched. I am very happy to have been part of this moment and will be keeping my eyes on these wonderful new talents for years to come.