Europeans 2015, Stockholm, day 1: Spanish and French leaders
January 29, 2015
By Titanilla Bőd (Új Szó)
Photos © Joy Geurts
Javier Fernandez from Spain and ice dancers Gabriella Papadakis/ Guillaume Cizeron of France are in the lead after the first day of the European Championships in Stockholm, Sweden.
Not the day of clean programs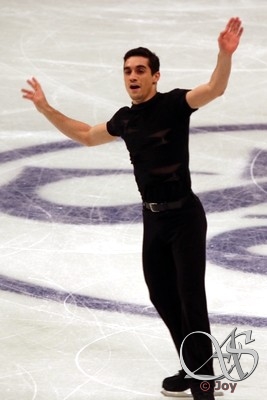 "It just wasn't the day of clean programs," that's how Michal Březina summed up the men's short program. He was absolutely right – none of the top skaters delivered a flawless skate, but Javier Fernandez took a step towards his European hat-trick.
Javi too relaxed
The reigning champion almost fell on his quad Salchow, and the landing of his triple Lutz- triple toe combination wasn't ideal either. Despite the small mistakes, Javier earned 89.24 points for his short program and is in the lead. "I dealt with the pressure well today, this time my problem was that I was too relaxed. In fact, Brian (Orser) said to me that I was working at 'second gear'. Sometimes it is very difficult to find a good balance between being very excited and/or skating too relaxed. At the Grand Prix final I was overexcited, and I thought: 'Whee, this is my competition!' Well, after the first jump it wasn't. Now it was the opposite, I was too calm," Javier explained.
"I would like to win my third title in three years and be able to add my name to the list of skaters who have won 3 titles in 3 years, but if it doesn't happen it won't be the end of the world. I would be a bit sad, but not devastated," the Spanish skater added in a modest way.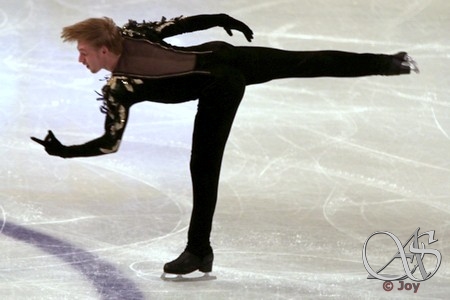 Voronov's 8th competition
Sergei Voronov of Russia started off with a nice quad toe-triple toe combination, but then doubled the Axel. This cost him many points and in the end he earned 81.06 points for his short program. "In general I can't say that everything was well, I didn't feel the drive, but it was a struggle, mostly a struggle with myself. As it's the 8th start in this season, it was mentally quite difficult to skate," the reigning silver medalist told the press.
Březina killing himself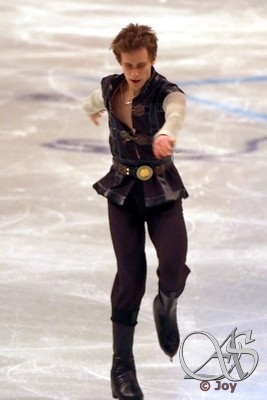 Czech Michal Březina was the last one to skate and he started as in a fairy tale. An amazing triple Axel (it got 1.86 GOE, and along with Fernandez it was the highest rated triple Axel of the competition), was followed by a wonderful quad Salchow (1.43 GOE). Skating to the Game of Thrones soundtrack, it seemed he could take the throne (at least in the short program). But then a flip came, and a fall ruined the program. "Before the flip I was thinking, 'okay, this is easy, you do it every day'. But after that I just wanted to kill myself," Michal said with a lot of self-criticism. He still earned a decent score: 80.86 points. "If there had been the combination, I could have had ten points more. But now I can't do anything about it," he shrugged.
Michal changed coaches last year; he went back to his former coach Karel Fajfr. "It helped me a lot. Now I skate my short and my long programs every day. Now I have much better stamina, I wasn't even tired after my short program. I'm happy about that," he added with a smile.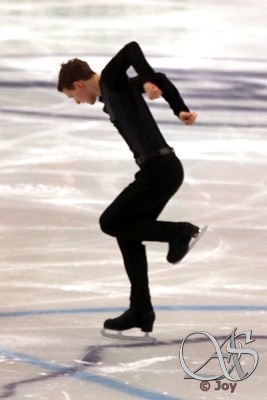 Two quads with flaws
Maxim Kovtun, Russia, was the only skater who included two quads in his short program, but he fell on the Salchow and stepped out of the toeloop. "When the aim is to skate a clean program, of course it is risky to include two quads. But we don't plan to change anything," Maxim said and then explained what went wrong: "On the quad Salchow I could feel I was leaning a little too far to the side. In practice I am always able to put the triple toe after the quad Salchow for the combination, but when the Salchow went wrong here, I tried to put it after the toeloop. But then that was not a good jump either. Unfortunately I just didn't manage it today."
Surprised Liebers
The only one in the top 5 who managed to skate a clean program was Peter Liebers of Germany. He didn't include a quad in his short program. "I am very happy with the performance. I didn't know what the other boys had done. We decided to play it safe. I was nervous in practice, but thank to my rituals I was relaxed for the performance. I can't do more right now. I was surprised, also about my placement," Liebers said happily.
Impressive… and empty
The Ericsson Globe arena is an impressive venue, but for the men's short program it wasn't even close to full. "When I came to the rink I saw it was quite empty. But school children came in when I was performing," Alexander Majorov noted. The home competitor also made a mistake; he fell on the Lutz, and is in 10th place. "The landing was off balance. Otherwise everything else felt good. Now I have to calm down and do as I do in training in the free skating."
Names to remember
Daniel Samohin and Phillip Harris – these are the new names to remember. Daniel, only 16 years old, represents Israel and he shocked the audience with his perfect quad toe-triple toe combination. Later he fell on the Lutz, but he captured the heart of the fans with his smooth, elegant and powerful performance. "I was very nervous at the beginning, as this is my first time at the Europeans Championships, but after my first combination I relaxed and enjoyed the rest of the program," he commented on his performance which was worth the 8th place. His future goal is to show the world that "Israel is a great country".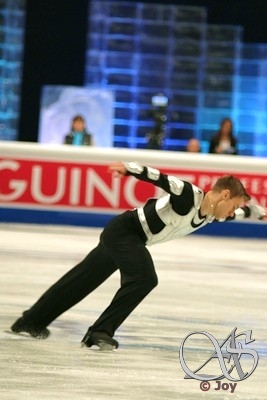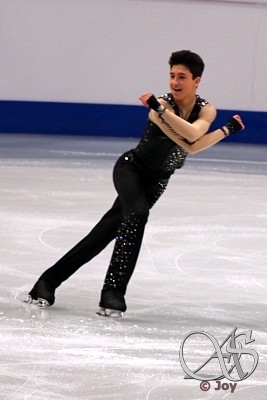 British Phillip Harris also had a great debut. Even though he is 25 years old, it was his first ISU Championships, and he is 12th after the short program. He landed a triple Axel, a triple Lutz-double toe combination and a triple flip. "You can't get much better than that. I think ecstatic is the word. My preparations were not ideal; I got new boots at Christmas and I had to work to break them in, so they are only just starting to feel comfortable. But after I missed out on Sochi last season because I tore 2 ligaments, it meant I could come back stronger. It gave me a real boost," Phillip said.
An enchanting French couple
The evening in the Ericsson Globe was filled with rhythms of Paso Doble. The best short dance performance of the night was delivered by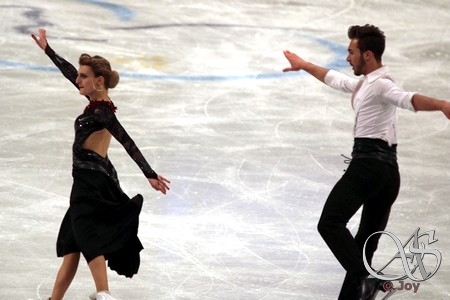 Gabriella Papadakis / Guillaume Cizeron, who beat their personal best by more than 7 points and with the score 71.06 they are in the lead. "We are really happy with our performance and of course with this result. Our goal was to finish in the top 3. Many people expected us to be first, which indeed put a bit of pressure on us, but the situation now makes us really confident for the free dance. We want to get the same feeling as in the competitions before. We want to show all our emotions in the free dance again and enjoy our skate," Gabriella said.
A lucky Russian guy
The new Russian couple Elena Ilinykh / Ruslan Zhiganshin earned the best technical score of all competitors, and overall they are second with 69.94 points. "We have worked so hard on the technique; we were pushed so hard by our coaches we were in tears. We didn't want to let our coaches down. Maybe we didn't get such high components because there might have been some small errors," Elena commented on her feelings.
Ruslan was asked at the press conference what it is like to skate with Elena and his answer was: "I'm just a lucky person that I can skate with her."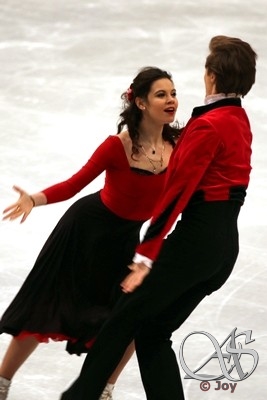 Anna's heartbeat
The Italian reigning champions Anna Capellini / Luca Lanotte placed third with 69.63 points, but they still have a shot at the gold medal. "It has been very hard to break the ice and coming back from a rough start and building up the confidence again to be on top of the game. It has been very scary today to be out there; my heart was beating so hard you could see it through my dress. Tomorrow in the Free dance we would like to show that we are now stronger and even more passionate about what we do. May the best team win," Anna said.
A big jump forward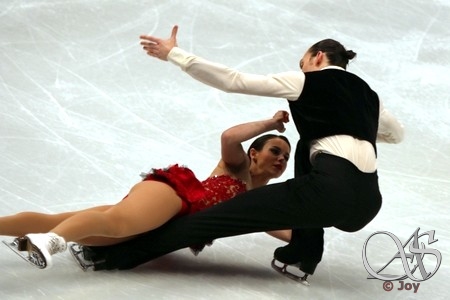 Federica Testa / Lukáš Csölley, representing Slovakia, improved their personal best, and with a score of 62.91 they are in 5th place after the short dance. They have improved a lot since their first competition this season. "We worked on the technical parts and the presentation, too. We are very happy that we could get a new personal best at Europeans, because it is not easy," Lukáš said proudly. "We just wanted to skate well. Last year we were 12th, and we wanted to improve that position," a smiling Federica added.
Don't miss our flash updates (containing text updates and fun pics) from the European Championships 2015 on Twitter and Facebook.