Europeans 2015, Stockholm, day 2: Papadakis and Cizeron take the ice dance throne
January 30, 2015
By Titanilla Bőd (Új Szó)
Photos © Joy Geurts
Thursday was a triumphant day for France and a promising day for Russia in Stockholm at the European championships. In ice dancing Gabriella Papadakis and Guillaume Cizeron took the gold, while in the ladies' short program the Russian girls rocked.
Wait, are these Russian Nationals?
After ladies' short program, three Russian girls are in the lead. Elena Radionova is first, Elizaveta Tuktamysheva is second and Anna Pogorilaya is third. All three of them delivered flawless performances with triple-triple combinations to completely different styles.
Elena Radionova skated to Jennifer Lopez's "Ain't it Funny" - and it wasn't funny but fun indeed! She skated a playful routine with joy. "It wasn't so much my choice, as it was my coach's. We watched a couple of videos and saw one with Jennifer Lopez where she was dancing with a Spanish dancer. So we came up with the idea to do a Spanish dance to Jennifer Lopez. This is the first year we can skate to music with lyrics and I thought it was a good idea. I liked it straight away. It's original and fun to skate to," she said about her music choice.
Elizaveta Tuktamisheva chose a classical piece, Ravel's "Bolero". "Maybe I have something in my soul, the passion to feel the music. When I first heard this piece I wasn't sure I had a strong feeling for it. But when we played it on the ice and I did a couple of elements, my coaches said I had to take it and that it really suited me. Maybe it's connected to my character. Now I enjoy it and I think the audience can see that too. They can see if you're connected to the program and skating with inspiration or if you are just working through your program," she explained.
All three Russian competitors agreed that at their Nationals maybe there is stiff competition, but Europeans are harder mentally, as it is an international competition. For Elena Radionova and Anna Pogorilaya it is their first Europeans. "I feel a lot of responsibility, whereas I'm already used to Nationals. It was my fourth so I already knew how to prepare. The gold medal at Nationals gave me confidence and competitive experience," Elena said. Her teammate Elizaveta Tuktamysheva added: "If you look at the level of the 2015 Nationals and Europeans then it seems Russian Nationals are tougher. But emotionally, Europeans is tougher as it is international. At Nationals we all already know one another and what to expect. At Europeans it's a new experience entirely." Anna has a similar opinion: "For me it's not possible to compare these two competitions as there is such a great difference between them. I can only say that for me, both are unpredictable."
A comeback in style
We did not see Kiira Korpi in the competition circuit for almost two years because she struggled with injuries. The Finnish skater made a comeback in style; she lies in fourth place after the short program. "Of course I was a little nervous and I was pleased that I could still manage to give, overall, a very nice performance. The audience was really supportive. I was quite surprised. Even in the warm-up they were so warm I started to think perhaps I was a Swedish girl. But then Sweden and Finland are very close and there were probably
a lot of Finnish people in the audience," she described her impressions. The injury is not bothering her any more: "It was a rupture of the Achilles tendon which was very serious. But now I feel great. Of course I haven't had the practice time to make the program technically difficult enough but I'm really thankful to be back. Not everybody can come back after such a difficult injury and I can now walk and run without having to be afraid it will rupture again," she smiled.
Sister power
It was a unique experience for the Helgesson sisters - they could skate in front of a home crowd. Even though the attendance in the Ericsson Globe Arena is a bit disappointing, both Joshi and Viktoria earned huge applause and ovation. After the short program Viktoria is 5th, while Joshi is 6th. They both delivered flawless short programs with a triple toe loop, double toe loop combination.
Actually Viktoria intended to do a triple-triple combination. "I fell on the toe loop just before I skated so I didn't feel confident to do the triple and I thought I would play it safe," she explained.
For Joshi it hasn't been an easy season, because she had an injury at the Ondrej Nepela Memorial back in October. "I am still recovering from my foot injury; this summer when I was in Slovakia I had some complications with fluid accumulating in the area where my screws are. I lost some muscle and strength which impacts on the height and landings of my jumps," she revealed.
Both the sisters enjoyed skating in Sweden. "I have a great feeling; usually I get very nervous before I go onto the ice but this time I felt so supported skating in my country, surrounded by my family and friends," Joshi said and Viktoria added: "I watched my sister skating and it was very good. I am very happy for her because she deserves it. It is cool if we both are in the last group."
It isn't always simple
The ice dancing final offered some thrilling performances and also a shocking mistake. Russian fans were covering their eyes when Elena Ilynikh and Ruslan Zhiganshin went out of sync in the twizzles, but the worst was yet to come: they also missed a lift. After these mistakes they could be sure that they would not be on the podium. "Of course there was a mistake, but what's done is done. It's good experience for us and it isn't always simple. Terrible mistakes have happened before in my career. Of course after the Olympic Games and the biggest achievement of my career, I knew it would be a fight afterwards. The skate wasn't awful today but obviously without the lift you can't get much. It is a shame because it was a good skate, the emotions we showed were good," Elena commented on their performance.
Ruslan tried to save the situation at least with a smile: "We just lost the spot on the leg and that was it. Afterwards I tried to smile even more as if nothing happened but of course everyone could see. It happens, and we will work harder and move forward."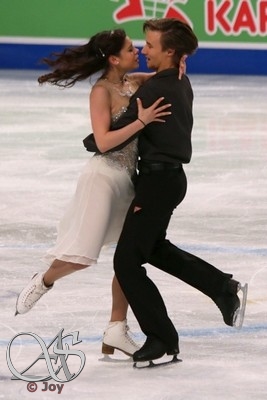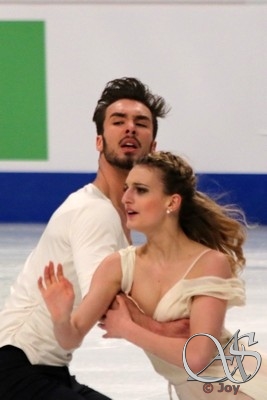 Pressure and delight
Gabriella Papadakis and Guillaume Cizeron skated to Mozart's "Adagio from Concerto No. 23". Their program was full of emotion.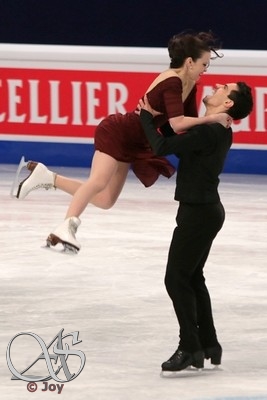 "When we went out, it was a mix of pressure and delight. One part of me really wanted to go out and skate but I was anxious too in some way. Anyway, once the music started, it was fine," Gabriella commented on her feelings.
Our performance was exciting until the very end. We felt that the public was always with us. We started to get into our program and in the end we really incarnated it," Guillaume added.
The French where the only couple who got a standing ovation. "When we finished our program and the crowd started to applaud, that was the strongest moment of the night," Guillaume emphasized.
A silver worth gold
Reigning champions Anna Capellini and Luca Lanotte earned the silver medal with their "Danse Macabre" routine.
"I am so happy for us. This result was worth the entire season. We needed to switch back to good sensations from competing. The Cup of China was a shock and it made us fear that the season might go the wrong way, so seeing this result and the score matching our level is what we needed for our self confidence," Anna Capellini told the press.
Her partner added: "For the first time we had the maturity to be not just linked to the result but to the performance."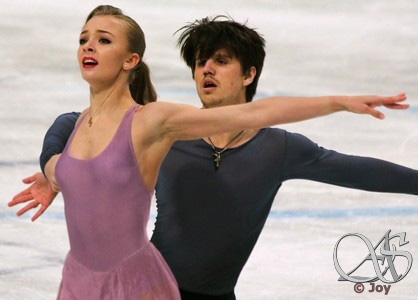 Crazy happy people
When Alexandra Stepanova and Ivan Bukin took to the ice they had not known that their compatriots made a mistake, so they had a chance to be on the podium. When their marks came up and they realized they would get a medal, it was a great surprise to them.
"I am in shock about the result. It is our biggest dream come true. I don't know if it was our very best performance, I would need to look at the video, but emotionally it was one of the best and our coaches were pleased. At the end of the program, we were just happy. Usually I feel empty, but this time I felt happiness. When we saw our score,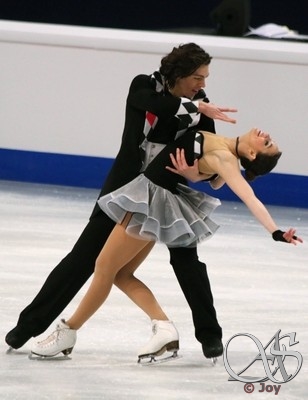 it was like an explosion of emotions," Alexandra said.
"We are crazy happy!" Ivan Bukin summed up their emotions at the press conference.
Promising result for Slovakia
Federica Testa and Lukáš Csölley couldn't save their fifth place, but they delivered an entertaining free dance with lots of little interesting details - one of them is Federica's "dress-trick" (her dress changes from black to black and white by a little move). "We felt very good on the ice. For one lift we got only level 2 and that cost us a few important points, but overall we are happy with how we skated," Federica said after their program. In the end they finished eighth, which is a promising result for Slovakia especially since the next Europeans will be in Bratislava. "It is my home town, so I'm looking forward to that competition. Back in 2001 I was there as a young boy and I just had a dream that one day maybe I would compete at the Europeans," Lukáš said.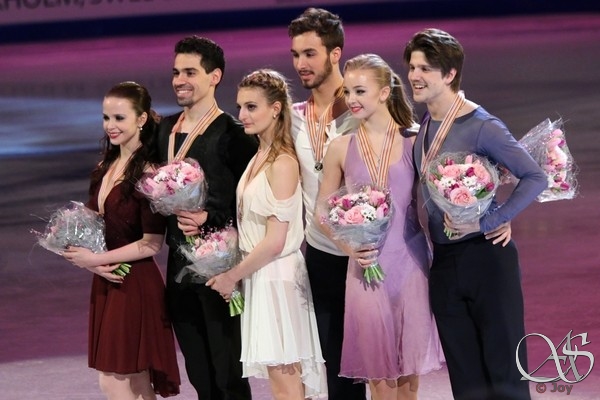 Don't miss our flash updates (containing text updates and fun pics) from the European Championships 2015 on Twitter and Facebook.