Europeans 2015, Stockholm, day 3:
Javi's third European title
January 31, 2015
By Titanilla Bőd (Új Szó)
Photos © Joy Geurts
Javier Fernandez of Spain won his third consecutive European title in Stockholm at the European championships and after the pairs' short program, Russians Ksenia Stolbova and Fedor Klimov are in the lead.
A Russian battle for the gold
After the pairs' short program, two Russian couples are in the lead. In first place there are Ksenia Stolbova and Fedor Klimov, but Yuko Kavaguti and Alexander Smirnov are behind them by only a small margin (less than two points.) "We're happy we managed to do everything. The lift got level 4 and all the other elements got good levels. I don't know if it was our best skate, but the marks were fine," Fedor said.
Yuko and Alexander came back after a long injury. "We are very satisfied with our performance today and very happy to be competing at the European championships again. The reception we had from the audience was very warm; that's what I remember most after our skate," Alexander commented on their performance.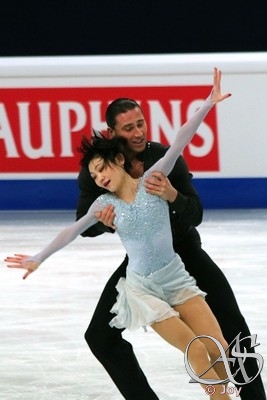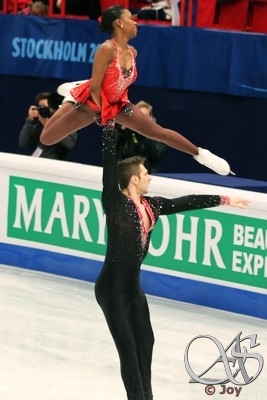 Vanessa James and Morgan Cipres of France also delivered a flawless skate and are currently third. "I had a tear in my eyes at the end of our performance. It was indeed a good day for us. This is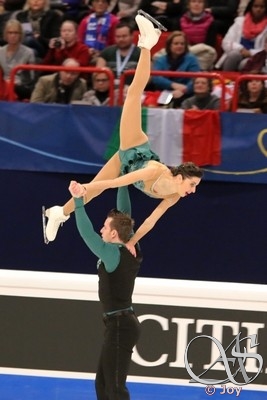 the first time we have had the chance to get a small medal. Knowing Vanessa, it might be difficult to keep our focus for the free skate," Morgan said.
A brilliant debut
One of the most awaited programs was the short program of Valentina Marchei and Ondřej Hotárek. They teamed up just a few months ago. Valentina had been competing for ten years in singles. "It is crazy!" she said after their flawless short program. "It all started like a game. I didn't really think about it, I just jumped in, as you jump onto a train which you don't know the destination."
Trust and courage are the keywords of their story. "Trust has always been there," Valentina emphasized. "Even if we have an accident, he always tries to protect me, but his girlfriend, Anna Capellini has already asked me: Vale, are you skating with Ondra or doing kickboxing?"
Even though for the newly formed couple it was their first major competition, after the short program they are in fourth place.
Exhausting men's free
Men's free skating is always an emotional rollercoaster. Skaters and fans were also tired when it was over, but it offered many great moments.
Lifetime moment for Justus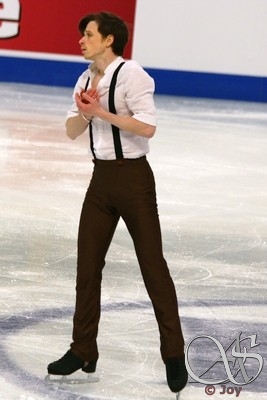 Justus Strid planned to quit competitive skating after the Olympics. Then he changed his plans because of the location of the post-Olympic Europeans: Stockholm. Justus represents Denmark but is originally from Sweden, so skating in front of a home crowd was a huge motivation for him. In the short program he had some mistakes, but it was enough to qualify for the free.
Justus chose specific music for his free program, specifically for the Swedish audience. He skates to a well-known Swedish song. There are certain melodies which make you feel like flying. Especially when skating to it in front of your family and friends, in your home country. This was the case for Justus in his free skating just before the footwork sequence. "When we chose the music we thought it might feel pretty amazing in Sweden. It does. It wasn't the best skate of my life, but the moment was perfect. The skate was perfect, with all the flaws and everything. I don't really remember what I did; I guess I had a fall, too, but I didn't care about the score. Standing on the ice and especially at the start of the last step sequence – I will remember that for the rest of my life," Justus said, still in an euphoric state in the mixed zone. He has never received such applause in his career. "It was a fantastic feeling to know that it really came from people that I know. I think I know about half of these people in the rink! Now I'm going to go around, hugging everyone!"
Righini, the showman
The placement wasn't the most important thing for Ivan Righini either. He had two show-like programs in Stockholm, in the short he skated to Michael Jackson, in the free he chose Frank Sinatra. The crowd reacted well to the well-known melodies – and Ivan definitely did it his way. "I was very emotional about the reaction of the crowd, they really encouraged me. I didn't even expect this reaction," the Italian skater commented on his impressions. He placed 8th overall.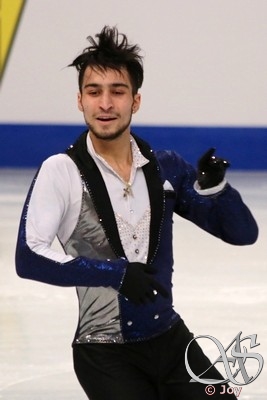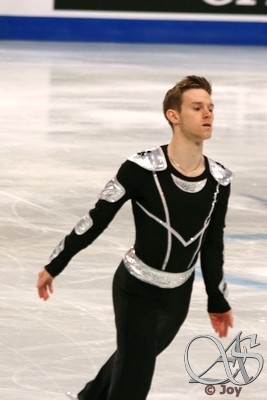 Harris, the hero
The title of Phillip Harris's free skate music reads: Two Steps from Hell. Phillip experienced hell during his free skating – at the second triple Axel he fell in such an unfortunate way that he injured his arm. For a few seconds it seemed he would give up – but then he carried on. After his heroic skate it was his coach, Juri Bureiko who told the press what happened: "It happened on the second triple Axel. He slipped and his arm completely twisted behind. At first I thought it was a rib because he's had problems with overlapping muscles there. We couldn't see from where we were sitting. I'm pleased he carried on but he's still in massive pain. He did a couple of things after the injury but obviously he couldn't do as much as we wanted." Because of this the British skater couldn't keep his 12th place and finished 15th overall.
Supportive audience
When Alexander Majorov took to the ice, the Globen was ready to explode. The home competitor started off with a nice triple Axel and a triple Lutz, a triple toe loop combination, but he fell on his second triple Lutz. "The beginning was really good, I cannot complain. The second part was very tough for me. After I fell I had lactic acid in my muscles. I was exhausted, but then the audience helped me to finish my skate with more energy. It is a pity; that fall cost me so much. It was supposed to be a combination, so I lost about 10 to 11 points. Anyway, I did the best I could. Today in practice I felt a lot of pain when doing the triple Axel, but tonight I was able to land it," he said proudly.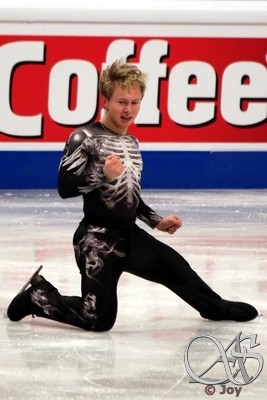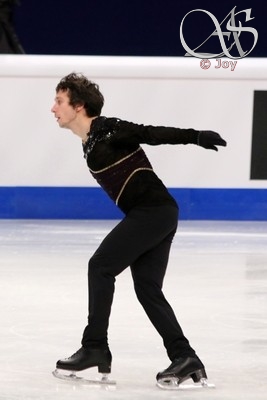 The Bychenko surprise
A few years ago Alexei Bychenko used to be the "bathroom guy" at the competitions. When he skated, you could go to the bathroom without fear that you would miss anything, but if you missed his free skate in Stockholm, you missed one of the highlights of the evening. The Israeli skater delivered the skate of his life, to a very powerful soundtrack of Nostradamus he landed a triple Axel and a quad toe loop and six other triples. He was 7th after the short program, but with his great free skate he managed to climb up to 4th place. "I was very emotional and I was so happy with my skate, because I was able to pull myself together in spite of a back injury I got shortly before Europeans. I had to have painkillers for the short and long program. I did difficult jump combinations in both programs. I want to add another triple Axel and another quad in my program for next season," he talked about his future plans.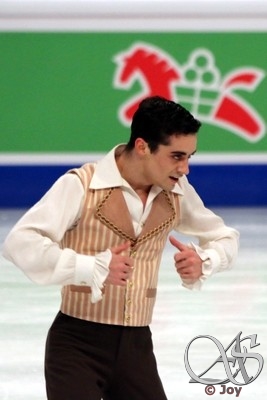 Javi's exhaustion
Javier Fernandez has a very hard free skate for this season with three quads, two triple Axels and packed full of choreography. In Stockholm he didn't manage to perform it flawlessly, his quad toe loop was great, but he tripled the Salchow once and fell on the second quad Salchow, then he also doubled a Lutz. Still it was the best free program of the evening and in the end it was worth the gold medal.
"I have never experienced a competition this tiring before. I don't know why, but I couldn't even bow to the audience at the end. I was so exhausted. It's not because I'm not training well. Yesterday I did a perfect run-through in practice, but today it was so hard. Still, from beginning to end I tried to do my best, I tried to give 100%. It was the best performance today but definitely not my best performance. It was hard but good. This medal is more important than a regular European medal because it's three times in a row," the Spanish king of European figure skating.
Russian teammates on the podium
None of the medallists had a flawless skate in Stockholm, but both the Russian competitors, Maxim Kovtun and Sergei Voronov fought hard for their place on the podium. Maxim didn't really start his program well, but after the shaky opening, he recovered and landed five clean triples. This was enough for the silver, his first medal at Europeans. "I have mixed feelings about today. Obviously I'm very happy that I was able to win my first medal at such an important event. It was tough for a lot of us today. I fought till the end, but I felt like a stone was dragging me down in each of my jumps," Maxim commented on his performance.
Sergei Voronov had problems with his triple Axel and he also popped a Salchow; still he earned the bronze medal. "The feeling of my skate and my jumps, like for all of us, was not good today. Yes I got on the podium, but after Russian Nationals it was very difficult. There was New Year and those three weeks were very hard. I was preparing as well as I could. I'm personally very happy that it's my second time in the top three at Europeans and I skated against strong competitors," Sergei said.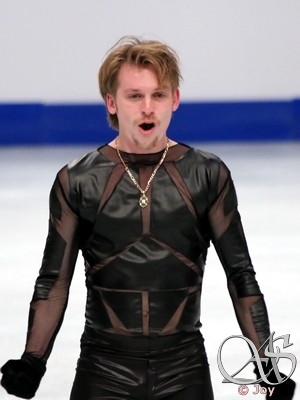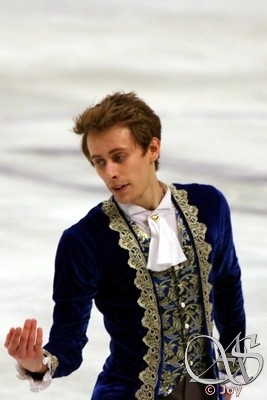 Autopilot out of order
Michal Březina has been fourth, five times in a major competition. In Stockholm he was third after the short program, was last to skate and the door was wide open for him to take a medal. That was his problem. "I'd heard how many points the other guys got and I just couldn't switch on the autopilot. I was constantly thinking about what I can do and what I must do. After I fell on the first quad Salchow I told myself, 'now I can't miss anything'. I made silly mistakes. I popped the Axel and this probably cost me a medal as I lost about 10 points with that," Michal said about his free skate and he added with a bitter smile: "So I am now fifth. What to say? Still better than fourth…"
Don't miss our flash updates (containing text updates and fun pics) from the European Championships 2015 on Twitter and Facebook.