Javier Raya will use Baku-experience to increase popularity of his sport
July 13, 2015
By Petra Mihályi
Photos © Petra Mihályi, Joy
Spanish figure skating history is being written this decade, since Javier Fernandez (24) made his break-through at international level in 2009 at the European Championships where he finished 11th but put down his visiting card with a remarkable free program in the final. Now, he is 3-times European Champion, he just missed the podium spot at the Olympic Games in Sochi, and this year he stood on top of the world in Shanghai at the World championships.
Fellow teammate Javier Raya, now in Baku at the European Games, working for the International Broadcast Service (IBS), is also a popular figure in this artistic sport. He cannot claim such results, but he still is a notable skater: the atmosphere he brings to the ice rink leaves no doubt about his qualities as a performing artist. The show he creates every time he goes onto the ice must have played a big part in increasing the popularity of Spanish figure skating. However, he isn't satisfied with that: having studied media and communications at the Complutense University of Madrid, he wishes to increase the media coverage of figure skating in his home country.
"In Spain, figure skating at national level was only ever covered once on television. The national TV only broadcasts two Grand Prix events, the European Championships and the World Championships," said the 24-year-old athlete. "I don't know yet which media discipline I would like to work with, but I definitely want to stick with sport, whether it is covering events or movie production, for example. I enjoy my time and work here at the ISB; it is a great experience which will help me later on. And there is one thing I would surely like to accomplish: I would like to co-operate our National Broadcasting Company and get Spanish skating onto TV."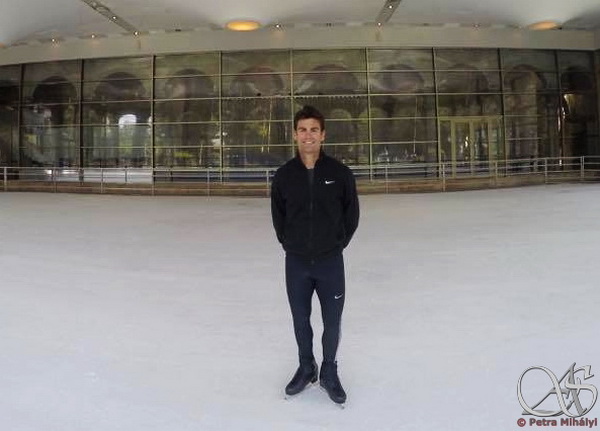 However, he cannot only focus on his career outside of competitive skating at this point, not even here in Baku. He must train hard in order to keep fit before he joins Fernandez for full preparation for the upcoming season in Canada, with former Olympic Silver medallist and star-coach Brian Orser.
"This ice rink is very small and the ice is soft, but for now, it is enough. Better than nothing. I am glad that my coaches let me come here despite the preparation period, and that I didn't have to say no to this opportunity. When I get a day off, I am always up for some training," he explained after his Monday practice session. "My choreography is ready; the short program was made by Joey Russel, the free program by Antonio Najarro. I can go through them here on my own again and again to practice the movements. Then I leave to Toronto to focus on the technical part and the presentation with my coaches."