Skate Niagara: Celebrating a region of talent
January 28, 2015
By Suzanne Herrmann
Photos © Suzanne Herrmann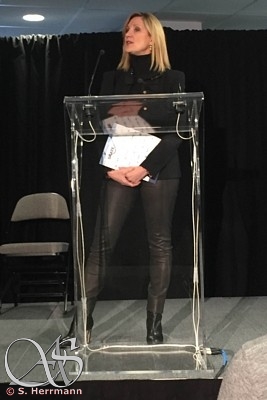 St. Catharines is in for a treat this Friday evening. Kurt Browning is headlining a special show with Sandra Bezic, highlighting the talent of the Niagara region in Canada. The idea was to bring some of the great talent from the surrounding area to fans of figure skating in a one-stop performance.
Nick Ricci, a first-time promoter, is honored to bring the first skating show to the new Meridian Centre.
Skate Niagara will showcase a wide variety of talent including singles, dance, pairs, acrobatic skating and synchronized skating (Team Nexxus).
Ken Notes, from the Meridian Centre, proclaimed the arena a "world class facility for world class talent". He noted that it is not just a Rock n' Jock palace! That said, I foresee the center becoming a stop for future skating events!
Kurt, Sandra and Nexxus coach, Shelley Barnett and Nexxus skater Kristen were present to speak and answer questions. Tessa Virtue and Scott Moir dialed in for a brief chat.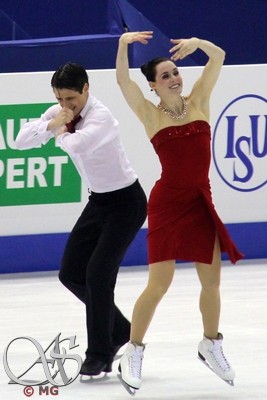 The conference began with Mayor McMullen saying a few words. Most memorable – Nick Ricci, the promoter, stood in the mayor's parking spot in order to speak to him about this show. The mayor said he could see he was extremely commitment to this event with that level of persistence.
Nick was thankful Sandra Bezic took a chance on him and taught him the business of figure skating. He initially told Mayor McMullen that if they didn't hire Sandra, they would not do this event!
Tessa and Scott are excited to be a part of a show in a season when they have been on a hiatus from amateur competition. Scott said it is an honor to skate in a show with Kurt and in a show in Ontario. Tessa and Scott are from London, which is just a couple hours west by car. Sandra will be working with them for the first time and I could read the excitement with the possibilities. She is extremely appreciative of their dedication to promoting skating locally in communities. One thing she learned about producing Battle of the Blades for 4 seasons – communities matter. She even mentioned Kurt's hometown of Caroline, Alberta, and what a difference the community can make for a skater.
Kurt is thrilled to be working with Sandra and to be able to participate in Skate Niagara. It is evident there is a connection between Kurt and Sandra and the creativity they will bring is going to be fantastic to watch.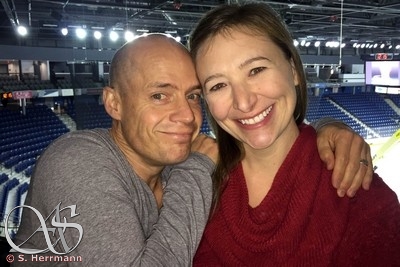 Kurt told me he had no idea what he would be doing for the show – Sandra would tell him! That speaks volumes for someone who is such a great artist himself. Funny little aside: Kurt, his usual goofy self I heard introducing himself to an attendee as "Mr. Browning – but you can call me Kurt!"
After the press conference, I (left) had the opportunity to speak with Sandra. She was gracious with her time and straight-forward about her thoughts and developments of her career. In more recent years, it's not that she stopped choreographing programs, but transitioned to new work, maybe not so coincidentally as the 6.0 system transitioned to IJS. She is very much an aesthetic artist and it is evident "points, points, points!" never seemed to be the right fit for her.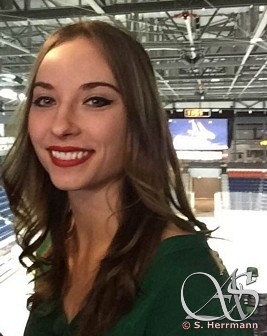 She is excited about this opportunity to work with many high levels skaters in a great show and it is the first time she will have the opportunity to work with a synchro team. I am looking forward to seeing what she does with this cast!
As mentioned above, synchronized skating will be one of the many talents showcased.
Nexxus is the region's synchro team and for them this is a fantastic opportunity to present themselves in a show atmosphere.
I personally have only seen performances at either synchronized skating competitions or exhibitions at Skate America or Skate Canada. It would be wonderful to expand the opportunities for teams like Nexxus.
Shelley Barnett, a coach for the team, and Kristen, a team captain, are eager for the opportunity to work with such an esteemed group of skaters. If all goes as planned, there will be more coverage on this team on Absolute Skating as we move toward the World Synchronized Skating Championships!
Stay tuned for a special report about Skate Niagara!
Tickets or more info? Check here!