Home hopes looking forward to Europeans in Bratislava
January 25, 2016
By Titanilla Bőd (Új Szó)
Photos © Poggi, Bailu Xu
Bratislava, the capital of Slovakia, will host the European championships for the fourth time after 1958, 1966 and 2001. One of the home hopes, ice dancer Lukáš Csölley was a flower boy 15 years ago, while Nicole Rajičová didn't watch skating back then. Now they aim to impress the crowd, where their relatives and friends will also be present.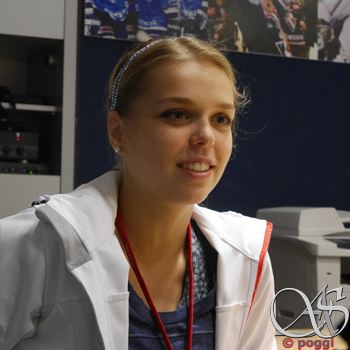 Great debut in the Grand Prix
Nicole Rajičová placed 11th last year in Stockholm and she has improved a lot during the summer. She debuted in the Grand Prix Series with two 7th places (at Skate America and Cup of China) and at Skate America she became the first Slovak female skater to land a triple-triple combination. Her jumps have become more consistent and her presentation and interpretation touches the spectators' hearts.
This improvement can't be denied even though Nicole has prepared for the season like in the previous years. "Now I'm at a university, so I had longer summer holidays, when I could concentrate just on skating, but I relatively did the same as in the previous years. We focused on the components more than on the jumps this time. Jumps are now easier for me than in the past, so we could focus on how to express emotions, how to skate in a beautiful way," she explained.
Feeling good - or not?
Nicole started the season with two new programs; in the short she skated to "Feeling Good", while for the free she and her choreographer, Nikolai Morozov chose the soundtrack of Dr. Zhivago. She admitted at the beginning of the season that skating to modern music is something unusual for her, so she feels more comfortable in her long program. In the end, just before the Four Nationals she switched back to her old short program, Romeo and Juliet soundtrack, which is more classical style. Europeans in Bratislava are very special for Nicole. She was born in the United States and she lives in New York, but her family comes from Bratislava and many of her relatives live there. "I feel at home here, I don't stay at a hotel when I'm in Bratislava, but at my relatives'. I feel very comfortable, I can have home food, they take care of me as if I was always here. Europeans will be a home competition for me.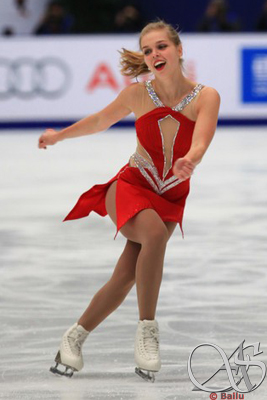 I don't want to think about the responsibility or pressure, because I don't want to make myself nervous. I just want to skate two clean programs, just as anywhere else," she said.
The busier, the better
Nicole is an international business major and she manages her studies well. "The busier I am, the better my results are. Of course, I have to be perfectly prepared for a competition, but if I am, it's better when I have to read or write something for school, because I don't have time to think too much," Nicole laughed. She loves mathematics and enjoys her studies, even though she has no privileges compared to ordinary students. "Last year at the Nationals I had to write a six-page essay when I finished my short program. But I don't complain, if I had nothing to do, I would just get bored in my hotel room. This way time flies," Nicole said.
She trains just as much as before, but at different times, early in the morning and then in the afternoon. Between the practices she drives to the school, and when she comes home late in the evening, she goes to the gym. "It's not easy but it's manageable," she added.
Becoming an idol
Nicole started to watch skating in 2002, so she can't remember the Europeans 2001, where Irina Slutskaya won her fourth title, Anissina and Peizerat fell in the free dance, and Yagudin couldn't beat Plushenko despite fighting like a true Gladiator.
"However, I remember the Olympics 2002, it was an amazing competition. Sarah Hughes won there, she grew up in the same town as me, Great Neck, and she practiced together with us. Of course we didn't know each other, because she was older, but she was my idol. After her Olympic triumph there was a parade when she came home, and it was very nice."
By now Nicole has become an idol herself - little skaters always surrounded her during the Ondrej Nepela Trophy and it will be probably the same during the Europeans. And maybe, one day there will be a parade in her honour, too.
Lucky Bratislava for Italians
Ice dancer Lukáš Csölley remembers the Europeans in 2001 very well, because he was a flower boy then. "I was thinking about the chances that I would ever be at Europeans as a competitor. It is satisfying that I'm here. Everyone who supported me from the very beginning will be watching me, and I hope we will skate well, so their pleasure will be even bigger," Lukáš said about his dreams.
His Italian-born partner, Federica Testa also has memories of the 2001 event, because her countrymen, Barbara Fusar-Poli and Maurizio Margaglio won the ice dance competition. "I was a little girl but I was very impressed by their performace. I just hope that Bratislava will bring luck to us, too," she said.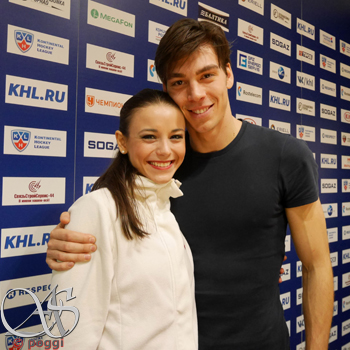 Federica feels at home in Bratislava. When they come to the city for the Ondrej Nepela Trophy, she usually stays at Lukáš's home. "This season it was different, because his little nephew is there, so I stayed at a hotel," Federica told us. "The organization of all the family things is now a little bit difficult, so we thought it would be better for her to stay at a hotel, so she has quiet at night," Lukáš added. During the Europeans they both will stay in a hotel, to be absolutely focused on the competition.
When she has time, Federica likes to go for walks in the city: "I like to go to the Danube, near the Eurovea shopping mall, and walk past the old town, to the castle. That's my favourite part of the city."
Back to the Addams Family
Their short dance was originally inspired by Fred Astaire and Ginger Rogers, but then they decided to change it to Addams Family. They have already skated to this music in a free dance, and they loved the characters they portrayed, Morticia and Gomez. The dance will be different, because back then they did not use waltz and foxtrot patterns, but the funny, lively atmosphere remains, so we can look forward to a really fresh dance between the many classical approaches.
The free dance is also something special. "We dance to Malena. It is a story from a movie and it is set in the forties in the south of Italy. So we come with something also from my part of the couple," Federica explained.
In the movie of Giuseppe Tornatore the story is seen through the eyes of a child. "We can't do it on the ice, but it is a very passionate and tragic love story. I really like this program, it's more mature than our previous free dances," Federica described it. "It's completely different from last year's free dance. Then it was circus, now it is a tragic story. We always wanted to skate a program where we can express many emotions, and now this moment is here. We could not bring the entire story of the movie to the ice, but we were inspired by it, by the love between man and woman and also by the music," Lukáš said.
The process of choosing the right music for the free dance was not easy. Federica admitted that her dream is to skate to Romeo and Juliet: "I tell them every year that I want to do it. But they say, no, everyone has done it already. So I think we will do it in exhibition, but at least I can be Juliet on the ice!"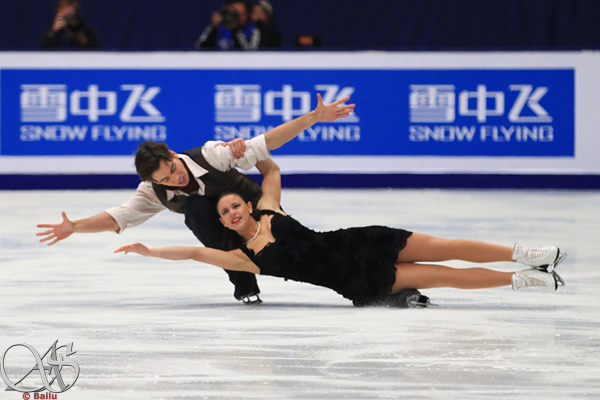 Not Slovak music
They also thought about using something typically Slovak, for the Slovak audience. "I came up with a Slovak music piece, but in the end it was not considered a good idea. I can't say what it was, but it was not a folk song," Lukáš said.
Federica explained further: "Sometimes you see couples who use some very traditional music, because there is a special event in their home country, but these dances sometimes come out as a compulsory or an original dance, not very special. We want to do a program that we could really feel. Plus we are in Slovakia, but we are half-Italian, so we are bringing the other half of us in this country that we represent."
Lukáš agrees: "A Slovak song might have worked in Bratislava at the Europeans, but other audiences might not have understood it. It is better to create a program that is enjoyable and understandable everywhere, for all the judges and the spectators, not only in Slovakia."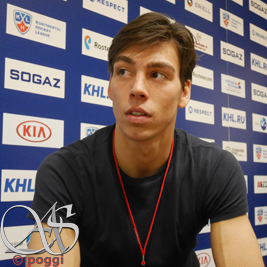 Improvement is important
Lukáš and Federica spent the summer preparation in Italy, then they started the season in Bratislava at the Ondrej Nepela Trophy, where they placed 4th. At the Cup of China they were fourth and they won the silver at Tallinn Trophy, and dominated the Four Nationals. "Each competition you have to do your best. Of course, if you get a medal, it's much better, but the most important thing is to be satisfied with yourself and the work you have done," Federica said about their approach.
Last year in Stockholm they were fifth in the short dance and eighth overall. On home soil they might even place higher. "We always want to give 100 per cent and we want to be higher and higher every year. The improvement is important for us," Lukáš emphasized, but Federica stated in a down-to-earth manner: "These Europeans will be different than last year. There will be some couples that were not competing last year, so we are also realistic. Our main goal is to be in the top 10 and then from there, everything that comes, is very good." Lukáš is looking forward to a sold-out home event. "At last this moment has come! The arena will be full, not only my grandma, my mum and my sister will be watching. I hope people will come, because we have a wonderful ice rink, and those emotions you can get in the arena, you can never experience in your living room in front of the TV."