2016 European Championships, Day Four: Volosozhar and Trankov back to the top, Papadakis and Cizeron defend their title
January 31, 2016
By Titanilla Bőd (Új Szó)
Photos © Joy & Mireille Geurts
Tatiana Volosozhar and Maxim Trankov won the gold medal in pairs' competition at the European Championships in Bratislava, while the ice dance crown went again to Gabriella Papadakis and Guillaume Cizeron from France.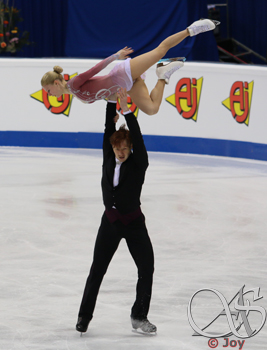 A crazy schedule
Pairs free skating was scheduled for 10 a.m. on Saturday, which was the earliest start of the day for the whole week (even the ladies' short started later, at 10:15). Starting from 2014 the pairs' free is in the morning - in Budapest and Stockholm it was on Sunday morning, now it was on Saturday, but still at an early hour.
Skaters are unhappy with this schedule. "It's not nice to have practice so early and then continue with competition at 10:00. It's unusual for us. We've never had that. It would be nice if it was different next year," Mari Vartmann said. She and her partner Ruben Blommaert skated in the last group but then dropped back to eight place after making a couple of mistakes. Vladimir Morozov, who earned his second European bronze medal along with his partner Evgenia Tarasova, also had an awkward feeling about the schedule: "We made some mistakes. I bind it, first of all, with a very awkward schedule. Pairs had never started so early in the morning. We had our practice today at 8:40. So, we woke up at 6:30. I felt almost like I was in cosmos," he commented on the situation.
Maxim Trankov, already as a four-time European champion, used even more severe words. "With this crazy schedule the main goal for pair skaters is to finish their free program. Not to skate clean, just to finish. The European Championships is the most horrible competition for pair skaters."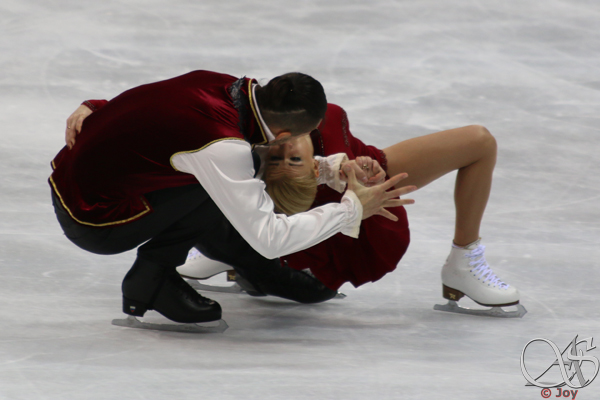 Nervous moments
Performing to "Dracula" soundtrack Volosozhar and Trankov earned a 222.66 combined total score and won the competition by an almost 22-point margin. They earned their fourth European title after sitting out one season because of an injury. "When we started to practice at the beginning of the season we started to learn our lifts from the beginning because my right hand completely didn't work for more than eight months. I had no power, and for all the elements that I had to do with my right hand it was a very big problem. The throws and lifts, we had to learn them from the beginning. It was a very nervous and hard moment for us," Maxim recalled their hard times. "We skated okay for this moment. We can do more," Tatiana added.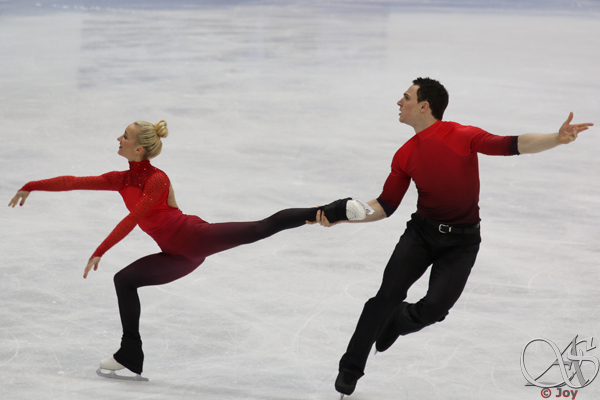 Allowed to skate
It was not an easy period of time for Aljona Savchenko and Bruno Massot either. Europeans in Bratislava was their first major competition together and they skated with emotion and sparkle. Until the moment they missed a lift. "I don't know what happened. I was surprised to miss the lift because normally I never miss lifts. I was really surprised, disappointed and sad after the program of course, but after this mistake Aljona pushed me to get to the end of the program," Bruno commented on the ominous moment.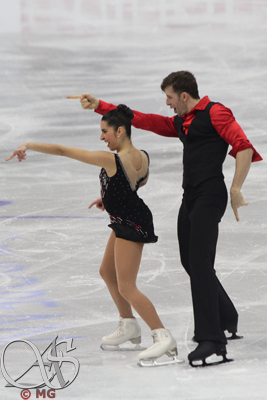 He looked devastated in the Kiss and Cry, having tears in his eyes. Later it turned out they didn't get credit for their last lift either, but even if they've got those points, they would have had no chance of challenging Volosozhar and Trankov. They placed second with 200.78 combined total score.
Aljona Savchenko - the only competitor who was also competing in Bratislava 15 years ago - was happy to get the silver medal. "We are really happy with the silver medal. It is our first competition as this new pair. It was really hard to practice because if you don't know whether you are allowed to skate or not you stay in one circle. You have motivation but you don't know if it makes sense to skate. I just told myself I want to skate and I just want to do what I love. It was a really hard time waiting for Bruno's release and this stopped us from really practicing and competing. I missed competitions and to come back after two years... I am really happy that we are allowed to skate," she told the press.
Staying alive
Valentina Marchei and Ondřej Hotárek became crowd's favourites skating to "Staying Alive" and "Disco Inferno". They performed a great routine and enjoyed their moment out there on the ice. "I feel great! We've been dreaming about this. I know everybody works a lot, but since this is a transition year for us I've been wanting this moment for us all season long and I think we deserve this little reward. The crowd loved the program and that's what we wanted," Valentina said and Ond┼Öej added: "The feeling was just amazing. We didn't care about the placement or the program. Today we skated for the feeling during the last section. The crowd was amazing; they got us through the program. We had had few imperfections, but we bounced back."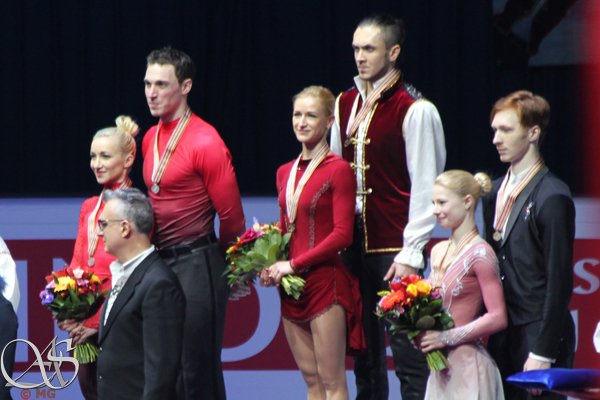 The best reception ever
The arena buzzed when they took the ice for the warm up and it almost exploded when the announcer called their names. Ice dancers Federica Testa and Lukáš Csölley were competing at home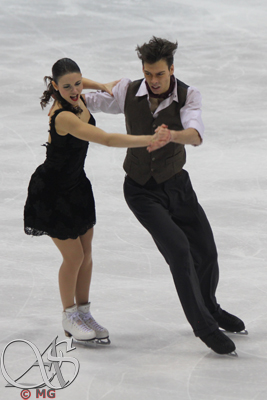 and you could feel the energy from the crowd flowing to them on the ice. They performed a tragic love story of Malena, but there were no negative feelings at all in the Ondrej Nepela Arena. "It was incredible. We felt all the support of the audience from the moment we stepped on to the ice and all the way through the program. We really enjoyed skating the free dance and the audience helped us to feel it. I think this will be the best reception we ever get at a competition," Federica said. Lukas was also moved by the warm welcome: "We've enjoyed this experience so much. We always try to improve and I think we did the best we possibly could. We really concentrated on using all of the positivity and energy from the audience to push us forward," Lukáš added. They moved up one rank, finishing 8th, just like a year ago in Stockholm.
Better than at practice
The winner was the same as in Stockholm, too... Gabriella Papadakis and Guillaume Cizeron went into the free skate as the second ranked couple, and they performed a magical dance to "Rain in Your Black Eyes". "It was even better than at practice. It was a magical moment," Gabriella said. "I think it feels even more amazing than last year, because we proved that we can do it again. We managed to have a really great moment during the performance and the audience shared this program with us," Guillaume added.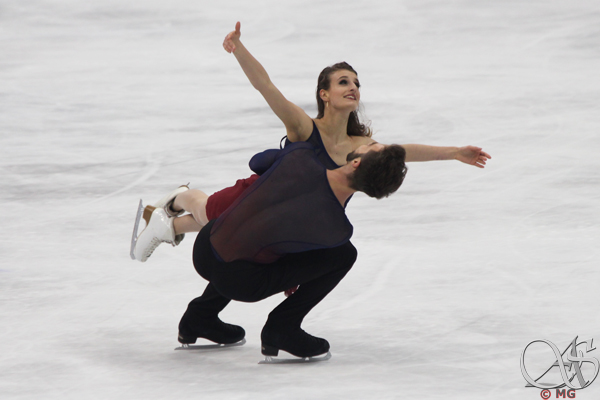 They say that this free dance is not abstract at all for them. "We can relate to many experiences we have had on the ice. It's about feelings, connection and our life. For us, it is very concrete," Guillaume explained.
Holding hands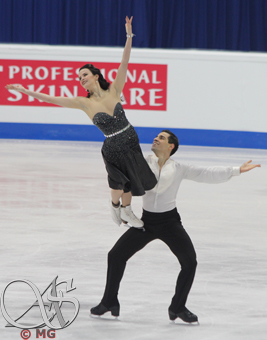 Anna Capellini and Luca Lanotte were the leaders after the short dance, but in the end they grabbed the silver. "We certainly left some technical points on the table," Anna admitted. The Italian couple was nonetheless happy about their silver medal. "The audience was very supportive today, with a fantastic crowd helping us to perform our program. Our next goal is the World Championships in Boston and hopefully we can fight for the gold medal. We tried our best; we respect our competitors very much," Luca said.
For Ekaterina Bobrova and Dmitri Soloviev it was their first bronze medal from the European Championships, after a gold and a silver. "Hopefully future medals will all be gold," Dmitri laughed. They've also come a long way to get back on the podium. "Our federation and our coaches gave us hope that we could do it. We don't want to let anyone down and we are so grateful to our entire team for believing in us. That was what pushed us on when it was all we had," Ekaterina confessed. She emphasized that this time they were not focusing on the medals. "After that long break it's about holding hands, to look into the other's eyes... It's about enjoying to skate."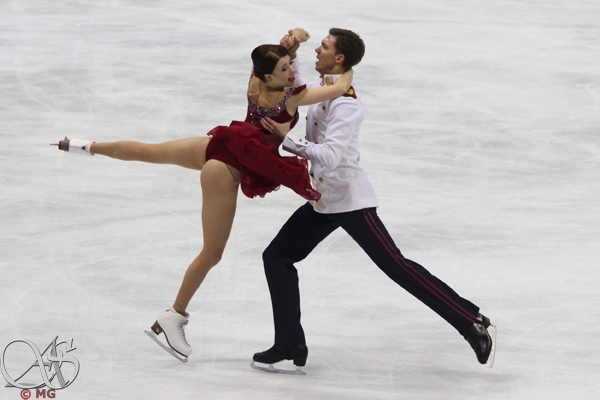 ─Äakujeme, Bratislava
And it's also about enjoying watching skating. Bratislava organized great championships, where people could really have a great time. The venue is modern and with all the necessary facilities; the practice rink is in the same building, but it's not inhumanly gigantic. The atmosphere has been very supportive throughout the whole championships; the audience welcomed warmly even the lower ranked skaters and they clapped along music. There were some fun things to do between the competitions, photo shoots and autograph sessions, and there were some beanbag chairs in the corridors if someone wanted to have some rest.
Being a local it is hard not to be biased, so I just hope foreign visitors enjoyed Bratislava as well. All I can say, ─Ćakujeme, thank you, Bratislava, and may you welcome the elite skaters of Europe some time soon again!