Ice Legends 2016
April 2, 2016
By Reut Golinsky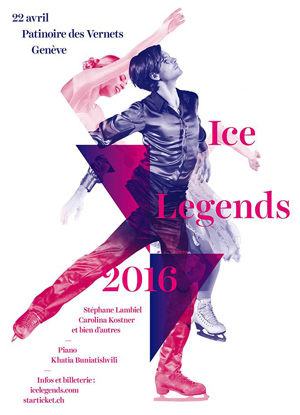 Photos © Ice Legends, Reut Golinsky, Ksenia Nurtdinova, Caroline Paré, Anna Bertoloni, Mireille Geurts

Season 2005/06, with the Grand Prix Final gold, second World title and Olympic silver, was by far the most successful in Stéphane Lambiel's competitive career. For some such moments are never topped later and forever remain the ultimate peaks of their lives. But this is not the case with Stéphane. Looking back - something he hardly ever does - he can be proud of what he has achieved since. He is one of the most in-demand and booked professional skaters nowadays. Young students of his Skating School show good results and medal at local competitions. With a successful first show he produced in December 2014 he has every intention to surpass it in a few weeks. And the strong feelings he had during his season of glory ten years ago - will we ever forget his tears on the Olympic podium? - those he once thought he would never experience again will come back, just like they did a year and a half ago, at Vernets rink in Geneva, a few minutes before his own show, the "Ice Legends", started.
Legendary cast
When asked about his dream cast, with any skaters living or deceased and any program of theirs, Stéphane goes big: John Curry's "Don Quixote", Jayne Torvill/Christopher Dean and their "Bolero", Katarina Witt with "Carmen", Kurt Browning's "Clown", Brian Boitano... But the actual cast he succeeded to invite for this edition is quite legendary too: Tessa Virtue and Scott Moir, Sarah Meier, Daisuke Takahashi, Tatiana Volosozhar and Maxim Trankov, Brian Joubert, Ilia Kulik, Mao Asada, and Carolina Kostner. To list all their titles would take too much space and time I'm afraid.
But it's probably not needed; the names are already enough to see that this cast can rightfully be called "every skating fan's dream."
"Actually when I was creating the cast I was not thinking about the medals, I was simply thinking about the skaters I would want to share the ice with," Stéphane said.
Just like last year, the new generation will be represented too. The young cast, "coup de coeur" as they call them ("crush" in French), will consist of three skaters: the promising student from the Skating School, Noah Bodenstein of Switzerland - it's going to be his second appearance in the show, the 2016 Youth Olympics silver medalist from Latvia Deniss Vasiljevs, and the Russian prodigy Elizaveta Nugumanova who already caught the heart of Swiss audience during the last edition of "Art on Ice". "For the 'Ice Legends' 2016 I really insisted on the participation of younger skaters. It's so important for them to skate with the great champions in the cast. I remember the 1997 World championships in Lausanne, where I had the chance to participate in the exhibition. And just being able to share the ice with the greatest, I think it gave me wings for all the years after that," Stéphane explained.
Legendary programs
For Brian Joubert, Stéphane's old rival and friend, this is going to be his second "Ice Legends" show. "I was very impressed with the audience," he recalls. "You could feel that Swiss people enjoyed the show. Its quality was amazing; with nice cast and good organization, Stéphane did a very good job."
We meet with Brian during his visit to Israel for the "Golden Ice of Israel" show. A week after that he plans to work with Nikolai Morozov on "James Bond", a legendary program of his Stéphane asked him to recreate: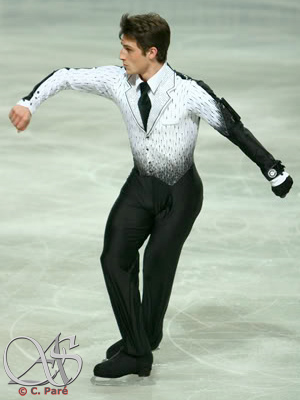 "We have to make almost a new program, with new moves. Technically it's going to be the opposite, no quad, maybe a triple Axel, which I still can do. Technically it's going to be not so difficult, and that's why I want to put more intricate choreography, more moves, more steps. Also because I think I've improved in choreography [since then]."
"It's going to be fun," he says with anticipation. Just like with the "Matrix", the costume is going to be the same one he used in competitions. Yes, he still can fit into it, he proudly mentions.
Is it always a good idea to go back to your old program? Will the current performance bear comparison with the legendary one performed when you were stronger and younger? Brian thinks it is a good idea, sometimes. "The fans - not all of them, but some - like seeing an old program skated again, it brings good memories. 'Matrix', 'James Bond', I won competitions with these programs! I think it's OK to do it for a few shows or for a special event but not for the whole season. Because it is still a competitive program, it's more difficult to have fun with it than with an exhibition. For me an exhibition program is about communication with the audience, about having fun together, feeling something. And with the competitive program it's completely different. Probably people still enjoy seeing it, but the connection is different."
Stéphane's opinion is definitive, even when I mention that Alexei Yagudin was not happy to go back to his "Winter" at his request and was very upset with the performance afterwards: "Yes, I think it's a good idea. And even though Alexei had mistakes and didn't perform as well as he wished, people were still admiring who he became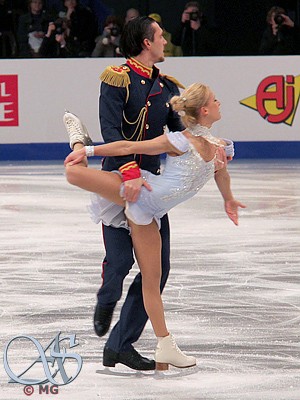 and who he is now. It's not about the technical side, not about rocker turns which were not perfect or rotations missing in his spins, it was about the charisma of this program. He became an Olympic champion with it! And we see again this charismatic Yagudin we saw in 2002, in the very same costume, with the very same spirit. The execution is different, of course, but the character is there, it's him.
Of course, as a show skater he has a lot to say. And hopefully one day I'll invite him again to the 'Ice Legends' and he will skate some other program which shows that he became more than just an Olympic champion. For example, he has a beautiful tango, very dramatic and very theatrical, I love this number and I would love him to skate that too. It's not something fixed like if you were an Olympic champion you have to skate your Olympic program."
Of course, then I can't help asking him if Tessa Virtue and Scott Moir will also skate not one of their Olympic programs but their sensual and innovative "Carmen". With an intriguing smile he neither confirmes nor denies this suggestion: "You will see."
Not much is known so far about other programs to be relived on the ice in Geneva. During one of the meetings with fans Stéphane mentioned that he asked Tatiana and Maxim to recall their Olympic "Masquerade" short program and that Carolina will probably skate her exquisite "Bolero". In one of his recent interviews he also mentioned that Sarah Meier will skate "her favourite short program." And a week ago other big news came: especially for the "Ice Legends" Stéphane is going to recreate his "Poeta".
Poeta en el hielo
"The next step of my life" was how Stéphane defined his flamenco program in the interview with "The Skating Lesson". After the fulfilling Olympic season of 2005/06 and after the low moments of burnout and withdrawal from Europeans in 2007 this was what brought him back to the competitions and to his fans in the spring of 2007. "I think that I came back because that was my challenge. The challenge was not to compete for a gold medal, but it was to compete and to show a different approach in my skating, to show that the crazy ideas became more precise, more artistic, more coherent. That was my challenge for the Worlds in Japan."
When we met for an interview a few years ago, Antonio Najarro explained to me some details of the choreographic language he used to create his masterpiece on ice. "I wanted to make a complete program, with the contemporary slow part and then flamenco style and strong movements in the end," he said. "The beginning of this program is about the liberation. The movements are smooth and 'open', they tell about creation of a new world and about fragility of each person. But at some point the mood becomes more intense. I tried to show that you can make decisions about your life, that when there are difficult situations, you can always attack them. All those feelings you have about the challenges the life puts in front of you, I tried to describe them with the tough movements."
For Stéphane "Poeta" was never as lucky as his previous free skating program, "Four Seasons".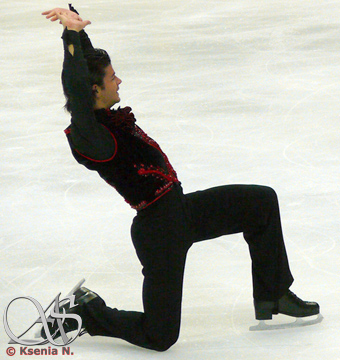 It was never performed to its full potential and brought him only one, some claim disputable, gold at the Grand Prix Final 2007. Yet it is considered to be one of the most beautiful and complete programs ever created under the new scoring system. The famous Russian sports journalist Elena Vaitsehovskaya, in her analytical article about the tendencies in figure skating, called this program, its composition and choreography, "revolutionary". She wrote: "The paradox is that with this program Lambiel lost. He wasn't able (and didn't have enough time) to combine the brilliance of the choreography with the technical implementation of the elements. But the bar was raised: Lambiel showed with excellence how much virile, complicated and at the same time touching the modern men's figure skating can be."
"Poeta en el hielo" - poet on ice - was the title Stéphane received from his fans back then, a variation from "Poeta en la mar", one of the musical pieces by Vicente Amigo he used in his program. Title which certainly describes him well.
Pas des deux
"I want to have this combination of legendary programs that changed lives of skaters and the piano part for which we will choreograph something unique," Stéphane shared his vision about the show with his fans a few months ago.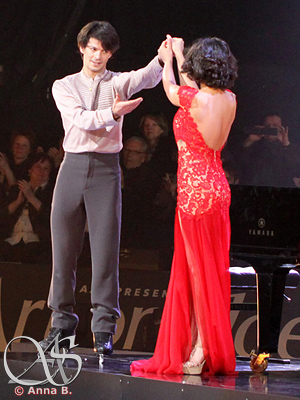 For the piano part he invited Khatia Buniatishvili, his favourite pianist and a friend he worked with two years ago during "Art on Ice" 2014. "When she plays you can really see the music, the story. As if while playing she is putting pictures for you to see. It's very interesting," he says about her.
Khatia will perform three pieces - Chopin, Debussy, Ravel - and there will be a story uniting all three of them.
Chopin's "Ballade", the first piece, will introduce the setting; it will be a group number, and although the main characters, portrayed by Carolina Kostner and Stéphane, will be present on the ice, the focus won't be on them yet. The second piece, to Debussy's "Clair de lune", will tell the woman's side of the story. She is in love, she is dreaming, simple, beautiful, and feminine. And then comes Stéphane's part to Ravel's "La valse", more dramatic and tragic as in the end his tormented character kills himself. "I had in my mind someone who looks for something, all his life keeps looking for something, believes that he'll find it, and fights for it. And at the end he just dies. He looks for love, he needs more love and he dies from not having enough of it," Stéphane explained.
The story of creating "La valse" is very interesting. It was to have been written under commission from Sergei Diaghilev as a ballet. However after hearing it Diaghilev said it was a "masterpiece" but rejected Ravel's work as "not a ballet, but a portrait of ballet". Ravel was so hurt by the comment, that next time the two met he refused to shake Diaghilev's hand, and Diaghilev challenged Ravel to a duel.

Stéphane and his choreographer Salome Brunner decided to rise to the challenge and prove to Diaghilev that "La valse" is danceable, or to be more precise, skateable.
It's everything
"At this current moment the 'Ice Legends' is... everything," Stéphane exhales trying to explain to the reporter from "La Télé" what this project means to him.
It is everything and he has to be involved in everything. And everything should be perfect and well-thought-out, from the schedule of the shuttles to the lights. His rich experience as a professional skater helps.
"Shows in Japan are very different from those I do in Europe. 'Art on Ice' is already an old show with its own routine and rhythm. So I can learn from all these different approaches and organizations. Based on those experiences I could write down a few ideas. For example, what is the best way to bring skaters to the ice rink? When you have a big bus, everybody has to get on it and then spend all the time at the rink even if sometimes you don't need everybody to be on the ice. So how to make it comfortable for the skaters? I just checked: OK, this organization, they have smaller cars and it's more 'on demand' for someone when he is ready. So we discuss it with my team and try to find the best solution within our possibilities and budget. Or scheduling: we try to see how we can optimize the time at the rink so that the skaters are not there from the morning till the evening, but that we have enough time to rehearse group numbers, and that everybody is comfortable having enough practice time, because some skaters want to practice, some skaters don't. Or how the light works. I really love when the number starts and we don't see the skater yet.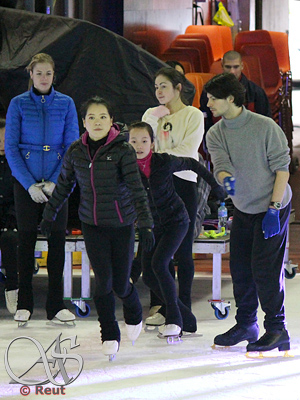 For me it's important that the number starts in the darkness and when the music begins the skater appears. In some shows it's different, but I found out this was what I like - the music starts and the story starts."
Having participated in various productions Stéphane made a conscious choice to focus more on skating.
"Of course, I love big productions, they are great. I was able to do 'All That Skate', many 'Art on Ice' shows, and it's incredible. I was able to work with so many different artists and to meet great people, to see acrobats, dancers, fire acts... It's very interesting and I think that I know what I want because I was able to meet all those people and was able to see, to experience so many different things. But I think that figure skating has so much to give and we need to really bring the best of figure skating in one show. For me it's important that in the show we bring the best qualities of each skater. And even when we prepare new choreographies we discuss and build them together. I don't just send a musical piece and say: 'This is a live music that will be in the show, you have to skate to it.' It's really about skating."
He is well aware that it might be more challenging to attract the public with a "pure" figure skating show.
"Yes, I think it's harder. Usually the ice rinks are big and it's hard to get the attention of a big crowd just with the skating. But at the same time it's important that people understand what figure skating is. Big shows like 'Art on Ice' are a good opportunity for people that maybe would never think about going to the skating show. But because of the Jacksons or Jessie J they come, and then they realize that figure skating is great. So I totally support and accept this kind of shows because they open the eyes of many people to figure skating."
"We're really doing this!"
Stéphane compared the process of creating a show with that of planting and growing a fruit tree. Watching that tree blossoming in front of my eyes a year and a half ago was fascinating, but at times it was hard to comprehend that this was really happening. His. Own. Show. Turns out that Stéphane and his team had a similar experience.
"We're a very young team and sometimes after a long day we had to sit down in the hotel and tell to each other: We're really doing this! We're completely crazy, young and with so much responsibility, and we're doing this! It's a big challenge. I really appreciate that our group is so motivated. It's really about the friendship and how it works when it's a true one.
Sometimes I stop and think: What are we doing? Are we really going to survive? It's such a big thing and we all are perfectionists. Will we be able to reach what we want? We have big dreams and we need to work for that and sometimes the work is crazy, but it makes us alive... I really love this challenge actually, I wake up in the morning and my mind is set on the 'Ice Legends'. Before, when I was competing, my mind was set on Olympics or Worlds, and now I wake up and this is my goal.
I want to give, that's my challenge - to give. And I want to give the best possible way. I would love to come from the ice and feel that I gave it all, that I had enough time to do everything, that all the pieces got together and I was able to perform well. Getting good reviews and positive feedback after that, knowing that the audience was able to enjoy would be a second step. And I need it, I do. But first of all I have to be satisfied with the way I was giving. First I need to do everything so that the fruit appears on the tree. And then the crowd will have a chance to say: oh, the fruit is juicy and has a good taste."
For more information and tickets go to: www.facebook.com/TheIceLegends & www.icelegends.com