Three kings on ice enjoying post-competitive life
January 7, 2017
By Titanilla Bőd (Új Szó)
Photos © Sveta Poln
In 2011 they stood together on the European podium. Five years later they have all finished their competitive careers, but they still amaze the crowd in shows. With the Kings on Ice show, Brian Joubert, Tomáš Verner and Florent Amodio toured in Slovakia, and I couldn't miss the opportunity to catch up with them.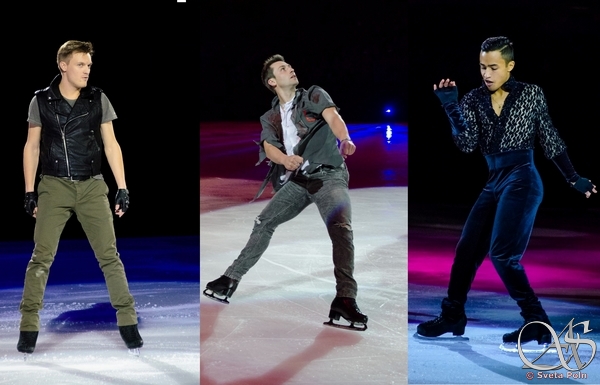 Brian Joubert: "Sometimes I do a triple Axel, or a triple-triple, but no quads"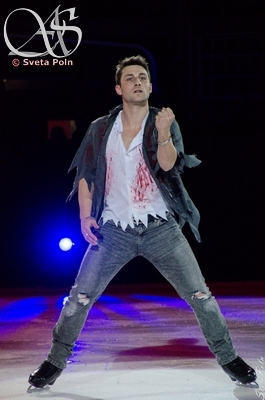 How has your life changed since your competitive farewell in Sochi?
I'm still on the ice. I still do a lot of shows around the world, in Japan, in Europe, in France… Next season I hope to be a coach, but I hope to do a few shows in the next three or four years, too.
You were famous for your competitive spirit. Don't you miss competing?
The first year was very difficult. To be honest, when I watched the other competitors on TV, I wanted to go on the ice, to do the six-minute warm-up, and then my program. But now, when I see the level of skating… it's so great for me to watch it, but I'm glad to have finished. I did my time - it is time for the next skaters.
Do you like the way figure skating is evolving? Quads are now necessary; many skaters have two quads in the short program and three or four in their free skating.
In 2008 and 2009 I had a lot of big fights because I wanted my sport to go this way. I'm very happy now to see so many skaters doing so many quads. But they still know how to skate, how to spin… They are amazing, it's great to watch.
Do you feel satisfied that now it's impossible to win without a quad?
Yes. Now it's impossible to win without two or three quads. So, finally, it's good.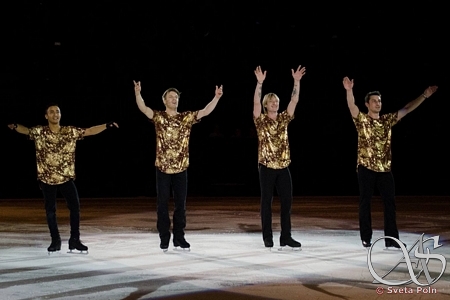 What is it like to skate with Plushenko, Tomáš and Florent in the Kings on Ice show?
It's great, because we spent so much time in competition, but there the atmosphere was completely different. Now we are friends, we just want to enjoy the moment with the audience, with the other skaters. It's also good because in this team there is lot of French people. I'm proud of this show, it's always great. The organization and the quality of the whole show is very good.
How hard is to prepare for such a show? Do you have to train every day?
When I know that I'm going to do some shows, during the weeks before, I try to practice every day. But it's difficult, because I am also a coach, so I need to find time. If I do a show, I want to skate well, and I try to do my best.
Do you still attempt quads sometimes?
Oh, no! I haven't tried it for a long time. I have to lose weight, and maybe I will try again. Sometimes I do a triple Axel, or a triple-triple, but no quads.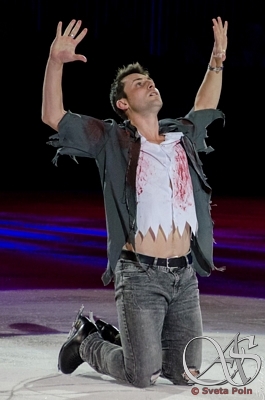 You created a show number in the honour of the victims of terror after last year's terror attacks in Paris. Was that your idea?
It was my idea. I worked with Nikolai Morozov on this number. I think we did a very good job, the French people love it, but also the spectators from other countries can connect with it. I like creating show programs, where there are no rules. You can do steps and spins as you wish, you don't have to aim for level 3 or level 4. You are freer.
You began coaching and for some time you worked at international level with Romain Ponsart. How do you see figure skating from the other side of the boards?
It's horrible! It's funny - I talked about this with Brian Orser. He told me: "Now you can understand what we feel." When you are on the other side of the boards, you can't do anything, you just have to watch and wait. But it's an interesting job, because every practice is different, there are so many problems to fix, never the same.
What level of skaters do you want to coach?
Every level, from the beginners, juniors, to national and international level.
I have read that the ice rink in Poitiers has your name now.
Not yet, but the decision was already made. It is a strange and funny feeling. My mum is very proud!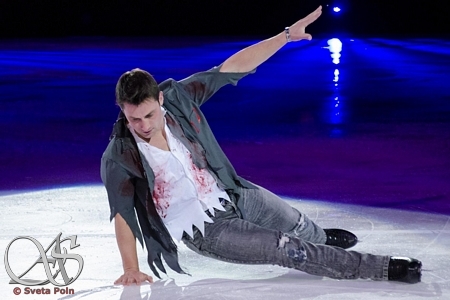 How do you see the future of French skating, especially in men's skating?
It's difficult. To be honest, I think we have to wait 20 years to have another world champion. We have to change so many things in the French federation, in the system, how to coach, how to create a strong team… Dance and pairs are okay; in ladies we have a lot of young talent, but men… It's not so good.
What do you think is the reason for this?
I think the French federation was very focused on me and Florent and they didn't pay enough attention to the young skaters.
Tomáš Verner: "There are some stricter methods that are more useful than yelling"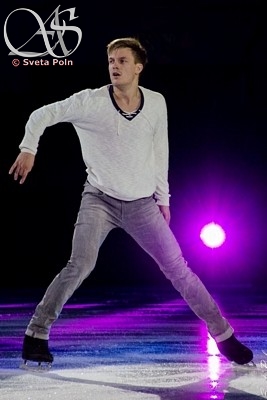 You have competed in Bratislava several times at the Ondrej Nepela Trophy. How does it feel to return to this arena with a show?
I've always felt like home here. Yesterday I wanted to go on the ice to practice and they immediately made it possible - people are very nice here. Even when the rink is not full, the audience is very supportive.
How often do you see your fellow kings on ice?
We don't see each other that much, expect for Brian, with whom we frequently meet up off the ice, too. I don't see Zhenya [Plushenko] and Edvin [Marton] so often, but when we do, it feels like the old gang is together; we are having fun together and in the meantime we also skate a little bit, then pack our stuff and go to another town.
Do you have any time for any other activities during a tour? Or do you spend all your time at the hotel and at the ice rink?
I tell you what we have time for! [searches for his cell phone and shows a picture of a board in front of a restaurant, that reads: goose meat at the Zápražný house] This was our event yesterday, so I won't eat anything until the show this evening, because I have to lose those four kilograms of goose that I ate! So you see, we are really having fun. However, we don't have time for such things every time, because there are days when we travel after the show, arrive in a new town, go to a short rehearsal, then in the evening there is the show and we travel again.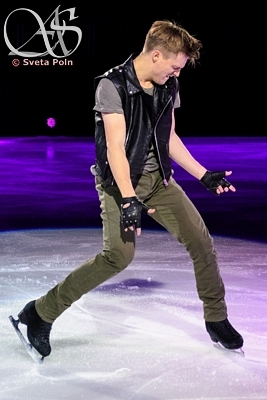 The European championships will be held in Ostrava, in the Czech Republic and you are the ambassador of the event. What are your tasks?
I'm the face of the event. I have to make figure skating more popular. If the organizing committee gives tickets to some institution or celebrities, then I'm the one who hands them over. I'm inviting significant people from sports, culture, even politics. I will be responsible for them having a good time in Ostrava. I will also do interviews.
Will you also skate? It has always been your dream, to skate in front of your home crowd…
I will take part in the opening ceremony but I don't know about the exhibition gala. We will see.
What do you think about the new trends in figure skating; tremendous scores over 300 points; three or four quads in a free program?
I still follow the competitions. When there is a program with four quads, nobody says anything about it, just that there were four quads. They won't remember the choreography, any particular movement and for me it is not figure skating. It is an unbelievable athletic achievement, congratulations to them, but not figure skating in my opinion.
You have started coaching, too and you are helping out Mrs. Kopřivová, your former coach.
The work of a coach is not easy, and to earn a living, I still have to skate in shows. I couldn't be a full-time coach with this schedule, but luckily Mrs. Kopřivová took me into her team. It works like this: whenever I'm in Prague, I am responsible for the guys, but when I'm away, Mrs. Kopřivová supervises the work.
Do you see figure skating in a different way now that you are on the other side of the boards?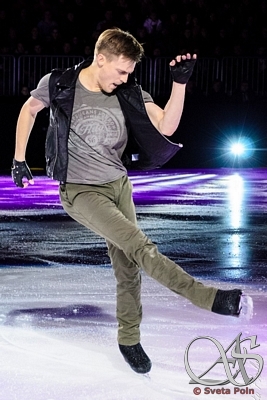 I just had to accept that not everything goes as quickly as I thought. Coaching is a long-term commitment. If you are used to short-term projects, you might feel that you can do so much during one year, but in coaching you can't skip anything. If you want your skaters to have solid basics, this takes time. I had some expectations, what to reach with the Bělohradský brothers and we haven't reached it yet, but probably I was too naïve, because I had no coaching experience. It's a different perspective, but I love coaching, if the guys are motivated.
Is there any skater in whom you see yourself?
No, we don't have such a skater yet. It is not easy to say, because many people say that Matyáš Bělohradský is just like me. However, I don't see it yet. Maybe I'm too critical, and hopefully he will get there.
Are you a strict coach or are you nice with the guys?
During my first year I was nice and I didn't get anywhere with this. This season I'm not a coach who yells - I would never descend to that level. I don't need to demonstrate my strength by insulting someone verbally. But there are some stricter methods that are more useful than yelling. If they come unprepared to the practice, then we end the session immediately, so next time they come prepared. Because I am always prepared, so that's what I want from them, too.
Florent Amodio: "I'm very happy to share my passion with the audience"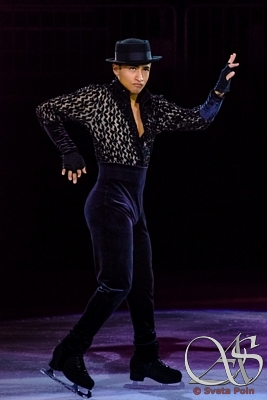 You finished your career in Bratislava at the 2016 Europeans with an excellent and unforgettable free skate. How did it feel for you to return to the same ice rink with the Kings on Ice show?
It's very special for me. A few months ago I was here, doing my last program, those are my best memories. I'm very happy and proud to share the ice with these guys. I have a new life now, lot of shows, lot of new projects. I study journalism, and I'm still a lot into figure skating, but without the bad points, without getting ready for a competition. I spent 22 years in competitive skating, so I was very tired, it was time for me to stop. I started to coach little bit, I had a camp in summer, I help Nikolai [Morozov]. In figure skating I'm very busy, but in life I try to take time with my family, and my girlfriend. I try to enjoy every moment I couldn't when I still was in competition.
Is there any kind of activity that you couldn't do when you were competing, but can do now?
Journalism was one of my goals, but I was too busy to study when I still competed. I play soccer, but I was playing soccer back then, too. The opportunity to do lots of shows is great, because when I was competing, there was only a short period of time for shows, and now it's almost every week.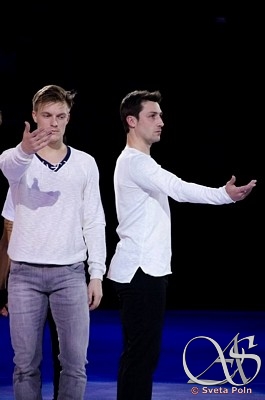 You've always been an entertainer who had a good connection with the audience.
Every show I do is a gift. We share a lot of emotions. I'm very happy to share my passion with the audience.
What is your relationship like with the other guys, with the other kings of the ice?
It's great. I did Kings on Ice already, before my first Olympics in 2009. They gave me the opportunity to start and do my first show. It was a big moment for me. To be on the list with all these big names is great. To skate with Evgeny every day is the dream of every skater! With Tomáš and Brian we are very good friends. My dream came true.
With Tomáš and Brian you were rivals in competition. So the rivalry is now gone and only friendship remains?
Yes, it's totally different. Competition was really tough. Everyone was focused on their job. But now – come on, we share the love for this beautiful sport, we are champions and we just want to enjoy.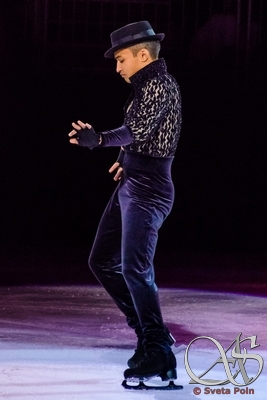 What is the advantage of skating in shows compared to competitions?
I've always loved doing shows, but I really liked competitions, too. I stopped because it was impossible to compete with those guys. I can't do two or three quads, and I didn't want to continue without a chance for a good result. I'm not like this. Shows are a different step in my life. I'm 26, not 19 anymore… maybe I'm only a European champion, but it's still very big for me. I wasn't like the young Russian skaters, who work so hard right from the beginning, when they are six or seven years old. The start of my career was when I was 18-19 years old, that's when I started working really hard. It'd been only six years at the top.
You mentioned journalism school. How do you like it, how often do you go to school?
When I'm not on tour, I try to go every day. I'm very focused on it. Not that I understand everything for the first time, but even though I'm young, I have lot of experience with journalists and this helps.
Is school hard? Do your teachers know that you were a high-level figure skater?
Yes, because it is a special school for active and retired athletes in a big training center for top athletes in France. It's very professional; the teachers explain everything in detail if we don't get it.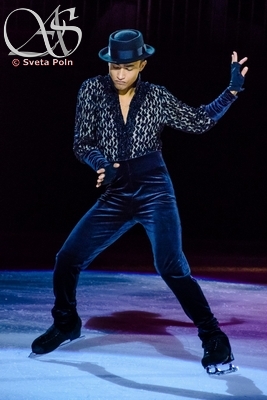 What about coaching?
This summer I had my camp and I talked with Nikolai a lot about the future. I need to find time, but if I work in figure skating, I will work with Nikolai, this is for sure. I will do my camp next year again. We start to promote it very soon, in January or February.
How old are the kids who can enter your camp?
It's more about the level. In the first level there were kids who could land a single Axel, but I was teaching a junior skater of Nikolai's, and he was landing quads. There is a big difference. The plan is made individually for everybody. I was very comfortable with the guys who are at a high level, because Nikolai taught me how to manage this. But you need to adapt when you talk to little kids. I love figure skating, that's my passion. I love to share my experience, so it was very easy. I was really comfortable with everyone. You have to understand that nobody has the same goal. We have to explain how it works, and to draw a vision of high-level skating. Correcting mistakes is also important, but the main thing is to emphasize that they should do it with love and passion.