Rostelecom tidbits
December 7, 2016
By Reut Golinsky, Tatiana Geikhman
Photos © Oxana Shkrebtienko (LMDJ), Reut Golinsky, Sara Hurtado
Rostelecom Cup 2016 held at the Megasport Arena in Moscow at the beginning of November didn't lack exciting victories, unexpected surprises, and drama. While not planning to write a formal competition report we wanted to share with you some stories, impressions and thoughts.
Welcome back or "Bread and salt"
After missing out last Worlds due to the meldonium doping controversy Ekaterina Bobrova and Dmitri Soloviev are back to the competitive ice, anxious to prove that they are still the leaders of the Russian National team.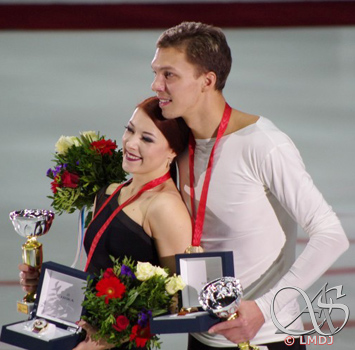 Because they finished Skate America with bronze, they needed to win in order to get a shot at the Grand Prix Final. With the warm and loud support from the home crowd (and a little "help" from their rivals) they succeeded to do this.
"My first impression is not about our performance, but about the support we got from the public. They applauded in the right moments, and kept silent in the right moments while waiting for our next element. This really encourages, gives motivation. You go on the ice and you feel at home," Dmitri said. "These were such cool emotions, we could feel that the whole of arena was wishing us to do well. And we, from our side, wanted to skate the best we could to bring the audience joy, to inspire them with our performance," Ekaterina added.
Natalia Zabiiako and Alexander Enbert's appearance in Moscow was a nice surprise. After teaming up in July 2015 this pair competed for the first time on the Grand Prix series last year, placing 5th at the 2015 Rostelecom Cup. At the end of January 2016 during practice Natalia Zabiiako sustained a severe injury, which required significant time to heal. So competing in Moscow this year was in many ways a small comeback for them, and an impressive one. They were leading after a clean short and had a very decent performance the next day with only one major error, on the side by side triple Salchow.
"It was really nice to skate at home, at this rink. We made a few mistakes and we will work on them. But the overall impression is great. It was a surprise for us to be first after the short, but first of all we were glad that the performance worked out well. The Grand Prix is an important competition, with strong rivals. We expected it to be difficult and interesting," they said.
Natalia and Alexander were the first alternates for the Grand Prix Final and hence, due to the withdrawal of Germany's Aljona Savchenko/Bruno Massot, they will compete in Marseille this weekend.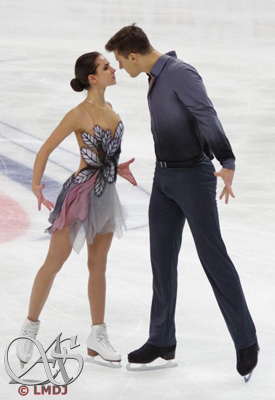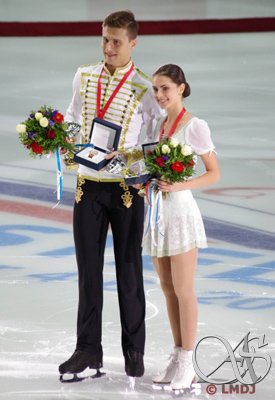 Sara Hurtado, whom we also gladly welcome back to the competitive scene, was not partaking in the Rostelecom Cup. But as she now trains in Moscow with her new partner, Kirill Khaliavin, she came to watch the competition and cheer for her friends, former and current teammates.
"I saw Javi (Fernandez), and he was just mind blowing! After that free skate of his I was jumping on my seat! You think that he has nothing else to surprise you with and then suddenly he comes out with something like this! I was really happy for Javi, for sure. And then also watching the ice dance and two of the teams I'm training with now plus the team from Montreal was great. It was nice to see Laurence and Nikolaj (Fournier Beaudry/Sorensen), we had been super close. So I was really happy to meet them in Moscow and to do some catching up. Apart from multiple experiences, figure skating also gave me good friends; I've had a chance to meet amazing people."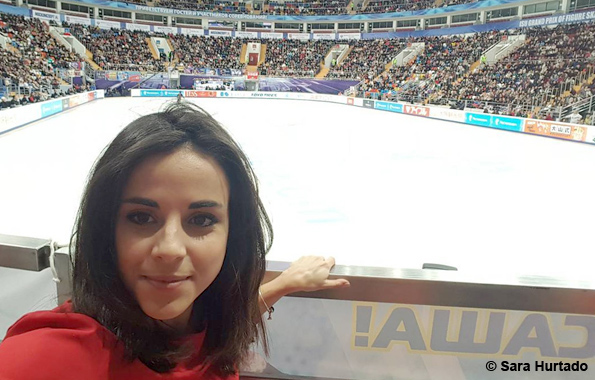 Russian ladies' powerhouse or "In Russ hamlets women are dwelling"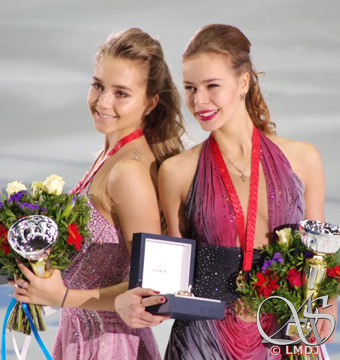 "In Russ hamlets women are dwelling..." is a line from a famous poem by Nekrasov, it is often quoted when talking about the mightiness and fierceness of Russian women. It feels fitting to use it when discussing the current situation in the Ladies: in the last two years they caused podium sweeps at Europeans, won four medals at Worlds, two of which are gold. Four Russian ladies have qualified for the coming Grand Prix Final, with three more coming for juniors.
All three Russian ladies - Anna Pogorilaya, Elena Radionova, and Yulia Lipnitskaya - were among the most anticipated athletes of this competition. With the fourth lady, reigning World champion Evgenia Medvedeva, cheering from the stands and adorning all the official materials and accreditation cards, chosen to be a symbol of this event.
In Russ hamlets women are dwelling,
Of countenance earnest, serene;
In all grace of movement excelling;
In bearing and look like a queen. (Here and below translation of Joel Sumner Smith)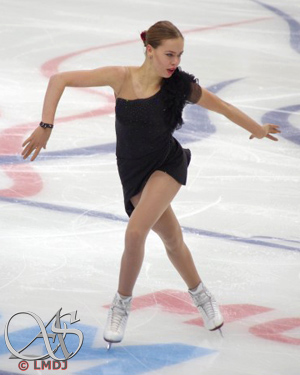 There was no doubt who was the queen of Ladies' event at Rostelecom Cup. Anna Pogorilaya dominated the field both days with confidence and royal elegance. "I really wanted to have a tango," she told about her programs this season, "this character suits me; and I've already skated the tango when I was younger. It was my choreographer, Misha Ge, who proposed to me this musical piece and this arrangement. In my free skate I have a love drama. In general I love to discover something new in myself."
Seemingly overnight a growth spurt turned Elena Radionova from a fragile Bambi to a beautiful young lady.
See blooming, - a world's admiration, -
The beauty! tall, rosy, well-shaped;
Proficient in each occupation;
A beauty, however she's draped.
Unfortunately it was also a main reason behind her continuous struggle with jumps. But showing strong character and fighting for every point she did enough to claim silver.
"Before the tests skates in Sochi I was taken seriously ill, which disrupted my preparation, before that I was in great shape. But whatever happens is for the best. My coach and I decided we will take time to prepare towards the Grand Prix.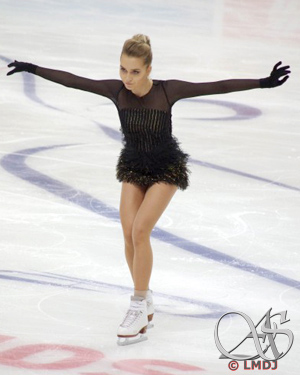 This year I have an exciting short program to "Porgy and Bess" in which I kind of show a split personality. The dress for it is unusual as well, designed by Alena Akhmadullina, it is intentionally dissociated from the stereotyped skating dresses with rhinestones.
My long program is about princess Turandot, and obviously I portray her, the princess. I guess everyone knows her story well: first she was wicked, then she fell in love and her heart melted.
This year I worked with new choreographers (Shae-Lynn Bourne and Nadezhda Kanaeva). I think changing styles is a right thing to do. This is more interesting for the audience, and this way I can evolve."
Yulia Lipnitskaya opened with a strong short program which included a solid triple toe - triple toe combination. The style of this program choreographed to "Autumn Leaves" by St├ęphane Lambiel, emphasized the maturity and softness of her skating.
"In general, I'm content with my skating today. Everything was clean and performed effortlessly, although I had a few small mistakes. The levels for some elements were lower than they should be, but overall the score was higher. After this competition we will go back to Sochi, and will try to add more difficulty into the program, working on the triple Lutz-triple toe and maybe more triple-triple combinations.
After I switched coaches my skating has changed,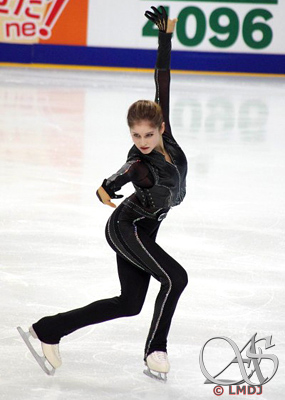 so did my character on the ice. We're trying to grow and improve in every aspect. This new short program actually feels very comfortable. You can say that I skate my true self in it."
The drama unfolded during Yulia's free skate the next day when in the middle of performance her leg went numb. She had to pause, after a short consideration she resumed her program, but with a few poorly performed elements and a five-point deduction she finished last overall.
At the end of November her coach, Alexei Urmanov, updated the Russian press that Yulia's health state was stabilized and they continue their preparations towards the Russian Nationals. Yulia is not planning to give up and will do her best to earn the berth in Russian team for Europeans and Worlds.
The horseman she'll vanquish in racing;
In danger, not flinching, she'll save:
A galloping steed boldly facing;
To enter a burning hut, brave...
Double debut or "The first pancake is always lumpy"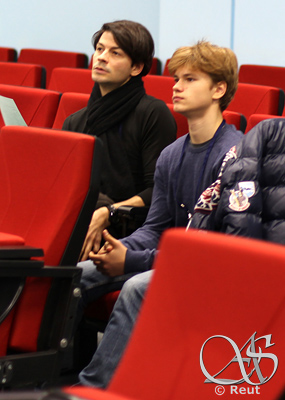 The Rostelecom Cup was a double debut - for Deniss Vasiļjevs of Latvia at his first senior Grand Prix event, and for the two-time world champion St├ęphane Lambiel at his new capacity as Deniss' coach. Stéphane himself competed at the Megasport Arena not so long ago, back in 2007. No wonder figure skating fans were eager to greet both Deniss and his coach in Moscow and experienced nostalgic flashbacks seeing Stéphane at the boards and in the K&C.
Deniss' performance of the short program wasn't quite convincing and contained numerous mistakes - underrotated jumps, a fall on the triple Axel and also the level of one of his spins was lower than expected. All this dismayed his coach, the score more than the performance itself.
"Seeing that score was a big shock for me," Stéphane admitted to press in the mixed zone, "because I can fix what we do on the ice, but what the judges judge - that I can't fix. And I don't know how to fix that. We don't understand what's wrong with the [level] of the camel change [spin]. We did exactly the same camel change as last season, and the features for this spin have not changed since and last season he always got level four. And then the Lutz yesterday, we were reviewing, reviewing, and reviewing... there is no way there was an underrotation. On the Axel it's discussable, on the Lutz, in my opinion, it was completely clean and on the flip I totally agree. But then what would you do? When I was competing I never paid attention, I was accepting, but then as a coach you have a different point of view. As a coach I want to teach him what to work on...
I mean, I don't look for excuses. For me everything was fine yesterday until I saw the scores, and then I told to myself: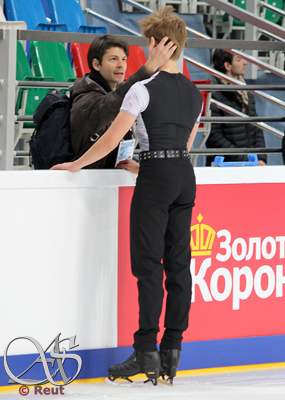 'OK, there is not only work on the ice, which I knew; there is also something that I don't have the control of. And this part of skating is sometimes difficult, because the point of view changes from [judging] panel to panel.'"
Stéphane also explained the unusual music choices and stories behind Deniss' programs, both of which were choreographed by him.
"We worked on the short program in July. Immediately when Deniss started skating to the 'Voodoo Child' he looked very powerful, using a lot of speed, going like crazy on the ice. He also said he was very comfortable with it, so we did a program according to his feelings. We had a very good time working on this program. It has very difficult transitions. This time in the competition he was very nervous, very tense and he was holding himself back a bit. I think for this kind of program you need, first, to land the jumps and you really have to rock the house."
The music choice for the free, "The Four Seasons", was unusual by being too obvious and mundane of a choice. Why would Stéphane give to his student the music he used himself once?
"We started choreographing it in May, when Deniss was still working with Mr Urmanov," Stéphane clarified. "And it was Mr Urmanov who suggested it. I didn't want to use the version that I skated to, so I was looking for something else. And I really liked the arrangement of Max Richter - the rhythm is a bit different, it is more contemporary. I thought it would suit a young skater like Deniss very well. My favourite moment of the program is the slow part where we can see Deniss more as a romantic person. We never saw him like that but he has this romantic side in him.

In this program Deniss represents the soul of nature. The change of colours in his costume represents the nature in different seasons. There is this development, different colours in his skating also, for example the romantic moment in the slow part which is so deep. And then in the end he's more like the Deniss that we know and saw last year - more powerful, with very energetic movements and more speed. So that's like nature, it has different faces, and we wanted to show that. I think it's a right choice for him, I'm happy that he skates to 'The Four Seasons', very different than I did."
Overall their first competition together was quite nerve wracking and exhausting for both.
It's understandable that for his first senior Grand Prix Deniss wanted to skate clean, hence probably was too cautious, skating "like a zombie" as his coach aptly remarked. "The first pancake is always lumpy," Deniss summed up his short program using famous Russian proverb.
"Today I was so nervous," Stéphane Lambiel shared his impressions from the second competitive day. "Yesterday we were fine. We said we needed to be powerful but stay peaceful, and we were, both of us. I was nervous, for sure, but I was not feeling the stomach ache. Today I woke up with the headache... And I didn't want to pass my nervousness, so I didn't talk to Deniss and I just let him do his job."
So maybe next time they should sing? Just like Stéphane himself does when he is nervous before going on the ice. He took this proposal with laughter: "Sometimes I want to tell Deniss to do exercises that I usually do. But in such special moment it might sound weird: 'Can you warm up your voice now? Because it will really help!' He will look at me: 'What do you want me to do?'"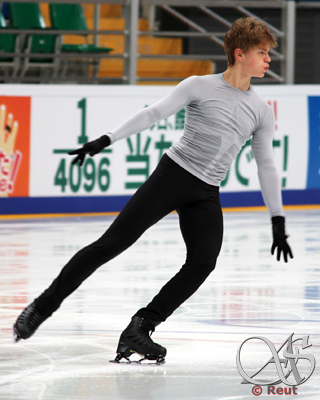 According to Stéphane the collaboration with Deniss was "a bit of destiny". Fast-forwarding from the 2016 Winter Youth Olympics last February where the two met for the first time - you can read more in the feature article about Deniss we published at the beginning of the season - in Moscow they looked like a tight-knit team. They had to overcome a lot these past months with Deniss' injury and his lack of financial support, but judging by the three competitions they did so far the dynamic is definitely positive: three weeks after the Rostelecom Cup, at the NHK Trophy, Deniss significantly improved scores in both of his programs. "I love to skate!" he exclaimed in the K&C. And these were probably the words his coach was most pleased to hear.
"[When you coach someone] so much is in your power, you have the whole life of your student in your hands. That's why I care so much about the person, not only the skater and the skating career, but about the person, whether the person is happy about what he's doing. This is how Peter [Grütter] taught me, giving me the education for life, not only for figure skating. Deniss did not grow up with me, but he's now 17, he's still young and still learning."
"He's such a wonderful kid," Stéphane concluded, "I hope we will build something good for him, for his career and his life."
With that last extensive talk we end our tidbits article about the Rostelecom Cup. This weekend the long awaited Grand Prix Final will take place. Good luck to all competitors!