Daniel Samohin - climbing to the top
October 28, 2016
By Titanilla Bőd (Új Szó)
Photos © Reut Golinsky, Anna Bertoloni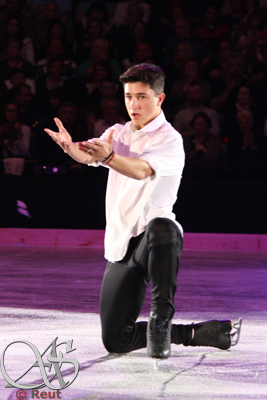 It was one of the most memorable comebacks of the last season. Daniel Samohin was ninth after the short program at the Junior Worlds, but he rocked in the free program, landed three quads and pulled up to first place.
Those who were there in Debrecen will never forget. Sherlock Holmes came out on the ice, skated with power and elegance, landed three textbook quads, and grabbed the hearts of the crowd. The only little glitch in his spectacular long program was a doubled Lutz. When Daniel Samohin finished the program, he stayed in the final pose for some more seconds, as he couldn't believe what he had just fulfilled.
"I was really happy that I managed to overcome my stress after the short program. I told myself: I just have to go out there, do my best and hopefully it will be enough," he said in an ecstatic state of mind just when he left the ice. The last group was still to skate, so he couldn't know yet if he was on the podium, but his massive score (165.38 for the free program and 236.65 overall) predicted that he would win a medal.
However, one thing he was sure of, no matter the result: that was the best program of the season, maybe even of his life: "The second closest was in Salt Lake City [at US International FS Classic], but there my spins weren't as good. I'm happy that I could bring it all together and really show what I'm capable of."
Fall on a triple? Come on...
He didn't deny that the outcome of the short program made him sad. He came to Debrecen as a medal contender, ninth place was far behind the expectations, even though his score was also affected by the fact that at junior competitions there is no quad allowed in the short program. "It's a disadvantage for me, but at the same time it kind of tests my skill level. I always say quads are easier for me, because it's mostly just momentum, instead of really controlling your body for a triple. Sometimes when I jump a triple, I use too much power, that's what happened in my short program with the flip. I overrotated it and stepped out." He admitted that before the short program he was a bit nervous: "If I fall on the quads, it's okay, but if I fall on the triples? Come on... So that's why it was nerve-wracking." At the senior Europeans in Bratislava Samohin landed two quads in his short program, in Debrecen he had a triple flip (with an edge call) and a triple Lutz, triple toe combination besides the triple Axel in his short program, and earned 71,27 points for it.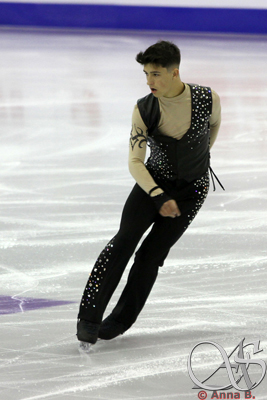 "It wasn't a bad program but I knew that I was capable of more. But I had to remember that I still had the long program with a bunch of elements, so I decided I'm going to come here and rock it!," he laughed but then he added with a serious voice: "It was really hard though. I didn't want to let myself, my dad and my federation down, so it was a lot of pressure, but I was able to overcome it." The day off between the too segments of the competition helped him to calm down.
Unbelievable victory
After the short program he was nine points behind the leader Dmitri Aliev, but he was one of only two skaters who had three quads planned in their free skate. Vincent Zhou was the other one, but in the end he popped his quad toe and both of his quad Salchows were underrotated. "I wasn't really calculating, because I still had to land those quads. It's a bit of a lottery. I wasn't nervous, though, because I was practicing a lot of programs." He landed cleanly the quad toe-triple toe combination, the quad Salchow and the second quad toe and he received positive GOE for all his quads. The popped Lutz upset him a little bit, but he warned himself: "No more popping!"
When he finished his program the crowd jumped to their feet. Samohin received a standing ovation, but he covered his ears at that very moment. "I had to get away for a moment from all the screaming. Not because I didn't like it, but I was like: hold on, calm down, you got to go back to the character!"
It was a very emotional moment for him. Before taking to the ice he told himself he would do it, he would do his best and leave his heart on the ice. "There is a saying in Russian: when a man says something, then he does it. I was very happy that I kept my own word. My dad was really happy, he said: I told you you could do it! But it was a tough road," Samohin recalled.
He was backstage when all the competitors finished their routines. When a Japanese cameraman showed him he won, he couldn't believe it. "I thought they hadn't refreshed the results yet, because I didn't have the chance to watch the last two skaters. So I thought I was maybe second or third. But then everyone came and congratulated me," the 18-year-old skater said.
However, the stress was not over yet. "The lady that was supposed to find the anthem at first said they didn't have the anthem! I'm the first Israeli man to get gold at Junior Worlds, so they are not used to playing it. They are used to playing America's, Russia's etc. anthem." In the end the Israeli anthem was found and Samohin could enjoy his moment.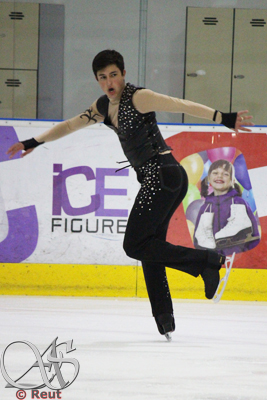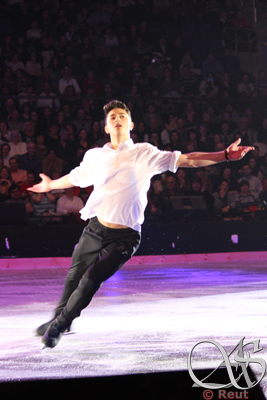 Supporting the biggest rival
The newly crowned champion went with his dad and team leader to a restaurant and celebrated with "lots of soda and nice food". "We talked about how far we've come and how amazing is to represent Israel and be a part of history. I still don't believe it. All day I'm kind of blank. Coming from ninth to first - I didn't expect that", Samohin shared his feelings the day after his big victory.
He showed his class during the long wait while his fellow competitors finished their long programs. "Of course I was anxious, but I wasn't like: Oh, I need to be first! I said, whatever happens, it happens. I skated a really nice program and I'm happy with it. I was cheering on the rest of the skaters and trying to help them. Dima [Aliev] wasn't having his best skate so I was screaming: Come on, Dima!" Some other people were shocked that he supported his main rival, but Samohin thinks differently. "Yes, it is competitive, but I like being fair. Everyone works really hard."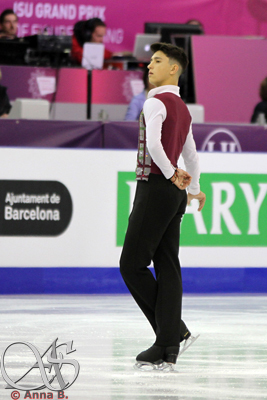 Birthday cake
Samohin's birthday is on March 12th, so it is not unusual for him to celebrate his birthday at the Junior Worlds. At his first Junior Worlds he skated the short program on his birthday. At practice the announcer said: "Next to skate, Daniel Samohin! Happy birthday!" Samohin was a bit confused, everyone started clapping, but he concentrated on his run-through. In Debrecen he was presented with a cake. He couldn't taste it before the competition, because he is not supposed to eat sweets, but he put it in the fridge. As a new junior world champion he could afford some bites of the birthday cake.
Samohin was the first competitor to arrive in Debrecen. "The waiting was not too long. It was easier to get used to the time change. The second day was hard, I was sleepy all day, but then it helped me a lot." He had some time to look around in the city center, too.
The location of the event was special for Samohin, because Israel had a judge of Hungarian origin, Katalin Alpern. She passed away in 2015, but she talked a lot with the skaters about Debrecen. "I talked to her in Stockholm. She told me the next year Junior Worlds would be in Debrecen, in her home country. She didn't say she wanted me to win, but she said she would really love it if I could earn a good placement. Then I found out she had cancer and she passed away... So I wanted to do my best also for her," Samohin said. He underlined that Alpern had always been very supportive towards all the Israeli skaters and helped a lot with technical issues.
Ambitious plans
Samohin has ambitious plans for the future. Quads inspire him and he wants to keep adding more quads into his routines. "Eventually the plan is five quads, but I will add just one in a season. Next season maybe I'll jump three different quads in the free," he revealed.
He is creative also off the ice - he's started to run his own clothing brand. "With a friend of mine we always wanted to do something different, so we started the company White Wolf, Black Wolf. Wolf is my favourite animal because it never betrays its pack. Once he does, they kick him out. With my family and friends we are really close, and we don't betray each other. That's how it came up," he explained the story behind his brand.
But his priority is still skating - and if he manages to perform programs like his free skate in Debrecen then he will soon stand on the podium at senior events, too.