Europeans 2017, Ostrava, day one:
Russian leaders, some surprises and a great comeback
January 26, 2017
By Titanilla Bőd (Új Szó)
Photos © Mireille Geurts & Joy
Reigning European and World champion Evgenia Medvedeva is in the lead in ladies competition at the Europeans in Ostrava, while pairs short program was dominated by Evgenia Tarasova and Vladimir Morozov.
Goddess of thunder
It was a long-awaited comeback. Carolina Kostner missed two seasons due to a suspension for assisting her then-boyfriend to avoid doping control before the Olympics in London.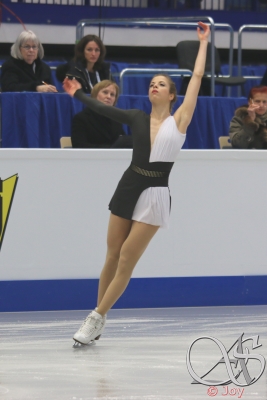 When she announced her comeback, even her fans were not convinced this would be the right decision. For someone who left their mark on an era in ladies' skating in a way Carolina did, it would have been devastating to see she can't match the top skaters any more. Nobody could know that Carolina, even at the age of 29, is willing to learn, re-learn jump technique, fall many times, and rise to the top again. Just as she did in the years of her biggest successes.
There was not even a slightest sign of a smile on her face, just pure concentration. There was not even a single sound of music until her first element, just the sound of the wind. Then a triple-triple combination, followed by a confident posture and a tough look: "I'm back and I am stronger than ever."
That short program was flawless and she finally smiled after the last beat. Those who witnessed it in the Ostravar Arena had goosebumps. Carolina Kostner is back and she is definitely not giving up.
In her powerful short program to "God of Thunder" and "Bonzo's Montreux" she landed a triple toe-triple toe combination, a triple loop and a double Axel, and performed an unforgettable step sequence. She earned 72.40 points, and as it turned out later in the afternoon, it was enough for the third place.
"You evolve as a person and your skating evolves as well. The combination of all these great personalities that gather together at the championship is amazing. That is what I love so much about our sport - it's not only about athleticism, it's about expressing ourselves and finding who you are and sharing it with the people. I am very lucky to be able to do that," Carolina expressed her thoughts at the press conference.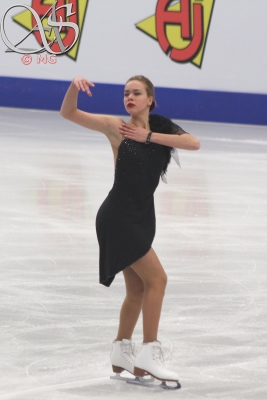 Dancing alone, and still with someone
Expressing herself and telling a story - that's what Anna Pogorilaya did in the short program, too. Her tango to the soundtrack of "Scent of a Woman" was one of the highlights of the competition. She showed that you can dance with someone even when you are alone on the ice. She showed passion and emotion, combined with technical brilliance. This meant a new personal best of 74.39 points for her routine, containing a triple Lutz-triple toe loop combination, a triple loop and a double Axel. "I dance it alone - maybe for the better, maybe for the worse, I don't know; but I am imagining that I have a partner and there are even moves for that. With my choreographer Misha Ge we always try to improve the performance and add something," Anna said about her phenomenal short program.
Besides the high scores she got another reward: a teddy bear almost her size, which two flower girls had to carry off the ice. "It has always been my dream to receive such a stuffed animal and now it came true," Anna revealed at the press conference. "But I really don't know how I will take it home, maybe I will have to buy another plane ticket for the bear," she laughed.
Reigning champion expected higher scores
Evgenia Medvedeva is just unbeatable. She showed it again in Ostrava in the short program. Her trademark element layout (starting with spins and footwork, and including all the jumps in the second half of the program) is maximizing her already high scores. In her routine to "River Flows In You" and "Winter" she landed a triple flip-triple toe loop combination, a triple loop and a double Axel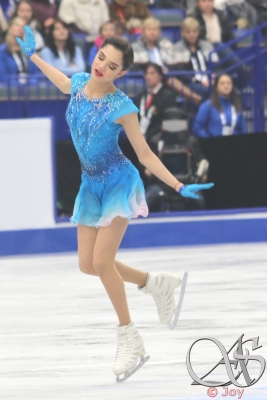 and deservedly got the first place with 78.92 points. "My performance was good, though I expected even higher scores. But I am satisfied and I do hope to show my best in the free program. As the season goes on, we are working on all elements, on the components, the jumps, the spins. But there is always something to improve. The jumps could be higher; I could do them with both hands over my head. There are a lot of things I can't do yet well enough and there is always room to grow," the reigning European and World champion commented on her performance.
Attacking the top six
But not only the top three were worth watching in the Ostravar Arena: Hungary's Ivett Tóth had an upbeat performance to a Michael Jackson medley with a triple-triple combination, and she is currently in the sixth place. "I was a bit more nervous than usual; still, this is a big competition and at first it was hard to absorb everything here. But luckily I managed to skate clean, even though just before the Lutz I thought I might pop it. But I fought for it and landed," Ivett explained.
Less than a point behind her is Nicole Rajičová from Slovakia, who skated to "Love Story" soundtrack, and even though she opted for "only" a triple-double combination, she pulled off a great program. "If she survived Bratislava, she will survive everything," her father and coach Tom Rajic noted, referring to last year's Europeans, where Nicole couldn't deal with the pressure and had a meltdown in the free skate. "I've become stronger since last year. Physically and also mentally," Nicole added.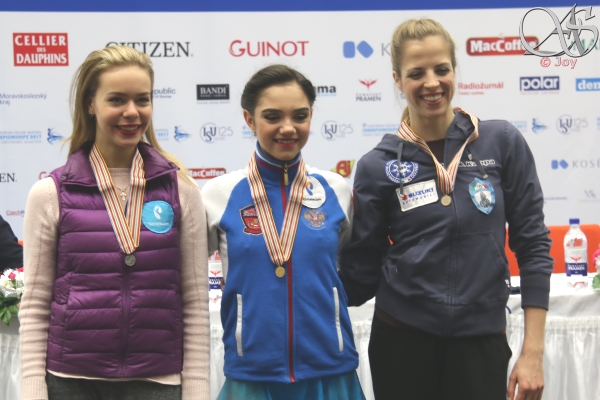 Pairs perfection
After some years when they had to compete at the end of the week (and even in the morning!) pairs skaters got back their usual spot in the schedule: short program on Wednesday night, free skating on Thursday night. The main critic of the previous schedule, Maxim Trankov is not present in Ostrava, though: he and his partner on and off the ice, Tatiana Volosozhar, are expecting a baby.
But that doesn't mean that Russia is not strong in pairs field: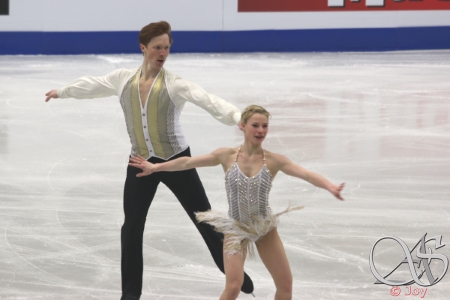 winners of Grand Prix Final and last year's European bronze medalists, Evgenia Tarasova and Vladimir Morozov delivered a perfect short program to "Glam", and they received a positive GOE for every element from every single judge. They earned a new personal best, 80.82 points. "From competition to competition this program is working better, the emotions are stronger and the marks are higher. We are moving forward," Morozov noted.
Moving forward, that's what another duo does. Vanessa James and Morgan Cipres from France had the skate of their lives in Ostrava. Their powerful, yet intriguing routine to "Fifty Shades of Grey" was worth of 74.18 points, which means the second place for them. "I don't think anyone is happier than us right now. I didn't expect any placement, but I expected us to do as well as we did in practice. I told Morgan that after this skate, we would be happy no matter what scores will come up. Last year, we were not prepared to be in a medal position, but we are much stronger and much more mature now," Vanessa said.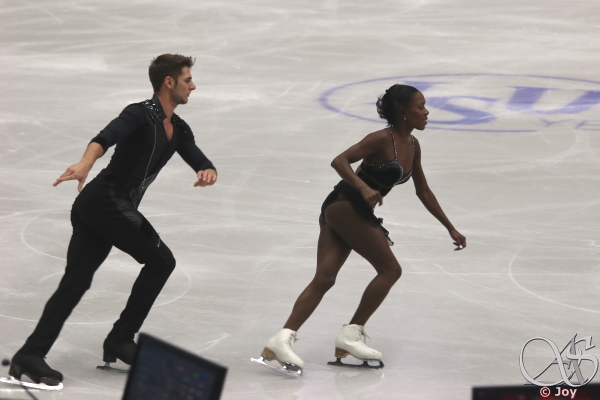 Unexpected falls
It is great to see Aljona Savchenko to have fun on the ice. With her new partner Bruno Massot she is obviously enjoying skating, and it seems that she can deal with the mistakes easier. After her knee injury they started their playful Caro Emerald routine in a strong shape, but all of a sudden Aljona fell during the step sequence... This mistake cost them the second place; with 73.76 points they are currently third. "It never happened to me before. I think I relaxed too early, because it was going well. Falling is easy, but getting up is harder. The important thing is to get up again,"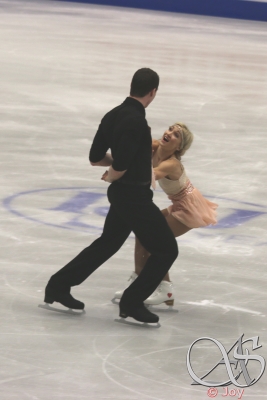 the four-time European champion commented on her fall. Her partner added: "It was tough for Aljona, but she fought through it to the end. She is so motivated that sometimes you have to slow her down. I know she is thinking about the quad throw Salchow and the throw triple Axel, but she knows it is important to be careful now so we'll be ready for Worlds. We'll be at Worlds with throw quad Salchow and throw triple Axel."
Reigning junior World champions, Czech Anna Dušková and Martin Bidař experienced a tricky fall, too. They landed a clean side-by-side triple toe loop, but he slipped and fell. "I think I was too nervous at the beginning and that was the reason why I fell down. I do not know what happened, just a lack of concentration. But we are also prepared for this situation. When we fall during the training, we just stand up and continue so that we get good components. In the end, I felt relieved that we managed our program. The result was even better than what we expected," Martin commented on their performance.
The Czechs love their skaters
The result - that is 65.90 points and seventh place - made the audience crazy. Even though they are very young and last season still competed in juniors, the arena was almost full during their skate. And when they finished, many spectators left, even though the last group was still to skate...
The Czechs love their skaters, even if they represent another country. Ondřej Hotárek, skating for Italy with Valentina Marchei, also received a warm welcome, and some birthday presents - he just turned 33 on the day of the short program. From his partner he got a Star Wars T-shirt, but during the draw there was also a big cake, and all the other skaters were singing "Happy birthday" to him. "There were so many people coming to me today wishing me happy birthday, I would like to thank to all of them. It was very kind of them but on the other hand it would be sad if we did not make it today. Finally, everything was OK so we fulfilled our target. I will remember this day thanks to this for a long time. Despite the fact that I do not wear Czech colors I feel so much support from Ostrava and the Czech fans. My family is here and I guess I have at least 15 relatives in the crowd," he said. The Italian duo is currently in the sixth place.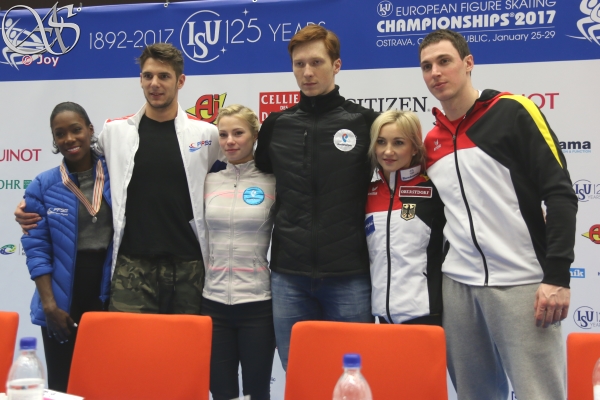 Don't miss our social media updates (containing text updates and fun pics) on Twitter and Facebook.