Europeans 2017, Ostrava, day two:
Tarasova and Morozov crowned champions
January 27, 2017
By Titanilla Bőd (Új Szó)
Photos © Mireille Geurts & Joy
Evgenia Tarasova and Vladimir Morozov won the pairs' competition at the figure skating European Championship in Ostrava.
In ice dancing, Ekaterina Bobrova and Dmitri Soloviev are in the lead after the results were revised.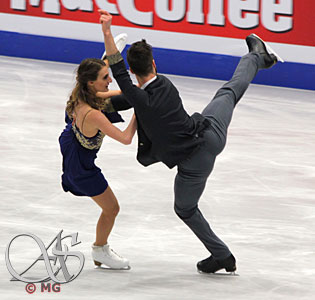 Reigning champions are human too
The competition is very tight in ice dancing. The top three couples performed very passionate, yet very different dances.
Reigning European and World champions Gabriella Papadakis and Guillaume Cizeron skated to blues "Bittersweet" and swing "Diga Diga Doo", and it was a dance full of temperament and action. However, their side by side step sequence got only a level two and that cost them a lot in their overall score. They earned 75,48 points, and they are currently only in third place. "I made some mistakes in the last element and I'm a bit frustrated about that. Overall the performance was still really good and we improved a lot since our last competition, but there is room to improve for the World Championships, the technical part," Gabriella commented on their performance and her partner, Guillaume added: "We had slight errors in some parts of the program but we are happy with our performance overall."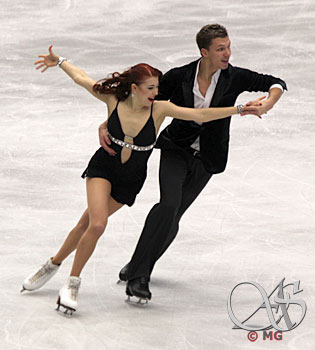 Sensual blues
Ekaterina Bobrova and Dmitri Soloviev had a very sensual routine. As Ekaterina said with a laugh, now, as she is married, she has detailed information about the relationship of a man and a woman.
Their short dance to Christina Aguilera's "Mercy on Me" and the famous "Sing, Sing, Sing" was very well received by the public, they kept clapping along during the parts with almost no music. "We are very pleased with our performance and our score. Everything worked well," Dmitri told the press. Ekaterina explained the background of their music choices: "We searched for the short dance music for a long time. It is always difficult, because Dima should like it, our coach and I should like it, too. I found the blues. I really like Christina Aguilera, she has a strong voice and a lot of emotions and we want to show a real Blues, the connection between man and woman, erotic and sexy.
The second piece was also hard to find, because the blues is so strong. We thought of hip hop, but we feel it is hard to bring this dance on to the ice as we still have to do the elements. Our coach, Sasha Zhulin found the swing. It is a well-known piece, but in a new arrangement, without lyrics. At first I was against it, but then I enjoyed it."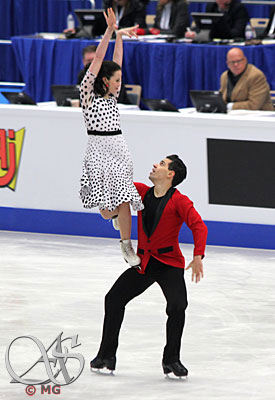 The Russian duo's short dance was worth 76,18 points.
Playful Italians with a deduction
In the lead there were the 2014 European and World champions, Anna Capellini and Luca Lanotte from Italy. Their playful, energetic short dance to "Cry For Me" and "Choo Choo Boogie" flew them to the top, at least for a while. "We are happy with our performance. In the Grand Prix season, we were not able to skate the program as well as we could have. Finally, we gave it a 100% and we got a good score," Anna Capellini said at the press conference. "We've been craving to give this program a good go and waited for such a performance like this all season," Luca Lanotte added.
Right after the short dance it seemed that they were in the lead, but the results were later revised. "After review by the Referee and Technical Panel, it was confirmed that an additional element was performed by the couple Anna Cappellini / Luca Lanotte. The performance of an additional element (Rotational Lift) in the short dance results in a -1.00 deduction for extra element. As a consequence the new short dance score for Cappellini / Lanotte is 75.65," the official communication announced.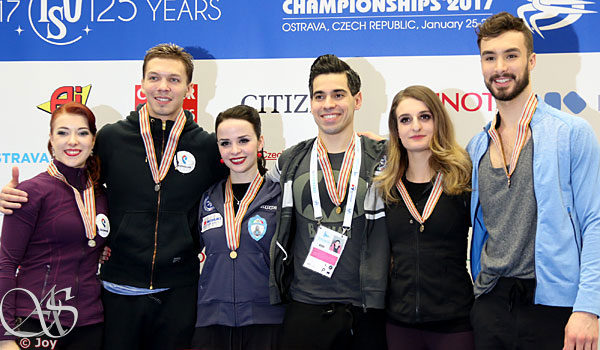 Let the hall fall
The pairs' competition brought exquisite skating and memorable stories. One of them is a fairy tale of the young home talents. Two weeks ago they had a hard fall on a lift while practicing their free skate. Luckily, she didn't suffer concussion, but there was still a scary memory in their minds. However, when it really counted, in the pairs free skating at the Europeans, the crowd of the Ostravar Arena helped them to get through it. Reigning junior World champions, Anna Dušková and Martin Bidař earned such applause that the hall almost fell down. The young Czech duo delivered a flawless free skate, which meant seventh place for them.
"I would like to thank all the fans for clapping along before the second lift, because without them I probably would not have lifted her..." Martin said in the post-competition public interview in the Kiss & Cry.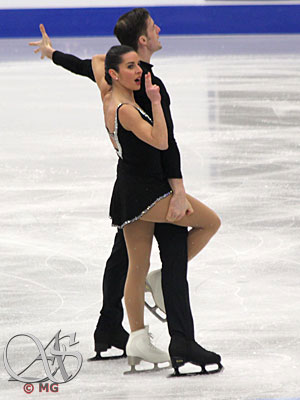 "I hurt my head and had such a big bump on my forehead that I looked like Frankenstein. We called the doctor but I did not have any complications. I need to trust my partner so we continued in the training normally. I do not think about the fall anymore," Anna recalled the incident.
Fighting through the program
Another Czech skater, Ondřej Hotárek competing for Italy with Valentina Marchei, portrayed James Bond in their free skate to the tunes of Adele's "Skyfall". While other James Bonds on the ice are usually dressed in a suit, Ondřej chose a black turtleneck. It was not the elegant James Bond, but the fighter, the one who might suffer sometimes, but overcomes all the obstacles. And, just as it sometimes happen in the movies, the Bond-girl couldn't save the 007 agent, as Valentina made some mistakes in the jumps which cost them some points. "I fought through the whole program. There was so much thinking going on in my mind. It makes me mad that I did the pairs' elements that I have learned only a few years ago but as for the singles' stuff I couldn't get it right," Valentina commented on their performance. But they managed to stay in 6th place, which was still kind of a happy end for them.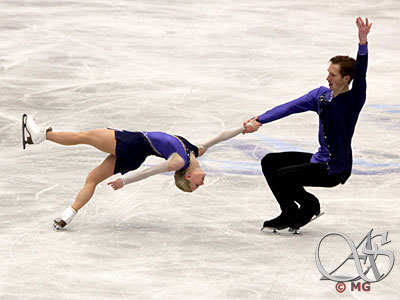 Music, light and silence
"Music was my first love..." - that's how the lyrics start in the free skate of the newly crowned European champions, Evgenia Tarasova and Vladimir Morozov. Their first love was skating and they fulfilled a dream in Ostrava. After two years when they were listening to the Russian anthem that was played for their compatriots, they finally earned their very own gold. Even though they had some minor technical issues in their free skate, and they did not try the quad twist, second place in free skate was enough for them to win the competition. "We were emotional while skating, but feel empty now, like squeezed lemons, this is a pleasant exhaustion though. We are very satisfied as we demonstrated good skating in both programs, even despite a tiny mistake at the end of the free program."
On Thursday night in the Ostravar Arena, skaters and spectators alike had tears in their eyes. Aljona Savchenko and Bruno Massot's lyrical program to "Lighthouse" touched the heart of the crowd.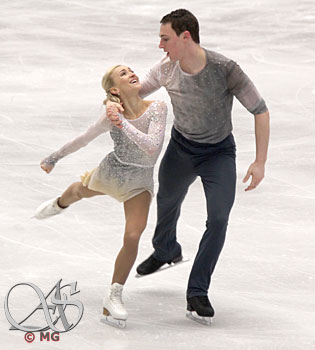 "It's like the light at the end of the tunnel. When you're injured, you see a light, when you fall you stand up. This music gives us so much energy and makes us emotional," Aljona explained.
She had a bad ankle injury, she is still not able to practice the hardest elements, but she and her partner gave their all in the free skate. They won the free skate, and earned the silver medal which was worth gold, as Aljona emphasized. How hard it was to fight for this medal. Bruno showed this when he could hardly hold in his tears at the press conference while listening to Aljona.
Vanessa James and Morgan Cipres were also overwhelmed by emotion. In Ostrava they finally managed to deliver two clean programs and the reward appeared: they grabbed the bronze. Their smooth, yet powerful skating to "Sound of Silence" arranged by Maxim Rodriguez will stay in the memories of everyone who witnessed it live. Total silence fell on the Ostravar Arena as they started their spectacular free skate that contained a quad throw Salchow. "This music really builds. So it helps push us and I think the audience helped also. It was an amazing experience. You never get tired of this song, so we can play it as much as possible and still be as motivated to skate to it," Vanessa said about their music choice.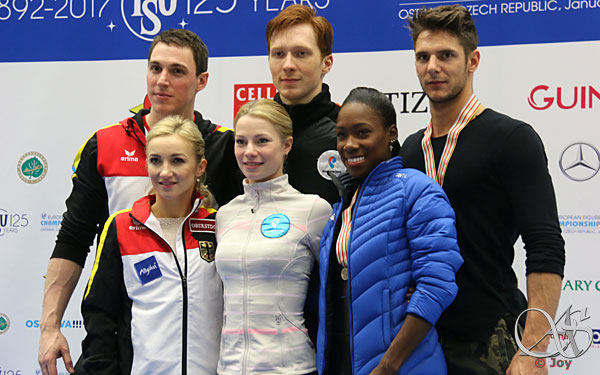 A memorable competition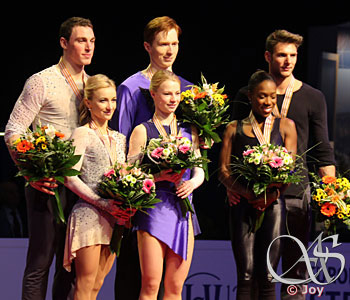 At the victory ceremony there were three satisfied and truly happy pairs on the podium. None of the medalists was disappointed by their placement, and the spectators were enthusiastic about the level of the competition and the unforgettable free programs. Different styles and different stories were presented on the ice, but most of the pairs did their best. Maybe Maxim Trankov was really right last year, when he said it is stupid to have the pairs' competition in the morning. Now the schedule was switched back to the old routine and we can be only grateful for that - it was an amazing night that will stay with us for a long time.
Don't miss our social media updates (containing text updates and fun pics) on Twitter and Facebook.