Europeans 2017, Ostrava, day three:
Medvedeva's world record
January 28, 2017
By Titanilla Bőd (Új Szó)
Photos © Mireille Geurts & Joy
Evgenia Medvedeva set a new world record in the ladies' free skating at the European championships in Ostrava.
Javier Fernandez is leading in the men's competition after the short program.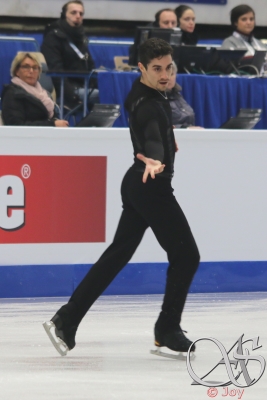 Fernandez owns the Europeans
The European championship is probably Javier Fernandez's favourite competition of all. Already four-time champion, the Spaniard leads by almost 10 points after the short program. In his routine to the rhythm of "Malaguena", he landed a quad toe loop-triple toe loop combination, a quad Salchow and a triple Axel. All his spins and the step sequence received level 4 scores. "My short program was very good as it was my first clean short program this season. All the practice has paid off," he commented on his performance which was worthy of 104,25 points.
Since Ondrej Nepela's triumphs in the years 1969 - 1973 nobody has won five Europeans in a row; Javier can now reach this milestone. "As an athlete I consider every competition special. All titles are important. The motivation is to skate my own best program. It is true that it would be the fifth title but I have not won it yet. I still have to concentrate on myself and it is my goal to do it. Five titles in a row - it has not happened for a long time, so it is a nice goal," he said.
Kovtun sharper than ever
Maxim Kovtun waited for such a short program for a long time. In his upbeat routine to "Bahamout", he landed a quad Salchow-triple toe loop combination, a quad toe loop and a triple Axel and picked up 94,53 points.
"Finally, everything just worked out today as I planned. All the recent changes paid off very well. I think it was worth putting the main focus on the mental preparation rather on the physical operation. I am really pleased that I got the highest level on all the elements. I do not think I have ever received that before," Maxim commented on his performance. He added that he was so happy that he nearly carried his coach in his arms to the kiss and cry.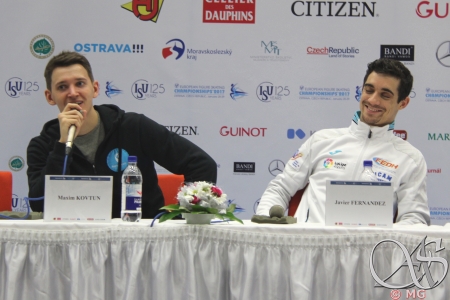 If you have Maxim Kovtun at the post-competition press conference, that means there is a good chance for some laughter. It was the same in Ostrava, when asked about the first memories of his fellow competitors, Kovtun told a story about his friendship with Javi. "I had just moved from my small town to Moscow to skate with Nikolai Morozov and I did not know Javi at the time. They put us into one room and I did not speak even a word English. I wanted to ask something but he did not understand. But with time, I learned a bit. But still, Javi's Russian was maybe even better than my English; he knew bad words!" Kovtun burst into laughter.
Bychenko rocks the house
After winning last year's silver medal, the pressure is on Alexei Bychenko, but he tries not to think about the fact that he is defending a medal in Ostrava. He performed a solid, sharp short program to "Chambermaid Swing", which included a triple Axel, a quad toe loop and a triple flip-triple toe loop combination.
"I felt great on the ice today. I did exactly what I had expected. My goal is always to show the best I can and we'll see the result in the end. For the free skate I have planned two quads, and there again, my goal is to skate clean," he said. He is currently third with 86,68 points.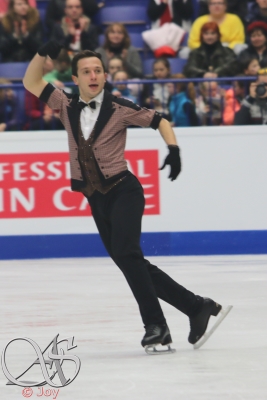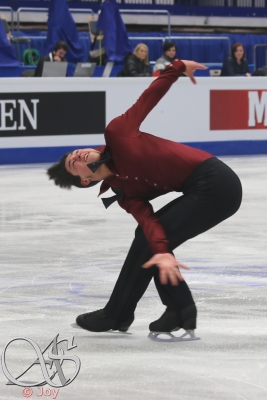 Troubles of Samohin
Daniel Samohin won't have nice memories about Ostrava. His luggage got lost on the way to the competition and the airlines couldn't find it until the short program. Tomáš Verner and Michal Březina tried to help him to solve the situation somehow. On the day before competition he practiced in brand new skates, but he fell many times, so in the end his brother brought him his own skates for the short program. Even though they were the same size, wearing someone else's skates does not help you to deliver a flawless performance.
The reigning junior world champion had a rough short program: he tripled his planned quad toe loop, doubled his planned quad Salchow and popped the Axel... He had the lowest TES of all the competitors, 14,93 points and his total segment score, 50,33, meant 33rd place for him...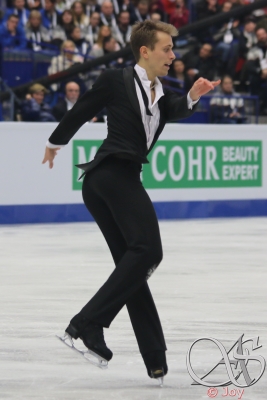 What doesn't kill you...
"I did what I could. Yesterday, I skated in brand new skates, but that didn't work at all. So actually, I skated in my brother's skates today, he flew in from Switzerland to bring them to me. I did ok triple Axels at practice this morning and I also did some good quads even though I fell on them. Anyway, I feel that, if I'd had one more day, it could have worked. This whole situation was really hard for me but I couldn't do anything about it, my bags were still not found. I was more upset about the situation itself than about the skate. I still had fun on the ice," explained Daniel about the situation.
Alexei Bychenko is convinced that this will make his teammate even more determined: "I am impressed with what he did. In his place, I probably would have gone home. I'm sure it won't destroy him. I hope he'll get many other wins in the future."
Michal Březina also thought Samohin could have been a medal contender: "My father brought my old skates from Brno as Daniel did not want the new ones from Edea. To skate in the new skates feels like skating in ski boots. I really admire him that he managed to even start today. It was very hard for him. But if this did not happen to him, he could have won a medal for sure," the Czech skater said.
Missing the triple Axel
Michael himself aims for a medal in Ostrava, but it won't be an easy task to manage. He started his routine with a clean triple flip-triple toe loop combination, he landed a textbook triple Lutz, but he fell on the triple Axel. "The jump I was most proud of let me down today. I was so glad about the first two jumps so I told myself I had to push before the Axel to make it a bit higher. And then I messed it up. I think if I'd had a clean skate, I would have had at least 83-84 points with my program. It is not only about jumping quads. We did not want to put it in the short program as the coaches did not want to risk something that I was not 100% ready for. But this was the first time I did not do the Axel in the short program. At least, now I can attack from behind in the free skate. It is possible to get a medal even from tenth place," Březina said with optimism. He is currently eight with 78,61 points.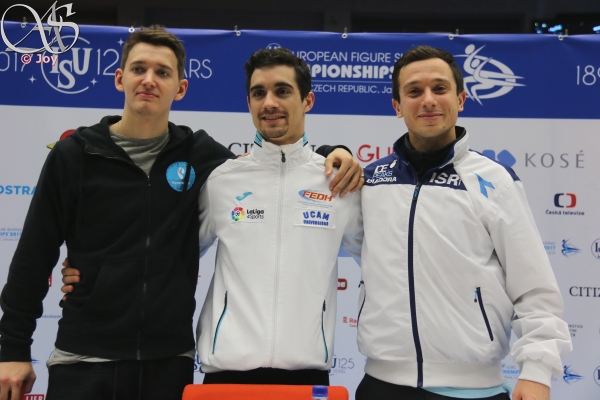 To do more than a clean program
Triple flip-triple toe loop combination, triple Lutz, level four flying spin, level four step sequence, triple loop, triple flip, double Axel-double toe loop-double toe loop combination,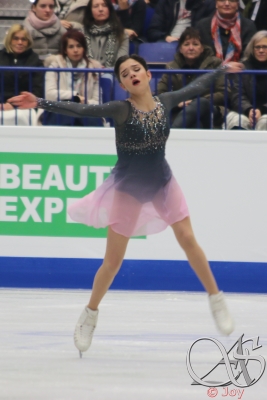 triple Salchow-triple toe loop combination, double Axel-triple toe loop combination, choreographic step sequence, level four combination spin, level four layback spin - this is the element layout of already two-time European champion Evgenia Medvedeva. The Russian prodigy had one extra combination in her free skate and also set a new world record. She earned 150,79 points in the free skate and 229,71 overall. When Tomáš Verner asked her, in the kiss & cry interview, why she did that extra element, the answer was simple: "I wanted to do more than a clean program."
"I did not beat the record in my short program, so I definitely wanted to do it in the free program. I was in a good mood today, everything felt fantastic - ice, audience, skating. I just realized how much I like this competition, and wanted to enjoy it to the fullest," she commented on her performance in the mixed zone.
A long awaited silver
Anna Pogorilaya awaited her scores with a serious expression. When her free skate score, 137,00 points appeared on the screen, she got even more serious - in this segment it meant only third place. But when her overall ranking appeared, she pumped her fist and started to smile; after two bronze medals she finally grabbed the silver.
"I am very happy indeed. I felt really good. The first Lutz wasn't perfect but I kind of corrected it by moving the planned triple-triple combination to the second half of the program," she said.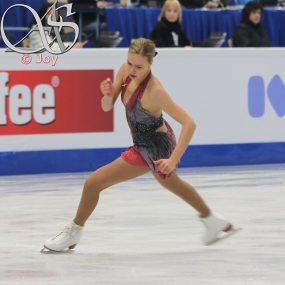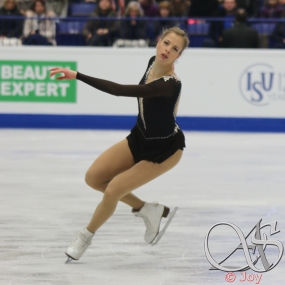 Joyous and honoured
Carolina Kostner once again showed her artistry and enchanted the audience. She put her heart out on the ice and the reward was a bronze medal.
"This concert was written for an orphanage. Even reading about it was very inspiring, and I loved the music piece. It was my first time, that I could use lyrics in my music, so the decision wasn't hard to make," Carolina commented on her music choice, "Nisi Dominus (Cum Dederit)" by Antonio Vivaldi.
As for her comeback, she added: "I feel absolutely joyous and I feel honoured that I can continue this beautiful journey." Fans, who've been missing her in the last two years, feel just the same.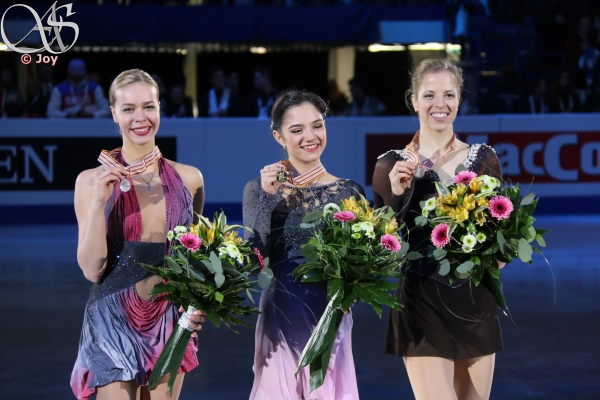 Don't miss our social media updates (containing text updates and fun pics) on Twitter and Facebook.