Preview: An Evening with Scott Hamilton and Friends
November 16, 2017
By Tina Tyan
Photos © Tina Tyan, Debi Oreste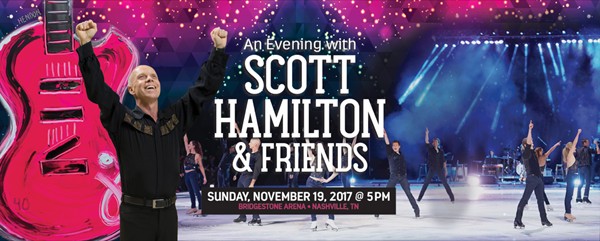 On Sunday November 19, a cavalcade of stars from the figure skating and music worlds will converge on the Bridgestone Arena in Nashville, TN to benefit a great cause. The second annual "An Evening with Scott Hamilton and Friends" in Nashville promises to be a dynamic night of live skating to live music, all in service of the Scott Hamilton CARES Foundation.
Olympic Gold Medalist Scott Hamilton launched the Scott Hamilton CARES Foundation as a national charity in 2014 to "Turn Cancer Upside Down." The foundation aims to fund "advanced, innovative research that treats the cancer while sparing the patient", seeking out less toxic treatments and raising the bar on survivorship. As a survivor of testicular cancer and three separate brain tumor diagnoses, whose mother died of breast cancer, Hamilton is no stranger to the devastating effects of cancer on patients and their families. Neither are the performers who are joining him for this evening, from headlining musical act and cancer survivor Sheryl Crow to co-host and cancer survivor Peggy Fleming to the skaters.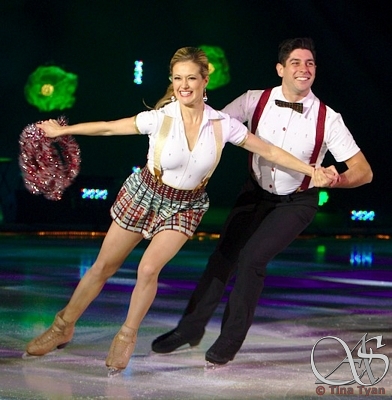 "An Evening with Scott Hamilton and Friends" features a great cast of Olympic, World, and National medalists such as Katia Gordeeva, Meryl Davis, Kurt Browning, Jeffrey Buttle, Kimmie Meissner, Jeremy Abbott, Michael Weiss, Alissa Czisny, Ryan Bradley, Steven Cousins, Sinead Kerr-Marshall & John Kerr, Kiira Korpi, and Kimberly Navarro & Brent Bommentre. They will be skating to music performed live by Darius Rucker, Steve Cropper, Charles Esten ("Nashville"), Bart Millard (lead singer of MercyMe), Cassadee Pope and Chris Young.
In advance of the show, we had the opportunity to ask some of the skaters to share their thoughts on the show, the cause, and their host. US National bronze medalist ice dancers Kim Navarro and Brent Bommentre perform with the Ice Theatre of New York. 4-time World Champion Kurt Browning has known Scott Hamilton for decades, and was a long time castmate on the Stars on Ice tour. 2006 World Champion Kimmie Meissner is a spokesperson for the Cool Kids Campaign, helping kids with cancer.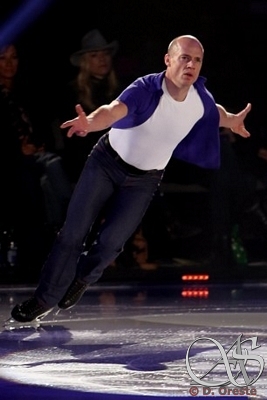 The show benefits the Scott Hamilton CARES Foundation, promoting cancer research, education, and survivorship. What makes this issue important to you?
Kurt Browning: Family! Friends as well but my family has been struck by cancer too much already not to want this disease gone for future generations and their families.
Kim Navarro: As we know, cancer affects everyone. I have always known this, but sadly, this hit too close to home last year when I lost my father to leukemia. I am incredibly grateful that Scott uses his platform to help those who are affected, which, like I said, is everyone.
Brent Bommentre: I think that cancer is something that ends up touching everyone's lives in some capacity. Anything that helps to fund research or promote education is a worthwhile cause to support.
Kimmie Meissner: This issue means so much to all of us. I think it would be extremely hard to find someone not affected by cancer. Growing up I first learned of the disease when my elementary school friend was diagnosed with a brain tumor, ultimately losing his battle. Later when I was 16, I lost another friend to cancer, this time leukemia. When I was 21 I lost my aunt to colon cancer and a young friend who was an integral part of my children's cancer foundation to her fourth brain tumor. I want this disease to meet its own demise and no longer be such a feared word. By promoting awareness and offering so many tools for patients/family members to utilize when facing the battle of their lives makes such a massive difference. After seeing my friends and family face this disease, it means the world when there is information at your fingertips and survivors willing to share stories and listen.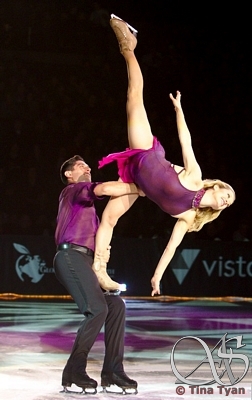 How do you like what you are skating to for the show?
Kurt Browning: Music choice depends on what musical guests are appearing and then music is chosen for each skater. I was sent a fun song called Aw Naw by Chris Young. I decided to skate in my hockey skates as it is a hockey town as well now, and it seemed to fit the tone of the tune.
Kim Navarro: I love the song we were given for this show, Darius Rucker's It Won't Be Like This For Long. I have a 6 month old daughter and already can tell that these precious times go by far too fast!
Brent Bommentre: I think that the song is incredibly sweet, and I'm really excited to skate to a song by Darius Rucker.
Kimmie Meissner: I love what I'm skating to! It has this incredibly cool sound that is subtly sexy and just back to the roots of what makes music great in my opinion. Growing up, my parents always played that type of music around the house and I grew up loving this sound.
Who are you most excited to work with on the show (other than Scott) and why?
Kurt Browning: I am excited about meeting Chris and finding a way to connect with him during my solo as he plays live on stage. If we feel comfortable with each other it will only help our performance.
Kim Navarro: Unfair! EVERYONE! From the skaters to the musicians….there is no one I don't feel incredibly lucky to work with. This is the best cast you'll ever get!
Brent Bommentre: This isn't fair…. I have to keep answering my questions after Kim. The entire cast is stellar and the singers are world class, that being said I am just excited to skate in the same arena as the Predators.
Kimmie Meissner: I'm excited about working with everyone to be honest! The other skaters are like my second family after sharing many different experiences together, so it's always fun to perform alongside them. The musical artists bring an entire new feel to the show! There's a different energy when performing with the artist and we feed off each other. I also have a crush on Chris Young, so I can't wait to meet him and hear him perform!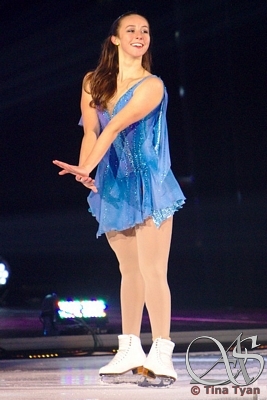 Do you have a favorite Scott Hamilton story or moment?
Kurt Browning: One of my fave Scott traditions was when he had his costume and skates on and was walking out of the dressing room to go skate his final solo to close the show in Stars On Ice. He would often turn and look at us and say, "If I am down for more than 8 seconds, black out and call 911!" He is the most quotable fellow I know.
Kim Navarro: My favorite Scott moment is every time he speaks. He ignites such inspiration. I wanted to give a speech at my wedding last year but felt I was too terrible of a public speaker. Then I thought about Scott. I decided that, like Scott, I would speak right from the heart. He continues to be my role model anytime I try to get across a message.
Brent Bommentre: I was fortunate enough to play golf with Scott in Sun Valley a few years ago. Through the years competing in skating I wouldn't really get nervous, and the only reason I can confidently say that is because before I played golf with Scott I was NERVOUS. I was about to play golf with someone that I idolized growing up, and that was simultaneously the most terrifying and exciting moment of my skating career.
Kimmie Meissner: I have a few favorite Scott memories, but one of them was from 2006. This was the year that I qualified for the Olympics, but I had a slightly disappointing short program and was in fourth place going into the long (there were only 3 spots). I believed wholeheartedly that I could make it still, but it's a pressure-filled spot to be in knowing you have ground to make up. Leaving the arena that night, I ran into Scott. He took a moment to talk with me about where I was mentally, and finished it up with affirming how much he believed in me and encouraging me to give it everything I had tomorrow since he knew that would be enough. Needless to say, when Scott Hamilton tells you he believes in you, you go into the next stage of competition with an extra boost. I'm always extremely grateful that Scott talked with me that night!
Find out more info here and get your tickets here!