Worlds 2017, Helsinki, Day One:
An expected leader and tough pairs girls
March 30, 2017
By Titanilla Bőd (Új Szó)
Photos © Askar Ibragimov
No surprise about the leader of ladies' competition; pairs skaters have shown once again what are they made of. This was day one at the Worlds in Helsinki.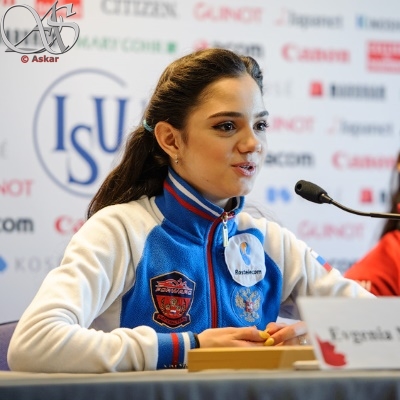 The totally expected fact: Evgenia Medvedeva in the lead
The Russian reigning champion is solid and probably unbeatable. She is in the lead after her short program, in which she completed a triple flip-triple toeloop combination, a triple loop and a double Axel. "I never think about what I have to do to win. The most important thing for me is to show what I can do, to skate clean and to enjoy skating," Medvedeva said. She always tries to add something extra to her programs - sometimes it is an extra element, like in the long program in Ostrava, this time it was just a detail: "My program became a little harder because I do the second jump in my combination with my two arms up. I've done it and feel satisfied," she explained.
The happiest nation: Canada
Kaetlyn Osmond and Gabrielle Daleman both delivered flawless performances and the two Canadian ladies are currently second and third. Osmond skated to French rhythms, "Sous le ciel de Paris" and "Milord", landed clearly all her jumps - a triple flip-triple toe combination, a triple Lutz and a double Axel, and received a personal best. "I am definitely excited, the score is just a bonus. I am really excited with how I skated and to get a season's best here is just the best. I haven't been to Worlds since 2014 and I just wanted to really enjoy every minute of it," Kaetlyn commented on her feelings. Gabrielle, who skated to "Herodiade", added: "I am very happy with my performance. The audience was very supportive and I just really wanted to enjoy the moment." And usually, when a skater enjoys the moment, that means that the audience enjoys it, too.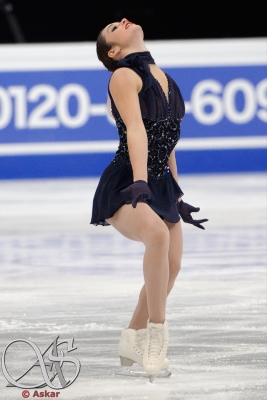 The lady who decided to rock the house: Ashley Wagner
It was already evident during the skaters' introduction. While the others were smiling modestly and waving to the audience, Ashley Wagner was making wild circles with her ponytail. The crowd loved it, as well as her upbeat program to the well-known tunes of "Sweet Dreams"; it was an energetic and characteristic routine. "I have to be very strong technically but emotional, and that's what I have over the other competitors," that's how Ashley described her advantages before the free program. She is currently 7th, but there is less than a point difference between 5th and 7th, and less than three points between 3rd and 7th.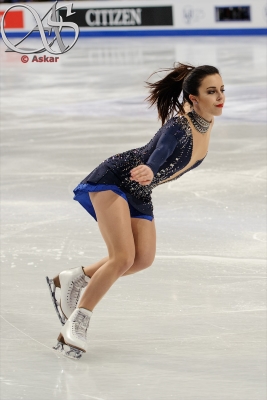 If she attacks it, she definitely has a shot at the podium.
The most ecstatic mum: mother of Elizabet Tursynbaeva
You are not used to such reactions in kiss and cry: skaters are usually accustomed to winning and losing, they've learnt to accept their defeats with dignity and celebrate their victories with modesty. So it's a pleasure to see someone almost jumping for joy when the scores appear on the screen: in Helsinki it was the mother of Elizabet Tursynbaeva. The Kazakh pupil of Brian Orser, who is competing at her second Worlds, landed a triple Lutz, triple toeloop combination, a triple loop and a double Axel, and received all level fours for her spins and footwork. Her mother was smiling, waving, pumping her fists, drawing hearts in the air; she couldn't sit still for a second... and you could just sympathize with Elizabet, the daughter who is embarrassed by her mother's behaviour, even if the mother's reaction was completely understandable. Just as Elizabet herself explained it later: "She was just happy for me, because she is always with me, she sees every jump I do and knows how hard it is."
The moment when many die-hard fans sighed: Kostner's camel spin
When Worlds were held in Europe for the last time (in Nice in 2012) Carolina Kostner took the ladies' title. In Helsinki, this is not a viable option. It will be extremely hard for Carolina even to fight for the podium. Her short program was not flawless, and she lost her balance during the camel spin. "I have worked so much on the spins and when you think you really have improved, it goes completely wrong," she commented on this mistake. She is currently eighth, but ready to bounce back: "My skating today maybe was not the best, but there is always another day. The program today was not very good, you have to be realistic, see the mistakes and try to do better next time."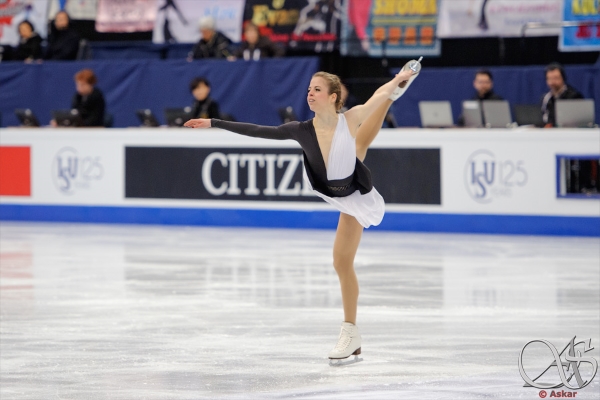 The move of the day: feet pointing to the ceiling
In Ostrava it was Aliona Savchenko, in Helsinki it was Vanessa James. It seems there is no pairs competition without a funny looking fall. Vanessa James and Morgan Cipres skated great to "Earned it" by The Weeknd in the short program, but Vanessa fell at the end of their triple twist! It is very unusual to see a fall like this. "It was a shock, this never happened to us before," Vanessa admitted. "The twist was very high and we really wanted to do it perfectly.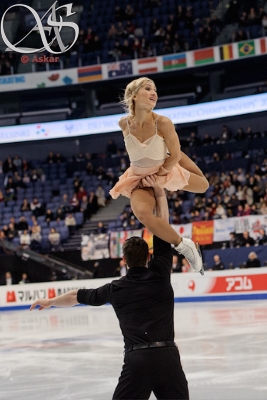 Maybe that's why. I am not satisfied with our performance but I'm proud of what we did," she commented on their program.
The risk that maybe wasn't worth it: throw triple Axel
The element with the highest base value in pairs competition was the throw triple Axel by Aliona Savchenko and Bruno Massot. But even though the base value of this jump is 7.70, they earned only 5.56 points for it because of a two-footed landing. This is less than what Evgenia Tarasova and Vladimir Morozov earned for an average throw triple loop (5.60) and significantly less than what leaders Wenjing Sui and Cong Han earned for they perfect throw triple flip (7.60). Still, Aliona and Bruno stand currently in second place.
The hero of the day: Evgenia Tarasova
A fall on a step sequence. Such things happen, especially at practice. However, reigning European pairs champion Evgenia Tarasova had such a bad luck: as she fell, her partner tripped on her and fell, cutting her knee. She needed to get ten stitches! However, if you hadn't witnessed the fall or heard the news, you would never recognize she might have some problems. "We were thinking about withdrawing because after this incident we left the ice immediately, there was a long break off the ice, we didn't know how I would feel in skates. But when I was asked "will you skate?", I said "I will!" And I wasn't thinking about the pain during our performance," she said. You know that, pain just doesn't exist.
The reigning European champions are currently third. Evgenia skated with grace and flow and managed to keep together the landing on the throw triple loop. Pairs skaters are tough, the top three duos after short program all have their story: Wenjing Sui came back after several ankle surgeries, Aliona Savchenko twisted her ankle at Grand Prix during a bad landing from a triple Axel. But they all agreed that they love skating and that is worth all the suffering.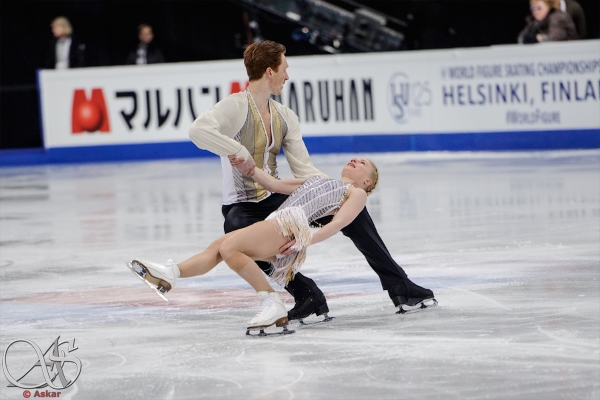 The "partner-borrower": Cong Han
When a skater is injured, it is not easy for their partner indeed. "When Wenjing was in hospital, I had no holidays," Cong Han recalled. "I practiced every day by myself, sometimes I also trained with little girls, I borrowed them from their regular partners," he said with a laugh. He even took part in a show alone, just miming the lifts and the throws. "When the program was over, I pushed Wenjing on the ice in a chair. Many people were crying," he explained but quickly added: "I will talk about it more after the competition." Pairs skaters are tough, and it would be inadequate to get too emotional mid-competition. If everything works out, he will have plenty of room to let his emotions out after the free program.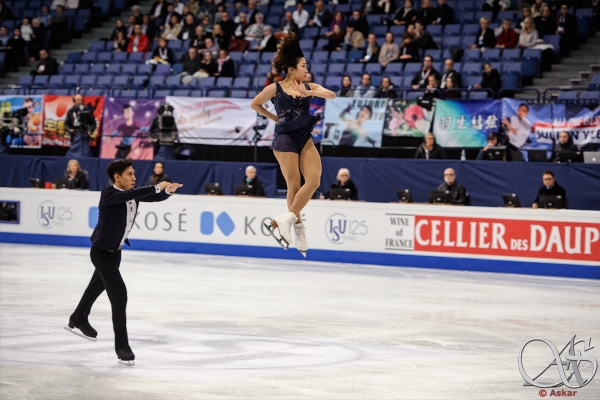 Don't miss our social media updates (containing text updates and fun pics) on Twitter and Facebook.