Worlds 2017, Helsinki, Day Two:
Javi's masterpiece and Chinese champions
March 31, 2017
By Titanilla Bőd (Új Szó)
Photos © Askar Ibragimov
Men's short and pairs free offered lots of emotion at the World Championships in Helsinki, Finland. Here are some highlights:
The most emotional moment: Misha Ge's short program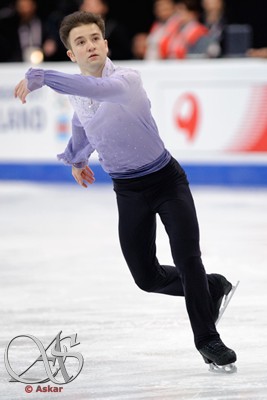 "I almost teared up as I was standing there during the introduction of the skaters," Misha Ge admitted after his deeply emotional short program. It might be his last one. That's what he was thinking about during the warm-up, as he is considering finishing his career after this season. He wanted to have a perfect farewell short program. As for the technique, there were some issues, but emotionally it was a top performance.
Misha might not have reached the major podiums, but he has definitely reached the hearts of the fans. And of the journalists too, because as he talked about his feelings in the mixed zone, interviewers also had wet eyes...
"If you get that spot...?", a journalist asked, and he didn't even have to finish the sentence. That spot, the Olympic spot. If Misha really earns that spot, it would be such a sorry thing to finish his career before the Games. And even though Misha is working on the transition from skater to choreographer, he replied: "If I get that spot, I will think about it."
Tough guy of the day: Maxim Kovtun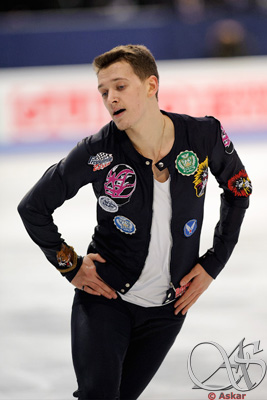 You know that Russian saying, don't you? "Pain simply doesn't exist." Actually, I'm not sure if such a saying exists in Russian or not, but Russian skaters always act according to this. For Maxim Kovtun it must have been a painful déj&eagrave; vu (wait, pain doesn't exist). Last year, at Europeans in Bratislava, he took a hard fall at the beginning of his free program, but he kept going nonetheless. In Helsinki, he fell hard during the six-minute warm-up. For almost two minutes he was just leaning down in a painful pose (what, pain might exist?) next to the boards, then he tried to skate, and later he talked to the judge. Many thought he would withdraw, but when it was his turn to skate, he appeared on the ice. His quad Salchow-triple toe combination was flawless, however, he fell on the quad toeloop. "I just had to get through it. It was quite painful during the warm-up, but during the performance I wasn't feeling anything," he commented on his performance.
You see, when you are a fighter, there is no pain at all!
The combination that wasn't: Yuzuru Hanyu's quad Salchow-double toe
Yuzuru Hanyu has always been an extraordinary skater - whose great jumps, difficult,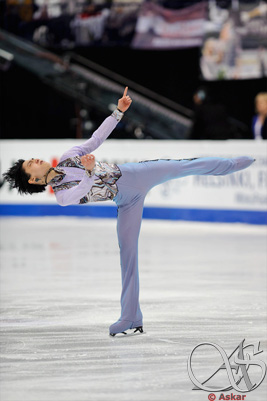 yet smooth transitions and concentrated approach to the music - have become his trademark. But the Japanese star has also grown into a showman. Female fans were going crazy watching the dancing movements in his short program, and he really hit every beat. But the landing of his quad Salchow was saved only by sheer willpower. Even though he managed to stay on his feet (actually half-gliding on his knee) and even landed the double toe afterwards; because of the flawed landing of the quad Salchow (-4 GOE) the toe was invalid. Yuzuru lost many points on this, that's why he is only fifth after the short program.
Number of the day: 25
Twenty-five quads were fully rotated during the men's short program in Helsinki and there were a few more downgraded attempts. We are definitely entering the quad era. The top six skaters nailed 11 quads altogether. The only person amongst them with only one quad in the short program was Patrick Chan of Canada, who is currently third. He showed that even though quads are getting more and more common, there are other factors, too. "I was able to hit 100 points with only one quad. It must have been my skating skills and components that helped me," he said about his score.
The WOW moment: Javi's "Malaguena"
There are moments when words fail, even if expressing anything and everything you see and feel in words is your occupation. But during those moments you don't want to describe, only watch and feel, because you know that no verbal mastery can match the artistic and technical perfection on the ice. That was the "Malaguena" of Javier Fernandez in Helsinki. Those lucky enough to be in the Hartwall Arena to see it will cherish the memory forever.
The reigning champion is in the lead, and is a serious contender again.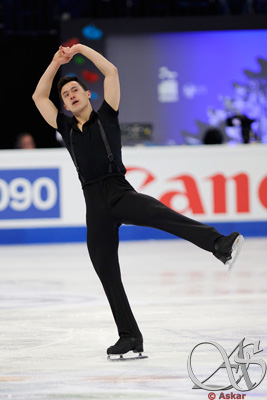 The way you felt after men's short: totally drained
It's been a spectacular fight full of elements of the highest quality and difficulty, with some unexpected plot/twists and unforgettable performances. There were lots of emotions, joy, shock, disappointment, amazement. Skaters gave their all, but even to watch such an event was emotionally exhausting.
But the competition schedule is tough, and the pair's free was about to start, once again offering drama, passion and glorious moments.
The comeback of the day: Ksenia Stolbova and Fedor Klimov
After a disastrous short program that put them in thirteenth place, Russians Ksenia Stolbova and Fedor Klimov bounced back in the free. Their routine was packed with technical content and emotion, and their fight was rewarded by a small medal, as they placed third in the free skating! "We tried to leave yesterday behind and live in the moment, and show that yesterday was just a bad day," Stolbova stated.
The final position of the day: Valentina Marchei blowing away gun smoke
Vale Marchei is one of the most expressive personas of the skating world. She is a true actress, who gives it all even at practices. In the "James Bond" routine with partner Ondřej Hotárek, she portrays an intriguing Bond girl - sometimes flirty, sometimes bloody serious, heading into action without any fear. Agent 007 and his partner accomplished their mission: they placed in the top ten. Along with Nicole Della Monica and Matteo Guarise they have secured two Olympic spots for Italy. No wonder they were hyped in the kiss and cry.
The WOW moment no 2: Lighthouse by Aliona and Bruno
It was magic in Ostrava and it was even more magic in Helsinki. The long program of Aljona Savchenko and Bruno Massot is just a jewel, this time it even included a triple Axel. It could have been a winning performance, but small technical flaws cost them important points. Still, a silver from both Europeans and Worlds shows that the German pair is on the right path for the Olympics. "I'm a little sad indeed. We did a really good performance and we are close to first place.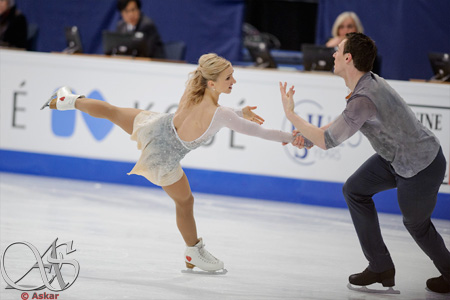 But hey, last year we were third, this year we are second, so next year...?" Bruno pointed out their nice progression.
The champions of the day: Wenjing Sui and Cong Han
Wenjing Sui has always been extremely determined. When she started skating as a child, she already thought about becoming World champion. This dream came true on Thursday evening in Helsinki. The Chinese pair had only a minor mistake in their routine to Paul Simon's "Bridge Over Troubled Water", so when they hugged each other in the final position, they felt this could be the golden program. The road to the top of the podium is never easy, but Wenjing and Cong have suffered even more than most. Wenjing had a serious ankle injury, after which she literally had to learn to walk again. But she was working so hard that sometimes even Cong had difficulties keeping up with her. "Being in competitive sports means a lot of sacrificing," they explained to the media, "but we don't think that is something bad. We just love skating, and want to enjoy every single moment."
Sounds easy, right? That's how simple the secret of success is!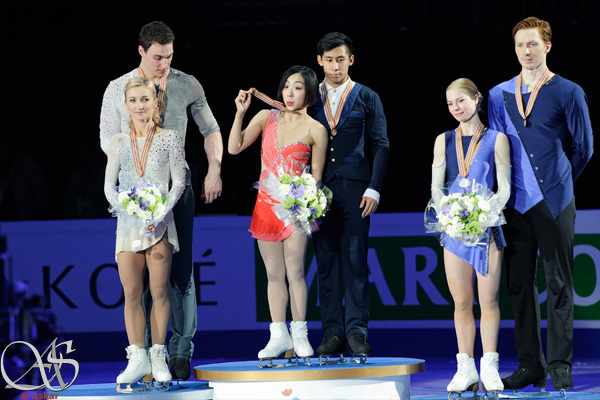 Don't miss our social media updates (containing text updates and fun pics) on Twitter and Facebook.