Worlds 2017, Helsinki, Day Three:
Medvedeva from outer space and the short dance triumph of Team Montreal
April 1, 2017
By Titanilla Bőd (Új Szó)
Photos © Askar Ibragimov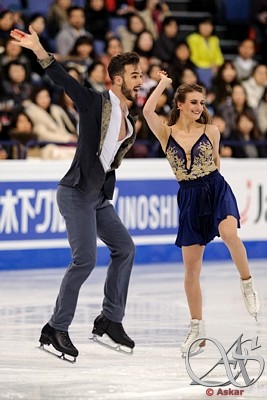 Evgenia Medvedeva defended her title, while students of Marie-France Dubreuil and Patrice Lauzon dominated the short dance. This is day three of the Worlds in Helsinki.
The question of the day: Do you always understand what you get levels for?
Reigning world champions Gabriella Papadakis and Guillaume Cizeron seemed disappointed in the kiss and cry. They expected a higher score. Currently they are second place, nearly six points behind Tessa Virtue and Scott Moir. They made an obvious mistake on the twizzles, but they lost levels on other elements. "Do you always understand what you get levels for?", a journalist asked at the press conference after the short dance. "I think it depends on which element we're talking about. Sometimes it's easy to know why we didn't get the level, especially at the end of the season, for example on the twizzles or a lift. Step sequences are a little more tricky. When you get a level 2 or 3, you don't always know which exact step you did wrong. I guess we always get feedback after the competition, but we don't know right away, seeing what the score is," Cizeron explained.
The sweethearts of the crowd: Tessa Virtue and Scott Moir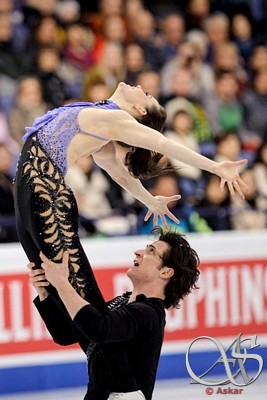 There were days when Finland had serious medal contender ice dancers, Susanna Rahkamo and Petri Kokko were European champions and World silver medalists more than two decades ago. However, these days Finns lack such skaters, so they divide their love and enthusiasm between competitors of other nations. While during the men's short program it seemed we were teleported to Japan, during the short dance this strange machine took us to Canada. When former Olympic champions Tessa Virtue and Scott Moir took the ice, the crowd went mad.
And the phenomenal Canadian couple once again showed why they are so extraordinary: they performed to Prince's best songs with drive and dedication. "Our big goal was just to go out and enjoy ourselves and the crowd made that easier. I felt really electrocuted, there was so much energy going through my body, so I needed to calm down a little bit," Scott Moir admitted.
The coaches of the day: Marie-France Dubreuil and Patrice Lauzon
Marie-France Dubreuil and Patrick Lauzon had every reason to be proud after the short dance: the top three couples in the world are in their training group. Besides the Canadian and the French duo, Madison Hubbell and Zachary Donohue also practice in Montreal.
I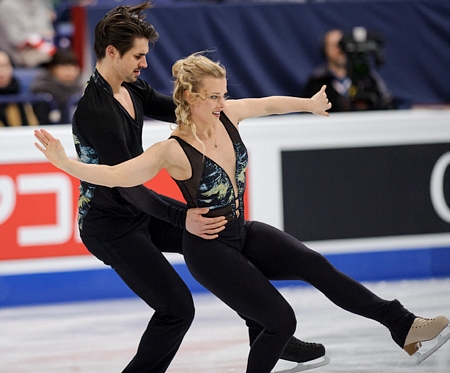 t might not be easy to manage the best ice dancers on the planet, but all the skaters emphasized that their coaches create an inspiring and supportive environment. "It's so much fun to compete on the ice, and they are such fierce competitors. We're watching every day, we're learning what a joy it is for us to sit at the sidelines for a couple of minutes and watch them. At the same time, off the ice they are just fantastic people. There is no doubt where that comes from. In my opinion it has to come from who started the camp, from Patrice and Marie-France, whom I always looked up to," Scott Moir said with admiration. Zachary Donohue added: "Each team has something unique, both in skating and personality. It creates such an incredible family environment. Training with that family feeling and respect, and the push and drive that we all give to each other is unparalleled."
The funniest interview: Alexei Mishin
During the ice resurfacing breaks there is always something entertaining shown on the jumbotron in the Hartwall Arena. Sometimes it is a fluff introducing the announcers or the medical staff, sometimes it is an interview with someone utterly famous. Like Alexei Mishin. The skating professor once again revealed that he has a good sense of humour. When asked why he always is so serious accompanying his students, he answered: "In my heart, I'm smiling. What's serious, is just the mask." And of course he said it with a completely serious face. You simply have to keep your image, right?
The heartbreaking moment: Anna Pogorilaya's failure
"I have a goal and I keep it to myself," Anna Pogorilaya said after the ladies' short program. Fourth in the short, she had a great shot at the podium. However, all her dreams were washed away by a total meltdown in the free skate. It started with a popped Lutz, continued with a fall on the flip, there was a flawed landing on the triple Lutz - triple toe combination, and a nasty fall on the second triple loop. After this jump it seemed Anna was totally exhausted and would never get up from the ice. In the end she finished her program, but she was sobbing heartrendingly. It seemed she was also in physical pain, although she tried to smile a little in the kiss and cry. Fans expressed their sympathy with applause ¬Ė you never want a skater to finish a season like this. This will hurt for a long time.
The saying of the day: "Save the best for last"
After a few bigger mistakes and many minor flaws in the ladies' free skate, the last three ladies offered extraordinary programs. It started with the reigning champion Evgenia Medvedeva.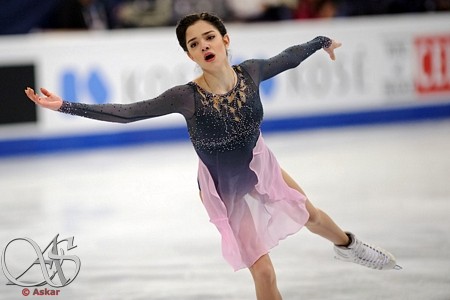 Miss Perfection has shone once again: her routine to the soundtrack of Extremely Loud and Incredibly Close touched even the hearts of those who've never been particular fans. It was uplifting to witness this program live and see how Evgenia herself got taken by the emotions of this story. She once again broke her own world record, for the free skating and also for the total score. The crowd was still screaming and clapping for Medvedeva, when Gabrielle Daleman took the ice, but the Canadian, full of energy, didn't let it affect her in any way. She delivered a fierce program and she earned a bronze medal. "It was very easy skating after such a brilliant skater, because she is the best in the world and a brilliant skater, and I know I'm a brilliant skater, too," Gabriella said still in euphoria.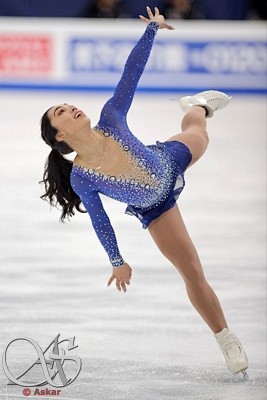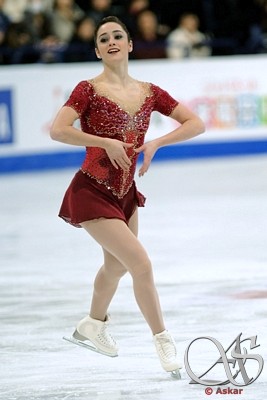 The silver went to her compatriot Kaetlyn Osmond, who skated last, but dealt with the pressure incredibly well. Or, to be more precise, it may not have been a pressure for her at all. "I could never have been able to imagine closing the world championships competition for the ladies. I love skating last, it's my most favorite position, and I'm so glad that I was able to deal with it," Osmond commented on her performance.
The Maths lesson: counting quotas
At the end of the ladies' competition, everyone was counting the Olympic spots. There were some interesting facts indeed: thanks to their great results, Canada got three spots instead of two, while Italy, Kazakhstan and South Korea also managed to get one extra quota (two instead of one). Russia and the United States kept their three spots, but Japan lost one, so in PyeongChang there will be only two Japanese ladies skaters. Belgium, China, France, Germany, Hungary, Latvia and Slovakia earned one Olympic spot.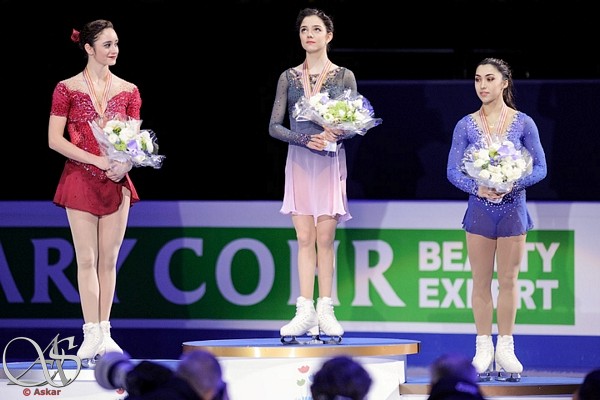 Don't miss our social media updates (containing text updates and fun pics) on Twitter and Facebook.