Worlds 2017, Helsinki, Day Four:
quad showdown and dance drama
April 2, 2017
By Titanilla Bőd (Új Szó)
Photos © Askar Ibragimov
Yuzuru Hanyu on top of the podium and the triumph of Tessa Virtue and Scott Moir despite a mistake. That was the final competition day at the World championships in Helsinki.
The Florent Amodio of the day: Misha Ge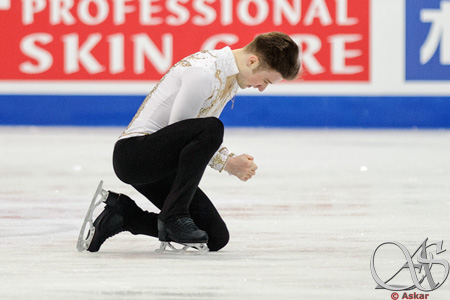 It might have been his last competitive program ever, and what a program it was! Misha Ge nailed it all in his fluid "Nutcracker" free skate. His choreographic step sequence was just a pure joy to watch - after lots of struggle, pain and difficulties, Misha pulled off the maybe most memorable performance of his life. He saved the best for last - just as Florent Amodio did Europeans 2016 in Bratislava. Fans still hope Misha will change his mind about quitting, but even if he doesn't, this was a farewell that won't be forgotten.
The program of the day: "Hope and Legacy" by Yuzuru Hanyu
It's amazing how sometimes the title of a program, of a music piece, can reflect what's actually happening on the ice. "Hope and legacy", that's what Yuzuru Hanyu could rely on going into the free skate from fifth place. Hope that his talent and brilliance will shine once again,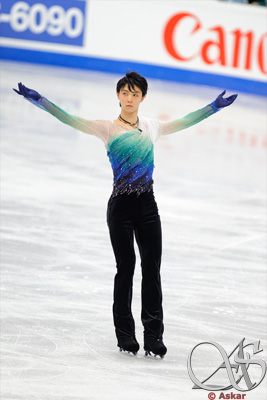 and legacy of what he has already achieved.
He was extremely focused as he took the ice. And the very first jump showed he was "on". Quad loop. Quad Salchow. Triple flip. Quad Salchow-triple toe. Quad toe. Triple Axel-double toe. Triple Axel-triple Salchow. Triple Lutz. This is just the jump layout and it's impressive enough, but Yuzuru's programs are never only about the jumps. It was kind of magic. With 223.20 points he set a new world record free skating score, but numbers can't express the smoothness and flow we witnessed.
Yuzuru finished with a just as focused face as he started. The competition was still open; five more men were yet to skate. But somehow we could sense it would be impossible to top this performance.
The guy who is responsible for all quads: Boyang Jin
"It's all because of him," Yuzuru Hanyu pointed at bronze medalist Boyang Jin of China at the press conference. "He was the first to land four quads in a program and he showed us that it's possible," the champion added.
In Helsinki, the top six men attempted 24 quads altogether! Nathan Chen went for six and landed four. All the medalists, Yuzuru Hanyu, silver medalist Shoma Uno and bronze medalist Boyang Jin attempted and landed four quads. We have stepped into the 21st century of figure skating, the quad era. But as Yuzuru pointed out: "Jason Brown showed us that a quad is not everything."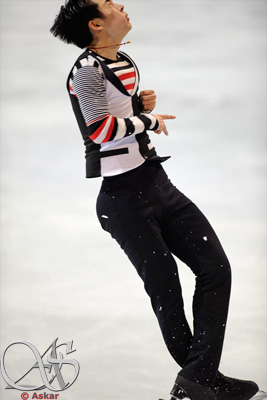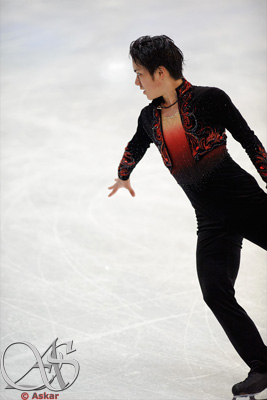 The drama: Scott Moir stumbling in the free skate
The free dance of Gabriella Papadakis and Guillaume Cizeron is one of a kind. As they said earlier, it's a challenge for the audience,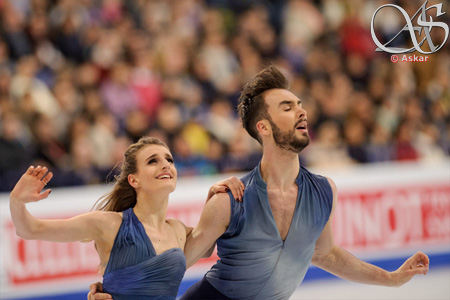 the judges and also for themselves. In Helsinki, they skated better than ever, and the scores reflected that: 119.15 points is a new world record for a free dance.
The crowd was full of anticipation when overnight leaders Tessa Virtue and Scott Moir stepped on the ice. They have remained unbeaten throughout the season. Their free dance is airy, light, yet technically very demanding. A masterpiece, you would call it. But then came the unexpected: Scott stumbled. He didn't fall, but it was obvious this would cost them a few points. In the end the lead they had built up in the short dance was enough to secure the title, but it took a few minutes before the tension disappeared from Scott's face.
The shock: Zachary Donohue falling on twizzles
Madison Hubbell and Zachary Donohue were on the right track to earn their first world medal. "Wise men say, only fools rush in..." The well-known melody filled the Hartwall Arena, and Zachary Donohue couldn't help falling... on the ice. It happened right at the beginning of the twizzles, so they got no credit for this element. "It was in a moment of complete calm and what I thought was control. It came out of nowhere and I was surprised the moment I felt myself going down. At that point we had a no level twizzle after one rotation. It was devastating," Zachary said. The American duo slipped from third to ninth; the bronze medal went to their compatriots Maia and Alex Shibutani.
The word of the day: kiitos (thank you)
Kiitos, Helsinki, for this amazing week. There were some organizational hiccups, actually, some bigger problems too, but in the end the quality of skating defined our final feelings about this week. And the quality of skating was very high. It was proven once again that figure skating is passion, emotion and inspiration.
So thank you, Helsinki for making us passionate, emotional and inspired once again!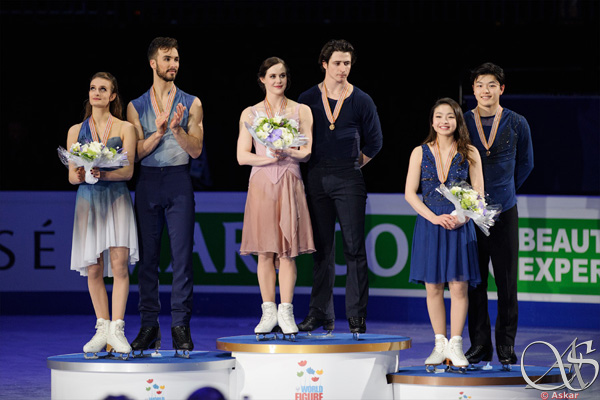 Don't miss our social media updates (containing text updates and fun pics) on Twitter and Facebook.