Helsinki 2017: Lighting up the season
September 11, 2017
By Reut Golinsky
Photo © Reut Golinsky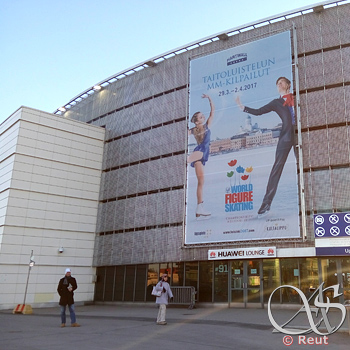 "...We're all in this together
See the rays of the first sunrise
Lifting our spirits higher
We will light up the ice
Skating on frozen rivers
Floating free under open skies
Souls are burning with fire
We will light up the ice!"
"We will light up the ice," promised the official song of the 2017 World Figure Skating Championships. And the organizers, fans and - first and foremost - athletes coming to Helsinki at the end of last March made that promise come true and turned this pre-Olympic Worlds into one of the brightest and most fascinating events of the last season and of this entire Olympic cycle.
It was an extra festive edition of the championships thanks to a double celebration - 125th anniversary of the International Skating Union and the centenary of Finland's independence.
"Figure skating is often referred to as art on ice," wrote Sauli Niinistö, President of the Republic of Finland and Patron of the event, in his welcome message. "When a strong physical performance is combined with beauty of movement and the expression of feelings, the viewer can only wonder at the range of skills on display. It is wonderful that the world's best performances will be given here, in Finland, in honour of our country's centenary".
"It charms like dance, enchants like art and excites like sports" was a key message of the Worlds 2017. "We want to tell both old and new friends of figure skating that figure skating is not only sports but also art, music and dance. We go as far as to insist that even devoted ice hockey fans can surprise themselves with enjoying the beauty of figure skating," said the statement in the official program. No doubt, this well-organized and colourful event brought many new fans to the figure skating world, and even devoted hockey fans were impressed with how beautiful and at the same time fierce figure skating can be.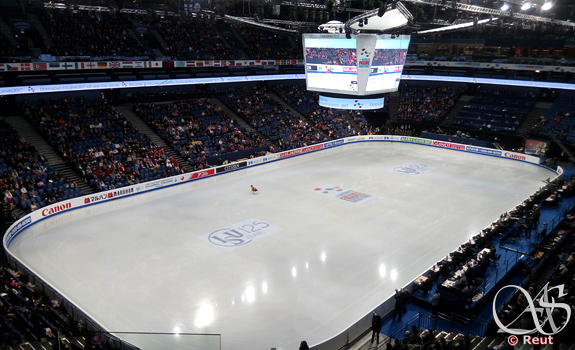 The good, the bad and the drama
World Championships is the ultimate and the highest point of every skating season, where everyone tries to come as ready as possible and do the utmost, but the Worlds before the Olympics are always more tense.
"For those who go for a medal it's always a big pressure. But these Worlds are especially difficult for all the skaters, because they all want to qualify for the Olympics," said St√©phane Lambiel whose student from Latvia, Deniss Vasiļjevs, was among those aspiring Olympians. "And even for the ones that know they will qualify, their country wants more spots so they have to be in top ten. It is a big stress for each skater to get their spots for the Olympics. Moreover, in some countries they don't even know if they will be the ones chosen for the Olympics! I totally understand how tough it is to be a skater and a fighter like they are."
Of course, not all performances were ideal and a few very unfortunate mishaps took place, but many journalists and fans noted the overall exceptionally high level of skating presented in Finland, in all four disciplines.
Men's short program, with the tension, quality and difficulty building up towards the final warm up group, was so incredible that the referee, Ms. Sissy Krick, took a moment to thank all the participants. "I have to say we're still under shock from your fantastic performances," she said before the draw for the free skate. "It was wonderful. We were so impressed with all these beautiful programs, from the very beginning of the competition, all the way through."
We could name many performances to be the highlights of the Worlds 2017. Among them, of course, Evgenia Medvedeva's solid domination in the field and the new record scores she set on the way; the battle for the podium between two teams of World champions - Gabriella Papadakis/Guillaume Cizeron and Tessa Virtue/Scott Moir; Yuzuru Hanyu's mesmerizing free skate which also included four quads. Probably the most impressive was the glorious comeback Wenjing Sui and Cong Han succeeded to make against all odds, after they missed the first half of the season because of Wenjing's surgery.
"Right now I feel so excited," Cong Han said after their golden free skate. "I want to thank our team, other skaters, everyone. This season has been so hard. We never had so many difficulties [like this season]. But my partner did well in training, and we accomplished this."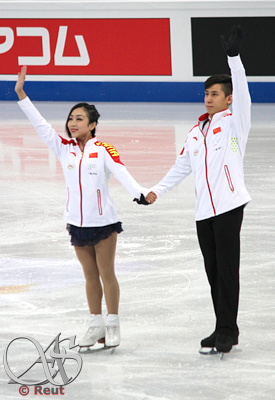 "When I was very young, the first day I took the ice, the World Championship became my dream," Wenjing Sui said. "I always kept this dream in my heart and we worked really hard. Our team, the coaches, the physiotherapists helped us a lot and made this dream come true. Sharing a goal gave us power and this power pushed us on to the top of the podium."
Not medal winning, but certainly memorable were both performances from Misha Ge. It was touching to see the audience bidding to him farewell with huge applause and standing ovation. "I don't have words to tell how happy I am," he said after his free skate. "The Olympics was a really happy moment for me and the Shanghai World Championships too, but this one was something different, something special. A lot of fans and people knew that this could be my last competition, so for my last performance to skate like this. it's pure happiness for an athlete."
With higher pressure and higher stakes the competition turns into a roller coaster of emotions and combination of extremes - it either goes amazingly well, with every next competitor outdoing his predecessor or, because of skaters trying too hard, becomes a total disaster.
"We really wanted to do it perfectly. Maybe that's why," said Vanessa James, trying to explain their odd fall on the triple twist in the short program.
"There are no reasons for such a bad performance today, we were well prepared and everything was according to plan," said Fedor Klimov after their disappointing short program. "I do not know what went wrong with the twist. We started to work on this kind of twist with our coaches about 8 years ago and it was a little bit of a struggle back in time, so we tried to work on technique. Fall on the twist may have caused the second mistake."
Anna Pogorilaya's free skate was a complete nightmare, the lowest point and the biggest drama of that day. She was falling, standing up and falling again, and again - three falls and four points in deduction.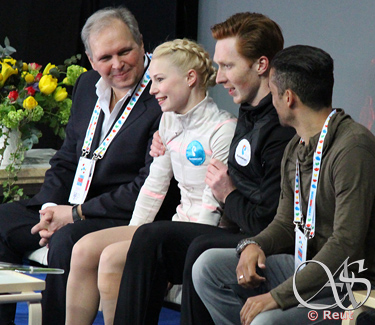 After her performance, she was inconsolable; it was hard to watch her being so heartbroken.
Another drama, but with a much happier ending, occurred before pairs' short program. During the practice on Wednesday Vladimir Morozov accidentally cut Evgenia Tarasova's leg with his skate and she needed 10 stitches. The pair chose not to withdraw, competing in both the short program and free skate, and finished with a bronze medal.
"Our doctors did everything possible for me to feel comfortable... There was a long break off the ice, we didn't know how I would feel in skates," Evgenia explained. "But when I was asked if I will skate, I said 'I will!'" "She is a hero for all our country and for me," Vladimir added.
"Yay team!"
Figure skating is usually an individual sport, but at the qualifying event like this your team gets an important role - you fight not only for your own spot; you do your best so that your teammates will be able to share the Olympic experience with you.
"Our goal is to perform well, of course," said Valentina Marchei, after their short program, "but also to get as many Olympic spots for Italy as possible. We will not be satisfied with less than two spots. Olympics is a great journey that both of us already had, and we want more of Italian athletes to experience it, to live it through."
Valentina and Ondrej finished ninth in their free skate and overall, securing two Olympic spots for the Italian team - "a dream come true," as Vale commented at the end of the competition.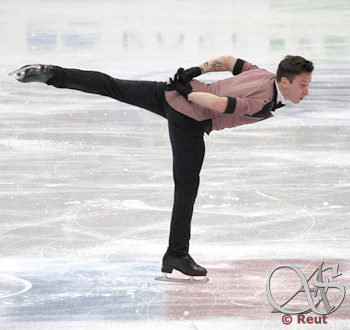 "My personal goal is to get in top ten. And our main goal as a team is to get two spots for the Olympics," said Alexei Bychenko after his short program which he finished 11th. With practices not going exactly as he planned during his week in Helsinki, 13th place being his best standing at Worlds so far and only one quadruple jump - quad toe - he masters, his mission seemed almost impossible. A combination of luck and his fighting spirit made this happen - Israeli delegation obtained second berth in the men's event! If everything goes as planned, 2016 Junior World champion Daniel Samohin will join Alexei in South Korea.
Remarkable team achievement was registered in ladies' competition when Canadians Kaetlyn Osmond and Gabrielle Daleman made history by capturing silver and bronze. "It was such an incredible feeling," Kaetlyn recalled during the press conference. "To be able to stand on the podium and see one Canadian flag raised is one thing, but to see two, it feels like you're not alone. Figure skating is such an individual sport, but to have another teammate on the podium with you is just unbelievable."
Another team should not go unmentioned. Although they do not represent one country, they definitely were The Team of this event. We are talking about all the skaters coached by Marie-France Dubreuil, Patrice Lauzon and Romain Haguenauer aka "Team Gadbois." All three teams finishing in top three after the short dance came from that camp, and all three found sincere and warm words for their coaches and teammates during the press conference.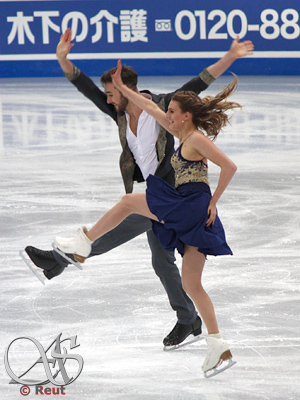 Scott Moir: "Probably the biggest compliment I can give to the four sitting here and the six standing over there is that they are just great people. It's so much fun to compete on the ice, and they are such fierce competitors. We're watching every day, we're learning what a joy it is for us to sit at the side lines for a couple of minutes and watch them. At the same time off the ice, they are just fantastic people. No doubt where that comes from, in my opinion it has to come from those who started the camp, from Patrice and Marie-France, whom I always looked up to. We feel very fortunate that they took us in and worked with us the way they have."
Gabriella Papadakis: "When I realized it was going to be the three of us at press conference, I was so happy. Yay Team! I was a bit disappointed seeing the scores after our short dance, but seeing the team has good result made me really happy, because it's always great to train with each other. This is a wonderful environment that the coaches created."
Zachary Donohue: "We all feel a sense of pride and we enjoy each other's company on the ice. With our switch sessions, all of us truly take the time to enjoy what every other team brings to our group in Montreal. Each team has something unique, both in skating and personality. It creates such an incredible family environment. Training with that family feeling and just the respect and push and drive that we all give to each other is unparalleled."
Familiar faces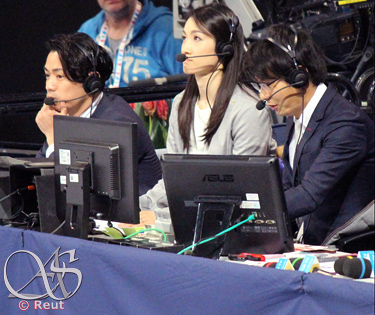 With all the excitement of the biggest competition of the season, with all the goosebumps from brilliant youngsters and the mind-blowing difficulty of their elements, it always warms one's heart to spot at the arena skaters of a previous generation who continue to be involved in their favourite sport. Daisuke Takahashi and Shizuka Arakawa came as expert commentators for the Japanese TV. Mark Ladwig presented "Jackson Ultima Skates" as their technical rep. John Coughlin was present as a nominee and then elected to the ISU Athletes Commission as the Single & Pair Skating representative. Jenna McCorkell debuted her new clothing line, "Chique Sport", tailored specifically for figure skaters.
Fabian Bourzat, Greg Zuerlein, Júlia Sebestyén, Olivier Schoenfelder, Stéphane Lambiel could be seen behind the boards and in the K&C.
To skate yourself is a bit easier than to watch your student skate, Stéphane admitted: "It's easier because you're ready for it. You work for it, and when the music starts you just go for it." It was his first World Championships in the new capacity: "Last week, as we were getting ready with the last things, it came to me - wow, I'm going to Worlds with my student! It's great, we've been working so hard, doing everything to be ready. Now it is a concretization of [our work].
It's strange to see 'LAT' written on my badge. It was always the Swiss team, and I was used to be with those team leaders and judges and now we're not on the same team."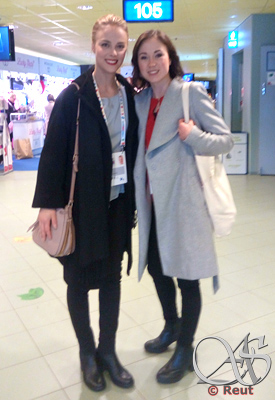 Kiira Korpi and Laura Lepistö took on many different roles in Helsinki. In addition to acting as the Worlds 2017 ambassadors, they skated in the opening ceremony and gave commentary for the Finnish Broadcasting Company YLE.
"Figure skating taught me many skills that have been very useful after my competitive career," Kiira said. "I've also learnt what is important in life and what is not, and that it is worthwhile to work towards one's goals. Skating has taken another form now that competing has been replaced with shows. My relationship with figure skating is much more relaxed nowadays."
"I believe that I would be quite different as a person without my skating life. Skating has taught me most about knowing and developing myself," said Laura Lepistö, who just recently set up a company specializing in content marketing in sports, organizes skating camps for young athletes and is a Board Member of the Finnish Figure Skating Association. "I still enjoy skating with all my heart. It is still the best way of exercising and my first love!"
But the bravest of them all were the skaters who challenged themselves to come back and compete. Although not for all of them it concluded with medals, their exquisite skating brought to this event a tint of maturity and elegance.
"I feel grateful I can skate here. You think you've done so many, but every championship has its own story, every skate has its own story and it is challenging," explained Carolina Kostner who previously had medaled at six World Championships but finished sixth in Helsinki. "You know, when I decided to come back, I asked myself - what if I am not as successful as many people would expect me to be? I started a new journey only six months ago, from zero. But it's going forward step by step and I feel it's only the beginning."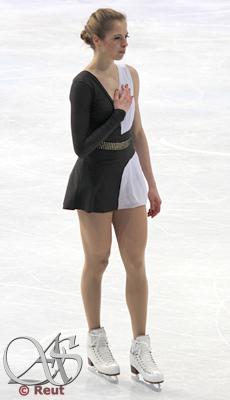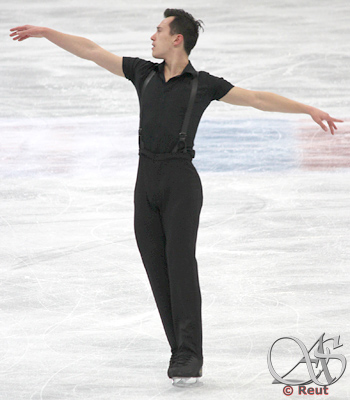 "I'm past the medals. I have had other medals, especially at the Worlds event, I have three championships. For me it is more about the accomplishments. I'm in third, but it feels like I'm in first because I was able to achieve a season's best over one hundred points," Patrick Chan said after his impressive short program.
He dropped to fifth overall after his free skate but still was "very happy with how this last event finished." "I know I need to push myself to challenge and that's the whole point of sports to see how far you can push your own limits. We were competing at a very high level here at the Worlds; all the men are skating great.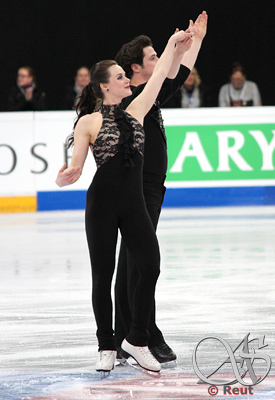 I can only do my best; the rest is up to the judges. All the work and all the preparations and my goals that I had coming into these Worlds, I achieved them."
And, of course, the comeback of the season, the most successful of them all was this of Tessa Virtue and Scott Moir.
"To hear World Champions after our names is a really special thing, particularly in 2017. When we set out on this comeback we weren't really sure what to expect results-wise and it's really satisfying to get that affirmation that all of our hard work has paid off," Tessa said. "A big part of the appeal in this comeback was to try to make our skating a bit different, definitely to have a different approach. Ultimately, our skating will still look like Tessa and Scott. We're trying to push ourselves technically, we're trying to have a departure artistically as well, but the real intention behind this comeback was to challenge ourselves. The level of ice dance right now is top notch. We knew we were coming into a very deep and strong field. So we needed to raise the level of our skating. We didn't want to come back and to do things the same way. That wouldn't have been motivating and inspiring."
"As an athlete, there are some troubles in training, but we have so much more to give and we're having so much fun," Scott added.
Country of design, country of green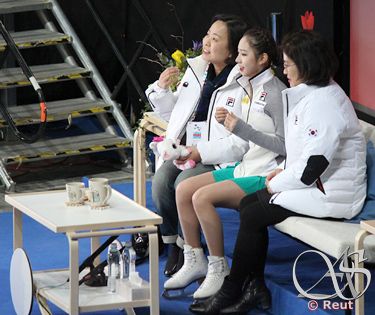 Among numerous beautiful things and initiatives the hosting country is known for, eco-friendly environment and design certainly stand out.
Design is a factor deep-rooted in the urban lifestyle of Helsinki, full of design and antique shops, fashion stores, museums, art galleries, and showrooms able to satisfy even the most demanding of tastes. "Finnish design isn't just something you see - it's something you experience. It begins the moment you step off the plane at Helsinki's Vantaa airport, follows you everywhere," explains the official travel guide of Finland. It indeed follows you everywhere and even comes with you to the rink, to the "heart and soul" of every competition - Kiss&Cry area. Alongside with the usual sofa and flowers, this Kiss&Cry was decorated with a few significant items created by notable Finnish architect and designer Alvar Aalto - the tea trolley (designed in 1936), stackable three-legged stools (1932-33), and nesting tables (1935). As simple as they look, this was probably one of the most expensive K&C settings we ever had.
By the way, did you know that the name - "kiss and cry corner" - was also invented in Finland? It was coined by Jane Erkko, a great Finnish figure skating personality who was on the organizing committee for the 1983 World Championships held in Helsinki.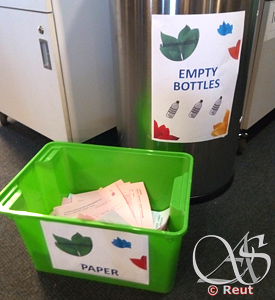 She came up with the name when television technicians asked her what an area where skaters wait for their scores should be called.
The whole championship was organized with the focus on material efficiency and the recycling of waste. Big events always have an impact on the environment, and through small actions, every visitor could decrease the environmental load of this event. Multiple solutions to get to the venue were provided to the public - public transport info, ridesharing Facebook page. Usage of "muscle power, for example by walking or cycling, which also improves your physical condition" was mentioned as an especially good option. The audience was encouraged to buy multiple-use items: for example, the Worlds 2017 water bottles to be filled with Helsinki's clean and good-tasting tap water. Multiple recycling points could be found at the arena marked with green flower logos; the huge amount of paper - printouts, quick quotes and protocols, usually produced by and for the journalists during every figure skating event - was also thoroughly recycled in the media center.
Interesting angle was proposed in the official booklet: "From a consumerist viewpoint, events and the immaterial experiences they give us are better for the environment and climate change than buying material goods. Let's enjoy the competition event from this point of view, too." We could not agree more!
Facts and figures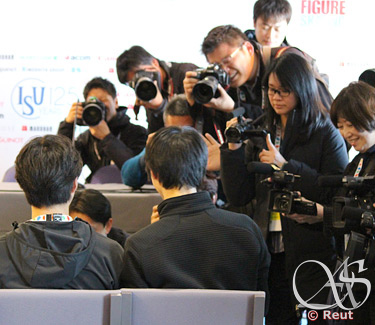 • Third Worlds in Helsinki, after 1999 and 1983
• 193 skaters from 36 countries
• 4 world records
• Over 450 representatives of the press: 195 writing press, 120 photographers, 14 TV-rights holders
• 450 volunteers, from 16 countries
• Nearly 80,000 spectators attended the competition events and practice sessions at Hartwall Arena
• Ticket sales exceeded the official goal of 65,000 tickets by around 4000
• In addition to ticket holders, the events also drew around 10,000 schoolchildren from the Helsinki metropolitan area
• Over 97% of the public attending the event gave positive or very positive opinion of the event
• The event tourists spent a total of 10-12 million euros during their stay in Helsinki
• Around 200,000 people from 180 countries visited the official website during the competition week
• Twitter @helsinki_2017: tweets viewed over 13,7 million times
• Facebook @helsinki2017: 440,000 reactions
• Instagram @helsinki2017: viewed over 2,9 million times, 89,000 reactions
We were all in this together; seeing the rays of the first sunrise when we came for early morning practices; lifting our spirits higher when we fought the exhaustion of the busy and eventful day; floating - yes, not walking, but flying, overflowed with emotions and impressions, - under open skies on our way to catch the last tram. And all these days our souls were burning with fire, a fire of passion for this most beautiful of all sports. Thank you to all those who lit up the ice of the Hartwall Arena for us!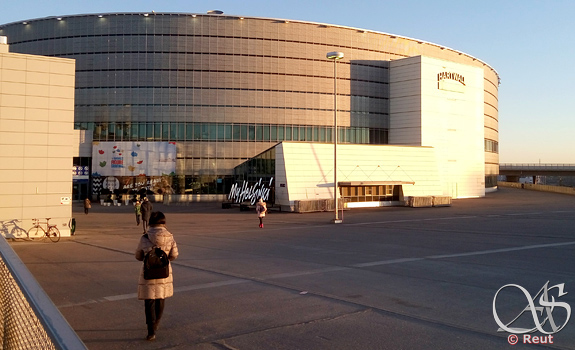 Don't miss our social media recaps (containing text and fun pics) on Twitter and Facebook.