Art on Ice 2018: THE ORIGINAL
February 28, 2018
By Reut Golinsky
Photo © Reut Golinsky
One day before the opening night of the show "Art on Ice" 2018, when more and more videos of rehearsals, sneak peeks of the beautifully bizarre costumes and unusual stage designs start appearing in the social media, it's a perfect time to recall last year's show and provide a foretaste of what is to come tomorrow.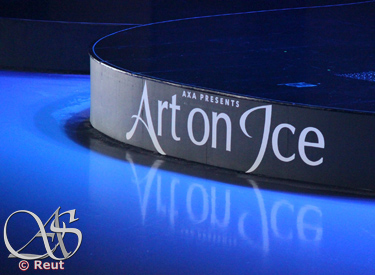 "Art on Ice" 2017 gathered a great cast and, like always, reached a perfect balance between skating and music, acts on the ice and off the ice, old hits from skaters' repertoire which emphasized their strong sides and new programs which gave them a refreshing remake.
Especially for the show, Anna Pogorilaya recreated her "Rise Like a Phoenix" exhibition from season 2014/15, memorable for how masterfully she changes a costume in the middle of it without missing a beat. Daisuke Takahashi returned to his "Caravan" routine. "It was a program I skated 3 years ago," he said, "I wanted to make the audience happy, to entertain them, so I thought it would be the best choice." Stéphane Lambiel revived his famous "Four Seasons", which he already did once for the "Art on Ice" 2010, but this time an interesting twist was added, this program was turned into a duet with his student, Deniss Vasiļjevs.
It all started in May more than half a year before that, when Deniss, back then a student of Alexei Urmanov, came with his coach to Switzerland for choreography. And, unlike many believed, it wasn't Stéphane's but Urmanov's idea to use Vivaldi for Deniss' long program. "I didn't want to use the version that I skated to," Stéphane explained, "so I was looking for something else. And I really liked the arrangement of Max Richter - the rhythm is a bit different,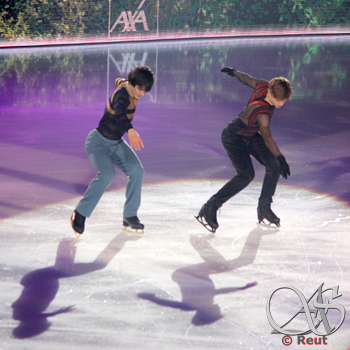 it is more contemporary. I thought it would suit a young skater like Deniss very well." A few months later Deniss asked Stéphane to become his coach. Probably somewhen during their long practices together on the ice of Champéry, when Deniss was mirroring Stéphane's movements trying to refine his programs and improve his style, this idea was born. "Stéphane and Salome came up with this interesting idea," Deniss recalled afterwards. "I was very honoured to skate with my coach in the collaboration number. It was a nice experiment and a cool experience, I really enjoyed it."
The libretto - because every program of Stéphane's always has one - goes as follows: the program starts with the "Spring", that time of the year when everything awakens - energies, creativity, inspiration, this part is new and was choreographed especially for the show. When Deniss steps on the ice, Stéphane hands all this energy and inspiration on to him. Then Deniss continues alone, skating a fragment of his free skate, spreading those feelings more and more, passing them to other skaters who join him. The final part of the number is "Winter" which ends the year and closes the cycle. It is Stéphane's solo once again, in which he returns to his Olympic program and its distinctive "Zebra" step sequence. The main idea seems to be the sharing with the next generations, something Stéphane started thinking about more often recently after he began coaching.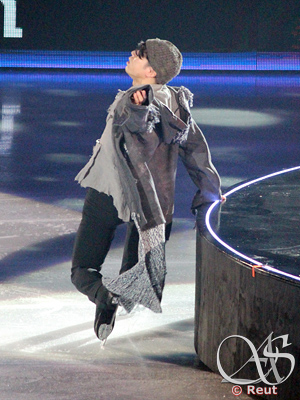 Creative director and head choreographer of the show, Sean Cheesman (this year is going to be his fifth year with the team!), contributed ideas, details and general direction to skaters who later implemented them on the ice in their new programs.
"First we choreographed this program on the floor," Daisuke Takahashi shared a story about how his "The Person I Should Have Been" program was created. "And it was the first time for me to take choreography from the floor to the ice. It is a bit of a sad story about a homeless man, but I actually like it. The concept is that I portray a rich person who became poor, so his costume was supposed to be stylish and good but worn out, partially ripped. But he, this person, still tries to look good, keep his humanity, hence the flowers on his shirt.
During the rehearsal I was not sure how it would look, but at the show James (Morrison) was so great and I was very comfortable to skate this number."
Meryl Davis and Charlie White chose a more romantic, softer style than what we used to see from them at the competitions. They choreographed both their programs, to "Love Me Still" by Chaka Khan and to "Adagio For Strings" by Samuel Barber. "Sean Cheesman gave us the main idea and some little bits of inspiration to draw from them, he set us in a certain direction and then we created something to follow his vision. So it was fun, and the two pieces turned out really different. We love performing them and the audience is just incredible, so to open up and share it with them is very special," Meryl said.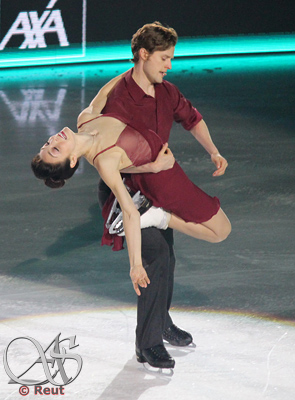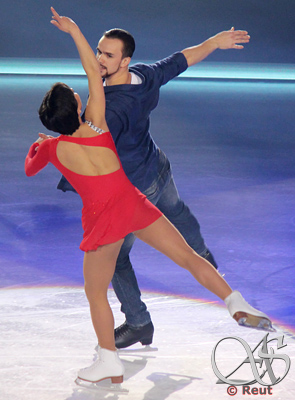 Ksenia Stolbova and Fedor Klimov also choreographed their programs by themselves, getting main storylines from Sean Cheesman and working on nuances when they came to Switzerland. The program they skated in the first half was choreographed to an interesting mashup of Bach's "Air" remix and Michael Jackson's "They Don't Care About Us". The story behind it was a little less obvious and Fedor explained it afterwards: "We portray a couple which bids farewell to each other because one of us is joining the army.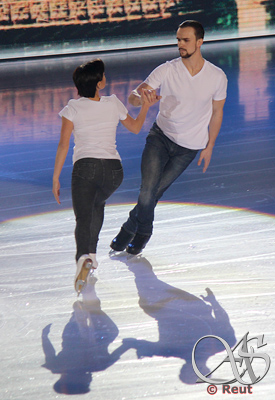 But the point is that as we skate it, you don't know which one of us has to leave. And the ending should be surprising because it's Ksenia and not me."
Their second number, to James Morrison's "Please Don't Stop The Rain", stood out by how simple yet elegant the whole scenography and the collaboration with dancers and a singer looked and, of course, Ksenia's gorgeous red dress deserves a special mention. "The main idea of the second program we skated was quite transparent; the song is about the rain and the main theme is hope. I actually like this song and I think they found an interesting approach making everything around to be grey - because it's raining - and by this emphasizing even more Ksenia's dress. That was the main gimmick."
The third time as a part of the cast, Fedor said this show always inspires him and helps him in his competitive career. "It is one of the few shows I really try to watch entirely and as many times as I can. They always have the greatest skaters in their cast and every year we find some interesting nuances and tricks for our own programs. Indeed, why not learn from the Olympic champions or from the dancers on stage? You can find exciting things and ideas which can be used afterwards." His most memorable show was "Art on Ice" 2015, the first time they joined it: "It was a very bright experience, new, unexpected; I still see it as the best one".
For young Deniss Vasiļjevs it was definitely a highlight of his season: "It was fun! It was quite a lot of work. There were interesting places to be in, especially Davos.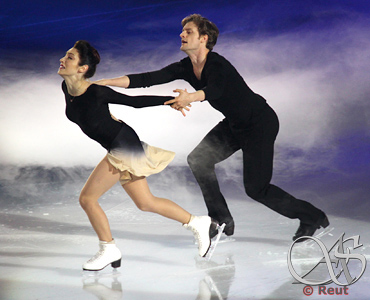 And I really enjoyed being with this cast, with people who've achieved so much already. And it was exciting to experience all this, to see how all this works, to meet people and to be in this atmosphere. It was truly unique. 'Art on Ice' brought me a lot of good memories that I cherish and that make me smile."
"I think what's really different about this show is the integration of different kinds of acts with some of the nontraditional skating acts, and I think that's really cool," Meryl Davis answered when asked to compare "Art on Ice" to other skating shows she has participated in. "To have shows that are so different, that focus on different ways to entertain people is great because a lot of the die hard fans do come to a lot of shows and to give them something different every time is really exciting."
Live collaborations with the guest musicians is an essential part of every "Art on Ice" edition. James Morrison was invited last year and it drove Sarah Meier, his big fan, to make a special comeback after she retired from professional figure skating in 2015. "It all started 10 years ago when James Morrison became famous and had his first hits in the charts.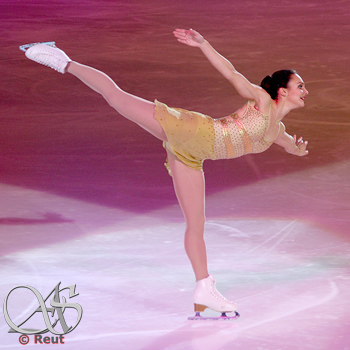 His music and voice touched me immediately while visiting one of his concerts in Zurich," Sarah recalled in an interview about how she became his fan. "Morrison's music works for me in any life situation, be it for motivation or for comfort. That's why his music is such an important part of my life." To be able to perform with Morrison, next to all the other world class skaters, Sarah had to change her daily routines and start training several times a week on the ice, all next to her full time job as a journalist for the "Schweizer Illustrierte". Things we do for love... The audience, of course, only gained from this opportunity to see graceful Sarah back on the ice again.
This year's guest star will be Emeli Sandé, an R&B singer/songwriter and soul-jazz artist from Scotland and one of the UK's best-loved female vocalists. It is already confirmed that Stéphane Lambiel will perform one of his new choreographies to her "Read All About It".
"This piece is beautiful," he said, "The music is very pretty. The program is good, it's lyrical, it's passionate, it has interesting movements, a lot of speed, a lot of flow. I will enjoy skating it."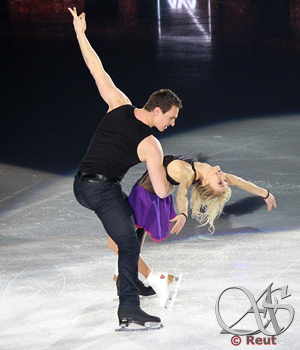 Other musicians who will be on stage side by side with Emeli include opera prodigy Laura Bretan, electric cellist Tina Guo and a Swiss pop/rock-band "Pegasus". The star studded skating cast doesn't disappoint either: Olympic champions from Sochi - Tatiana Volosozhar/Maxim Trankov and Meryl Davis/Charlie White, freshly crowned Olympic champions, coming straight from Pyeongchang, Aljona Savchenko/Bruno Massot. The legend and the "Ice Czar", Evgeni Plushenko, will honour the Swiss audience for the last time. Talented Russian ladies Elena Radionova and Anastasiia Gubanova will join the cast as well. And, of course, one can hardly imagine "Art on Ice" without Stéphane Lambiel.
"We had such an incredible experience the first time. We had heard how wonderful the show was from friends of ours who had done it before and it certainly lived up to our expectations. We were so glad to be back," Meryl said last year, when they were invited for the second time. No doubt they are glad to return to Switzerland.
Two things not to miss in the coming edition?
First, a world premiere of a quartet aerial act. In 2016 artists Karyna Konchakivska and Suren Bozyan thrilled the Swiss audience with their breathtaking number on the high wire. In 2017 ice dancers Nelli Zhiganshina and Alexander Gazsi mesmerized us all with an adaptation of Karyna & Suren's number. And now, in 2018, Karyna & Suren and Nelli & Alex will be performing together in a joint number. They've been working on this performance since mid-October.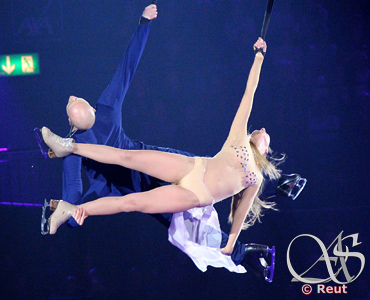 Second, the "Schindler's List" collaboration, also with Tina Guo, but this time on acoustic cello accompanied by Marvin Trummer on piano, with Stéphane Lambiel on the ice and a pole dancer Peter Holoda on a floating stage that will slide across the ice. "It's not only my number, I'm sharing it with the pole dancer; he is starting and then I follow up," Stéphane revealed some details while still trying to keep the intrigue so his description sounded a bit cryptic. "The creative team asked me to do this number and I could have said 'no', but I accepted it. They came up with various ideas in different directions and Salome and I had to find a central line to connect all those creative points together. There was a lot of information and it was a bit tricky but we were able to get a result, the subtlety of the movement, I'm really happy with, at least with my part. We finally managed to connect all those points, which doesn't necessarily mean that we used them all, but they will be present. It was a challenge to skate to something that everybody knows and that is very mainstream in the skating world. Hopefully I will take away any image that people already have about this music; I will take them a little bit further. Or somewhere else... The costume will have a couple of layers, to show that the more we're going forward, the less protection we have, we become more vulnerable and more fragile. The skin gets tougher with the years but we get weaker. There will be a feeling of losing all those layers to free yourself to be who you are."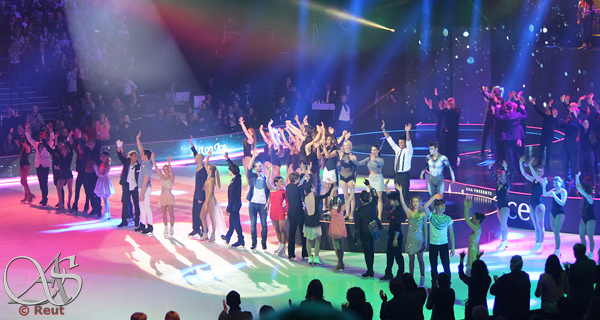 The "Art on Ice" 2018 has been given a title: THE ORIGINAL and it will be all about art. It will show itself off as a world of art, as an exhibit of art from various periods and we can't wait to see what it has in store for us!
Check last year's performances on "Art on Ice" YouTube channel. And follow news and updates on the official Facebook, Twitter, and Instagram.