Worlds 2018, day two: Pure perfection by Aljona and Bruno
March 23, 2018
By Titanilla Bőd (Új Szó)
Photos © Natasha Ponarina & Mireille Geurts
Post-Olympic redemptions and explosions of emotions – that was the second day of Worlds in Milan. In the pairs' event Aljona Savchenko earned her sixth World championship gold medal, but the first one with partner Bruno Massot and in the men's competition Nathan Chen delivered a kickass short program.
The redemption, vol. 1: Nathan Chen
At the Olympics he skated two short programs, at first in the team event, then in the main competition. He faltered in both of them. Even though he pulled off an incredible comeback in the free skate, going for six quads and cleanly landing five, the medal chances were already gone after the disastrous short program. It seemed Nathan Chen's greatest nemesis would be his own nerves.
However, in Milan, the "quad king" lived up to expectations. Skating to the powerful tunes of Nemesis by Benjamin Clementine, he completed a quad Lutz, triple toe combination, as well as a quad flip and a triple Axel. He earned 101,94 points and he is in the lead after the short program.
"Compared to my short program at the Olympics this was definitely redemptive, and compared to the Olympics I'm very happy with it," Nathan said after his short program. "I learned a lot from the Olympics and used that heading into short program in terms of what to think about. I think that really helped," he added at the press conference.
The redemption, vol. 2: Mikhail Kolyada
Mikhail Kolyada had an even rougher Olympics than Chen, making way too many mistakes in team event and also in the men's competition. In Milan he decided to make his program a bit easier, replaced the quad Lutz with a triple, and went only for a quad toe, triple toe combination. The result? All jumps nailed, all elements with positive GOE and second place with 100,08 points. "Everything worked well. I was in a fighting mood, it all felt good, I did everything I know how to and I did it well," he commented on his performance.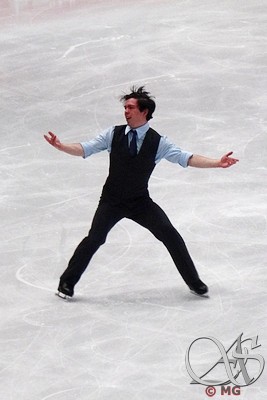 The cowboy: Keegan Messing
It's impossible for him to stay unnoticed. Keegan Messing, born in Alaska, now representing Canada walks everywhere wearing his trademark cowboy hat. Except the ice, of course, but he keeps his cheerful and open personality also there. Skating to Singing in the Rain, he landed a quad toe, triple toe combination, a triple Axel and a triple Lutz, and spread his energy all over the Mediolanum Forum. He earned a huge personal best, 93,00 points that catapulted him into sixth place.
"It was definitely the skate I was dreaming of last night. I think even my roommate said, I was talking in my sleep: "Nail the quad". It was funny I actually found out this morning. But nailing the quad in the beginning of the program, calming down, nailing the Axel and putting together a great program, I was going into the last spin with my heart exploding. I couldn't contain myself, after the last spin it all came out," Keegan confessed.
Between Keegan and the skater placed in third, is only a difference of 3.78 points, which makes the fight for the medals all the more exciting. Said skater is Vincent Zhou, only 17 years old and the youngest competitor: "I came here to skate a clean program. I did just that, and being in the top three is the icing on the cake."
The colour of silence: Bronze
It was 18 years ago when France won a medal in pairs' category at Worlds. For Vanessa James and Morgan Cipres it was a dream to stand on the podium, but they went through rough times. Morgan injured his neck, and couldn't skate for ten days. During their epic Sound of Silence free skate in Milan Vanessa had a hard fall on the throw triple Salchow. There was a millisecond of shocked silence on the stands, but they kept on going. "Morgan was asking me if I was OK, but I didn't even speak back. I thought I should get right back into it, we can't let any more points go. The pain was there but it went away very quickly. I think I felt it more after the program. I've learned a lot over the last 2 seasons, that one mistake isn't much. But how you get back from it, that can change everything. I'm just so proud," Vanessa said. Despite the horrifying fall they were able to create the unique atmosphere of this program and their reward was a well-deserved bronze medal.
The redemption, vol. 3: Evgenia Tarasova, Vladimir Morozov
They were second after the short program, skating last in the free, just like at the Olympics. A month ago in South Korea they couldn't cope with the pressure. They had a shot at the gold, but in the end they missed the podium entirely. There were bitter tears in the Olympic Kiss and Cry, devastation and disappointment, but soon: a new drive to be successful again.
The two-time European champions had no real chance for the gold in Milan, but they managed to keep their cool and despite some smaller mistakes they earned a very precious silver medal. After a bronze last year and especially after the Olympic disaster this just means: Evgenia Tarasova and Vladimir Morozov are back on track.
The magic: free skate of Aljona and Bruno
They already showed perfection at the Olympics. It was a program to remember for a lifetime, with all the circumstances, the fourth place after the short, skating first in the last group, the waiting for three other pairs and seeing them, one after another, making costly mistakes, waiting for the last scores with shaking hands and legs and bursting into tears when it was finally confirmed on the screen that a dream chased for so long has definitely come true.
In Milano it was different. Aljona Savchenko and Bruno Massot arrived as Olympic champions, with nothing to prove, but with the true desire to deliver magic to all of those who couldn't witness it in South Korea. They skated in the short program without any pressure, and skated brilliantly, and in the free skate they put their heart and soul on the ice. It seems like an assault to recite the different elements because it was not about the elements, not about throws and jumps and lifts, but it was about emotions. It was a story of infinite passion, passion for skating, for winning, for thriving for perfection.
And still, the score has to be mentioned, 162,86 for the free skate and 245,84 overall, because these are new world records.
World records might be broken one day. But the explosion of emotions Aljona and Bruno created will stay unforgettable.
Don't miss our social media updates (containing text updates and fun pics) on Twitter and Facebook.