Worlds 2018, day four: Six quads by Nathan and a third gold for Gabriella and Guillaume
March 25, 2018
By Titanilla Bőd (Új Szó)
Photos © Mireille Geurts & Joy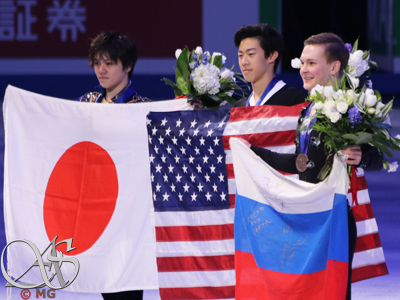 Nathan Chen of the United States of America won his first world title in Milan, while French ice dancers Gabriella Papadakis and Guillaume Cizeron got their third gold. Impressions of day four at Worlds.
The disappointment: myriad of falls
The last group is usually the best that figure skating can offer. But in the Men's free skate in Milan it was the complete opposite: all competitors but one made many mistakes. Keegan Messing (6th after the short program) fell once, Mikhail Kolyada (2nd after the short) twice, Vincent Zhou (3rd after the short) and Shoma Uno (5th after the short) three times, while Boyang Jin (4th after the short) even five times!
Despite the mistakes, Shoma Uno managed to capture the silver and Mikhail Kolyada earned the bronze, but the overall impression of the mens'competition was disappointing. It seemed the immensely demanding program content, including many quads, and the long and exhausting season had taken its toll on the competitors.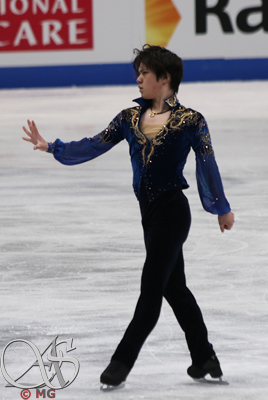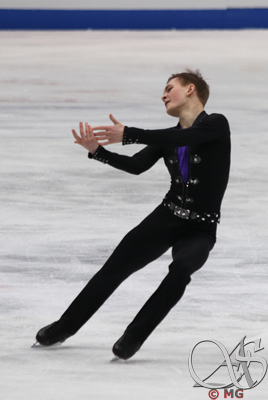 The champion: Nathan Chen
After witnessing so many failures the public longed for a great performance and Nathan Chen took the ice as the last skater. He was in the lead after the short and seeing his competitors falter gave him the opportunity to take even bigger risks.
At the Olympics Nathan stumbled under pressure but learned a lot from that. In Milan, there was no question who would become the new World champion. Nathan went for six quads and cleanly landed five, while stepping out a bit from the sixth one. He showed his class also after the competition during the press conference: "The Olympics is what it is and I learned so much more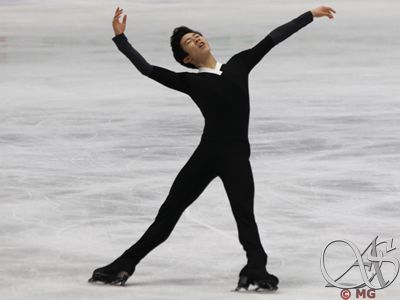 from making mistakes in the short program than if I had skated better or like I did here. It helped me improve as a skater and taught me how to approach big competitions."
He didn't forget to mention the influence of his coach, Rafael Arutyunyan: "We have worked hard in the last few years so a lot of my success goes down to him too. I'm happy and know he is too that I was able to do that. We have a bond further than a skater - coach, he's like a father or a mentor to me."
Epic program vol. 1: Michal Březina
Many think this year's free skate is the best Michal Březina has ever had. Skating to the famous songs "I'm Only Human" and "Stand By Me", Michal sent a message to his fans and to the whole skating world. In Milan he skated with the drive and passion we were used to from him in his younger years and at the end of the program he could victoriously raise his arms towards the sky. "I've been waiting for such post-program euphoria since Europeans in Budapest 2014. I'm so happy that I managed to show what I'm able to do at practice," he said in the mixed zone. Before the season he wasn't sure if he'd stay in the sport another year, but the positive emotions in Milan definitely convinced him it's worth continuing. "My coach wants at least two seasons, but I say take one at a time," Michal laughed. By the way, he is also coached by Mr. Arutyunyan.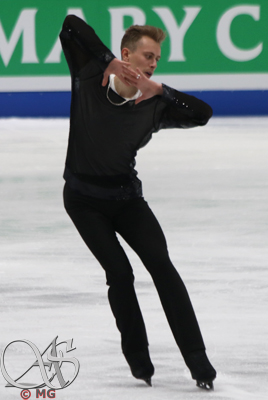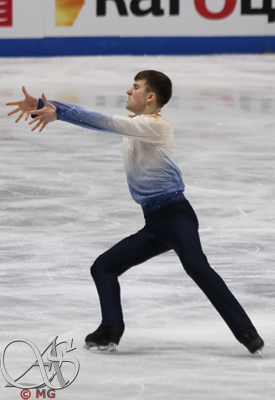 Epic program vol. 2: Misha Ge
Quads are thrilling but exceptional artists can create unforgettable programs even without a quadruple jump. Misha Ge is this kind of artist. In Milan, in his probably, definitely farewell skate, he showed solid technique and overwhelming emotions.
"You can't describe what my emotions are now. There are too many things going on in my mind. It's my whole skating career, like you're watching 20 years of your skating life. It's been a long journey and this is my last competition - well, not 100%, but I'm pretty sure," Misha confessed in the mixed zone.
The heart award: Anna Cappellini and Luca Lanotte
The free dance of Anna and Luca was probably the highlight of the whole event from the home fans' point of view.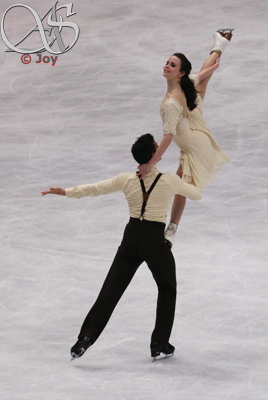 The 2014 European and World champions skated to the uplifting soundtrack "La Vita é Bella", and it was the most memorable freedance of their lives. True they missed the bronze only by a quarter point, but the feelings they created in the Mediolanum Forum will stay with them (and everyone who witnessed it) forever.
"This was a most fantastic moment. This is the most emotion, the most passion we have had in years. Being here with our friends and the crowd, everybody rooting for us, it's been wonderful for us," Anna said and Luca added: "Whatever the result, today was probably the biggest emotion we have ever had skating. Today we gave all we had to each other. We never imagined as kids that we would get this far. And I'm so grateful to Anna who gave me the opportunity to show our skating to everyone and to share the last 12 years with her."
The couple closest to perfection: Gabriella and Guillaume
They skate as though they are flying, they create an epic impression on the ice. Gabriella Papadakis and Guillaume Cizeron showed their unique style once again and set a new world records with their 123.47 points for the free skate, and 207.20 overall.
Points-wise they can't really get higher, but they say perfection is a goal that can never be reached. "I think there's always room to grow or improve for us, and also there's going to be changes in the rules from next year, so we won't get bored, there're always going to be things to improve on and competitors to be scared of. It's fun to change programs every year. Perfection doesn't exist, but we try to always be the best we can be and if it can get us close to the perfect score we're happy," Gabriella said.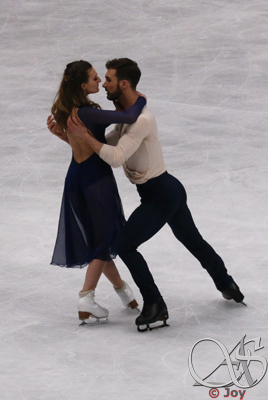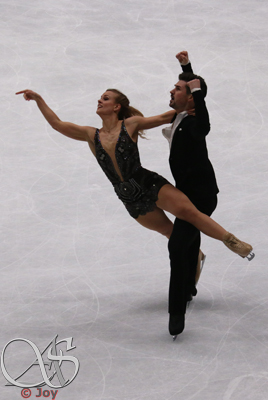 The mission: overcoming the demons
Before these Worlds, Madison Hubbell and Zachary Donohue had already been in medal position after the short program in a major competition twice: last year at Worlds in Helsinki and at the Olympics in South Korea. However, they didn't make it to the podium. In Helsinki they literally dropped the chance as Zachary fell in the free skate, and in Gangneung they made smaller, but still costly mistakes.
In Milan they finally won their first big medal, a silver. "We feel we have done a lot of work tackling our demons and fear and all the 'what ifs'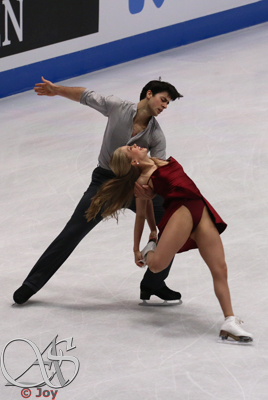 that go through our minds. We've had a history of making errors and giving up placements, so today's performance met our goal of keeping in the moment, keeping the connection, and believing what we did was enough. It turned out it was, so we are pleased and looking forward to the future," Madison said.
The medal that was six years late: a bronze for Weaver/Poje
Back in Nice in 2012, Kaitlyn Weaver and Andrew Poje delivered one of their most memorable performances ever to the iconic French song "Je suis malade". People on the stands were crying and most of them thought that performance deserved a medal. However, the Canadian couple placed only fourth there.
They decided to bring back this very special free skate for the Olympic season, and in Milan they won the bronze with it. "I don't have words for this moment. The program went by so fast and before we knew it we were stepping up on the podium. Sometimes you aren't sure how a program's gone but I think this was one of our best skates, and to know we're still appreciated for our skating is very gratifying. There have been so many instances of emotional performances with this program, but this was the most emotional so far. It was very special," Kaitlyn said.
Worlds in Milan ended, with many top skaters missing, with some favorites faltering, some new rising stars living up to expectations, some great personalities taking their last bow and some new faces getting attention. It's been a long skating season, all that's left to say now is: Grazie Milano!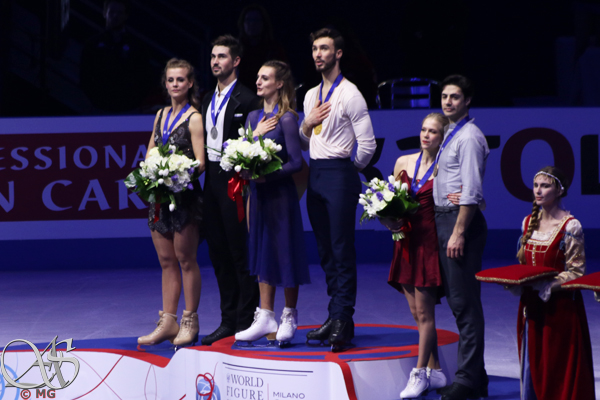 Don't miss our social media updates (containing text updates and fun pics) on Twitter and Facebook.