Art on Ice 2019: Time to Time
February 26, 2019
By Reut Golinsky
Photo © Reut Golinsky
With the steampunk theme chosen for this year's edition, top-notch graphics and stage lighting, flying machines and moving platforms, whimsical creations of Arthur van Poppel and the addition of the famous "Cirque Éloize" to the cast, "Art on Ice" 2019 exceeded all our expectations and overwhelmed all our senses.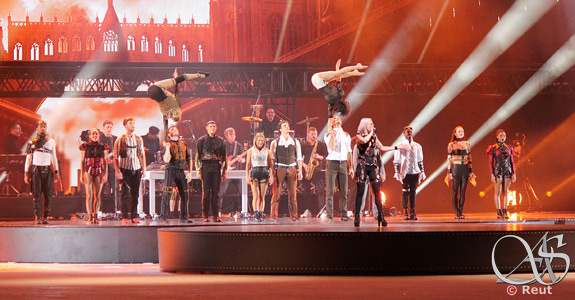 Lady in red
Entitled "Time to Time", the 2019 Art on Ice show invites us to a fantastical and adventurous voyage back to the future.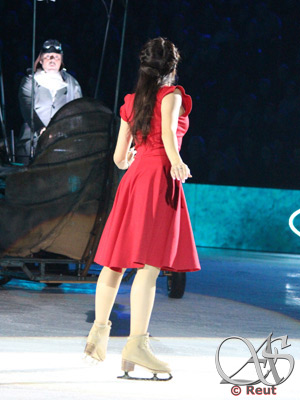 The main character of the show is a stage manager, Ashley. We meet him before the show starts, when he checks if everything is working properly - sound, light, advertisements. The show begins, artists are on the stage and on the ice, and everything seems to go according to the plan. But suddenly a bug in the system brings everything to a halt... What just happened? A mysterious voice tells Ashley that he doesn't need to worry, the show has not been destroyed, it has just been propelled into another time and dimension. It's still his show, it's still going to be beautiful, but he is not in charge of it anymore, it's taking its own direction. The supposed catastrophe is actually an invitation to a new adventure: Ashley should follow his heart, let his imagination become reality... A beautiful woman in a red dress appears; Ashley is enchanted and wants to follow her. Throughout the show this lady in red looks different, she has different faces, but it's the same symbol, the symbol of love that Ashley so longingly seeks.
Will he meet her eventually? Will they be together? The ending is open; it's up to you to decide.
"Cirque Éloize": awes with skills and touches souls
Searching for new ways to make magical moments unforgettable, the "Cirque Éloize" has been creating inspiring and poetic productions since 1993. Combining the circus arts with the music, the dance and the theater in a modern and original way,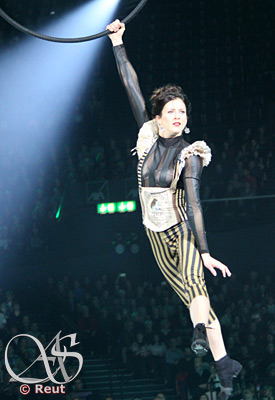 "Cirque Éloize" is considered one of the best circuses in the world today.
Marc Lindegger, the "Art on Ice" PR & Media Manager, told us how this collaboration started:
"They are one of the most creative circus productions in the world. We contacted them last year, and our teams met in Montreal, thinking that we could do something together. And they created these collaboration numbers between the circus and the ice show. I can really imagine us working with such artists for years too, with them again or with another circus, that's open."
"It's so cool to have these acrobats here," Salome Brunner, choreographer of the show, added. "They have such special personalities; they are very natural people, very sincere, very sensitive and talented. It was a fantastic experience to work with them, it was lovely."
From Wikipedia: "Éloize" means "heat lightning" in Acadian French. The thunderbolt depicts their acrobatic and spectacular side and the heat - their humanity that wishes to touch the heart and soul.
Indeed their numbers not only bedazzle with the skills of their artists, they also deeply move you. One number, to James Blunt's "High", was especially gripping. It was adapted from the act originally choreographed for the show "Cirkopolis" in which a contortionist performs atop a group of men, never touching the ground. So, she is literally floating on top of that group while James Blunt is floating over the ice, singing, on a zeppelin. The whole experience was so mesmerizingly beautiful, it took the audience's breath away.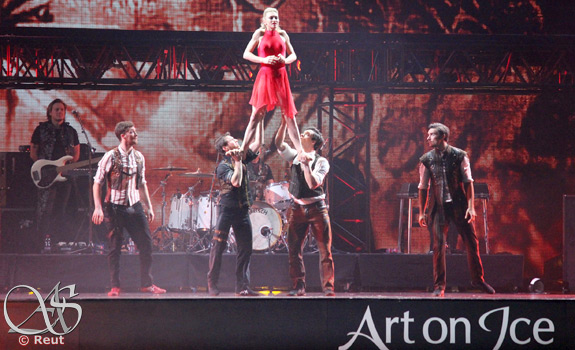 Catching up with newcomers and veterans
At the arena before the shows and during the after-show party we got a chance to talk to the members of the "Art on Ice" family. For some of them, coming to Switzerland for a winter tour has become a nice tradition, and some were part of the "Art on Ice" magic for the first time.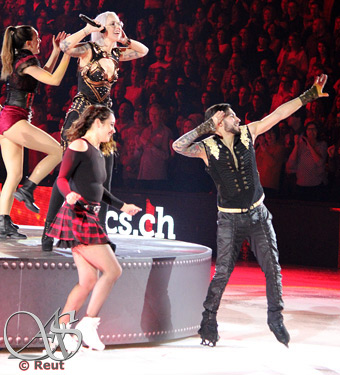 For the Canadian World champion and Olympic bronze medalist Kaetlyn Osmond, participating in the "Art on Ice" tour was a new experience:
"This entire show is so much fun. It's the first time I've done a show with so many other talents from other sports and arts and it's incredible! I've always heard about this tour from other skaters, how incredible it is and I always wanted to be a part of it. This year when I was invited I immediately said "yes". Working on it was so much fun, and I got to skate with other skaters; being a solo skater it's great fun to have a partner.
In my first number, with the big group of skaters and dancers, we're just having a big party with Stephanie Heinzman in the middle. And the second program is a love story. It is supposed to be a bit corky, cheesy, and then eventually we fall in love with each other. He does a whole bunch of tricks on the ice and then I run for him." (laughs)
Three-time European medalists from Russia, Alexandra Stepanova and Ivan Bukin, also took part in "Art on Ice" for the first time:
"We heard that this is a world class, grand show and we're truly happy that we were invited, for us it was a compliment and a huge honour," Alexandra said. "We were overwhelmed by this huge arena, by this amount of people and by how warm their welcome was. And when in the finale all the artists were on the ice and the audience was standing and applauding us, it was fascinating!"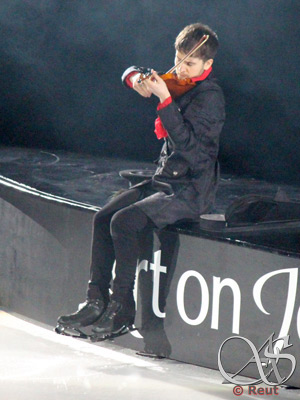 Both their programs are about love, too. Ivan is courting Alexandra, searching for her attention, looks for her among all the other girls, while she is not sure yet if to accept him.
"We used some small parts of our free dance, but in general we created two new dances, because for this amazing show we wanted to have something special. They sent us our musical pieces in advance and after the Europeans we had enough time to work on them at home with our coach and choreographer Irina Zhuk," Ivan explained.
One of the most creative and artistic skaters of the new generation, Misha Ge, was approached by the "Art on Ice" team a few times, but couldn't accept their invitation because of the Four Continents competition held during that time of the year. He retired this season and so finally he could come:
"It is one of the best shows in the world. I heard a lot about it from my skater friends. It's really an honour to be a part of it. There are so many great and experienced people - choreographers, cast, directors. It's an amazing vibe. I always learn from great masters, we have amazing choreographers here, not only on the ice but also on the floor. I have a lot of respect towards them and, as choreographer myself, I feel there is so much to learn from them."
World and two-time European Russian medalist Elena Radionova returns to the show for the second time:
"I always love skating in this show. I enjoy every single moment of it. It is truly global and grandiose, with not only skaters, but also dancers, circus performers. It's an honour for me to be part of this project. The professional level of this production is beyond words.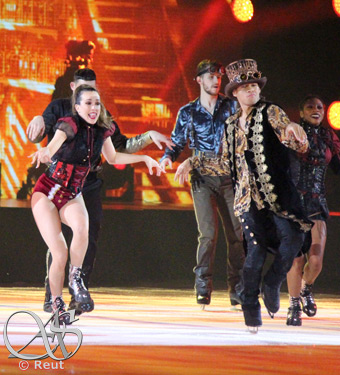 This year the show has a very interesting concept, all programs are made in a certain style. You probably noticed that all ladies perform in red dresses, it's because we all skate about love, tell love stories, not all of them with a happy ending, for example, my program is not. My number has a very interesting ending. I fly away from the ice on a zeppelin."
Elladj Baldé and Michelle Dawley are already regulars in this production. It's a fourth time for Michelle in the "Art on Ice" dancers ensemble and a third time for Elladj as one of the solo and group number skaters.
What is special about this year for each of you?
Elladj: Honestly the fact that we have the circus, "Cirque Éloize", adds so much to the show. It's a different kind of artistry and what they do is unbelievable. I think that addition to the show makes it that much better! And other amazing artists, and we also have a bunch of cool vehicles and machines on the ice...
Michelle: I really enjoy performing with Stefanie Heinzmann; she brings such an amazing energy, especially for me as a dancer on stage with her, she is incredible and I adore her.
Elladj, am I correct in thinking I saw you were also, at some point, among the dancers?
Elladj: (smiles) Yeah, they needed a few more people on the stage, they asked me, Ivan and Clément if we could do it. It was cool, I told Sean (Cheesman, co-creative director and head choreographer): "One day I want to be on the stage for 'Art on Ice'". And I guess today was already my first attempt.
Michelle, and what about your skating? Where is it standing?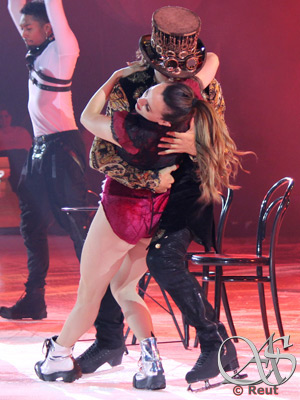 Michelle: I think I embarrass him when I'm on skates. It's pretty bad (Elladj: No, no, no!) I should work on it more!
OK, maybe not next year, but in five years Elladj as AOI dancer and you as AOI skater, deal?
Michelle: Let's do it!
Elladj: We're going to do it, deal!
Three-time European medalist and eight-time Swiss national champion, Sarah Meier has been one of the skating stars of the show for many years. This year she came as a spectator only. She was at the premiere and came again to see the Saturday night show:
"I had really good seats [at the premiere] and the perfect view, and I loved it! Of course, my favourite is always Stéphane. When he comes [on the ice], his energy is just indescribable. But, of course, the whole group and the music, everything is at a high level. The ending of the first half of the show, with the Swiss singer Stefanie Heinzman, felt almost the climax. She is so great! The crowd was already on their feet dancing, and the feeling was "oh, this is the end", although it was only the first half. They also told me afterwards that some things didn't work on Thursday, but I didn't even realize it, I was already blown away, so I'm excited to see it today.
I think the concept of the show has changed a bit - there are more group numbers, so now we see more show skaters and less big names. They still have many stars. Maybe for the figure skating fans and knowledgeable people it's less good but for the general public it's probably even better, because they don't know skaters other than Stéphane and they don't understand the technical things. I actually liked the whole show and the concept. I loved the circus, the aerial numbers. There is always a different approach to things we already know, they add a twist to them to make them even more special."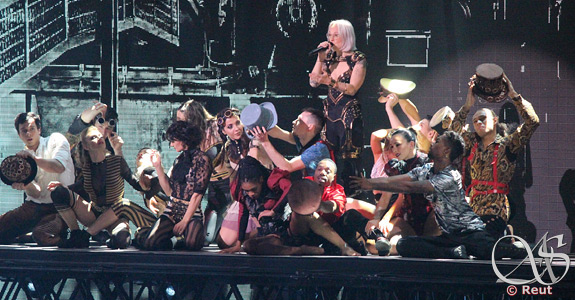 Stéphane Lambiel closes his "Art on Ice" chapter
During his recent meeting with fans, Stéphane explained the concept behind one of his new programs:
"At the beginning of my 'Art on Ice' story I was skating to 'Take the long way home'. I had a backpack and a bench.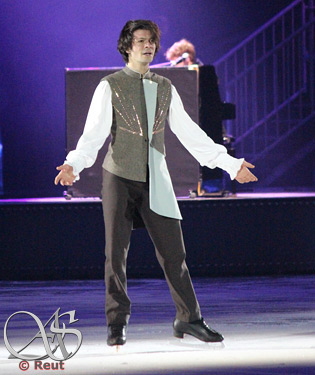 Now, with 'Goodbye my lover', we look back to that program. In a way 'Art on Ice' is my home, and there was a long way with them, it will be 17 years this year. So we wanted to look back to the big love with this show. And there will be a bench, and there will be a bag, and in this program I will be looking at all those great years."
So there was a bench, and a bag, and a letter on the screen which said: "My love, before leaving I wanted to write you these words from the platform of the train station. Part of my heart will stay with you forever..."
But the hints he dropped still were not clear until on the day of the last show he announced on his Instagram: "Today marks the end of 17 fabulous years of touring with 'Art on Ice'. The great memories together will be forever with me - Thank you! It is time for me to close this chapter as I focus on creating new and different projects on the ice, in Switzerland and abroad. Thank you for all your support!"
Thank you, Stéphane, for all your beautiful and inspiring performances over these years. To tell the truth, at the moment, it is hard to imagine this show without you, we will miss you in it. But, like it says in James Blunt's song you so movingly performed to: "It may be over but it won't stop there." We certainly hope so.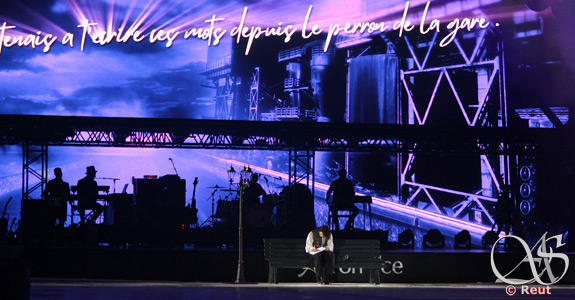 Salome Brunner: "We have to keep space for the skating"
Salome Brunner, an "Art on Ice" choreographer since 1995, shared with us more details and stories about the creation of "Art on Ice: Time to Time" and about Stéphane Lambiel's programs they choreographed for this year's edition.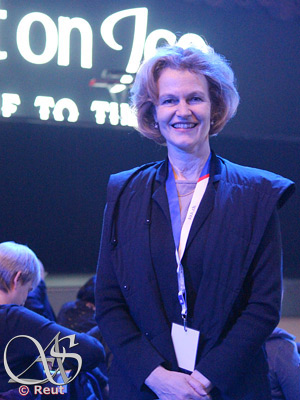 Salome, I wonder how early do you usually start being involved in the process of creation of the show? Because I know that they start planning shortly after the previous tour ends.
Yes, l think in April they start looking for ideas and artists. This year I got involved quite late. Now everybody in the team knows what everybody else can do. Sean Cheesman knows exactly what he can give me. It was difficult this year with "Cirque Éloize" being in Canada, Sean in Los Angeles or Calgary and us here. And I didn't go to all the creative trips to talk to people, because I had also a lot to do at home. So for me it was very fast. I got the information and tried to understand all the ideas very late, I think maybe it was even in December. I knew about it earlier but not all the details. I could really start working only in December. Except the programs we did with Stéphane, with him we started in October, and that was the first thing I worked on for the show.
Apart from Stéphane, who else did you work with? I know that Elena Radionova came to work with you. Who else?
Yes, Elena was here. And I did Emmi Peltonen's piece to "Next to me". She had a very little time to learn it; she started performing it nicely a bit later in the tour. I think she is a beautiful skater, a rough diamond which has still to find the perfect form... I also worked with Elladj (Baldé) for the "Havana" number. The group dance and the concept came from Sean, and I did only the skating solo. And the solo for Ivan Righini, for "Digging in the dirt" where he skates with Kaetlyn (Osmond) - just his steps, she choreographed her part separately. And Kaetlyn's second program, with Clément (Pinel). This piece was constructed in Canada, with Sean, but at that time it was with another performer, parkour dancer, but then this dancer got injured, so we took Clément, although we kept the concept.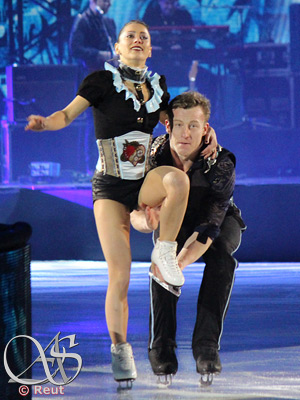 I choreographed for Elena Jovanovich and Nodari Maisuradze their part in James Blunt's "Postcards". Also, all the skating choreo in the "Momento"'s medley "Pray for me" was done by me, even though the piece as a whole was Sean's vision and I was trying to work by his plan.
Talking about group numbers, it feels like they are getting more and more complex. You have so many things going on - flying machines and bungee jumping, circus and dancers... Is it Sean who is constructing these?
Yes, Sean with Oliver Höner. And I get a few numbers that I do. In most of the numbers when you see skating that's what I do. I worked for two and a half weeks with the eleven skaters of the "Art on Ice" group. We worked day and night. (laughs) Most of these skaters were here last year, and I can see that they work very well together, because they already understand each other. And that contributes to our work on the skating parts, because they are quick [learners], otherwise it couldn't be accomplished in such a short time.
I see that this is the direction "Art on Ice" is taking at the moment: less solo performances and more of the complex group numbers which combine more and more various arts.
This happens a bit now, but I think that's where it needs to stop. We cannot go with more and more group production numbers; there are a lot now and we don't see so much skating. I think we have to stop here and keep space for the skating.
I agree. I also feel that after such huge production numbers solo parts get lost a bit. And I wanted, for example, Stéphane's performances to be the climax of this show...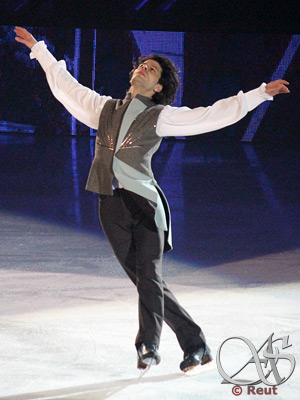 Yeah, I understand. But I think his numbers are both highlights, this is how I feel. He is not part of the production numbers this year, unlike what he had one year in James Morrison's "Slave to the music" or last year in "Read all about it". But I think this works for him. I don't feel that anything is missing. But it's true that production numbers are very powerful.
Could you tell me more about Stéphane's programs?
This year we started quite early, in October, because he only has these [time] windows when he can work. But when he practices for himself it's so intense that we feel like we can do a lot, we say when we have one hour to work, we call it a day; and when we have a full day of work, we call it a week. And recently we started to call it a month, because there were not so many days to work. (smiles) But on Thursday he was ready to perform. It was so amazing, because there was really so little time! We did the necessary things, everything was constructed, he had all the parts ready, but the difficult thing on the ice is to do it all at once, to put it together, to do all the technical things plus all the choreographic details, so that was the challenge. And the fact that he could go and perform... I don't know anybody else who can do it, actually.
How did the idea for the first number come up?
We wanted a contrast program. The second one is very poetic and lyrical, very romantic, so we wanted to show another quality that Stéphane has.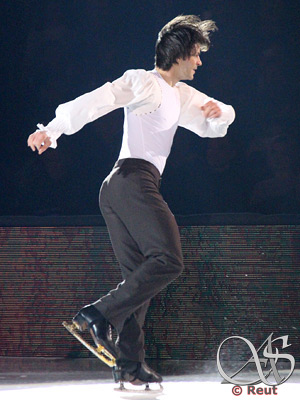 At that moment in the show, Stephanie Heinzmann had to move from the stage to go to the zeppelin, so it was supposed to be only her band playing. First we actually wanted to do a very intense blues piece that we found, so we asked the band: "Would you play it?" But they said: "We have this other piece that we really want to play!" And Stéphane liked it right away. When Stephanie saw Stéphane rehearsing with her band, she said: "I cannot leave, I have to stay on stage!" So she is improvising with the band playing.
So she is not flying on the zeppelin because of that?
Yes!
All the sacrifices we make... (all laugh)
I believe he was the one who chose James Blunt's song, "Goodbye my lover"?
Yes, he chose it. He knew right away he was going to do that. And Oliver agreed, first he said: "No, I maybe want this song for a couple to skate to," but Stéphane said: "I really need this song." And that was the decision.
He mentioned that the idea was to connect it to the old program he had once, "Take the long way home" in 2004, with the bench and a bag.
Exactly, that's true.
But I'm not sure this idea comes through, maybe it's too subtle...
Yes, true, I think it's maybe for insiders who know what he started with. It was not his first "Art on Ice", but it was his first where he really understood everything. I think in his first "Art on Ice" he only had one number, and all was new. And then the second year he came, he knew what he was going to do here. Maybe it's more of an insider thing...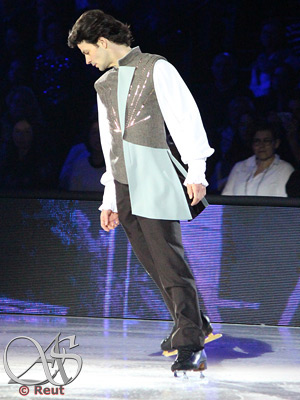 And that sentence that he writes, and we can see on the screen... Whose idea was it?
It was a teamwork. Actually this letter was my suggestion, I wrote the text in French, but it's not my native language, so Stéphane liked it but said he wanted to make changes so that it will sound correct. We had to invent something like this, he was going to write a love letter, because, of course, now he is leaving but the love story is still there. He cannot just cut it and it's gone. And we had to really go into this mood of being in love, thinking back to love that each of us experienced.
And why does he have only one costume for both programs?
All the performers in this show have more or less one costume throughout the whole show, but we wanted to put first and second variations of the costume in the context. So when he leaves, when he takes the train and says goodbye, he is with his coat on. But beforehand, when he is performing in the first act, he is in a dance costume. Our vision for this white shirt was something like a tank top for the rock music, but because it is a steampunk theme of the show, we made it a bit more like a "Victorian tank top".
I wanted to ask you, what do you think, how many years Stéphane still has on the ice?
Oh, I feel that Stéphane still has many years to perform.
Because with more students that he takes, I feel like he has less and less shows... And I'm worried.
You shouldn't be worried, no. I think at the moment he makes sure that he has both, he finds a way - sometimes it's very intricate, it's very difficult, but he makes sure that he finds a way to do both. And he really loves teaching. Teaching someone is a long process, it's like growing a plant. But it's so nice, so special to follow it.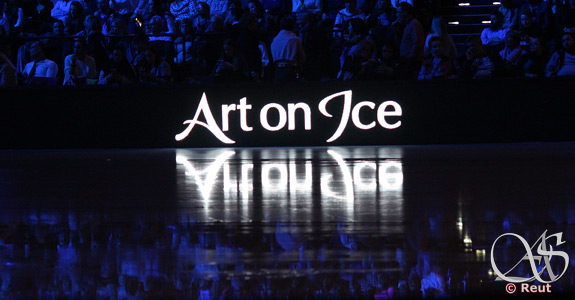 Marc Lindegger: "We're open minded to all experiments and adventures"
Marc Lindegger, the "Art on Ice" PR & Media Manager, found a few minutes to discuss with us this year's production and their future plans.
How did this idea of steampunk theme appear?
Oliver Höner came up with it. And we developed it from there. We liked the costumes, the style, the story.
And all these machines! Could you tell me a bit more about them? Who created them?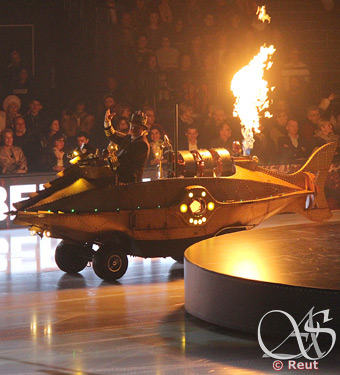 There were different creators. The zeppelin was built here in Zurich, some other machines were built in Zurich too. But some, for example, the golden one with the fire belongs to a guy from Holland, Arthur van Poppel. So some machines are rented and some have been built especially for "Art on Ice".
The show looks more like one story now, also because there are less costume changes.
More and more we try to tell a story. And about costumes - it's quite difficult if you change all the costumes all the time - you have more work and they cost more. But I think we managed to do it nicely; they use costumes in different ways, for example, sometimes they have a jacket on or off.
Next year "Art on Ice" will celebrate 25 years. You probably can't reveal to me much yet?
No, if I could I would. To be honest we don't really have an idea right now. We normally finish a tour, go home for 3-4 days, cool down a little bit and then we start thinking.
But I see that you already sell tickets for Basel next year. Does this mean that Basel is added as your permanent stop now?
Yeah, we sold out Basel very quickly this year and we're very happy about it. And next year we will go to Basel for two shows.
Did you stop trying to take the show abroad? In previous years "Art on Ice" was in Stockholm, Helsinki, Shanghai, Tokyo...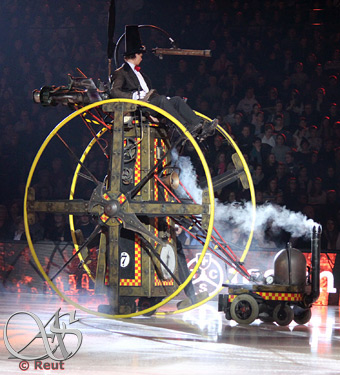 We are always open to propositions, but to go abroad we need a local partner. And to find a local partner, who can sell enough tickets, to do the right marketing and the right public relations, is not so easy. And the show is quite expensive, in other countries it's difficult to sell tickets at this price level.
I know many North American fans are very sorry they don't have "Art on Ice" there. Did you ever consider that part of the world?
If we find partners that are willing to do it with us together, why not? You need a partner and a guarantee that it will work in the place you will go to. But we're open minded to all experiments and adventures. Why not to go to Las Vegas once? We're always in discussion with lots of people around the world, but that takes time and you must be patient. Sometimes it works, sometimes not.
The 25th Anniversary Show
Next year "Art on Ice" will celebrate its quarter century with "a very special anniversary program", as promised in the online show guide. Which skating stars will take part in it? Who will be the invited musicians? Probably even Oliver Höner's creating genius is not decided on this yet. But ticket sales for the next year are already open, because whatever the cast and whichever the theme, the Swiss public already knows that "Art on Ice" always means the highest quality of entertainment.
"I think the concept is going to change completely again next year," Salome Brunner suggests. "I know that it always changes. Oliver likes many things and finds a completely new direction, so I'm sure it will be another surprise next year."
"We know we will do something special," Marc Lindegger promises. Will it top this year's production? Is it even possible to be better? "It's not to be better, it's to be different, that's the most important," he answers with a smile.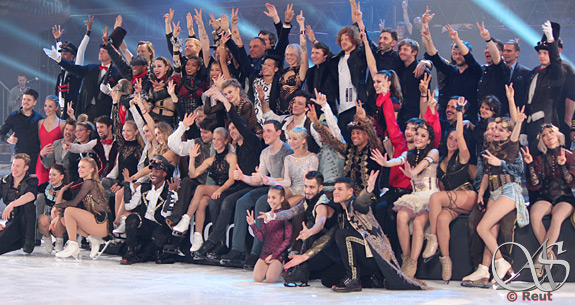 "Art on Ice 2020 - the 25th Anniversary Show" will take place from 6th to 16th February next year in Zurich, Lausanne, Basel and Davos. Also, don't miss the highlights of this year's edition which will be broadcast on Swiss TV next Easter Monday.